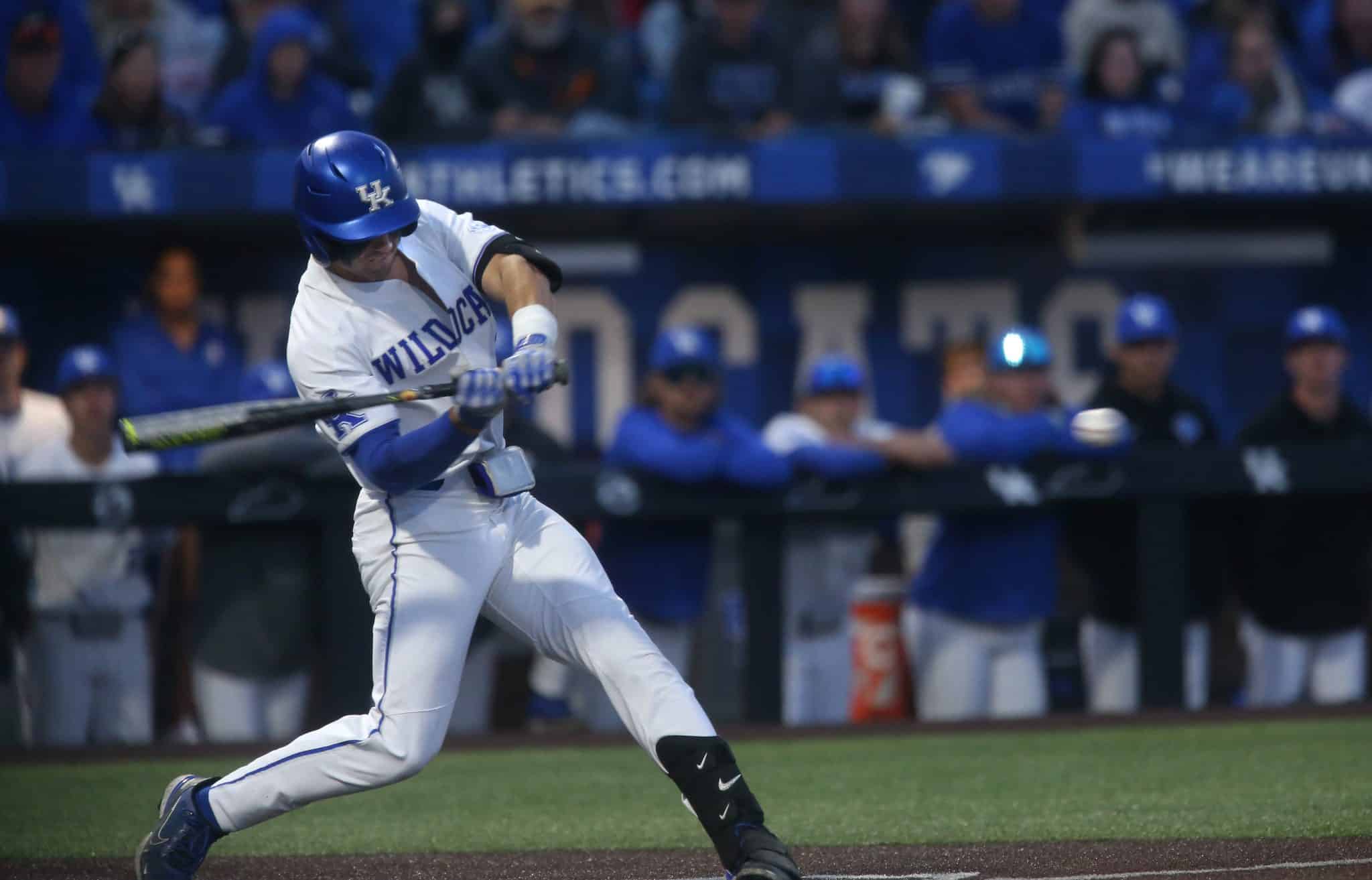 KENTUCKY
UK baseball: One base, one run, one win at a time, Wildcats look to make history
The Kentucky Wildcats shouldn't be in the NCAA Super Regional.
That's not a value judgment, that's a statement of baseball fact. Don't shoot the messenger. Talk to the SABR-matricians, to Bill James, to all the Moneyball gang. Kentucky's way of playing baseball is as dead as Old Hoss Radbourn.
Stolen bases? Passe. Giving away outs. LSU, for instance, has 29 stolen bases this season. Uh, Kentucky has 91.
Sacrifice bunts? Again, giving away outs, not creating 3-run homers. What is this, the dead ball era? Ole Miss and Texas A&M each had 2 sacrifice bunts this season. Nobody in the SEC had more than 22. Except Kentucky. With 55.
Getting hit by pitch? Sounds like an injury waiting to happen. Get out of the way! Powerful Florida has been on the receiving end of 80 beanballs this season. But the SEC is led by Kentucky, with 130.
Or how about defense? Wildly overrated. Get the bats out there and win 12-10. Don't tell Kentucky, No. 1 in the SEC in fielding percentage, No. 1 in the fewest errors committed, and 3rd in double plays turned.
All so boring, this little ball stuff. Let's talk homers. Plenty of power in the SEC. Florida's Jac Caglianone has hit 31 taters on his own. Six SEC teams hit more than 100. Kentucky hit … 51?
Or fine, pitching. Blow everybody away with smoke, Paul Skenes-style? Kentucky is 11th in the SEC in strikeouts. But they have the 2nd-fewest wild pitches and have allowed the 2nd-fewest home runs.
Poor Kentucky. Probably went 8-22 in the SEC and got their coach fired with all these underwhelming numbers. Not so fast.
They're 2 wins from the program's first trip to Omaha.
Mingione's turnaround
When he arrived at UK in 2017, Nick Mingione inherited a veteran team that he promptly led to 43 wins, 2nd place in the SEC East, and Kentucky's first ever spot in a Super Regional. Kentucky had only made the NCAA Tournament field 8 times before Mingione's hiring. They had a single regular-season SEC crown to their credit and 14 total NCAA Tournament wins.
Mingione was seen as a culture changer, an up and coming assistant at Mississippi State who was a first-time head coach in Lexington. And after his promising start … well, it hasn't gone so brilliantly.
Kentucky's league marks since a 19-11 season in 2017? Try 13-17, 7-23, 12-18 and 12-18. No more NCAA Tournament appearances, much less Super Regional matchups. Given that Kentucky finally invested in upgraded facilities with the unveiling of Kentucky Proud Park in 2019, the program's failure to compete in SEC play was something of a sore spot.
Transfers, freshmen and little ball
Give credit for UK's 2023 turnaround to Mingione, who was willing to adapt to the transfer revolution in a hurry. This year's UK team is led by several transfer additions, from first baseman Hunter Gilliam (Longwood), to in-state outfielder Jackson Gray (Western Kentucky), to infielder Grant Smith (Incarnate Word), to outfielder Ryan Waldschmidt (Colorado State) or key pitching swing arm Darren Williams (Eastern Kentucky). When it wasn't transfers, it was under-the-radar guys like Canadian infielder Emilien Pitre, Florida catcher Devin Burkes, or in-state pitcher Hayden Smith.
Mingione has stuck with 4th-year assistant coaches Dan Roszel and Will Coggin, but he didn't necessarily stick with many things style-wise. Kentucky had 59 homers in 2022, and between a spacious park where the ball carries badly and a team that isn't exactly full of Caglianones or Dylan Crews-type hitters, something clicked. Kentucky had 17 sacrifice bunts in 2022. They also had a .370 on base percentage. Something had to give.
Mingione is always quick to credit his players. It takes an unselfish brand of athletes to sacrifice bunt, to turn going from first to third into an art, to get hit by pitch 25 times like Jackson Gray has this year. It takes a pitching staff that doesn't get hung up into the ego trip of being a starter, but can thrive in or out of the bullpen, largely by drawing weak contact that Kentucky's defense can turn into outs.
Make no mistake, Kentucky is unorthodox … and dangerous.
Consider their 21-2 start, which included not only a 5-0 start to SEC play, but a 3-game sweep over an Indiana State team that also is playing in a Super Regional this weekend. Consider a May 3-game sweep of South Carolina, which also is playing in a Super Regional this weekend.
But now, David meets Goliath. LSU has the SEC's top pitcher in Paul Skenes and top hitter in Dylan Crews. That duo may go 1-2 in the upcoming MLB Draft. They have arguably the nation's best run-producer in Tommy White (93 RBIs with a .378 batting average). The Tigers dominate in power hitting, power pitching and big names. Kentucky will bunt and hustle and scrap … and when they teams played in Baton Rouge in April, Kentucky punished LSU's bullpen and came up a run shy from winning the rubber game of the series.
Many prognosticators won't give UK much of a chance in Baton Rouge this weekend. Fair enough. After all, UK is small ball. Homers and strikeouts and future MLB All-Stars will be: Advantage, LSU.
That doesn't mean that Kentucky won't prove even more people wrong again. Their first trip to Omaha would certainly qualify. And if it doesn't seem like they can walk and bunt and steal and defend their way to Omaha … Kentucky would love to defy expectations one more time.