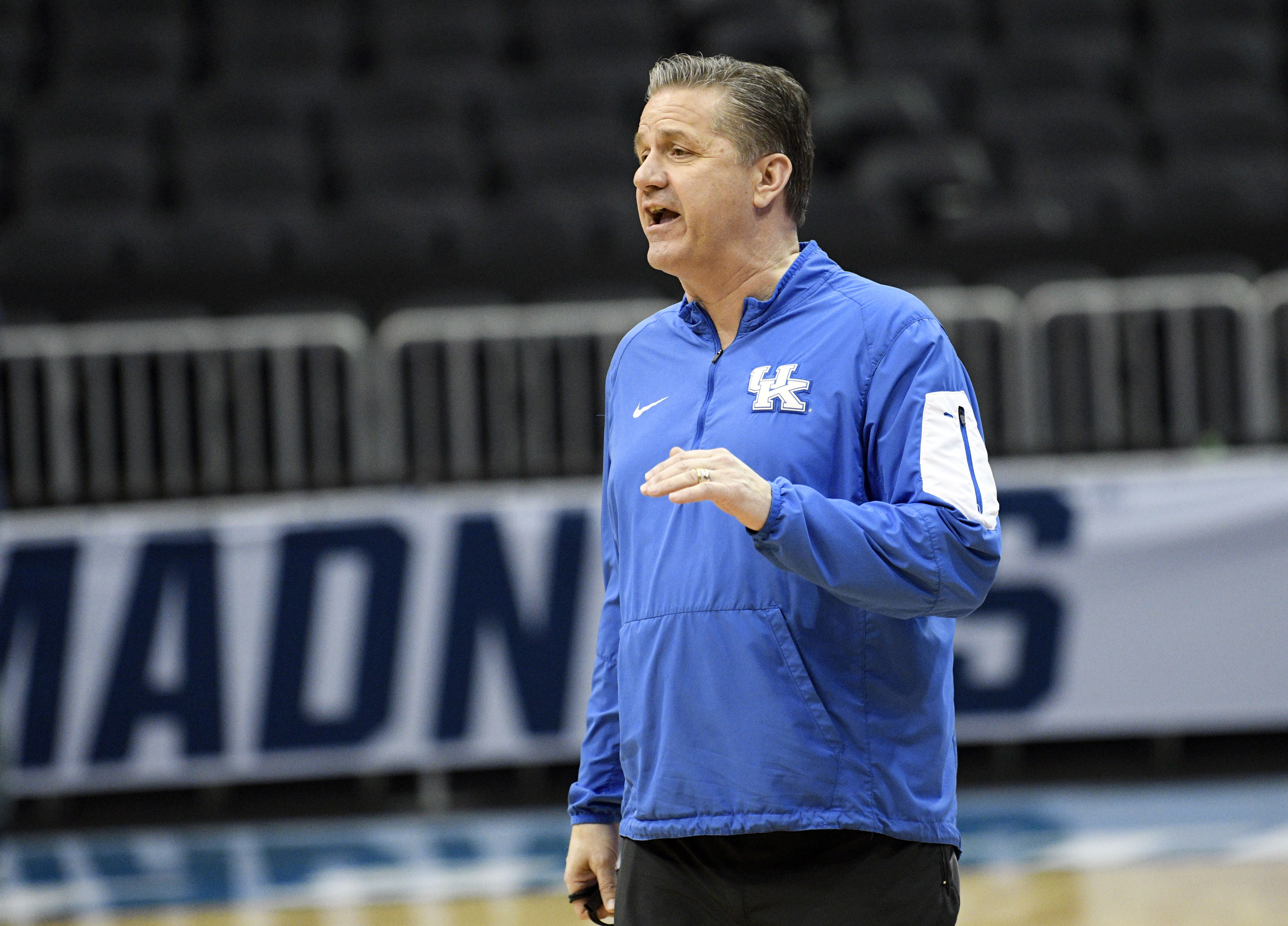 KENTUCKY
The decommitment of D.J. Jeffries from Kentucky could mark a changing of the guard in college basketball recruiting ... but probably won't
While nothing might be new under the sun, 4-star forward D.J. Jeffries' decommitment from Kentucky felt more than a tad unusual. Jeffries' decision leaves Kentucky with just one commitment in the 2019 class, from 5-star guard Tyrese Maxey, the No. 8 player in the country.
As coach John Cailpari prepares for his 10th season in Lexington, this was the first decommitment he has experienced as UK's recruiting head honcho. National recruiting analysts are suggesting that this could be a changing of the recruiting guard, but that assessment might be a bit hasty.
First, some background. Jeffries, a 6-7 small forward, is currently 247sports.com's No. 37 recruit in the 2019 class. He committed to Kentucky on March 12, but has now reopened his recruiting to expected interest from many, many schools, including Memphis. Jeffries is from Olive Branch, Mississippi, a long stone's throw from Memphis, and has played for an AAU team that was coached by newly named Memphis coach Penny Hardaway.
After careful consideration prayer and countless hours of consulting with my family I decided to reopen recruitment it was a hard decision but I am confident that taking my time to choose the right school for me to better myself educationally and athletically is the right choice pic.twitter.com/Pqc4QlVqfd

— Djjeffries™ (@lildjj0) July 30, 2018
Not insignificantly, that same AAU team included 6-11 center James Wiseman, a Memphis native who is the top recruit in 247sports' national rankings. Wiseman just happens to be a top priority for many of the nation's major programs, including Kentucky, Arizona, Kansas, North Carolina … and also Memphis.
The narrative that is emerging from Jeffries' decommitment is that Jeffries had grown interested in Memphis … and that could bode well for Hardaway's recruitment of not only of Jeffries, but also of Wiseman, as well as numerous other top recruits, many of whom knew Hardaway from his AAU days. Hardaway, the story will go, is becoming the new master of the one-and-done, the next guy to crack the elite recruiting that leads programs to Final Four and NCAA title banners.
Not so fast.
After Calipari's initial 2009 foray into recruiting brilliance (John Wall, DeMarcus Cousins, Eric Bledsoe) and 2011 second act (Anthony Davis and Michael Kidd-Gilchrist), his position atop the recruiting mountain of college basketball has been consistently under siege.
First, it was the blue bloods. Mike Krzyzewski, Bill Self and Roy Williams could approximate Kentucky's combination of tradition and on-court excellence, and they would break Calipari's recruiting stranglehold. Admittedly, Duke implemented this program best, with its quasi-infamous pledge to "take care" of recruits for life. It obviously worked pretty well in the 2018 recruiting class, as the Blue Devils locked up the top three prospects in the nation.
The second wave of recruiting masterminds weren't really masterminds at all. Lorenzo Romar and Johnny Jones aren't going into a basketball Hall of Fame without a purchased admission ticket. But the promise of a program built around their every whim started to look attractive to blue-chip recruits like Markelle Fultz and Ben Simmons. So what if their teams tanked, and they were in no danger of winning NCAA Tournament games, much less titles. They could still take the money and run.
Hardaway seems like Wave Three. A former NBA All-Star, he can't help but have more basketball acumen than guys like Romar or Jones, although admittedly, it's been built in a league that is essentially a glorified summer camp. At the same time, the recruits who will apparently scurry to Memphis to play for him don't expect to have to share minutes or the ball the way they might at UNC or Duke … or UK.
The trick is that juggling egos and minutes is a Herculean task. Sure, you can be like Romar or Jones and surround a great player or two with a group of walk-ons and scrubs. Enjoy the NIT. But if you're recruiting large numbers of one-and-done talents, either somebody gets left behind, or somebody clogs up the pipeline on somebody else.
Right now, Hardaway's record is spotless. He has never benched a starter for being selfish, he has never forced a Memphis player to early-morning conditioning sessions, and he has never told Jeffries or Wiseman that they're anything except his salvation as a coach.
But winter is coming soon. It will be interesting to see whether a) Hardaway can actually coach, b) the recruits eyeing Memphis stay interested during an NIT-caliber season, or c) the on-court success of Duke, UK, etc, particularly with a team full of young players suddenly leads recruits considering Memphis to reconsider. After all, Jeffries hasn't signed a letter of intent or asked out of one. He might just want awhile longer to see exactly what Hardaway is trying to do in Memphis.
The guess here is that Hardaway has a long and difficult fall. Great players, sometimes even ones with solid pedigrees, do not often make great coaches. Being cool might get you in a player's living room, but it's far from a guarantee of closing the deal. The early guess here is that the Jeffries decommitment is full of sound and fury, and will ultimately signify not very much. The guys who are ahead of Hardaway in the college basketball food chain didn't get there by losing or giving up.