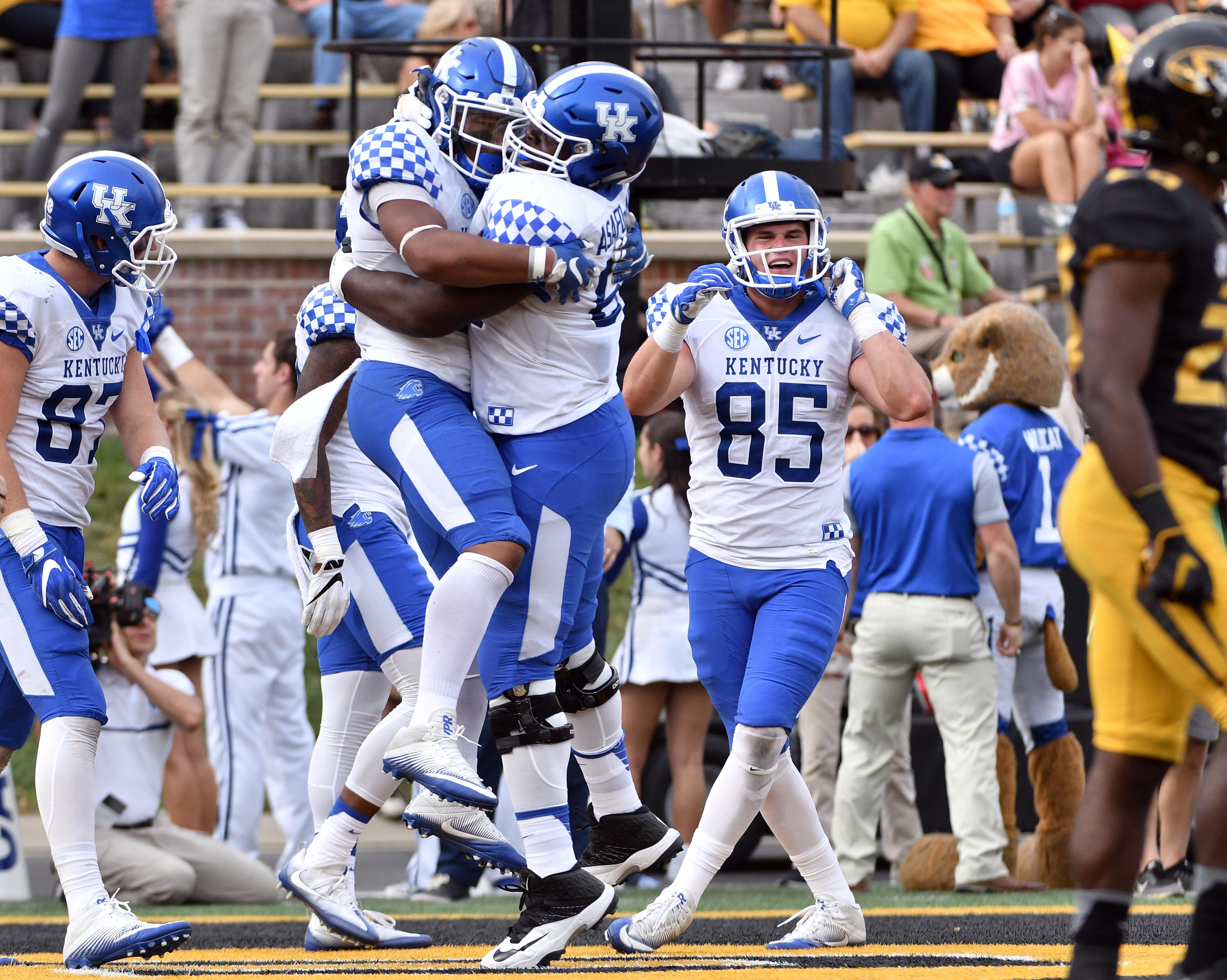 KENTUCKY
After years of frustration, Kentucky chasing division title
LEXINGTON, Ky. — In recent years, the SEC East has seen almost everything. Once a division dominated by Florida, Georgia, and Tennessee, as each of the three giants has fallen upon its own set of hard times, first it was South Carolina — coming out of nowhere to be a Top 10 program and make an SEC Championship Game appearance.
Then it was Missouri — the new kid in school, immediately laying waste to two division titles. But there were three certainties established for fans watching the SEC East: death, taxes, and that Kentucky would not be showing up in the SEC title game.
Not in football, anyway. We all know about basketball.
The football Wildcats do things like pick off seven passes and lose, give up a 75-yard touchdown at the final horn, and find a way to surrender an eight overtime game to Arkansas. Year in and year out, Kentucky has done little to encourage the hopes of its fan base.
But suddenly, the SEC list of certainties might be back to just death and taxes.
As November prepares to dawn over the Southeastern Conference on Tuesday, Florida sits atop the East division, with a 4-1 mark in league play. But the Gators still have to play at Arkansas and at LSU. Sandwich in a game at home against a surging South Carolina program, and it stands to reason that the Gators still have plenty of work to do. And second in the East, with a 4-2 mark is … Kentucky.
Third-place Tennessee is a game and a half behind and is badly beaten up. Georgia is two full games behind the Wildcats, and faces a game against Auburn in two weeks. So if anybody is going to dethrone the Gators, it will probably be … Kentucky.
Yes, it's been a while for UK. Kentucky's fourth SEC win of the seasons, gained Saturday at Missouri, marks only the fifth time in the past 39 years that the 'Cats have reached four victories in SEC play. And it's been since 1977 when the Wildcats last posted a winning SEC season record.
And the Wildcats' head coach, Mark Stoops, was staring down the barrel of a fourth consecutive season without a bowl appearance when UK began the year by coughing up a big lead to lose at home against Southern Miss, and then with a crushing 45-7 thumping by Florida in the Swamp. Stoops, incidentally, had won four SEC games in his first three years at Kentucky. Combined. He had won a single SEC road game — but he doubled that total Saturday.
Stoops was probably programming realtors into his speed dial when pocket passing QB Drew Barker went down with a back injury on the opening series of UK's third game against New Mexico State. The backup was an untested JUCO dual-threat QB, Stephen Johnson. To sum up the season to that point, Kentucky was terrible, and Barker, the player who many viewed as the hardest to replace, suddenly had to be replaced. These are the circumstances that produce 2-10 seasons.
But a funny thing happened on the way to the SEC cellar. Kentucky began running the football — well and often. Stud RB Stanley "Boom" Williams started splitting time with tough true freshman RB Benny Snell, and the two made a dynamic combination.
After eight games, Williams has 821 yards rushing, and Snell has added 661 yards and eight touchdowns. Johnson has made just enough plays with his arm to keep defenses honest.
And the UK defense, which was gashed for over 40 points and 500 yards in each of the first three games, has settled in and started looking like a legitimate SEC unit. Linebacker Jordan Jones has 71 tackles, safety Mike Edwards has 60 stops and eight pass breakups, and linebacker Josh Allen has 5.5 sacks.
And a Kentucky team that had made a history of giving away late leads suddenly started winning close games. They beat South Carolina by a touchdown, edged past Vandy by the same margin, got a 51-yard field goal to get past Mississippi State at the final horn, and Saturday, thumped Missouri by a 35-21 margin that wasn't indicative of how one-sided the game was.
And now Kentucky finds itself thinking about a championship in late October — and it's not just the Calipari lovers who are doing the thinking.
UK matches up at home with Georgia on Saturday, and travels to Tennessee the following Saturday. Kentucky will likely be a slight underdog versus the Bulldogs, and Tennessee will be a fairly substantial home favorite. But both games look surprisingly winnable.
Even if Kentucky falls flat, the Wildcats can wrap up their first bowl trip since 2010 on Nov. 19 against a morbid 0-8 FCS Austin Peay team. Even the most pessimistic of Wildcats backers would admit that a bowl game is almost guaranteed. And for the optimists?
If Kentucky splits the next two games, they will likely finish no worse than tied for second in the SEC East. After a four decade detour into the bottom of the standings, that would be no small accomplishment for Stoops and the Big Blue Nation. Kentucky has only a handful of seniors, and could be building up the most talented program they've had since the late 1970s, when they won an SEC title and then posted a 10-1 season, including a win at Penn State.
But if Kentucky surprises its critics and wins both games from Georgia and Tennessee, then those Florida matchups with the SEC West get really interesting.
Could the Kentucky Wildcats be headed to Atlanta for the SEC Championship Game? It's definitely not a certainty, but as Wildcat fans could tell you, stranger things have happened.