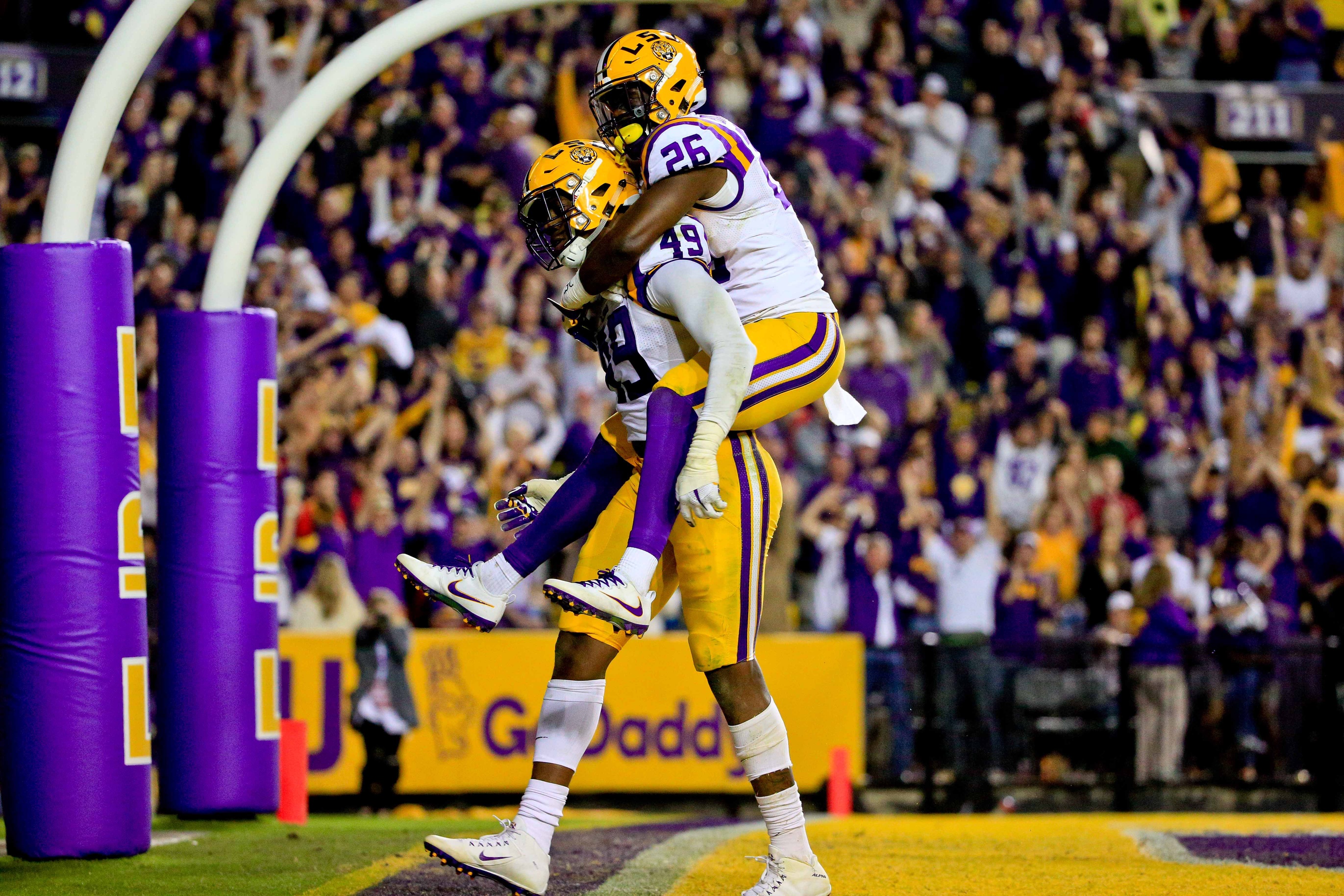 LSU TIGERS
5 ways for LSU to win the open week
The good thing about bye weeks is you can't lose, right?
Well, for LSU, with Alabama looming after the bye, it better win this week if it wants to win next week.
The Tigers are 3-0 since Ed Orgeron became the interim coach and have been arguably as dominant in those games as top-ranked Alabama has been this year. The average margin of those LSU wins has been 29 points. The average margin for Crimson Tide wins this year has been 29 points.
But let's not get ahead of ourselves here, Tigers fans. Sure, LSU has a chance. So did Ole Miss. So did Texas A&M.
But to beat Alabama, you have to play a complete game and, up to now, LSU is not a complete team. Here are some things the Tigers can do with their open week to be more "complete" and get ready for the Nov. 5 showdown:
1. Get the offensive line whipped together: So much of the Alabama game will be decided by the physical play up front, and this has been a problem for LSU lately because the Tigers have had to play offensive line shuffle.
Because of injuries and suspensions and the shifting those injuries caused, the Tigers have had at least two different starters at every offensive line position except left tackle, where K.J. Malone has started every game. At left guard (Will Clapp and Maea Teuhema), center (Ethan Pocic and Andy Dodd), right guard (Josh Boutte and Teuhema) and right tackle (Toby Weathersby, Teuhema and Pocic), LSU has had multiple players start games because of injuries.
Only Malone and Pocic have started every game.
With reports that Weathersby will be back for Alabama, it's possible that LSU can start its original starting five of Malone, Clapp, Pocic, Boutte and Weathersby against the Crimson Tide while having the versatile Teuhema ready to play at any of a number of positions.
The trick this week is to get the chemistry of the starting unit — whatever that unit may be — up to the task for Nov. 5. This will be the first time since the opener against Wisconsin that the Tigers won't be improvising a new offensive line lineup, so the chemistry of the group should be improved for the Alabama game.
2. Get a kickoff return game that works: In almost all regards, LSU's special teams have gotten better since Orgeron made Bradley Dale Peveto the full-time special teams coach, instead of having him split time there along with being outside linebackers coach, which was his role under the now-fired Les Miles.
One area where the Tigers are still not getting mileage is with the kick return team. LSU is 13th in the SEC in kick returns and was putrid against Ole Miss, not getting more than 16 yards on a return.
Field position will be huge against Alabama and if the Crimson Tide, fresh off a score, is able to bury LSU inside its 20 on the ensuing kickoff, that would be a steep hill to climb for the Tigers. Alabama is ninth in the SEC in covering kicks, so if the Tigers can get their act together in the return game, they can potentially win the special teams battle against the Tide and maybe provide a quick momentum shift with a nice return.
3. Get Leonard Fournette closer to 100 percent: Here's the crazy thing about Leonard Fournette's school-record 284-yard outburst against Ole Miss: Because of his injury, he was far from being in game shape.
Now that we know the ankle is fine and he has two weeks to prepare, LSU should have Fournette somewhere reasonably close to being 100 percent by the time Alabama rolls into Baton Rouge.
That means a little bit more trim, a little bit quicker — if you believe that's possible, given the burst he showed on three long touchdown runs against the Rebels — and a little more durable. If LSU manages to get a close lead late, one can see a scenario where it leans on the 235-pound junior to deliver body blows to the Alabama defense with repeated runs.
If that happens, will he be up to the task?
4. Work on protecting the football: Here's an interesting thing about the three-game Orgeron era. He believes that turnover margin is the single most important statistic in football. Yet despite the Tigers' dominance since he's become the head coach in just about every other area, the Tigers have not been particularly good at turnover margin.
Under Orgeron, LSU is even in turnover margin: four lost and four gained. For the year, the Tigers are tied for 11th in the SEC at minus-1 with 11 turnovers lost to 10 gained.
That's not good going up against an opportunistic Crimson Tide team, which has famously scored at least one non-offensive touchdown every game this season, 12 total.
Orgeron calls his Wednesday practices "Turnover Wednesday," stressing ball security on offense and ball-hawking on defense (and, really, 10 forced turnovers aren't enough for such a talented, physical group). The Tigers need a couple of pretty good Wednesdays between now and Nov. 5.
To upset Alabama, LSU probably needs to flip the script on the turnover narrative. It would be a great time for the Tigers to play mistake-free while maybe getting a pick-six or a scoop-and-score of their own.
5. Whip Travonte Valentine into shape: Orgeron's new persona is as a player's coach who tries to make practices enjoyable and engaging while stressing not mentally beating up his players.
That doesn't mean there isn't a doghouse one can land in.
Apparently, nose guard Travonte Valentine has found his way there as he hasn't played in either of LSU's last two games with reports surfacing that the LSU coaching staff isn't happy with his weight gain.
As we mentioned before, this is going to be a physical game, and while Greg Gilmore has proven to be the man for the nose guard position — he's more than held his own as the starting nose all season — this could be a game where LSU could use a little extra bulk to combat the Crimson Tide's dominant offensive line.
Gilmore, listed at 308 pounds, has a good enough mix of size and quickness to get the job done. But when LSU needs to tighten up in short-yardage situations, it would be nice to have the 356-pound Valentine — well, that's where he's listed on the roster, but we're assuming he's somewhere north of that weight at the moment — in there providing an immovable object.
LSU-Alabama is big boy football. But in this case, LSU needs a particular player to be not so big.
Read More
Louisiana online sports betting is officially live in much of the state. Louisiana joined the handful of other SEC football states with legalized sports betting in January 2022.