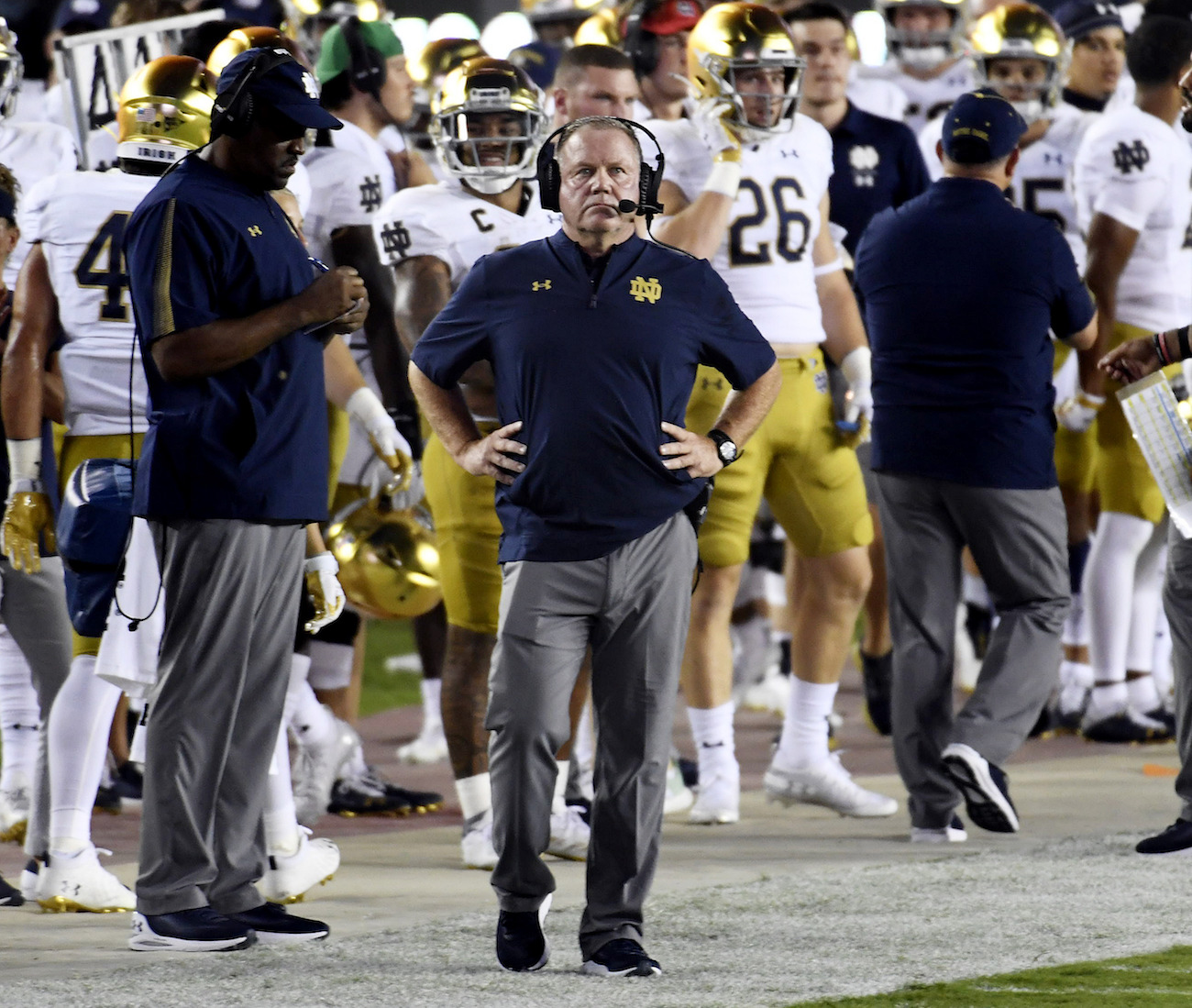 LSU TIGERS
Brian Kelly hire shows LSU is still a magic name in college football
LSU didn't get Lincoln Riley.
Or Jimbo Fisher. Or Mel Tucker.
Or any other Internet-designated A-list candidate to succeed Ed Orgeron as its head football coach.
But the Tigers did get Brian Kelly.
The guy who coached Notre Dame to more victories than Knute Rockne did.
And Frank Leahy. And Ara Parseghian. And Lou Holtz.
The perception that big-time college football coaches have no interest in coaching the Tigers dissipated faster than Orgeron's program went from 2019 national champions to 2021 orphans.
That perception began after the 2016 season when LSU had interim coach Orgeron as a fall-back option as it sought a bigger name to be the full-time successor to Les Miles.
Fisher, a former Tigers assistant who was head coach at Florida State at the time, wasn't interested, though a year later he was more than happy to leave the Seminoles for Texas A&M.
LSU – like most head-coachless teams at the time – was enamored with University of Houston head coach Tom Herman, but he was more interested in Texas.
So the Tigers seemingly settled for Orgeron. (For what it's worth Orgeron lasted longer at LSU than Herman, who's now an assistant with the Chicago Bears, lasted with the Longhorns.)
The perception, mostly but not exclusively from outside of Louisiana, was that Orgeron wasn't up to the job, that he was destined to fail.
But he didn't fail – at least not initially. The Tigers made slow, steady progress before Orgeron caught lightning in a bottle and led the Tigers in a dominant run to the 2019 national championship.
Then it all fell apart.
LSU went 5-5 in 2020 and started 4-3 this season, leading the university to buy out Orgeron and make him a de facto interim coach again. The Tigers went 2-3 down the stretch, sending him out with a 27-24 victory against Texas A&M last Saturday in Tiger Stadium.
Offensive line coach Brad Davis is expected to coach LSU in whatever bowl game it goes to, but now the Tigers have a new full-time leader.
And he's a good one. A big name. A guy with a whole bunch of skins on the wall. Remember, he's had more Playoff appearances than anybody in the SEC except Nick Saban.
It's easy to look at the Kelly hire as a repeat of 2016 – as LSU settling after being spurned by its preferred choices.
Riley went to USC, Fisher stayed in College Station and Tucker got a big raise to stay put like seemingly everyone else on athletic director Scott Woodward's list.
But Kelly was on the Tigers' radar all along. And rightfully so.
He's an excellent coach – he was at Grand Valley State, Central Michigan and Cincinnati and has been at Notre Dame.
Sure he'll turn 61 during next season, but he's a couple months younger than Orgeron and a decade younger than Nick Saban.
And speaking of Orgeron and Saban, they and Miles have all won national championships at LSU – Saban in 2003 and Miles in 2007.
Youth is cool, but so is experience, so is a track record.
Perhaps Riley or Lane Kiffin or former LSU assistant Dave Aranda or former Tigers' neighbor and new Florida head coach Billy Napier or someone else who isn't going to Baton Rouge will someday well down the road have a track record approaching Kelly's current one.
But there's insufficient evidence at the moment to suggest any of those coaches will be the equal of Kelly in 2022 or for a while after that.
No one in Baton Rouge is in the mood for patience right now – and they shouldn't be.
This .500 stuff has gotten really old in 2 seasons.
Kelly has been coaching for 32 seasons. In 3 of those seasons his team failed to have a winning record.
He had the Fighting Irish in the CFP for the 2nd time last year and they're lurking again this year.
LSU expects to win big every season – and Kelly has won big nearly every season.
Presumably Woodward offered a pot of gold that even the Fighting Irish leprechaun couldn't match.
In addition to the money that Woodward offered, reportedly a 10-year deal that could top $100 million, something else might have helped tipped the scales away from South Bend and toward Baton Rouge.
Kelly has one thing left on his bucket list — to win a national championship.
It's easier to reach the College Football Playoff at Notre Dame.
But it's easier to win it at LSU.
Read More
Louisiana sportsbooks are up and running. Residents in the state can now signup at one of the various sportsbook operators and begin betting on NFL, college football, NBA and more.