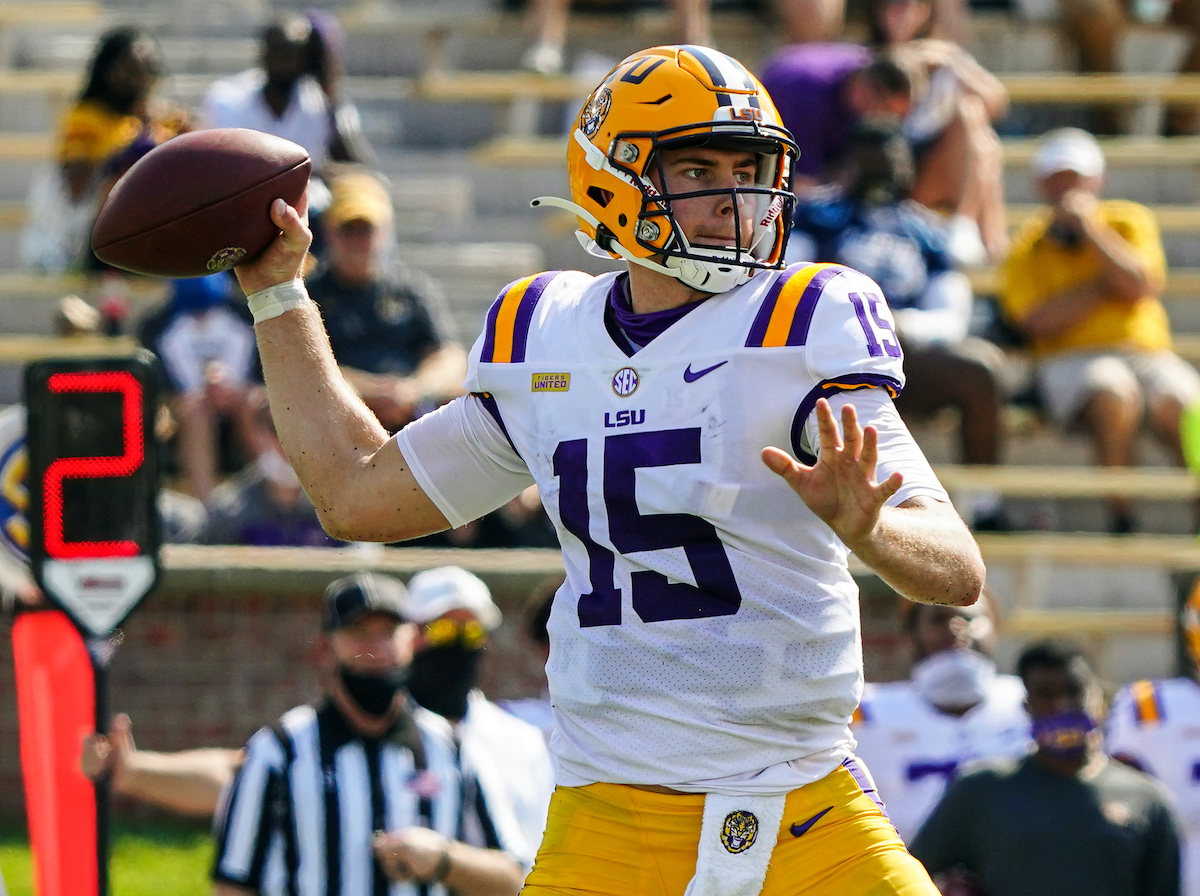 LSU TIGERS
Brian Kelly is wasting no time rebuilding LSU's offense
The rebuilding of the LSU offense has begun.
It's about time.
The Tigers' offense starting disappearing when Myles Brennan suffered a broken bone in his non-throwing arm at the end of preseason camp last summer.
John Emery II was declared ineligible and missed the entire season. Kayshon Boutte was injured and missed the final half of the season. Brennan entered the transfer portal.
Max Johnson transferred to Texas A&M after regular-season finale, a handful of receivers entered the transfer portal and virtually the entire offensive line is gone.
Things bottomed out when LSU played a wide receiver at quarterback and he was joined by just 37 teammates on scholarship for the Texas Bowl loss to Kansas State nearly 2 weeks ago.
The Tigers need a lot of reinforcement – and they have started arriving.
First came Brennan, who reversed field after a talk with new head coach Brian Kelly and decided to return for a 6th season.
Others have come through the transfer portal since.
Miles Frazier, the highest-rated offensive lineman in the portal, chose LSU after leaving FIU.
Former Penn State running Noah Cain is headed to Baton Rouge, as is former Louisiana-Lafayette wide receiver Kyren Lacy. Additionally Kelly salvaged 13 high-school recruits in the Early Signing Period and he has an additional 12 spots for recruits and transfers.
LSU has a long way to go before it can field an offense that's closer to the record-setting one of 2019 than it is to the average ones of 2020 and 2021.
But things are getting better.
Let's start with Brennan, even though his status as the most experienced quarterback on the roster doesn't guarantee that he will be under center when the Tigers open the 2022 season against Florida State in the Caesars Superdome.
But Kelly obviously said something that resonated with Brennan, something that cut through the patience-testing and frustration of the past 5 years and clarified that Brennan still has time to earn a shot at an NFL career and his chances are better of doing so at a place in which he has invested 5 years than it would be in some foreign place.
Garrett Nussmeier played in relief of Johnson in 4 games last season and Walker Howard is arriving as a 5-start recruit.
But Brennan returns as the player most likely to win the starting job as he did in 2020 and as he likely would have in 2021 had he not been injured.
If Nussmeier or Howard proves good enough to beat out Brennan, that's a good sign for the Tigers in their attempt to stabilize the quarterback position after 2 seasons of inconsistency and mediocrity.
Regardless of who starts at quarterback, the Tigers still have work to do throughout the offense to get to where they want to be.
The arrival of Cain, a former 4-star recruit who grew up in Baton Rouge before moving to Texas and then finishing his high school career at IMG Academy, helps after Ty Davis-Price left the program before the bowl game to prepare for the NFL Draft.
Cain rushed for 443 yards and a Penn State freshman-record 8 touchdowns in 2019 before suffering a season-ending knee injury in the 2020 season-opener.
Last season he rushed for 350 yards and 4 touchdowns and caught 19 passes for 114 yards.
So far it appears Emery will return as will Corey Kiner, Armoni Goodwin and Tre Bradford, giving LSU potential and depth at running back.
Lacy's arrival helps at a position at which 5 players entered the transfer portal, most notably Koy Moore, Deion Smith and Trey Palmer.
In 2 seasons at Louisiana-Lafayette, Lacy, a native of Thibodaux, La., caught 50 passes for 864 yards (13.5 yards per catch) and 18 touchdowns.
The offense is a work in progress but for the first time in a while the number of players is growing instead of shrinking.
Read More
Louisiana online sports betting is officially live in much of the state. Louisiana joined the handful of other SEC football states with legalized sports betting in January 2022.