LSU TIGERS
Film Study: Freshman QB Harris makes LSU a major player again
Ok, I was wrong; I admit it.
I'm the "genius" that wrote prior Louisiana State University's season-opening tilt against the University of Wisconsin that incumbent starting quarterback Anthony Jennings would procure the starting job — on the field — over highly touted super recruit Brandon Harris (Click here to read that article).
My reason being that Jennings was severely underrated in his technique, arm strength and athleticism. Additionally, his innate ability to operate in offensive coordinator Cam Cameron's vertical-stretch passing offense — due to being one of the best deep-ball throwers I've ever seen in person– made him a shoo-in, in my humble opinion.
But what I didn't take into account was the LSU fan base giving its complete unwavering support to Harris, virtually at the expense of Jennings.
Despite only starting a handful of games, Jennings was 3-0 as a starter with five touchdowns, opposed to just one interception, before Harris stepped in for him against Mississippi State in clear garbage time.
While Jennings looked completely inept against a ferocious Mississippi State defense, and Harris almost pulled a miraculous comeback, that shouldn't have been enough to relegate him to the bench.
And for all intents and purposes it wasn't.
Jennings starting 2-for-5 with two interceptions (and a lost fumble) — against New Mexico State — certainly was. And when you factor in Harris' statistics: 11-of-14 for 178 yards with three TDs and zero INTs, it was more than enough for head coach Les Miles to finally make the switch.
But I'm still holding steady that Jennings' benching says more about how great of a future Harris has, opposed to how poor Jennings has played.
Because Harris is that talented.
– – – – – – – – – –
Now that I've gotten off my soapbox, and I've accepted the fact that my guy Jennings will be collecting splinters in his butt for the next few seasons, I can truly appreciate the vast skill set Harris has at his disposal.
His ability to throw on the run is downright remarkable; he has an absolute cannon for an arm; he's as fast as it gets; he has the ability to make something out of nothing.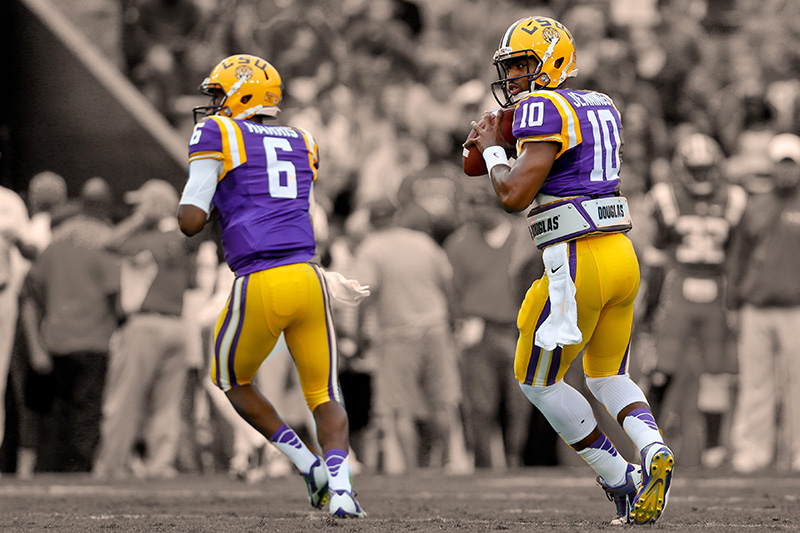 Derick E. Hingle-USA TODAY Sports

And most importantly, he has a supreme belief in his abilities — as told to Justin Hokanson of AuburnSports.com.
"I feel like we're similar," Harris said about comparisons to him and current NFL superstar Cam Newton (Carolina Panthers) during his recruitment process.
"Of course I'm 6-foot-3, and he's 6-foot-6 and he's got 60 pounds on me — we're similar though. I feel like I throw the ball better than anyone in my class. I have the best arm in the class. As far as athleticism, I feel like I'm the best athlete and I throw more than I run it."
Supreme Arm Talent
The Bossier City, La., product does have similar traits to Newton — the most of which being arm strength and accuracy.
Harris is scheme diverse enough to fit in a West Coast-based rhythm-and-timing offense, a spread-to-run attack or a passing spread.
In LSU's vertical-stretch scheme, Harris' progressions read deep to short with plenty of NFL-based throws: deep comebacks, digs and skinny posts.
As a disciple of the vintage Air-Coryell scheme, Cameron believes in deep passes backing action away from his pro-style, man-blocking run game. But showing his versatility, Cameron has included elements of the read-option in his arsenal.
But it still remains a vertical-based outfit.
Here we see Harris with a touchdown pass against State. Working out of the gun, he's still able to transfer his weight quite nicely at the top of his drop. But as he has shown a tendency to do, he doesn't drive off his back leg instead generating more of an arm throw.
But being as though he has a rocket for an arm, he's still able to deliver it with a ton of velocity.
As Harris gets some seasoning, Cameron will undoubtedly drill the need for proper mechanics on a throw-by-throw basis. When Harris really needs to drill a throw into a tight window, he's going to need to point and shoot at his target — while generating velocity by driving off his back leg.
Garnering your first start, on the road, against a heated divisional rival, is enough to break a fifth-year senior — much less a true freshman five games into his college career.
It's imperative for Harris to take care of the nuances as well; ability will only take you so far.
Run Prowess
While Jennings is a pretty good athlete in his own right, Harris is a flat-out freak of an athlete. Although his reported 40-yard dash time isn't overwhelming (4.64), he's a natural runner with a great feel for not only making people miss, he's also adept at breaking tackles.
While LSU will always have a Grade A run game, possessing a QB that can manufacture first downs is worth its weight in gold. Former QB Jordan Jefferson had uncanny athleticism, but he was shaky at best throwing the football.
Harris is a true dual threat.
In the above sequence we see Harris on a read-option keeper. He receives a nice seal block on the edge-defender and makes the crashing linebacker miss horribly. He wisely goes inside of the kick-out block he received from his wide receiver Travin Dural.
Furthermore, he breaks another tackle by turning a defender in grass seeds; he's a dynamic runner that will keep defensive coordinators up at night thinking of ways to combat his many talents.
While he will see a significant upgrade in competition against Auburn, he's well-equipped to compete at the highest level behind an explosive run game and a pretty stout defense.
If the Tigers knock off Auburn, we will know that they are a major player moving forward. Either way it goes, the Bengal Tigers have possibly the best prospect they have had in years at signal-caller.
Now that's scary.