LSU TIGERS
Film Study: LSU's next generation of lockdown corners has arrived
Given how much went wrong at LSU over the first half of the season, at least one aspect of the lineup was business as usual: For the umpteenth year in a row, the Tigers boast one of the best young secondaries in the nation, anchored by a trio of blue-chip cornerbacks with aggressive tendencies and NFL futures written all over them. The names change; the amount of space between the DBs in Baton Rouge and opposing receivers seemingly never does.
For the current group, last weekend's come-from-behind win over Auburn was a coming-out party and a validation on the heels of ugly September losses to Mississippi State and Troy: After an all-hands-on-deck first quarter, the Tigers regrouped to hold Jarrett Stidham — the SEC's highest-rated passer coming into the game — to 3-of-17 passing over the final three, for a grand total of 21 yards. The second half was a near-shutout; Stidham completed his first pass of the third quarter, for 6 yards, and failed to connect on another positive gain the rest of the way.
In the process, the secondary established itself as the clear strength of a team whose broader SEC goals remain, if not likely, then at least still within reach. For the season, LSU ranks second in the conference in pass efficiency defense, trailing only Alabama, and after this weekend's test against Ole Miss' Shea Patterson the Tigers won't face another established downfield passer at any point down the stretch. Even if the latest class at "DBU" can't solve the team's larger issues, it can make the offense's life easier, and keep its deficiencies from spelling certain doom. To a large extent, it already has.
Nothing For Free. What stands out right away watching LSU's cornerbacks is their fearlessness — as a group, they're not the least bit concerned with the prospect of a receiver running past them downfield, and with good reason.
In the three games I watched for this post — wins over Syracuse, Florida and Auburn — only one outside WR managed any downfield success against the Tigers' press coverage whatsoever: Syracuse's Steve Ishmael, who's quickly emerging as one of the most un-coverable targets in the college game. (At midseason, he leads the nation in receptions and was last seen abusing Clemson's secondary in one of the most far-reaching upsets of the year.) And even in Ishmael's case, the downfield damage amounted to a couple of fade routes that accounted for 50 of his 123 yards on the night; the rest came via a crossing pattern vs. zone coverage and a steady diet of passes thrown at or behind the line of scrimmage.
If the opposing receiver's not a future draft pick, his chances of getting open deep against LSU's corners are just about null. And LSU's corners know it.
That confidence gives affords them an unusual level of patience before they can be induced to turn their hips upfield, which alters the offense's calculation of what actually qualifies as a safe throw. With the Tigers, the kind of passes that make for routine completions against most defenses are routinely contested, and occasionally turn out to be flat out dangerous, as Syracuse learned the hard way when it tried to throw a quick hitch route in front of redshirt freshman Andraez "Greedy" Williams on its first play from scrimmage.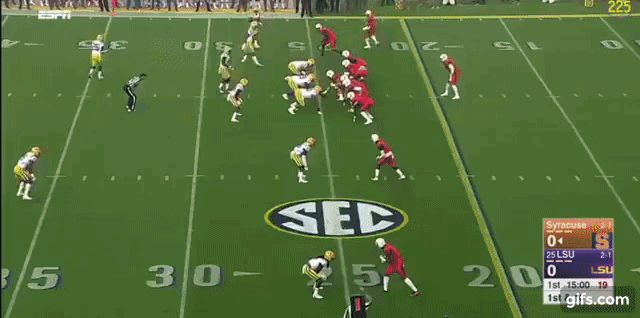 For the record, there was an open target on that play, the slot WR running a quick out to the bottom of the formation opposite a nickel blitz by LSU's Kary Vincent Jr. (No. 15). From the quarterback's perspective, though, the hitch probably looked ripe for the picking: Williams began to backpedal just before the snap and was still offering about 5 yards' worth of cushion as the ball left QB Eric Dungey's hand.
(At that point, it's also possible the Orange were deliberately picking on Greedy as a relatively unproven young pup, although they should have known better from studying his virtually identical interception against Chattanooga in Week 2; subsequently that lesson appears to have been learned.) Instead, Williams was able to shift gears on a dime and jump the short route with ease because he had no fear of being outrun deep. The Tigers scored on the next play to go up 7-0 and never trailed.
Wary of testing Greedy or his more established counterpart, junior Donte Jackson, both Florida and Auburn took similar shots at the nominal No. 3 corner, Kevin Toliver II — a former 5-star prospect with 14 career starts under his belt — with similarly dismal results. In Auburn's case, the Tigers targeted Toliver once deep, unsuccessfully, and twice underneath, both times on simple hitch/comeback routes designed to move the sticks. The first was on a third-down pass in the second quarter, which Toliver (bolstered by safety help over the top) nearly picked off in Greedy-like fashion:
Read More
Louisiana online sports betting is officially live in much of the state. Louisiana joined the handful of other SEC football states with legalized sports betting in January 2022.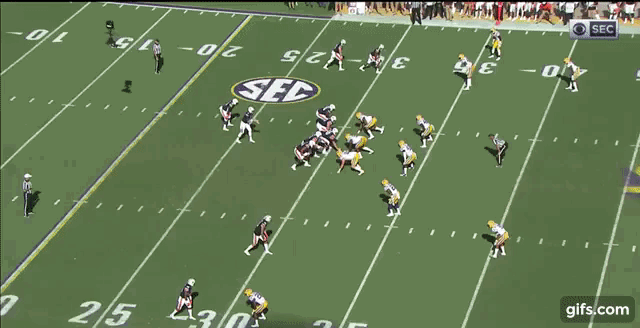 The other came on a second-and-long attempt in the third quarter, against bump-and-run coverage by Toliver that a) involved a lot more bump than run, characteristically, and b) yielded zero space between himself and WR Darius Slayton: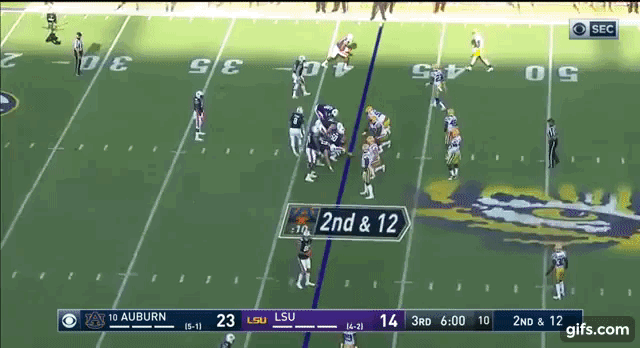 Otherwise, Auburn largely steered clear of Williams, testing him for a short gain to open the game and just once after that, on a third-and-goal fade to the back of the end zone just before the half (ignore the illegible telescrator scrawl at the snap) …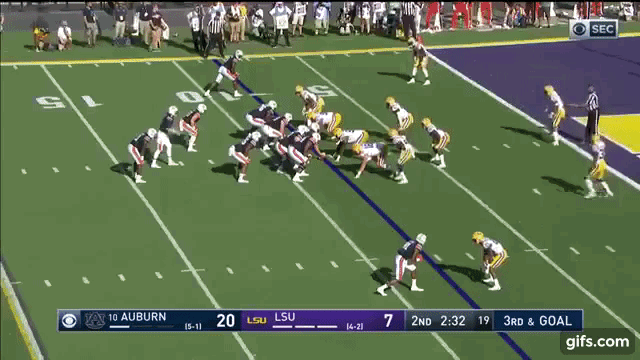 … and hardly bothered throwing in Jackson's direction at all until the Tigers' last-gasp drives at the end of the fourth quarter, when he was credited with a PBU on each of Stidham's final four passes. (Including this timely, telegenic swat on fourth down of Auburn's next-to-last possession.) Prior to that stretch of plays Jackson's name doesn't appear in the official play-by-play in any capacity, which for a cornerback is the ultimate compliment.
Maneuvering Around the Corners. Without All-22 footage of every deep passing attempt LSU has defended this season, you'll have to take my word for it that that handful of plays is a representative sample: Aside from Ishmael, there really are no other examples yet this season of a Tiger cornerback losing a one-on-one matchup beyond seven or eight yards downfield. They've given up yardage on the occasional screen pass and trick play, and on the massive coverage bust that led to the defining play in their wipeout loss at Mississippi State. But if a blueprint exists for throwing against LSU with any kind of consistency, it's to avoid challenging the corners altogether and focus on exploiting matchups against linebackers and safeties instead.
Different offenses have managed this in different ways. Mississippi State made hay against man coverage by simply letting its receivers run the corners off, vacating the flat and creating huge swaths of space for run-after-catch yards on underneath routes — on a crucial touchdown drive just before halftime, the Bulldogs' two biggest plays came on a 3rd-and-11 flood pass to tight end Farrod Green, which picked up 22 yards …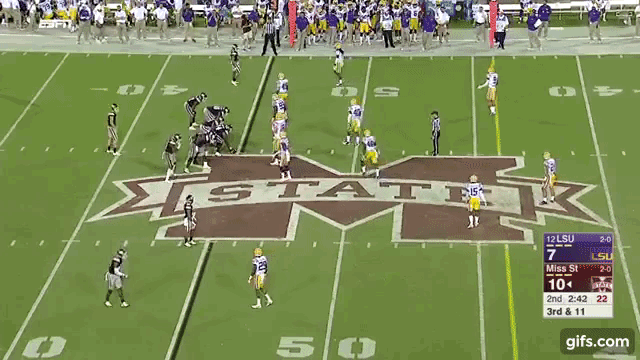 … followed just a few plays later by a 19-yard gain to Keith Mixon, who took a shallow cross nearly all the way to the end zone: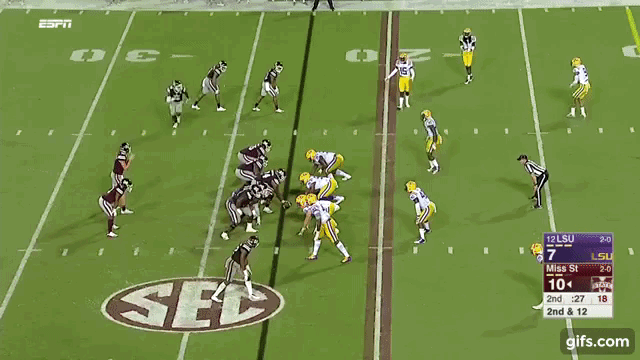 Florida's passing game was almost non-existent against LSU — Feleipe Franks finished 10-of-16 for 108 yards, with zero touchdowns, zero INTs, and zero completions of 20 yards or more — but what little the Gators did get was primarily the result of creating a favorable matchup between a slot receiver and a safety, specifically senior John Battle (No. 26 below). Improbably, their biggest gain through the air came on a 3rd-and-15 attempt in the second quarter, on a smash concept out of trips that occupied both corners to the play side of the formation (outside, Williams was responsible for a short hitch; Jackson, in the nickel, ran with a deep vertical route) and isolated one of Florida's most illusive receivers, Brandon Powell, against Battle, who had little chance of hanging with Powell on a corner route: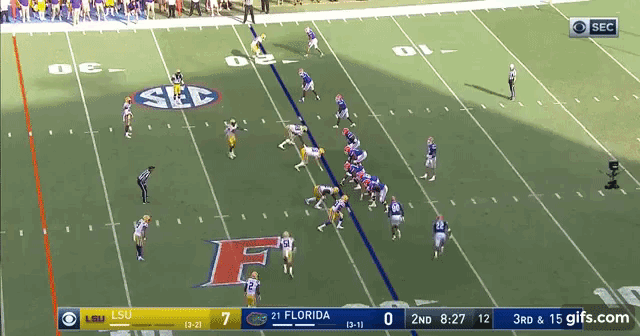 Later on, the Gators took advantage of a one-on-one matchup against Battle again, this time hitting slot WR Freddie Swain on a shallow bootleg route for a gain of 12: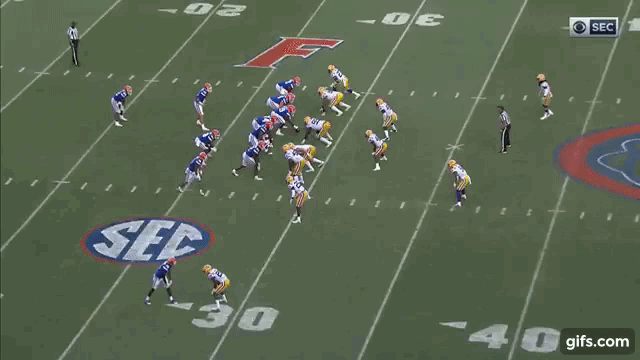 Auburn was more ambitious in attacking LSU's safeties in the early going, taking advantage of its first third down of the game to take an end zone shot against true freshman safety Grant Delpit. To set it up, the Tigers stacked receiver Eli Stove behind a tight end, Sal Cannella, who effectively acted as a blocker on the play to ensure that Williams was occupied with him rather than with a deep vertical route by Stove; they succeeded in getting the matchup they wanted downfield, but not the result as Delpit was in perfect position to make a play on the ball: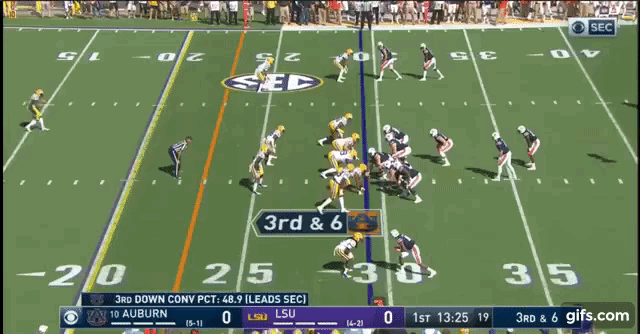 On Auburn's next possession, however, the freshman didn't fare so well, falling victim to a nifty double move by slot receiver Will Hastings en route to a 49-yard touchdown pass: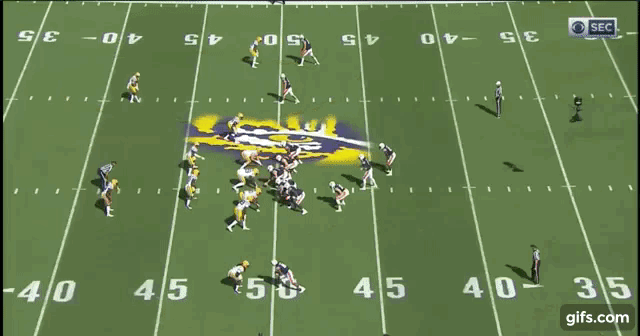 Of course, finding favorable matchups is the relatively easy part; giving the quarterback enough time to allow them to develop and deliver an accurate throw downfield against LSU's ferocious pass rush is another story. As long as keeping a clean pocket is a prerequisite for getting anything done outside of the screen game, the odds are going to continue to be in the Tigers' favor the vast majority of the time.
To Saturday and Beyond. Ole Miss is unique challenge for any secondary: Inconsistency notwithstanding, as a group A.J. Brown, D.K. Metcalf, DaMarkus Lodge, and Van Jefferson still represent the deepest, most NFL-ready receiving corps in the SEC. They're tall, they have the ability to make contested catches look routine, and they have a quarterback who's more than capable of giving them the opportunity. This week, they also happen to be coming off a revitalizing performance in last weekend's blowout win over Vanderbilt. As far as individual match-ups go, the Rebels are the toughest test LSU will face from the top of the rotation to the bottom. Pro scouts should be riveted.

How they fare Saturday will also tell us more about how well LSU figure to hold up in November against the best individual receivers on the schedule, Alabama's Calvin Ridley and Texas A&M's Christian Kirk. Ridley and Kirk are faster, smoother, and more precise route runners than Ole Miss' fleet of small-forward types, but speed on the outside clearly is the least of the Tigers' concerns; ditto for Ole Miss' ground game, which ranks 120th out of 130 FBS teams and shouldn't occupy too much of the safeties' attention. If they can hold Brown and Co. in check, there's no reason to believe the rest of the schedule won't be in for the same fate.