SEC
QB Curve: Ole Miss needs Shea Patterson. How much does he need Ole Miss?
Quarterbacks: There are a lot of them! Each week, QB Curve will keep you up to speed on the game's most important position by putting a different SEC signal-caller in the spotlight and putting the rest of the field in perspective. Previously: Jalen Hurts • Drew Lock • Nick Fitzgerald • Kyle Shurmur • Jake Bentley • Danny Etling
QB of the Week: Shea Patterson
Typecasting: The Franchise. As a recruit, Patterson was touted as the kind of program-defining prospect who's destined to become the focal point of whichever offense he elected to grace with his presence, and in his second year at Ole Miss that's turned out to be true in more ways than one. In fact, it's arguable that no program in college football has staked its immediate future so heavily on a single player.
On the field, that's a quantifiable statement — from a sheer production standpoint, no other FBS quarterback has accounted for a larger share of his teams's total output through the first six weeks of the season, and no other SEC quarterback has even come close:
Almost everything the Rebels do offensively revolves around Patterson's right arm, to an almost unhealthy extent. In a much larger sense, though, he's inherited an even more enormous burden: Sustaining some shred of optimism around the program as it begins its descent into NCAA-mandated purgatory. The years immediately preceding Patterson's arrival were among the best in school history; since, Ole Miss has endured a losing season, imposed a bowl ban in anticipation of more severe sanctions to come, and sent its head coach packing in a scandal more embarrassing than anything that falls under NCAA jurisdiction. Whatever hope fans ever had of contending for SEC championships died a long time ago. Whatever hope remains is due entirely to their 5-star quarterback.
Based on the early returns, that's not going to be nearly enough: In its first two conference games Ole Miss has been outscored 110-26 in back-to-back flops at Alabama and Auburn, a margin way too large to shrug off because it happened to come at the hands of the division frontrunners. (The Tide and Tigers both could have made it look a lot worse if they'd wanted.) There was nothing encouraging about a Sept. 17 loss at Cal, either, where Ole Miss was outscored 20-0 in the second half.
In all three, once the Rebels fell behind they looked like they'd rather be anywhere else. If the rest of the season unfolds along the same lines, punctuated by a harsh verdict from the NCAA, then by this time next year a lot of them — the current face of the program included — just might be.
The Good. Patterson's best performance to date is still his first, a 29-28 win at Texas A&M last November in which the precocious freshman accounted for 402 yards and rallied Ole Miss from a two-touchdown deficit in the fourth quarter. That night was also the origin of the comparisons to Johnny Manziel, now obligatory, thanks mainly to an off-the-cuff, highlight-reel touchdown pass that was so immediately evocative of Manziel in so many ways that Brent Musburger's call on the live broadcast was, literally, "Johnny Manziel! Do you believe it?"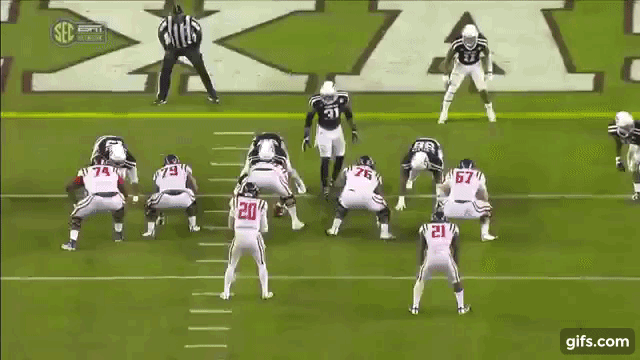 If you're reading this you've probably seen that play often enough at this point to be bored by it. But one reason it remains the go-to Patterson highlight 11 months later is that it's still the one that best captures his athleticism and creativity in a single gif-able moment. (Also, Ole Miss won, which it hasn't in any of his subsequent four starts against SEC opponents; if last year's Egg Bowl had gone their way, this winding, 29-yard scramble against Mississippi State might have gotten more circulation.)
And while he remains "elusive," in the sense that he's capable of buying a few extra seconds in the pocket, as a sophomore Patterson's game has been largely confined to conventional quarterbacking — a lot less scrambling, a lot more setting his feet and delivering throws on time.
To that end he's been productive, ranking among the top three SEC passers in yards (first), touchdowns (tied for first), yards per attempt (second), completion percentage (second), and overall efficiency (third); aside from the Alabama debacle he's thrown for at least 346 yards with multiple TD passes in every game. And although he hasn't shown any evidence of A-plus arm strength, given a relatively clean pocket he does have outstanding downfield touch, frequently giving the Rebels' fleet of blue-chip wideouts an opportunity to rack up yards after the catch without breaking stride.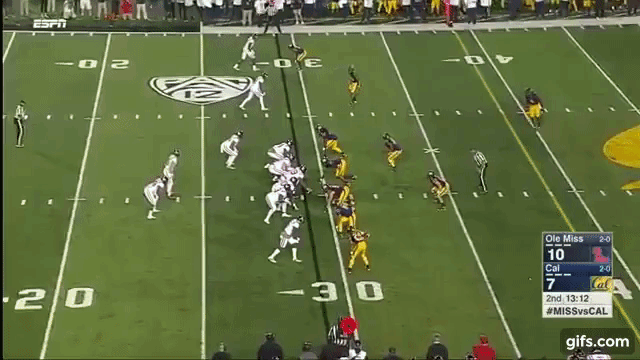 Between D.K. Metcalf (shown above), A.J. Brown, DaMarkus Lodge, and Van Jefferson — all second- and third-year players with stellar recruiting rankings and NFL futures — Patterson has as gifted a receiving corps at his disposal as any quarterback in the country. They all stand 6-2 or taller. Based strictly on the talent level, it's easy to get the impression watching them that throws like this one, a 40-yard dime to Brown …
… should be almost endlessly replicable against almost any defense that dares to play them man-to-man. When they're on the Rebels can play pitch and catch with anybody.
The Not-So-Good. Obviously they haven't been on since opening the season with gonzo outings against South Alabama and UT-Martin, and the most obvious reasons have nothing to do with the quarterback. The ground game under first-year coordinator Phil Longo has been non-existent — Ole Miss ranks 128th out of 130 FBS teams in rushing offense and 124th in yards per carry. For his part, Patterson is barely involved in any kind of designed QB runs and has a long gain of just 12 yards. For a scheme that anchors much of its passing game in play-action and run/pass options, there's no reason whatsoever for opposing defenses to respect the run.
That's led to bad situations on third down, where the Rebels have been terrible (13-of-48, including an 0-for-13 night against Bama) during the current three-game skid, particularly on third-and-long. It's also lent more than a faint whiff of quantity-over-quality to Patterson's numbers, which have been inflated by feasting on bad defenses and continuing to throw against better ones well into garbage time.
But Patterson has had problems entirely of his own making, too, one of which is a tendency to stare down his intended receivers. Against Cal, his eyes cost him twice on two of the worst throws of his young career.
The first was an ill-advised pass into traffic early in the game, which a) was tipped and intercepted, setting up a short field for Cal's first touchdown; and b) left his best receiver, A.J. Brown, vulnerable to a shot from a Cal safety that knocked Brown out for the remainder of the night: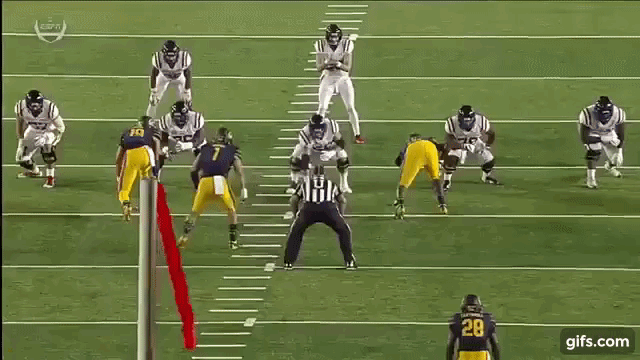 The second might have been worse, effectively sealing the Bears' victory in the fourth quarter when Patterson fired a slant directly into the hands of a linebacker whom he apparently expected to rush and didn't notice dropping into the throwing lane: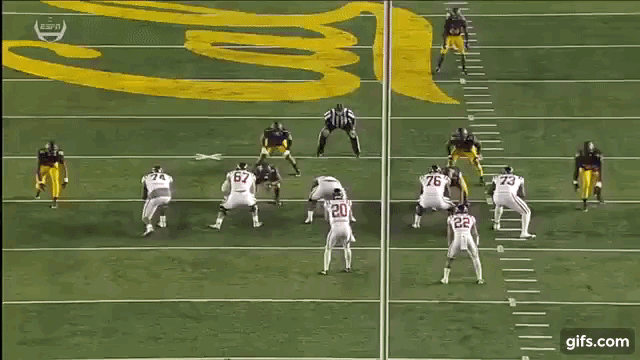 He was also sacked five times in Berkeley — a sobering preview of his night against Alabama, where, again, he was sacked five times, picked twice, and watched one of those picks go the other way for a deflating touchdown. Auburn only recorded one sack last week, but applied consistent pressure and at one point rocked Patterson on the hardest hit he's absorbed to date.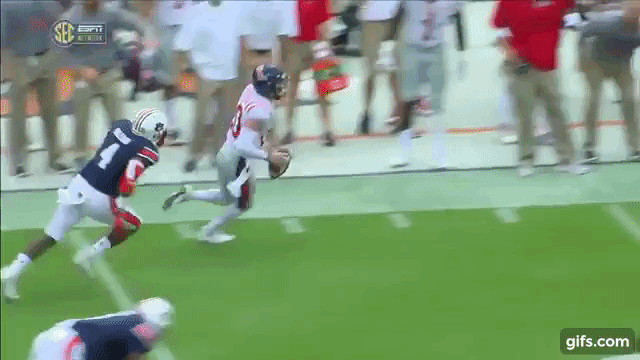 That drew a flag, of course, and should have; nobody got kicked out, but the penalty set up a field goal that stood as Ole Miss' points of the first half. It was only possible, though, because Auburn DE Jeff Holland (No. 4, giving chase) broke through the offensive line almost immediately, flushing Patterson from the pocket and into a position that left him vulnerable to an ugly shot. Even if he keeps picking himself up, getting waylaid fin service of a bad team with no larger goals for the season is pretty much the exact opposite of what he signed up for.
The Takeaway. The best that can be said for the Rebels at the moment is that the worst is probably behind them: Alabama and Auburn are clearly the best two teams they'll play, and the rest of the schedule is manageable enough that it's not hard to imagine a 2-3 start turning into a 7-5 or 6-6 finish. Ole Miss is a three-point favorite Saturday against similarly reeling Vanderbilt, which is probably the best-case scenario for an outfit that frankly looked like it was ready to call it a season the past two weeks. If they can't get up for the Commodores, at home, it's going to be a long, cold slog to the introduction of a new full-time head coach.
For Patterson, specifically, the big question is how committed he is to the program beyond 2017. By next spring the calculations that kept him in the fold this year may have changed considerably: It's no guarantee that he'll fit with the new coach, or that Ole Miss will have any more to play for in 2018 once the NCAA hands down its verdict in the coming weeks. The way they're playing now, the Rebels might not have any expectations going into next year anyway, regardless of what happens with the NCAA. Unless he's bound and determined to be in the NFL in 2019, there are still depths this campaign could plumb that would make sitting out his junior year at another school look like a viable option.
In the meantime, he remains arguably the most talented quarterback in the league, and when things are going well, the most fun to watch, too — maybe the only fun aspect of Ole Miss football in its current state. With just eight starts under his belt, he's also nowhere near his ceiling. As long as he still believes he can reach it in Oxford, there's a lot to look forward to.
MATTHEW STAFFORD ARM OF THE WEEK: Kellen Mond
The general rule with freshmen is take the good and ignore the bad, and Kellen Mond's performance against Alabama offered plenty of both — an eye-opening run that ended with a fumble, a crucial fourth-quarter drive that ended with an interception at the goal line, etc. But his final throw of the night, a 39-yard, dead-on rocket to fellow freshman Camron Buckley, was all good: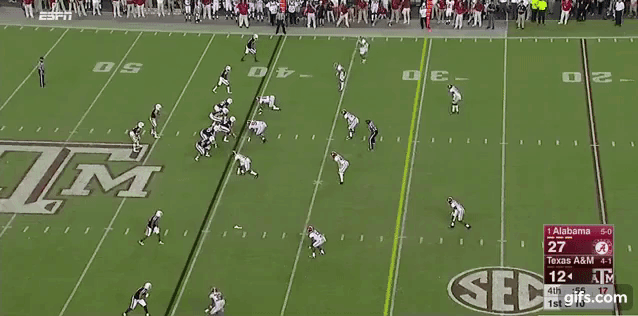 Under pressure, Mond dropped that pass into a tiny window in the exact same spot on the field where he'd been picked off just a few minutes earlier, also while rolling to his right under duress; this time, he was on the money with the most impressive throw of his fledgling career. A&M scored two plays later to cut its deficit to 24-17, which is where it ended. But Mond is clearly just getting started.
QB CURVE POWER HOUR!
Ranking the league's starting quarterbacks heading into Week 7.
1. Jalen Hurts, Alabama. Hurts continues to do more damage with his legs than his arm, which is just fine. Midway through the regular season he remains one of four FBS passers with at least 100 attempts and zero interceptions. (Last Week: 1)
2. Jarrett Stidham, Auburn. Stidham is the SEC's hottest passer, by far, averaging a ridiculous 11.9 yards per attempt with five touchdowns and no picks over Auburn's four-game winning streak. If keeps it up this weekend at LSU he might unseat Hurts at the top of this list for the first time this year. (LW: 2)
3. Jake Bentley, South Carolina. Bentley was hit-or-miss in the Gamecocks' win over Arkansas, completing just 16-of-31 attempts but also connecting on three touchdown passes, tying a career high. That's a fair summary of his season to date. (LW: 3)
4. Shea Patterson, Ole Miss. Patterson is as good as advertised for a player still just scratching the surface, but Ole Miss has to figure out a way to scratch out some semblance of a running game. Relying on one player to carry 80 percent of the offense will never end well. (LW: 4)
5. Nick Fitzgerald, Mississippi State. The Bulldogs got the weekend off after their back-to-back shellackings at the hands of Georgia and Auburn. This week's date with BYU, loser of five straight, comes at exactly the right time. (LW: 5)
6. Jake Fromm, Georgia. Fromm is holding up his end of the bargain in Georgia's run-heavy offense, but no QB in the nation is in a more favorable situation right now, and very few are asked to do less. (LW: 6)
7. Stephen Johnson, Kentucky. Steady as she goes for Johnson, who threw for a season-high 298 yards in Kentucky's win over Missouri and raised his TD/INT ratio for the season to 9/2. (LW: 7)
8. Kellen Mond, Texas A&M. Mond still has his bouts with dumb freshman stuff, but he's quickly emerging as one of the most exciting young QBs in the country. The improvement over the first six weeks has been obvious and dramatic. (LW: 9)
9. Austin Allen, Arkansas. Allen, a fifth-year senior, is going in the opposite direction. His stat line in Saturday's loss to South Carolina (12-of-24, 84 yards, 1 TD, 1 INT returned for a pick-six) was the worst of his career as a starter, and nothing about "likely to play at Alabama with an injured shoulder" is encouraging. (LW: 8)
10. Danny Etling, LSU. Etling did what he had to do to get LSU past Florida, which was not a whole lot aside from keeping the ball out of trouble. As long as the defense holds up that should be good enough to continue to fend off Myles Brennan for a more weeks, at least. (LW: 10)
11. Drew Lock, Missouri. After a month of diminishing returns, Lock had his best game of the season at Kentucky (22-of-42, 355 yards, 3 TDs, 0 INTs) despite coming up just short of lifting the Tigers to the first conference win. At least there's some hope now that a respectable W or two might still be on the way. (LW: 12)
12. Feleipe Franks, Florida. Franks has all the physical tools, but Florida's coaches still don't trust him yet against a defense like LSU's and it's not clear that they should. Hard to see how the Gators can conceivably beat Georgia if the reins are still on. (LW: 13)
13. Kyle Shurmur, Vanderbilt. After his first three games Shurmur led the conference in pass efficiency. After the next three he's already dropped into the bottom half. (LW: 11)
14. Jarrett Guarantano / Quinten Dormady, Tennessee. Guarantano will reportedly earn his first start this weekend at South Carolina while Dormady reportedly contemplates his future. The fact that the older player not only won the job but kept it for five games doesn't inspire a lot of hope in the redshirt freshman. (LW: 14)