SEC
QB Curve: Vanderbilt found stability in Kyle Shurmur. Are wins next?
Quarterbacks: There are a lot of them! Each week, QB Curve will keep you up to speed on the game's most important position by putting a different SEC signal-caller in the spotlight and putting the rest of the field in perspective.
QB of the Week: Kyle Shurmur
Typecasting: The Mainstay. With apologies to Thomas Hobbes, the most accurate way to describe a typical tenure as Vanderbilt's starting quarterback is nasty, brutish and short. In the decade that followed Jay Cutler's final season in Nashville, in 2005, Vandy cycled through ten full-time and part-time starters in as many years, and never at any point relied on the same regular starter in consecutive seasons.
The best player in that span, Austyn Carta-Samuels, only spent one year at the top of the depth chart as a fifth-year senior. Of the random, largely forgotten names who shuffled in and out the lineup over the course of multiple seasons — Chris Nickson, Mackenzi Adams, Larry Smith, Jordan Rodgers, Johnny McCrary, et al. — only Rodgers managed to hold down the job for a full campaign. All of them went pro in something other than sports.
So the fact that Kyle Shurmur has not only survived a full season as the Commodores' undisputed QB1, but is now well on his way to a second full season, stands as an achievement all by itself. But there's also some evidence that his longevity is beginning to pay real dividends: Although he finished at or near the bottom of the SEC in almost every statistical category in 2016, Shurmur showed dramatic growth late, posting career highs in November upsets over Ole Miss and Tennessee. Through three games this year, he leads the conference in completion percentage (71.0), touchdown-to-interception ratio (8 TDs, 0 INTs), and overall pass efficiency (194.9). After reassuringly routine wins over Middle Tennessee State and Alabama A&M, last week's 14-7 upset over No. 18 Kansas State gave Vanderbilt its highest-ranked victim since beating No. 6 South Carolina in 2007.
Now for the real test: Saturday's visit from Alabama marks the beginning of a brutal, month-long stretch against Bama, Florida and Georgia, followed by back-to-back trips to Ole Miss and South Carolina. In most years, the only realistic goal for Vandy against that kind of gauntlet is to make it to Halloween with at least one viable QB still in one piece. This time around the bar is justifiably higher, and finally boasting a recognizable face behind center is the most obvious reason why.
The Good. Size notwithstanding, there's not a lot on film that's going to make opposing secondaries fear Shurmur's arm strength. Give him a clean pocket, though, and he has no trouble hitting the intermediate throws that make Vanderbilt's offense go. He's patient in carrying out play-action fakes and allowing receivers to run into open windows. And because Vandy is fundamentally a run-based attack — and because its offensive line often struggles to hold up against more athletic rushers on obvious passing downs — it's no surprise that Shurmur does most of his best work when the Commodores are "on schedule," and defenses are concerned above all with stopping All-SEC workhorse Ralph Webb on the ground.
The first half of the Tennessee game last November was a clinic in this respect. Here's Shurmur in the first quarter against the Vols, on a 1st-and-10 play that may as well have been specifically designed to sell him to pro scouts: Under center, in an I-formation, behind max protection (eight blockers in, only two receivers running routes), resetting his feet off of a play-action fake, and delivering a 28-yard strike to his tight end, Jared Pinkney, on a corner route.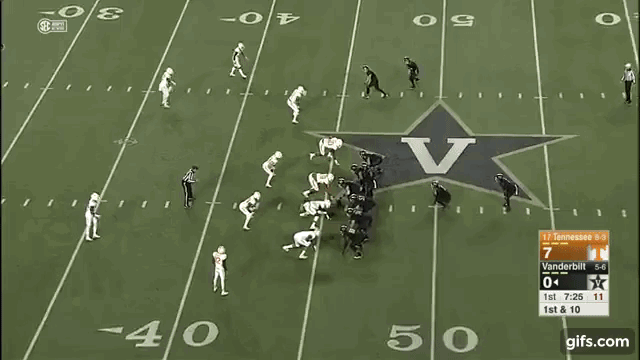 A notable aspect of Vandy's play-action passing game is that it often calls for max protection, which is almost as rare in 21st-Century, spread-oriented college football as the I-formation. Here's Shurmur a couple series later, operating out of the Pistol this time, but once again with only two receivers releasing downfield on 2nd-and-3, which once again allowed him enough time to set his feet off the play fake and exploit man-to-man coverage vs. a safety: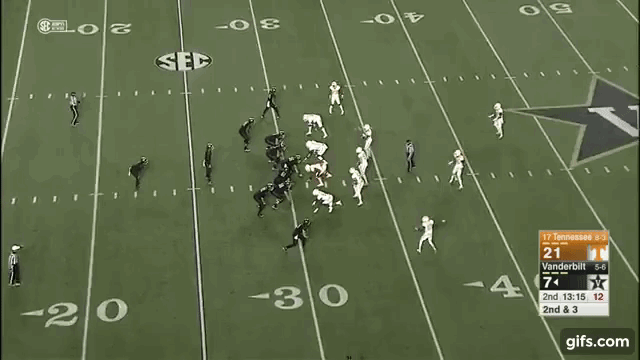 From what I've seen, that throw is probably close to the outer limit of Shurmur's range on deep balls; it gained 45 yards. Still, Vandy's next series against Tennessee produced an even bigger play, deploying the same basic elements — play-action to Webb, max protection, one wide receiver running a deep post over the top of a crossing route by the other — to generate a 76-yard gain to the crossing WR, Trent Sherfield:
That's not a "wow" throw, but it was an extremely productive one, thrown with touch and timing and in just the right place for Sherfield to turn it up the sideline, in stride, for a huge gain; Webb scored two plays later to tie the game. When he has time to set his feet, survey the field, and throw from his comfort zone, Shurmur can complete those kinds of passes all day long.
The Not-So-Good. Shurmur's athletic limitations are what they are: He's not mobile enough to register as an option threat, struggles to elude pressure, and isn't about to scare any SEC corners into flipping their hips too soon. Even looking at some of his biggest gains, I don't see any throws into tight windows downfield; I do see wide-open receivers forced to adjust to underthrown balls and make contested catches after initially blowing past the coverage. To function reliably, the offense has to be geared to Shurmur's narrow set of strengths and nearly everything around him has to be perfect.
Against the better half of the schedule, the results have been predictably bleak — Shurmur's pass efficiency rating against winning opponents in 2016 was the worst of any regular SEC starter. Of all the rough outings, arguably the roughest to date came last December, in Vandy's Independence Bowl loss to N.C. State, where Shurmur finished 19-of-46 for 158 yards, zero touchdowns and three interceptions. Not coincidentally, he was also sacked five times. And when not being sacked, he was being harassed into some very regrettable decisions…
… which led directly to a pair of short-field touchdown drives for the N.C. State offense …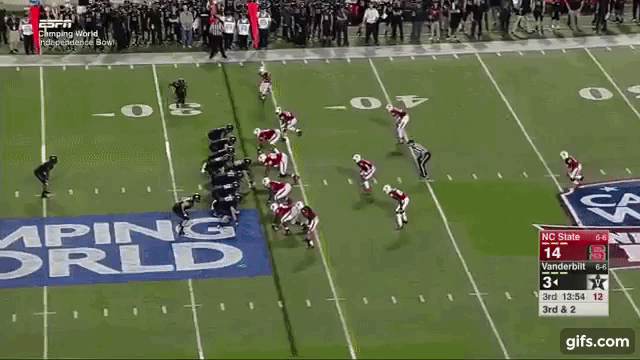 … and were largely responsible for a 24-point margin in a game that otherwise was very competitive. For good measure, Shurmur capped the performance by serving up a pick-six on the final play; by that point it was just the cherry on top.
The postseason flop was especially disappointing because it erased any notion that Shurmur had turned a corner at the end of the regular season. The fact that he's off to a hot start in 2017 would be a lot more encouraging if it was more clearly an extension of his hot finish in '16. As it is, the bowl game is evidence that good defenses are still capable of reducing him to his worst instincts.
The Takeaway. The safe assumption for almost any quarterback going into a date with Alabama is that it's going to end badly, and that goes double for a pocket-bound, play-within-the-offense type like Shurmur. If Vanderbilt's defense holds up its end of the bargain and Shurmur avoids a crippling mistake, it could be interesting — by which I mean mostly boring, but theoretically competitive — well into the second half. Against the no. 1 team in the nation, that's the best-case scenario.
But Vandy doesn't have to shock the world to make the most of the opportunity. The game will get the prime Saturday-afternoon slot on CBS, and a respectable showing in front a big national audience could set the stage for more plausible upset bids against Florida and/or Georgia on the other side. Beyond that, every game over the second half of the schedule should be winnable for a team that's already beaten a top-20 opponent. The K-State win was the most compelling sign yet that Shurmur doesn't have to play like a first-round draft pick to make the Commodores relevant in a watered-down SEC East. He just has to keep showing up each Saturday and proving again that he's not going anywhere.
QUICK OUTS.
Shea Patterson. Shea Patterson had a sobering night in Ole Miss' 27-16 loss at California, defined by two of the most disastrous throws of his young career. The first was an ill-advised pass into traffic on the Rebels' second series of the game, which a) was tipped and intercepted, setting up a short field for Cal's first touchdown; and b) left Patterson's go-to receiver, A.J. Brown, vulnerable to a shot from a Cal safety that knocked Brown out for the remainder of the game: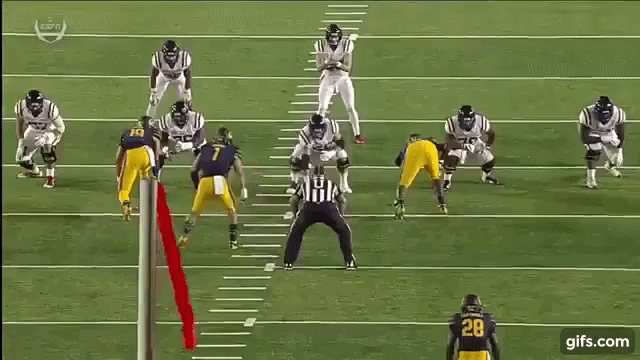 The second, a bewildering pick-six aimed directly into the hands of Cal's Cameron Goode, was arguably worse, effectively sealing the Bears' victory in the fourth quarter: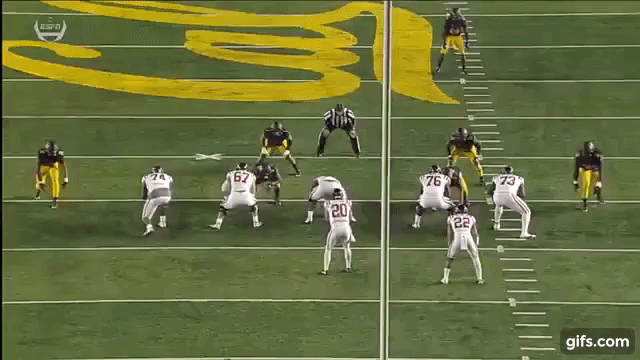 In between, there was a lot more of what Rebels fans have already come to expect from the sophomore, including a couple of on-the-money touchdown strikes to DaMarkus Lodge and D.K. Metcalf that covered 72 and 71 yards, respectively. Patterson's next-level arm strength and touch were on frequent display — altogether, his top three remaining targets (Lodge, Metcalf and Van Jefferson) combined for 319 yards on 17 catches with Brown on ice. (For the record, Brown was reportedly diagnosed with a sprained MCL in his left knee and could be back in time for Ole Miss' trip to Alabama in two weeks.)
Patterson can even be forgiven for the second of his three interceptions on the night, on a quick slant that caromed off Lodge's shoulder pads in the first quarter.
Still, taken as a whole it was a curb-your-enthusiasm kind of performance: Patterson was sacked five times, and the bookend picks were straight-up terrible decisions, even for a more-or-less fledgling QB making just his fourth start against a major-conference opponent. In both cases, Patterson stared down his intended receiver over the middle and was seemingly blind to key defenders; in neither case was he under any significant pressure.
It's usually a given when you hand the keys over to a sophomore that you'd better be prepared to endure a large dollop of bad with the good, and that's clearly going to be relevant advice this year as Patterson continues to grow into his five-star talent.
MATTHEW STAFFORD ARM OF THE WEEK: Feleipe Franks.
In my weekly Monday review I wrote at length about the irony of Franks' game-winning, 63-yard Hail Mary against Tennessee — namely that, prior to said heave, Franks hadn't completed a single pass all day that traveled more than 5 yards beyond the line of scrimmage. Literally, not one.
Obviously the reluctance to challenge the Vols deep wasn't a reflection of Franks' capacity for pushing the ball downfield. I think it had more to do with trust, and even in the triumphant final seconds I'm convinced Florida's coaches didn't really trust their redshirt freshman QB enough to turn him loose in a tie game.
Everything about that sequence suggested they were perfectly content to play for overtime. Two plays earlier, Franks had scrambled from the pocket and was tackled just short of a first down at the UF 35-yard line with 36 seconds to go; even with the clock ticking and two timeouts at his disposal, coach Jim McElwain elected to let more than 20 seconds run off before the next snap — a meek handoff up the middle that moved the chains (barely), but sent a loud signal that the Gators weren't interested in pushing for a score.
They did use their second timeout at that point, leaving nine seconds, one timeout, and a seemingly insurmountable distance to the end zone as the home crowd rained boos down on McElwain's conservatism.
Even on the subsequent Hail Mary itself, it looked more like an attempt to (at best) set up a long field goal try for the very trustworthy Eddy Pineiro. Of Franks' four receivers on the final play, two ran intermediate routes that cut off around midfield, and even Tyrie Celeveland — who slowed down, looked back at Franks, and raised his arm to call for the ball around the UT 35-yard line — didn't necessarily appear to be bound for the end zone until the ball was in the air, leaving him no choice.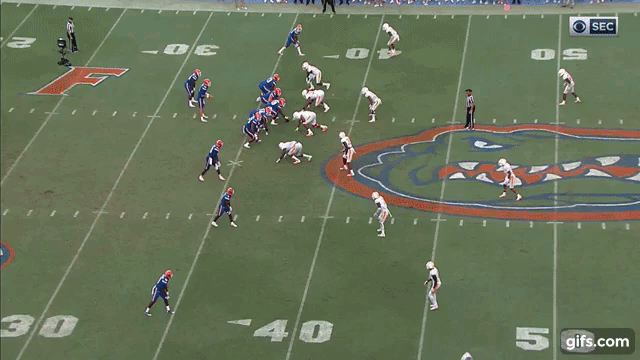 Conceivably Franks could have tried to thread a pass to Cleveland in the zone between the cornerback (why is the corner letting Cleveland just run past him untouched in this situation?) and the deep safety, then prayed that a second or two still remained to burn the last timeout and set up for a kick. Instead he let it rip as far as he could. Truly this was a repressed arm crying out for freedom.
QB CURVE POWER HOUR!
Ranking the league's starting quarterbacks heading into Week Four.
1. Jalen Hurts, Alabama. Short of transmogrifying into Cam Newton, there might be nothing Hurts can do to transcend the notion that he's merely a product of his surroundings; such is your lot in life when you sign up to play quarterback for Nick Saban. In the meantime, his efficiency, versatility and productivity relative to the mediocrity across the rest of the league continue to speak for themselves. (Last Week: 1)
2. Nick Fitzgerald, Mississippi State. If I had to size them up, I'd rate Hurts and Fitzgerald as equally effective runners and probably give Hurts the slight edge as a passer. But no one else on the list is even invited to this week's Tale of the Tape, and after accounting for 268 yards and four TDs against LSU, another above-the-fold effort at Georgia could tip the scales definitively toward Fitzgerald. (LW: 4)
3. Shea Patterson, Ole Miss. As long as Patterson is being asked to account for more than 80 percent of the team's total offense, some of his more ambitious mistakes are just part of the deal. But maybe not hanging any more star receivers out to dry over the middle would be a good step forward. (LW: 3)
4. Jake Bentley, South Carolina. Carolina's chances of challenging in the East got a lot longer in a home loss to Kentucky, and Bentley's job got a lot harder with news that his favorite target (and mine), Deebo Samuel, is done for the year. His presence still gives the Gamecocks a fighting chance in every game until the season finale against Clemson. (LW: 2)
5. Austin Allen, Arkansas. It's hard to separate Allen's struggles from the total absence of recognizable playmakers around him. At some point, though, the distinction will cease to matter. The Razorbacks are 1-4 in their past five games against FBS opponents, and if that goes to 1-5 Saturday against Texas A&M, they'll officially be looking at a very long season. (LW: 5)
6. Stephen Johnson, Kentucky. FPI gives Kentucky a 42.9 percent chance of beating Florida on Saturday, which is probably as good a chance as the Wildcats have had in any of the 30 games since the last time they actually beat Florida, in 1986. Johnson's primary responsibility will be to not lose it for the defense. (LW: 6)
7. Jarrett Stidham, Auburn. I'm still reluctant to bury Stidham for the Clemson debacle, because apparently you have to be Lamar freakin' Jackson just to look halfway respectable in defeat against that Clemson defense. But the road back to the league's upper tier is a lot longer than an impressive rebound against Mercer. (LW: 8)
8. Jacob Eason / Jake Fromm, Georgia. Fromm threw three touchdowns in 13 attempts against Samford and left the rest to the running backs in a 42-14 blowout – the ideal distribution of labor for this offense regardless of who's taking the snaps. Presumably beating Mississippi State will require a little more from the freshman. (LW: 10)
9. Kyle Shurmur, Vanderbilt. The next three weeks are more likely to be a reality check than a breakthrough, but if Shurmur comes through them without a major meltdown, there's plenty of room in front of him for a fast riser. Like, wide-open spaces just waiting to be cultivated. (LW: 11)
10. Danny Etling, LSU. The Tigers can live with Etling's nonentity status as long as the defense and running game are doing the heavy lifting and the quarterback's not putting additional obstacles in their way. When the other side scores 37 and Derrius Guice finishes with 76 yards, simply not screwing things up is not going to cut it. (LW: 6)
11. Drew Lock, Missouri. Mizzou has a long list of problems right now spanning every phase of the game, but its junior captain has to be near the top. By now Lock was supposed to have grown into a reliable asset; instead he was below average in the Tigers' Week 2 loss to South Carolina and flat-out awful in Saturday's 35-3 debacle against Purdue, finishing 12-of-28 with two INTs. If a corner still exists for him to turn, it's getting a little further away by the week. (LW: 9)
12. Feleipe Franks, Florida. The Gators' skittishness at the end of the win over Tennessee wasn't for nothing: Franks was ineffectual for the first 59 minutes, 51 seconds, and in fact set himself as the potential goat when, clinging to a 20-17 lead, he threw an inexplicable interception in his own territory; that set up the Vols' tying field goal to tie with a little under a minute to go. His last-second heroics and the subsequent victory are enough to move Franks ahead of his counterpart in that game, but routine positives are still few and far between. (LW: 13)
13. Quinten Dormady, Tennessee. Dormady did some OK things in his first true road start, including a legitimately impressive touchdown pass that pulled the Vols within a field goal late. But the mistakes were devastating: Between a red zone interception in the third quarter and a pick-six in the fourth — the only touchdown to that point by either team — he cost Tennessee at least 10 points on a day when every score felt like an existential struggle. The game would have played out very differently if not for those two throws. (LW: 12)
14. Kellen Mond, Texas A&M. The freshman took every snap in A&M's win over Louisiana, in part because he was the only quarterback on the preseason three-deep who was healthy enough to suit up. But he also looked far more comfortable as a passer than in either of his first two outings, strafing the Cajuns for 301 yards and three TDs. Continued growth against Arkansas could lift him out of the basement with a bullet. (LW: 14)