SEC
Monday Down South: Meet the new LSU, same as the old LSU
What was the precise moment in Saturday night's 37-7 debacle at Mississippi State that it dawned on LSU fans that Ed Orgeron is their head coach? Not literally — Orgeron was promoted full-time last November, of course — but viscerally: At what point did the reality hit them in their collective, boudin-lined gut?
Before Saturday it had been too easy to forget, or at least to ignore. But the trip to Starkville was Orgeron's first conference test, and the ensuing beatdown was so thorough even the true believers had to face the implications. This is not an interim situation. LSU really hired the man whose Ole Miss teams went 3-21 in SEC play in his depressing tenure in Oxford. That happened; it's in progress as we speak. And 37-7 at Mississippi State is what that looks like.
Maybe it wasn't a single moment but a slow, tedious accumulation of them. Most obviously there were the penalties: Nine of them, for 112 yards, and more consequential in the moment than in the box score. The offense had a long touchdown pass negated by a penalty on the first series and a second score wiped off the board later in the first half. The defense needlessly extended a Mississippi State drive in the third quarter, on a roughing-the-passer penalty that turned an apparent three-and-out into an MSU field goal. Minutes later, another LSU defender was flagged and ejected for targeting, jumpstarting a drive that ended with an MSU touchdown.
Beyond the flags there was all-purpose dysfunction: Missed assignments, dropped passes, lethargic coverage, a critical third-down throw that bounced off the face of an open receiver. A full third of LSU's total offense, including the vast majority of its passing yards, came on two late, futile drives in the fourth quarter that yielded zero points.
But there was a moment that summed up all of the above, I think, one play that served as a one-size-fits all takeaway for the rest of the night as a whole and the sinking feeling it left in LSU fans about the rest of the season.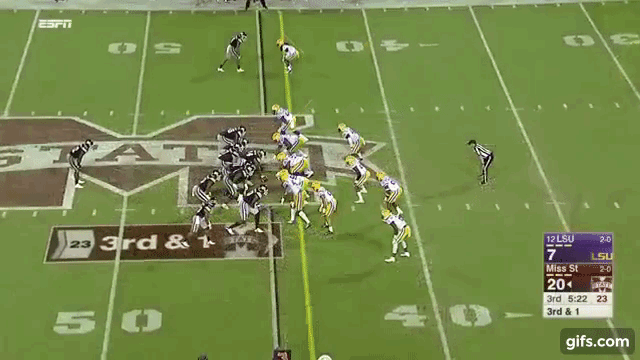 On paper, that's a 45-yard touchdown pass from Nick Fitzgerald to Keith Mixon that extended Mississippi State's lead to 27-7 late in the third quarter. In the actual course of the game, it was the point of no return, when LSU abandoned any pretense of a comeback and a don't-look-now upset bid became an outright blowout. What was most inedible, though, was the utter haplessness of it: One side, aggressive but lost, undisciplined, completely at the mercy of a maneuver as basic as a play-action pass on 3rd-and-1.
When columnists wrote on Sunday about about the "sideline mismatch" between Orgeron and Dan Mullen, one in which Mullen was consistently "one step ahead," that play was the specific step they had in mind. When fans on either side remember this game — especially LSU fans, as much as they'd like to forget — it's the first memory they'll find on file. Mississippi State padded the margin in the fourth, but the posters went to print the instant the camera panned to Mixon with no Tigers in sight. It was the picture of an outfit that looked as out-schemed, out of position, and out of sync as it ever did under Les Miles.
For skeptics, the upshot of the Orgeron hire was supposed to be that, whatever concerns still existed over his dismal record at Ole Miss, they would be offset by a pair of ascendant, lavishly compensated young coordinators: The Xs and Os would be firmly in the hands of the gurus, Matt Canada and Dave Aranda, while Orgeron focused his legendary energy on recruiting and generally instilling the program with the spicy bayou spirit it had so clearly lost.
But there's not much point in trying to make out a silver lining in a defeat that stands as LSU's most lopsided loss to an unranked opponent in 74 years. The 30-point margin was the largest ever at the hands of Mississippi State — an annual division rival LSU had beaten in 23 of the previous 25 meetings — and larger than all but three of Orgeron's losses at Ole Miss.
Canada's much-anticipated offense looked every bit as stale as the old I-formation attacks LSU has subjected its fans to for years; Aranda's defense, one of the most reliably dominant units in the country in 2016, gradually collapsed after a respectable first half. Altogether the Tigers were outgained by nearly 200 yards, by a team widely picked to finish last in the SEC West.
Aside from blaming it all on the refs, the most positive possible spin on a night like that is that, after all, it's just one night. But that also works as a threat: The remaining schedule includes the usual West-division gauntlet plus trips to Florida (turnabout for the Gators' emergency visit to Baton Rouge last year) and Tennessee.
It's a testament to LSU's base talent level and the mediocrity of the entire league right now that, theoretically, all of the non-Alabama games still appear very winnable. But it's a testament to the Tigers' historic sluggishness in Starkville that all of the SEC games suddenly appear very losable, too. Unless Mississippi State is a secret juggernaut, Saturday night offered no real positives to carry forward into the rest of the conference slate. And unless Orgeron has grown exponentially in the past 10 years, his track record isn't exactly reassuring that forward is the only option.
NOTEBOOK
Around the conference.
Mississippi State 37, LSU 7: And who knows, maybe Mississippi State is a secret juggernaut. The victory Saturday was basically the platonic ideal of a Dan Mullen upset: The Bulldogs piled up 285 yards rushing, did enough through the air to keep LSU honest, didn't commit a turnover and amassed a nearly 12-minute advantage in time of possession. Between the tail end of the first quarter and the early minutes of the fourth the, offense scored on seven consecutive chances with the ball, without the help of a takeaway. Except for its failure to generate said takeaway, Todd Grantham's defense was even better.
Does that mean anything beyond an especially raucous Saturday night for the home crowd? Check again later. Inevitably, a convincing win over LSU is already drawing comparisons to Mississippi State's last convincing win over LSU, in 2014, which served as the springboard for the best season in school history. That might be a little premature for the current lineup, but it's not ridiculous: The broad similarities between Dak Prescott and Nick Fitzgerald are obvious – although, again, premature – and the current front seven on defense is playing well beyond its years. The Bulldogs have already made the leap from unranked to No. 19 in the updated AP poll, and to No. 10 (!) in ESPN's Football Power Index. If the latter holds it would make them, in fact, the second-best team in the SEC.
Also like the 2014 team, which rocketed to the top of the polls on the strength of back-to-back-to-back upsets over ranked opponents, State has an immediate opportunity to capitalize on its breakthrough win this Saturday, at Georgia, and the next, at Auburn.
That's a double-edged proposition. For the time being, I'm still not sold enough on Fitzgerald's growth as a passer to imagine him slaying three blue-chip defenses in as many weeks, especially with the next two coming on the road; if the ground game stalls for any significant length of time, can he pass them out of the lull? But I'll admit I didn't see the Bulldogs coming three years ago, or three days ago. Mullen is the best coach at Mississippi State in at least 70 years and has earned the right not to be dismissed.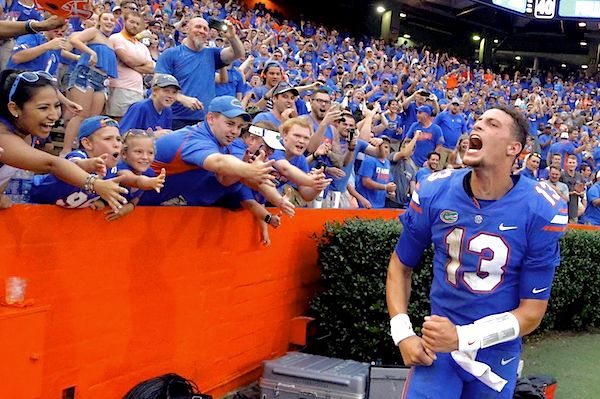 Florida 26, Tennessee 20: Feleipe Franks' game-winning Hail Mary to Tyrie Cleveland was shocking on so many levels, a couple of which I elaborate on further down. The most ironic angle, though, is that up to that point Franks had shown no capacity to challenge the Vols downfield whatsoever: Literally, prior to that final, desperate heave as time expired, he hadn't completed a single pass in the game that traveled more than 5 yards beyond the line of scrimmage.
To look at Franks' final stat line (18-of-28, 212 yards, 2 TDs, 1 INT) you might come away thinking he had a fairly typical afternoon in that regard, but frankly he didn't come close. Florida did have some limited success on screen passes, springing Brandon Powell for a 22-yard gain in the first quarter and true freshman Kadarius Toney for 19 yards in the second. (Well, Toney sprung himself.)
Powell and Toney both moved the chains on run-after-catch receptions in the second half, as well. As far as "air yards," though, the results were nonexistent. The deepest pass that Franks completed with time still on the clock was a quick slant to Cleveland in the fourth quarter that hit its target 5 yards past the line and netted 9 yards altogether. That was good enough to convert a third down on an eventual touchdown drive, Florida's first of the afternoon, and except for the occasional downfield lob to no one in particular that was as good as the Gators asked their redshirt freshman starter to be.
Even at the end, I'm fairly certain coach Jim McElwain was content to sit on his final timeout and take his chances in overtime rather than risk some bizarre mishap in a futile effort to push for points as time wound down — an understandable position, honestly, considering this game was largely defined by bizarre mishaps by both offenses and seemed destined to end on one.
Earlier in the quarter, McElwain had already watched true freshman tailback Malik Davis fumble away a certain touchdown as he crossed the goal line at the end of a 74-yard breakaway run that ended with Tennessee taking over possession instead via touchback. For their part, the Volunteers had already thrown away points on a red zone interception and gifted Florida its first touchdown courtesy of a pick-six. For a slugfest that featured the bare minimum of offensive ambition this was a deeply weird game, even before the Hail Mary.
The way things had unfolded to that point, Tennessee scoring a walk-off touchdown on a strip sack or a coast-to-coast interception return, a la the "Kick Six," would have made a lot more sense than Franks suddenly launching a precision-guided bomb from 60-plus yards out. Nothing that had happened to that point suggested he was capable of anything remotely resembling that throw. Which made it, in other words, just about perfect.
Kentucky 23, South Carolina 13: This game was defined by missed opportunities by the Gamecocks, who scored on a 68-yard pass from Jake Bentley to Deebo Samuel on the first play of the game and took almost all night to get on the board again. Carolina eventually finished with six trips inside the UK 45-yard line that resulted in zero points:

(That punt on from the UK 36-yard line in the second quarter is killing me. It was 4th-and-8!)
Even worse than the losing the game, the Gamecocks also lost Samuel for the rest of the season to a broken leg, depriving them of the SEC's most explosive receiver and return man. Bentley has a couple other good young targets in sophomore receiver Bryan Edwards and tight end Hayden Hurst, but there are only a handful of players in the country who can match Samuel's big-play potential on a weekly basis and none of them play for South Carolina. The total absence of a ground game will loom larger going forward as well.
But this was Kentucky's night, and confirmed my preseason suspicion that the Wildcats have the best shot among the SEC East also-rans at mounting a serious challenge to the division's Big Three. That still doesn't make it a good chance, necessarily. But with Florida and Tennessee in obvious states of vulnerability and Georgia sitting in the driver's seat more or less by default, it might be the best Kentucky has had or is going to have in a long time. This weekend's visit from the Gators, winners of 30 straight over Kentucky, will give us a good idea whether the Wildcats have any staying power.
Purdue 35, Missouri 3: Purdue might be the most improved team in college football under first-year coach Jeff Brohm, who's name is going to come up a lot over the next few months in connection to some high-profile vacancies. But Purdue is not Ohio State — athletically, the Boilermakers remain barely a step up from the MAC. From that perspective, and from the vantage point of most Mizzou fans, this looked like an unconditional surrender by everyone involved.
Faurot Field crowd with about 8 minutes remaining and Purdue leading 35-3. pic.twitter.com/BM89QPu2Vv

— Blair Kerkhoff (@BlairKerkhoff) September 16, 2017
If anything the reality was worse than the score: Purdue scored touchdowns on each of its first three drives while Missouri's offense struggled just to cross midfield. (It only managed to cross the 50 once in the first three quarters, on a possession that began on the Mizzou 49.) At one point the Tigers were hit with three false starts and a holding penalty in the span of four snaps. Drew Lock, continuing to fall even further behind expectations, completed just 12 of 28 attempts with two interceptions.
In the final accounting the Boilermakers outgained Missouri by 274 yards, picked up 16 more first downs, and held the ball for nearly 44 of the game's 60 minutes. It was uglier than last week's 18-point loss to South Carolina, which was pretty ugly in its own right. If that's how it's going to be from this point on, the Tigers might beat Idaho and/or UCconn, but an SEC win is out of the question. At this rate coach Barry Odom won't make it past Year 2.
Auburn 24, Mercer 10: Normally a routine, double-digit win over an FCS outfit wouldn't warrant any mention here, except for a couple of notes on Auburn's offense: One, the Tigers fumbled five times, losing four, which is weird but likely doesn't have any bearing on the rest of the season; and two, Kamryn Pettway logged 34 carries, which almost certainly does. In fact, Pettway was the only Auburn running back who touched the ball Saturday in any capacity — a concerning fact both for Pettway's own sake, given his persistent foot pain, and for what it says about the Tigers' dwindling depth at the position.
The backfield was supposed to be one of Auburn's core strengths. Instead, through three games, the top three names on the depth chart (Pettway, Kerryon Johnson and Kam Martin) have yet to suit up in the same game, and Pettway was left alone to carry two or three times the workload one would usually expect from an All-SEC back against a lower-division patsy. That can't be sustainable, and this case it wasn't even very effective: Pettway averaged just 3.8 yards per carry.
The (relatively) good news: Jarrett Stidham rebounded from last week's nightmare outing at Clemson to hit 32 of 37 for 364 yards and was only sacked once. He didn't have a touchdown pass and did throw an interception, but he demonstrated a basic grasp of the offense en route to completing 86.5 percent of his passes, which counts as progress regardless of the opponent. That goes for this weekend, too, when he'll get another crack at a badly wounded defense at Missouri.
SUPERLATIVES
The best of the week…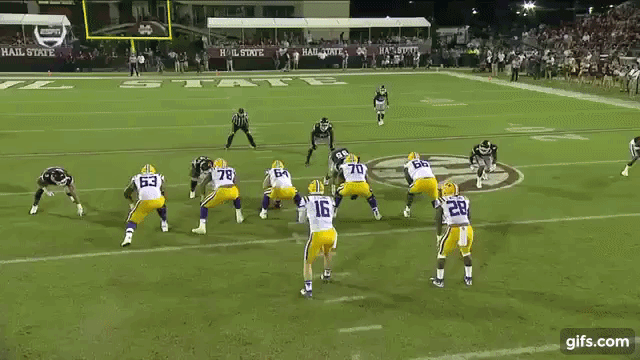 Jeffery Simmons, DL, Mississippi State. This is a repeat appearance for Simmons in the honors section, following up last week's "Fat Guy of the Week" nod with a full-fledged breakthrough against LSU: Seven total tackles (two for loss), one sack and two QB hurries in a thoroughly punishing effort. Just a few weeks into his sophomore year, the former 5-star recruit has already asserted himself as one of the league's most versatile and unblockable interior rushers — a high distinction in this league — and the cornerstone of a front that will lead Mississippi State's push for sustained relevance.
John Kelly, RB, Tennessee. Kelly didn't show up on any lists of the SEC's top returning backs in the offseason, a reflection of his middling recruiting ratings out of high school and his relative lack of production in 2016 in a conference that produced 11 1,000-yard rushers – all but two of whom are back for 2017. Against Florida, though, he moved to the top of that list with a bullet, accounting for 237 yards from scrimmage (141 rushing, 96 receiving) and looking for all the world like a star whose time has arrived. So far he's exhibited the most impressive combination of speed, power, and vision in the conference, with the numbers to back it up.
LaDarius Wiley, S, Vanderbilt. Game balls are in order for the entire Vandy defense, which overcame its own lo-fi offense en route to a 14-7 upset over a Top-20 opponent: The Commodores held Kansas State to a grand total of 76 yards passing, picked off two passes in Wildcats territory, and didn't allow a point after K-State's second possession. Wiley was instrumental, recording the first of Vandy's two picks, in addition to 11 tackles and a pair of passes broken up. Vanderbilt looks as solid going into this weekend's game against No. 1 Alabama as it ever has.
Armani Watts, S, Texas A&M. Watts, a four-year starter, was credited with eight tackles, a pair of TFLs and two interceptions against Louisiana, playing a leading role in shutting out the Ragin' Cajuns in the second half of a 45-21 win. The picks matched his interception total for all of 2016, and both set up subsequent A&M touchdown drives in a game that was not quite as reassuringly boring as the score indicates.
Catch of the Year of the Week: Tyrie Cleveland, Florida
As if there were any other candidates.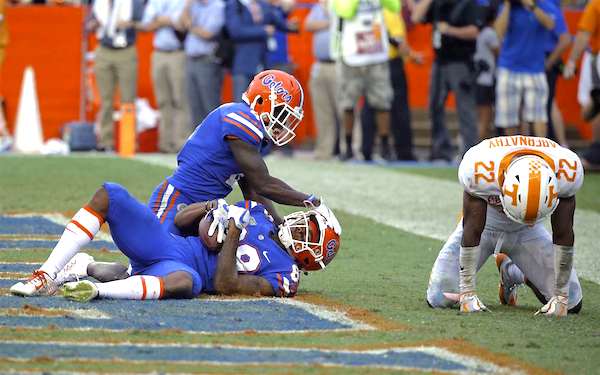 "A barely watchable game that leaves you speechless" is probably the best we could have hoped for from these versions of Florida and Tennessee, and against all odds they gave it to us. One way or another college football always come through.
DEMERITS
… and the worst.
A&M Goes to the Birds. Kyle Field was once known for its bats, and as of halftime on Saturday it drew plenty attention as the unlikely home to a small avian population.
What's it feel like to be losing to Louisiana-Lafayette at the half, Aggies? pic.twitter.com/sgAgfbOdCx

— Deadspin (@Deadspin) September 16, 2017
That's freshman walk-on Will Gunnell, brother of blue-chip 2018 QB prospect Grant Gunnell, soaking up the … uh, festive atmosphere from the home crowd as Texas A&M trudged to the locker room trailing Louisiana 21-14. The Aggies recovered in the second half to win easily, the offending Gunnell posted the obligatory apology on Twitter, and social media wallowed luxuriously in the likes. Never let them tell you walk-ons can't be productive, kids.
Tennessee's Kicking Game. Aaron Medley and Brent Cimaglia combined to miss 3 of their 5 field goal attempts in Gainesville, from 47, 51, and 44 yards, respectively, costing the Volunteers nine points in a six-point loss. (Medley also booted a kickoff out of bounds late in the fourth quarter, setting up Florida with excellent field position, although in that case Tennessee's defense rose to the occasion with a quick interception off Franks.) The misses didn't cost the Vols quite as much on the scoreboard as Quinten Dormady's ill-timed 3 interceptions, but they were another big reason that it didn't reflect the Vols' massive advantage in total yards.
Fate, re: Deebo Samuel's Ankle. Samuel is one of the rising stars in the sport and will be sorely missed, both by his team and those of us who enjoyed watching him. Here's wishing him back to full speed in 2018, whether it's at South Carolina or on the next level.
MISCELLANEOUS POWER RANKINGS
The top 10 things in the SEC this week.
1. Feleipe Franks' Oblivious Arm Strength. There's no excuse for Tennessee's secondary to allow a Florida receiver to get behind them with no time on the clock, period. Let's just state that for the record. On the other hand: Given Franks' complete lack of downfield acumen over the preceding 59 minutes and 56 seconds, it's no wonder the Vols were as stunned by the logistics of his miracle heave as everyone watching. (Presumably no one more so than Jim McElwain.) The ball might have briefly entered orbit.
When Franks let it rip he was standing on his own 36-yard line…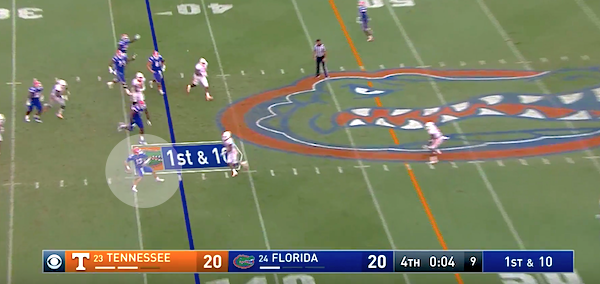 … from whence he proceeded to drop a dime directly into the soul of a streaking receiver a good three yards into the opposite end zone …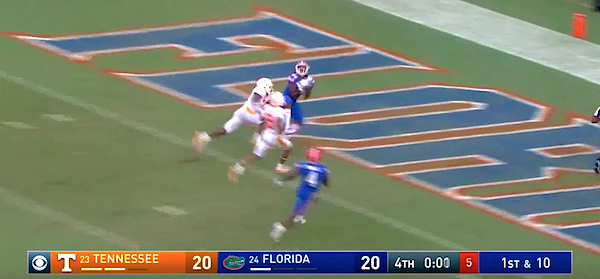 … for a total distance of roughly 67 yards in the air. Sixty-seven!
I'm not positive, but if I had to guess I'd say only a handful of pro quarterbacks would even bother to attempt that throw under any circumstances. The number who would attempt it in a tie game, with the crowd booing, overtime waiting, and a defender bearing down — Franks knows he's about to take a direct shot as he lets it fly, and does — is that much smaller. Maybe an older, more battle-tested player would have had a better sense of the odds and saved himself the trouble. God bless the freshmen. (LW: Unranked)
2. Bama's Blue-Chip Backfield. Jalen Hurts delivered one of the most efficient passing days of his career against Colorado State, finishing 12-of-17 for 248 and 2 TDs with no INTs; for the second week in a row he also accounted for the lion's share of the Crimson Tide's output on the ground, finishing with 103 yards on 9.4 per carry. Surprisingly Bama is still waiting on Bo Scarbrough, Damien Harris or Najee Harris to hit the century mark for the first time. (Last Week: 1)
3. Visions of SEC East Parity. Missouri's goose is cooked, dark-horse-wise, but signs of life from Kentucky and Vanderbilt have raised the stakes for both in the coming weeks, and South Carolina is not necessarily eliminated. (Although the Gamecocks are on thin ice.) Georgia remains the runaway favorite in the East, but that could change as soon as this weekend against Mississippi State, and Florida and Tennessee haven't exactly looked like they have much distance on the bottom half of the division. (LW: 10)
4. Nick Chubb at Full Speed. Chubb turned in his first 100-yard effort of the season against FCS Samford, efficiently ripping the Bulldogs for 131 and two touchdowns on 8.2 per carry in an easy Georgia win. That's a far cry from facing the defense that just effectively shut down Derrius Guice, but if nothing else it left no doubt that the SEC's active rushing leader is running very close to 100 percent.
(LW: 4)
5. Justin Martin's Hustle. It didn't save Tennessee from ultimate heartbreak in the end, but Martin's last-second forced fumble at the end of an apparent 74-yard TD run by Malik Davis was a major turning point in a wild fourth quarter. And it was all the more impressive for just how hopelessly far out of the play Martin appeared to be before he managed to track Davis down: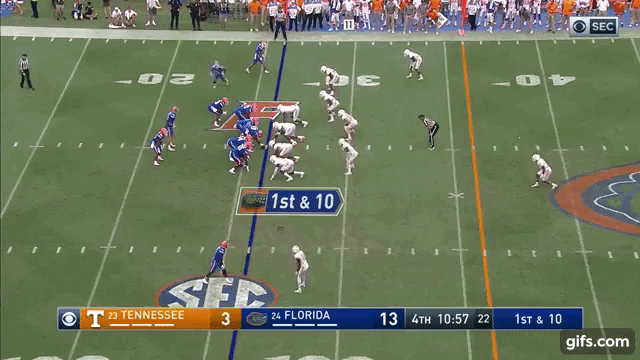 He gets blocked, he stumbles, he falls out of the frame entirely — at one point Martin is at least 10 yards back of Davis, trailing at an angle, with two other teammates in better position to make a play. (Not in good position, mind you, but at least plausible compared to Martin.) That's tremendous speed and effort to ultimately  (LW: Unranked)
6. Kadarius Toney In the Open Field. Toney, a true freshman, generated some minor buzz in the spring via reports that Florida planned to use him in the occasional Wildcat package, which . yeah, if that's what it takes to get the ball in his hands on a semi-regular basis that seems like an idea worth exploring.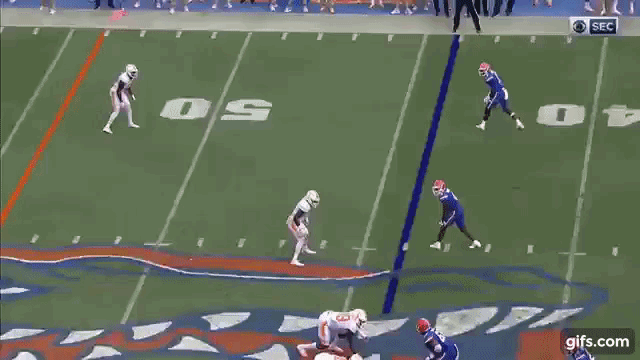 Or quick screens, you know, whatever. In his first extended action Toney accounted for 45 yards on nine touches against Tennessee, a sample size that contains more electricity per capita than anyone else who's touched the ball for Florida in years. (LW: Unranked)
7. Vandy Wants Bama. I mean, the schedule dictates that Vandy's going to get Bama this weekend whether it wants the Tide or not. But the Commodores are 3-0, which is rare in Nashville, now including a win over ranked opponent, which is double rare. If the home crowd didn't take this opportunity to chant "WE WANT BAMA" in the wake of Saturday's upset win over Kansas State, they might not get another chance while Bama is still Bama. Shoot your shot, Vandy. (LW: Unranked)
8. Upset Love. An opportunistic Mississippi State fan proposed to his girlfriend on the field Saturday between the third and fourth quarters, with the Bulldogs leading LSU 30-7 and the party in Starkville in full swing. She said yes (of course), but it did make me wonder how the same proposal would have gone over if that score was reversed — which it very well could have been, for all anybody knew at the start of the game — and instead of 60,000 fellow partisans vibing on an upset buzz, they were surrounded by a small city's worth of angry and dejected people heading solemnly for the exits. (That's assuming his girlfriend wouldn't have been one of them, which might not be a safe assumption.) Would this dude have had the good sense to call it off and bide his time for a more romantic score? These are questions that can't be left up to chance, much less Ed Orgeron. (LW: Unranked)
9. YOLO Miss. Until proven otherwise the official Monday Down South stance on the 2017 Rebels is that they're a talented outfit with a lot of offense, not a lot of defense, and nothing in particular to lose or gain from one week to the next, and therefore capable of just about anything against any team on the schedule. That's still true, but the possibilities are certainly less endless this week, on the heels of 27-16 loss at Cal in which the Rebels failed to score after halftime. Ole Miss' top three receivers (D.K. Metcalf, Demarkus Lodge, and Van Jefferson) still combined for 319 yards in A.J. Brown's absence, but that wasn't nearly enough to overcome 16 penalties, five sacks and three interceptions from the arm of Shea Patterson. (LW: 7)
10. LSU's Canada Cure. Luring Matt Canada from Pittsburgh was a coup for Orgeron, who badly needed a splashy offensive coordinator hire last winter, and I was high enough on Canada's offense at Pitt to give him the benefit of the doubt before I drop him from the Top 10 completely. But whatever good will he's able to generate from this point on, he'll have to do it from scratch because the honeymoon is over. (LW: 5)