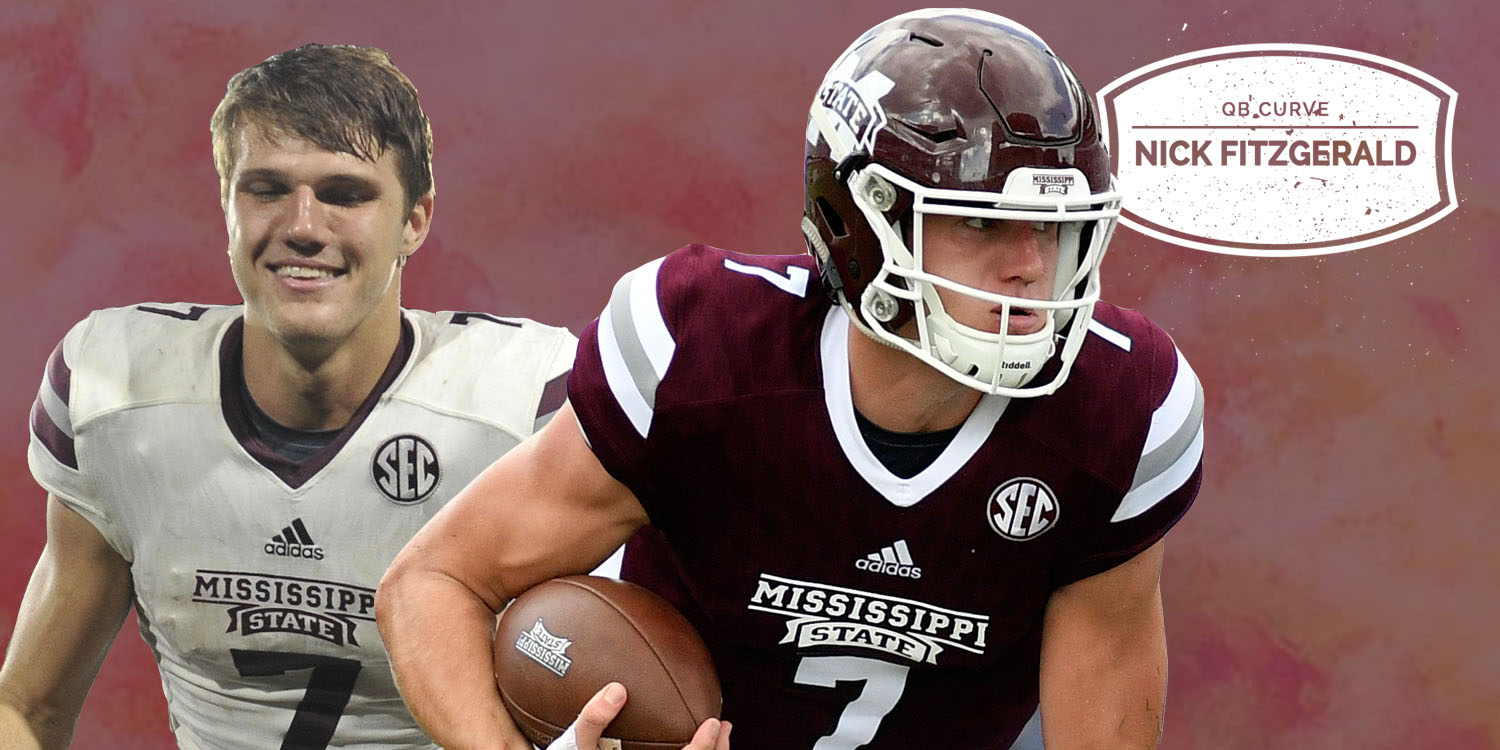 SEC
QB Curve: Deep dive on Nick Fitzgerald (plus, quick hits on every SEC quarterback)
Quarterbacks: There are a lot of them! Each week, QB Curve will keep you up to speed on the game's most important position by putting a different SEC signal-caller in the spotlight and putting the rest of the field in perspective.
QB of the Week: Nick Fitzgerald
Typecasting: The Diamond in the Rough. Fitzgerald is the rare SEC starter these days who isn't a product of Quarterback Finishing School, the circuit of camps designed to hone seemingly every 15-year-old with D-I ambitions into a prolific spread passer with his choice of scholarships. In fact Fitzgerald is the opposite of all of that: He ran the triple-option in high school, barely registered on the recruiting sites, and famously chose Mississippi State over an offer from UT-Chattanooga.
.@rick_cleveland asked Dan Mullen who they had to beat out in recruiting to land Nick Fitzgerald. This was his response & it's glorious. pic.twitter.com/fFZGJwyVFq

— Robby Donoho III (@RobbyDonoho) November 27, 2016
The victory cigar in that clip pretty much sums up the results to date. At 6'4", 230 pounds, Fitzgerald looks and plays like the ideal centerpiece for Dan Mullen's offense, which has never valued conventional polish in the pocket as much as it does big, durable athletes who can carry a full workload in the running game. Last year, Fitzgerald ran for more yards in a single season (1,375) than any SEC quarterback ever who isn't Cam Newton or Johnny Manziel; he also did enough through the air to succeed Dak Prescott as the conference's total offense leader as a redshirt sophomore.
Long-term, of course, Fitzgerald's pro future will hinge much less on the former than on the continued growth of his right arm. For now, and possibly for another year after this one, his game is a worthy rival to Jalen Hurts' as the most formidable run/pass combination in the league.
The Good. Fitzgerald is huge and he is fast. Not like Tim Tebow, fast-for-a-big-quarterback, scramble-for-the-first-down fast. Legitimately fast. Like split-the-safeties-in-the-open-field, take-it-to-the-house fast.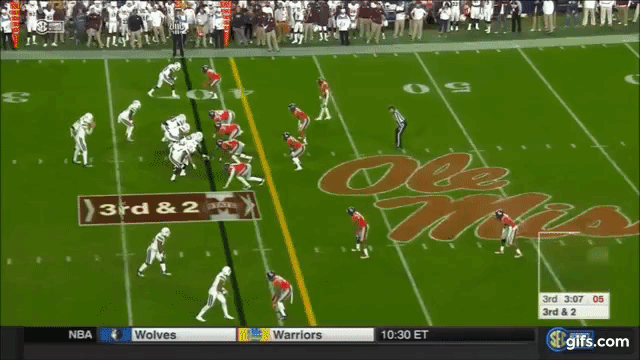 That was one of 17 Fitzgerald runs last year that gained at least 25 yards, second in the SEC only to Derrius Guice; five of those went for at least 50 yards, which led the SEC. He ripped off a 74-yard gain against South Carolina, another 74-yarder against Texas A&M, and a 70-yarder against Ole Miss, in addition to the 61-yard TD sprint against the Rebels you see above. On Saturday he ripped off two touchdown runs against Louisiana Tech covering 30 and 44 yards, respectively. The list of tight end-sized quarterbacks with that kind of reliable big-play potential in the option game is extremely short, and it doesn't include Prescott.
Very much like Prescott, though, Fitzgerald is also an extremely efficient runner on a down-to-down basis: A little more than a third of his 195 carries last year went for first downs, easily the highest conversion rate among the SEC's eleven 1,000-yard rushers. (That was also higher than Prescott's rate in 2014 or '15.) By year's end he was the most productive rusher in the conference, full stop, going over 100 yards on at least six yards per carry in all but one of the Bulldogs' last seven games — the one exception coming against Alabama. (Even then, he managed more positive rushing yards against the Tide than Guice, Leonard Fournette, Kamryn Pettway, or Alvin Kamara.) Nothing about the way he's been used in the first two games this year suggests that will change.
The Not-So-Good. Fitzgerald has had his moments as a passer, most notably in a wild, 58-42 loss to Arkansas last November, in which he finished 23-of-33 for 328 yards, two touchdowns, and no interceptions; the resulting efficiency rating in that game (173.2) was his best by far against an FBS opponent. When the ground game was humming — which it usually was — he was efficient enough in wins over South Caroilna, Texas A&M, and Ole Miss, throwing multiple touchdown passes in each of those games. But generally speaking his arm did not inspire fear, and certainly didn't warrant comparisons to his predecessor's.
With the exception of the Alabama game and a pair of midseason losses at BYU and Kentucky, he was rarely awful. Even at his best, though, his ceiling as a passer settled in around replacement-level. His overall completion percentage for the season (54.3) was the worst of any regular SEC starter except Texas A&M's Trevor Knight. His average yards per attempt in conference games (6.1) was the worst of any SEC starter except Georgia's Jacob Eason. Against opponents that finished with winning records, he turned in the worst efficiency rating (108.4) of any SEC starter except Vanderbilt's Kyle Shurmur. In contrast to his breakaway style on the ground, he had one of the league's lowest rates of explosive plays through the air.
That may sound a little harsher than I intended; at the end of the day, Fitzgerald was mostly functional and wasn't an overwhelmed turnover machine, which is all you can really ask of a first-year starter who otherwise functions as your workhorse tailback. Still, competing for anything better than a slot in the Music City Bowl will take some semblance of a viable passing game against the likes of Auburn and LSU, and it's not clear yet that Fitzgerald can deliver that. He has plenty of time. But for now it's hard to believe anyone touting him as a high draft pick in the next two years has really looked very far beyond the height, weight, and that one game against the Razorbacks.
The Takeaway. The LSU game is always a litmus test for Mississippi State: It comes early in the season, and tends to be a pretty decent gauge for where the Bulldogs stand relative to the top of the conference. Usually, that's not very encouraging; MSU has lost 23 of the last 25 against LSU since the divisional split in 1992. (Predictably, the Tigers are seven-point favorites this weekend in Starkville.) But even a competitive effort in a loss can be a sign that Mississippi State is on the right track toward eight or nine wins and maybe a shot at landing in the final AP poll. That's a banner year in Starkville. And the last MSU win in the series, a 34-29 ambush in Baton Rouge in 2014, was the launching point for both Prescott's ascendance on the national stage and, ultimately, the best season in school history.
Fitzgerald is in a very similar position to Prescott at the same point in his career — looking back at what I wrote about Dak going into the 2014 LSU game, I wasn't sure he could cut it as a passer, either. Comparisons to legends are always unfair, but this weekend is a real opportunity for Fitzgerald to emerge in exactly the same way. He has 15 career starts under his belt and nearly identical physical tools. To the extent that he's too one-dimensional, it's largely a matter of consistency, not talent. If Fitzgerald is ever going to grow into a true dual-threat, the moment is as ripe as it's going to get.
Quick Outs
Fromm's Away. Jake Fromm is 1-0 as Georgia's starting quarterback, the only number UGA fans really care about. Otherwise, his stat line at Notre Dame was pretty much exactly what you'd expect from a true freshman on his first road trip: 16-of-29, 141 yards, one touchdown, two turnovers (one fumble, one interception), few notable attempts downfield. The interception was bad, but ultimately didn't cost Georgia anything just before the half. The fumble — a botched handoff earlier in the second quarter — was a killer, setting up a short field for Notre Dame's only touchdown of the night.
Still, the upshot is that, with Georgia's defense and ground game, Fromm only needed to be minimally competent to survive and he was. Given the rest of Georgia's schedule, that might be good enough to the take the Bulldogs an awfully long way: None of the toughest remaining tests (against Tennessee, Florida, Auburn, South Carolina, and Georgia Tech) look any more daunting right now than the one Fromm just passed, and there's clearly no need to rush Jacob Eason back from the knee injury that kept him sidelined in South Bend. Whether it was good enough for Fromm to continue to earn significant reps whenever Eason is 100 percent is another story.
Honk If You Sacked Jarrett. Remember when this was a thing?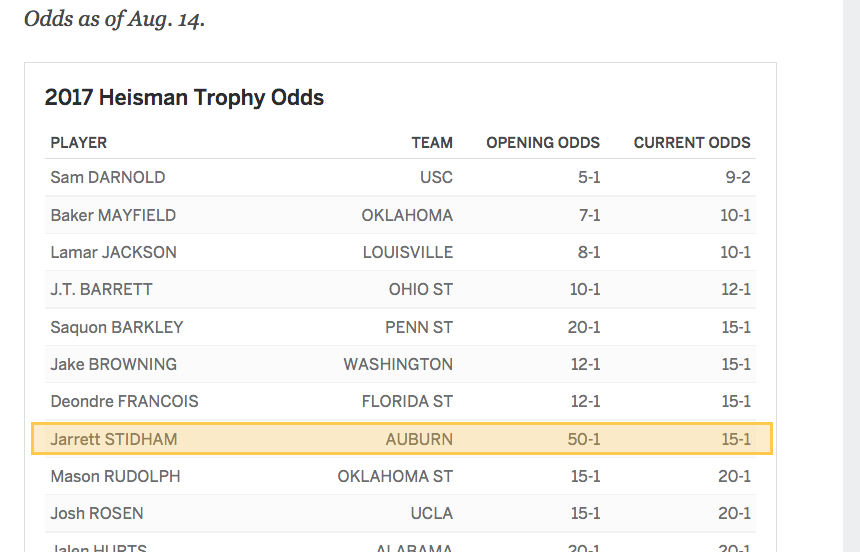 I dunno, something tells me the bets that drove up those odds aren't going to be paying off. Call it a hunch.
Admittedly, I was a very willing passenger on the preseason Stidham bandwagon, and it's very possible that his nightmare outing at Clemson said more about Clemson's absurdly talented defensive line than it did about its latest victim. In my weekly Monday recap, I put most of the blame for that debacle on Auburn's offensive line, and on a game plan that failed to adjust when it became abundantly clear the o-line had no chance of sustaining a clean pocket against an NFL-ready pass rush.
But Stidham certainly didn't do anything to improve or overcome his circumstances. He seemed slow to process blitzes or coverages; his mobility never got him past the second wave of rushers; his touted arm strength was nowhere to be found. He connected on an impressive third-and-long completion on the first series and generated almost literally zero positives the rest of the night.
That said, there's still plenty of time for him to make good on the preseason hype, and/or to suffer further indignities at the hands of elite rushers from LSU, Georgia, Alabama, et al. Either way, it's probably safe to go ahead and chalk him up among the shortest-lived Heisman candidates since… well, since the last Gus Malzahn protégé to crash and burn with inflated preseason odds two years ago.
In Stephen We Trust. Kentucky pulled starter Stephen Johnson for its third and fourth offensive series against Eastern Kentucky as part of a preconceived plan to insert backup Drew Barker, a move that seemed designed mainly to force fans to appreciate what they have in their starter: By the time Johnson returned, UK trailed 13-3 to an FCS squad and the natives were restless, to say the least.
From there, the Wildcats rallied to a 27-16 win that saw Johnson account for 272 total yards and two touchdowns while (presumably) slamming the door for good on any inkling of a controversy. Barker was one of the most decorated recruits in school history, and coaches understandably want to give him every opportunity to live up to his advance billing in his fourth year in the program. Most quarterbacks with his expectations wouldn't stick around that long just to be a backup. But it's Johnson who's put together a — brace yourself — 9-3 record as a starter dating back to last year, including a landmark win over Louisville in which he out-dueled Lamar freakin' Jackson. If Kentucky has even a sliver of a chance of mounting a darkhorse run in the East, it should be obvious by now which QB gives it to them.
MATTHEW STAFFORD ARM OF THE WEEK: Shea Patterson.
Patterson bombed UT-Martin for 489 yards (an Ole Miss record) and five touchdowns, highlighted by this 58-yard beauty to the suddenly un-coverable A.J. Brown: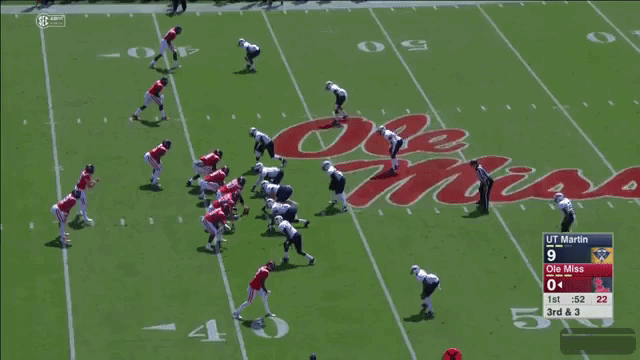 By all means, slag the FCS opposition if you want; where the numbers are concerned, in fact, you absolutely should. But five-star throws like that one – 40 yards, in stride, on a dime – are the reason Patterson arrived in Oxford with such acclaim, and the reason the Rebels have at least a fighting chance in every game they'll play, regardless of the competition.
QB CURVE POWER HOUR!
Ranking the league's starting quarterbacks heading into Week 3.
1. Jalen Hurts, Alabama. Hurts personally accounted for a little more than half of Alabama's 305 rushing yards against Fresno State, on just 10 carries. He also took every snap through the end of the third quarter before yielding to backup Tua Tagovailoa in the fourth, which was probably about two-and-a-half quarters too long. (Last Week: 1)
2. Jake Bentley, South Carolina. Bentley played it close to the vest at Missouri, reining in his precocious arm strength, avoiding big mistakes, and generally deferring to the ground game in a defensively-driven, 31-13 win. Personally I prefer the freewheelin' Bentley we saw against N.C. State, but you know, whatever works. (LW: 2)
3. Shea Patterson, Ole Miss. Patterson has put the torch to two hapless secondaries in as many weeks, and it will be disappointing if it doesn't make it three-for-three this weekend at Cal. The Golden Bears aren't UT–Martin, by a long shot, but they did just give up 431 yards passing to Weber State, and they're the last remaining test before the Rebels open SEC play with back-to-back trips at Alabama and Auburn. Get your kicks in while you can. (LW: 4)
4. Nick Fitzgerald, Mississippi State. If Dan Mullen can figure out a way to get Fitzgerald completing passes at a 60-percent clip in SEC play the Bulldogs' offense will be a force. (LW: 6)
5. Austin Allen, Arkansas. Allen's 9-of-23, 138-yard performance against TCU was one of the worst of his career in just about every respect, redeemed only by the fact that he didn't commit a turnover. (That part was an improvement: Allen's 15 interceptions in 2016 were the most in the SEC.) Otherwise, he looks like a quarterback missing six of last year's top seven receivers: While Allen was far from sharp in the loss, at this point it's hard to separate his issues from the complete lack of recognizable playmakers around him. (LW: 5)
6. Danny Etling, LSU. Seven of Etling's 22 completions against BYU and Chattanooga — roughly one in three — have gone for gains of at least 25 yards. As optimistic as I am about Matt Canada's offense, here's guessing that ratio is unsustainable. (LW: 7)
7. Stephen Johnson, Kentucky. Johnson's numbers are fairly nondescript, but at some point the win-loss record speaks for itself. And the winner of Saturday's trip to South Carolina will have its say in who wins the SEC East. (LW: 9)
8. Jarrett Stidham, Auburn. The Tigers have a month of highly winnable games before their next high-profile road trip, at LSU. If Stidham struggles in the meantime against Missouri, Mississippi State, and Ole Miss, it's time to be really concerned. (LW: 3)
9. Drew Lock, Missouri. Lock flubbed the first big test of his make-or-break junior campaign, throwing two interceptions with a subpar efficiency rating in Mizzou's loss to South Carolina. No one doubts the talent; whether the production will ever follow with any kind of consistency is beginning to look less likely. (LW: 8)
10. Jacob Eason / Jake Fromm, Georgia. If coaches had to make a decision tomorrow, the assumption here is still that Eason would resume his place as QB1. But it's a lot closer to a 50-50 proposition than it was last week, and by the time that decision actually has to be made the pendulum may have swung toward the freshman. (LW: 10)
11. Kyle Shurmur, Vanderbilt. I'm going to hold off on Shurmur's "Most Improved" award for now, given that a) His gonzo numbers to date have come at the expense of Middle Tennessee State and Alabama A&M, and b) He's about to hit a diabolical stretch of the schedule that will pit him against Kansas State, Alabama, Florida, and Georgia in consecutive weeks.
True, initial returns suggest Shurmur may be closer in 2017 to the intriguing project who led high-scoring upsets over Ole Miss and Tennessee last November than to the unusually tall lump of clay he was in virtually every other game; for now, the emphasis in that sentence remains on initial. Let's see where his league-leading efficiency rating stands on the other side of the gauntlet and adjust accordingly. (LW: 11)
12. Quinten Dormady, Tennessee. Dormady has been fine in wins over Georgia Tech and Indiana State; for my money he's still the most obscure starter in the conference. That should change this Saturday at Florida. (LW: 12)
13. Malik Zaire / Feleipe Franks, Florida. Assuming it goes on as scheduled, Franks is expected to start against Tennessee after being forced to replay the Gators' opening-day debacle against Michigan in his head for two solid weeks. Ideally, the freshman would be coming off a productive effort against Northern Colorado, his confidence restored and his lead over Zaire secure enough to keep him from looking over his shoulder against the Vols.
Instead he's limping from one demoralizing outing directly into a must-win rivalry game that could easily go the same way. If Franks lasts all 60 minutes, even in a competitive loss, it will be a small step forward. (LW: 13)
14. Jake Hubenak / Kellen Mond, Texas A&M. Mond is the future, but he was clearly outplayed by Hubenak in last week's too-close-for-comfort win over Nicholls, and Kevin Sumlin doesn't have time to wait on a freshman to grow into the job. If he's forced to rely heavily on Mond in SEC play, the eventual returns will probably be enjoyed by a different coach. (LW: 14)