SEC
Monday Down South: One small step for Georgia, one giant leap for expectations
It's easy to get a little carried away over a win like Georgia's back-and-forth, 20-19 triumph at Notre Dame, in part because of what it says about the Bulldogs' potential as a team, and in much larger part because of just how fully they relished the moment.
Something like half the fan base splurged on a long weekend on the southern shore of Lake Michigan, proceeded to turn South Bend into a neutral site, and spent most of Saturday night out-yelling the homers. The game itself was close throughout, occasionally fun, and ended on the kind of physically dominant note that SEC crowds used to take for granted on the national stage. Georgia fans needed that. It's been a while. It was worth it.
Does it mean Georgia is, you know, like, back? Not so much, especially on the heels of an offseason that turned reminders of Notre Dame's dismal 2016 record into a flourishing meme. The Fighting Irish barely qualified as a ranked team, coming in at No. 24 in the AP poll, and subsequently dropped out of the polls altogether following the loss. For its part, Georgia moved up two spots, from No. 15 to No. 13, which in early September means nothing aside from marginally higher expectations. As a general rule, that kind of chatter should wait until the first conference game is in the books, at least.
On the other hand, there's no use pretending that Saturday night didn't add to the feeling of forward momentum in Kirby Smart's second season as head coach. That could change quickly, but given the combination of talent, experience and expectations, it's safe at this point to go ahead and assume that this Georgia outfit is considerably better than the ones than finished unranked in 2015 and '16. (And 2013, as well.) It has unquestionably improved on defense, where the Bulldogs are on the verge of joining the short list of the most suffocating units in the nation right now. Collectively, returning UGA defenders boasted more career starts coming into the season than any other FBS defense except N.C. State's, and a talent level arguably unmatched by any lineup this side of the one Smart left at Alabama: According to 247's composite ratings, seven of Georgia's 11 defensive starters on Saturday arrived as top 100 overall prospects in their respective recruiting classes. That's on the cusp of full Sabanization.
More importantly, that talent showed up in South Bend and balled out. Linebacker Roquan Smith was everywhere, completing his growth into a blue-chip ballhawk as a junior. Outside linebacker Lorenzo Carter looked like a bona fide 5-star talent for the first time in his otherwise underwhelming career. With Carter working in tandem with fellow senior Davin Bellamy, the UGA edge rush stole the show and, with the game on the line, the ball. Altogether, Notre Dame averaged 3.4 yards per play, matching the worst per-pay average of Brian Kelly's ND tenure*, and went three-and-out eight times. Its only touchdown came on a short-field drive following a turnover.
[*In the name of common sense, I'm excluding Notre Dame's 2016 loss at N.C. State from this comparison because it was basically played in a dang hurricane. The Irish averaged 1.8 yards per play in that one; in non-hurricane games, no opposing defense since 2010 has held Kelly's offense to fewer ypp than Georgia just did.]
So in that respect — even if only in that respect, on just the one side of the ball — Saturday night looked like the realization of the job Kirby Smart was hired to do: Elite athletes executing at an elite level. For a program that's spent years watching decorated recruits flirt with their potential before ultimately falling short, Notre Dame's status in the national pecking order was entirely beside the point.
If you're feeling less optimistic, you can point to the fact that Georgia's offense struggled to score points, too, and the fact that wet-behind-the-ears QB Jake Fromm looked every inch the freshman in his first career start. Long term, the looming tug-of-war behind center between Fromm and Jacob Eason has the potential to send the entire season careening off course. Nagging concerns over Nick Chubb and Sony Michel's durability and explosiveness haven't entirely gone away. The receivers remain largely unproven; the reshuffled offensive line is just hoping to get by as it gels, maybe, into a cohesive unit.
At the end of the day, though, it's not new that Georgia remains a work in progress. It's a given. That project in Athens has been under perpetual construction for at least a decade, spanning full recruiting cycles, myriad injuries and defections, and coaching changes. In that context, it's rare to see the work result in actual progress in real time. Strictly speaking, Saturday night may not have revealed much more about Georgia or its immediate prospects of a championship run than we already knew. But it did look an awful lot like progress on a big stage, and the best indication yet that the Smart era is on schedule.
Around the conference
Clemson 14, Auburn 6
The silver lining for Auburn is that Clemson's defensive line is a ferocious, Bama-busting nightmare of a front that's going to annihilate almost every opposing offense on its schedule in similar fashion. All four starters have legitimate first-round NFL aspirations; the Tigers have finished among the national leaders in sacks each of the past three years, and the current group is likely to surpass them all. They're going to play some teams that will consider it a victory if the starting QB walks off the field at the end of the night on his own two feet.
Auburn obviously is not one of those teams. But as far as the rest of the season goes, it's worth asking: If Auburn switched places on Saturday night with, say, Georgia or LSU, would either of those offenses have fared any better? Maybe, on a good night, but not by much. (Spare yourself the thought of Florida's offense against Clemson's front.) The offense has a long way to go, but the defense was as good as advertised, and nothing that happened in this game necessarily means Auburn can't be productive or still stake their claim as the second-best team in the conference.
Aaaaand thus ends the silver lining. Now the reality: Barring a miracle offensively, second-best is as good as this team is going to get. To the extent that the Clemson trip was about proving Auburn is playoff-ready in 2017, the result was as definitive as an eight-point margin could conceivably be. Theoretically, the offense was never more than a play or two away from salvaging the night. In reality, it plainly could have kept running plays against Clemson's starters all night and all day Sunday, it could still be out there right now, and it still wouldn't be any closer to making up those eight points.
In fact, Auburn's best chance to do that was at the start of the night, when it was forced to settle for a pair of field goals after twice driving inside the Clemson 10-yard line in the first quarter. After that it was the grim death. Over the next three quarters, the Tigers' final eight chances with the ball (not including a brief clock-killing possession at the end of the first half) yielded seven punts, a turnover on downs, and zero snaps inside Clemson's 45-yard line.
Those drives also yielded eight of the infamous 11 sacks that defined this game, which rendered the SEC's most hyped passer, Jarrett Stidham, a bewildered shadow of the player Auburn expected. Stidham did give the skeptics one flash of his touted arm strength: On the first series of the game, he stood tall in the pocket on third-and-long and drilled a 23-yard strike down the middle of the field to move the chains. From that point on, he looked increasingly lost, and not at all capable of challenging Clemson's inexperienced secondary downfield. He didn't complete another pass beyond 10 yards all night.
And for the most part, I think, the shell-shocked vibe wasn't the quarterback's fault. For starters, Stidham had virtually no support from the ground game — reliable bruiser that he is, Kamryn Pettway ground out 74 yards on 22 carries, but the majority of that total came in the first quarter, and he presented no threat whatsoever to break one. Auburn badly missed its home-run hitter in the backfield, Kerryon Johnson, and without him didn't bother creating touches for any other backs besides Pettway. By the second half it was obvious that whatever points Auburn might manage to eke out would have to come via Stidham's arm, and Clemson's pass rush consistently made that impossible.
I don't think that's hyperbole. To get an idea of just how quickly rushers were arriving in Stidham's lap, I charted each of Clemson's sacks with a stopwatch: Specifically, I measured the time between the snap and the point at which Stidham was either sacked or forced to move in a way that made getting off a viable pass out of the question. On a couple occasions, he was able to scramble while keeping his eyes downfield, so I kept the clock running; more often, escaping the grasp of one defender led him right into the path of another with no chance to regroup, and on those plays I stopped the time at the initial pressure.
I didn't include hurries, hits, scrambles, throwaways, or an early intentional-grounding penalty that was credited as a sack. (The penalty came on a flea-flicker, anyway, which deliberately distorted the thing I'm trying to measure.) On the 10 bona-fide sacks I did include, Stidham was running for his life almost immediately: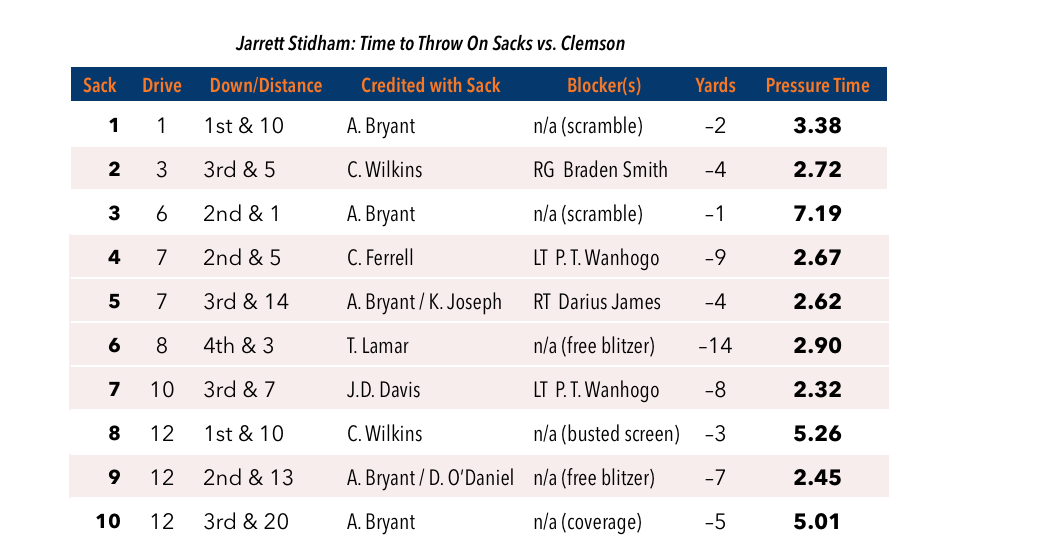 The shaded plays are ones on which Stidham was either hit or forced to abandon the play in less than three seconds. Usually, that was simply the result of one of Clemson's NFL-ready linemen blazing past an overmatched blocker, as Christian Wilkins did to Braden Smith early in the second quarter …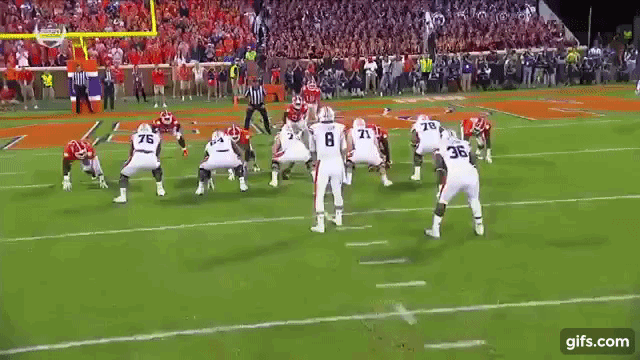 … and Clelin Ferrell did to Prince Tega Wanhogo, a first-time starter at left tackle…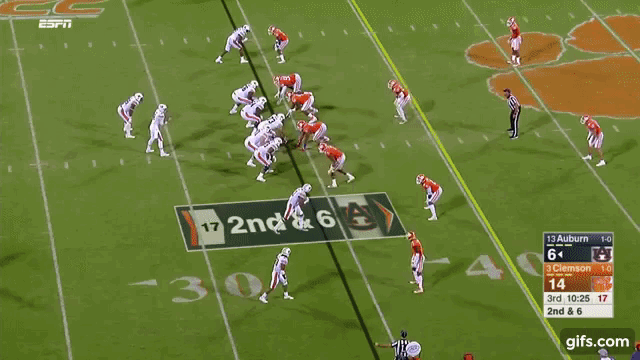 Read More
Online sports betting has come or is coming to a number of SEC states down south. Residents of states where legalized sports betting exists can bet on things like the Heisman race, SEC football games each week and more... all right from their mobile device.
… and Austin Bryant did to right tackle Darius James…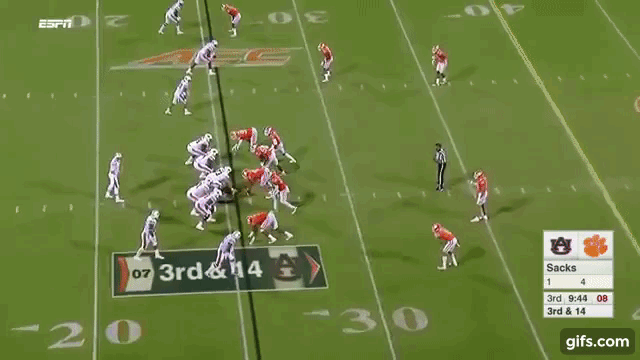 … and Ferrell did at Wanhogo's expense again, this time in the fourth quarter: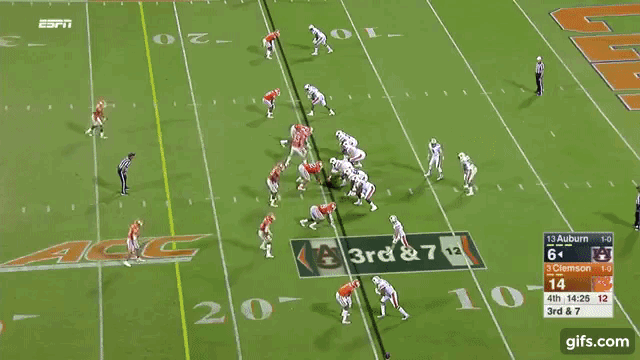 On a couple occasions, Stidham didn't even have the benefit of a blocker attempting to impede the rush. Auburn's best scoring chance of the second half, following a Clemson fumble, was snuffed out on a 4th-and-1 zone blitz that a) gave linebacker J.D. Davis a free run at Stidham, and b) left multiple Auburn linemen blocking air as their quarterback was dragged down for the umpteenth time: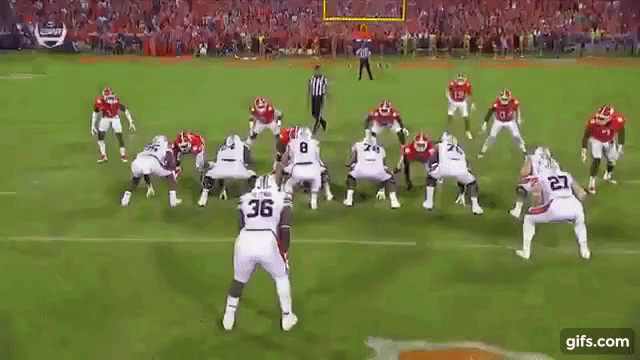 Fast forward to Auburn's final, futile drive in the fourth quarter, and more of the same: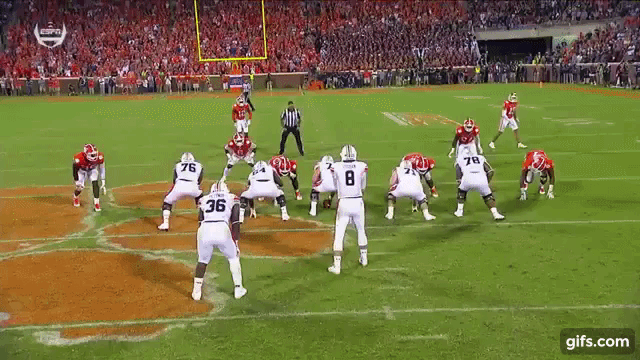 By that point, Stidham looked like he was content to make it out of Death Valley without literally dying — it almost seemed like an act of mercy when Auburn's defense failed to get a stop that would have facilitated one last drive in the face of that rush. Clemson's front four is frighteningly good, but imagining the same offensive line attempting to block the frighteningly good defensive lines from LSU, Georgia and Alabama later this year is just … well, frightening.
An obvious way to help Stidham find his comfort zone in the pocket would be to devise more short, quick throws that get the ball out of his hand before the rush can arrive. But the Tigers tried that against Clemson on a couple of doomed screen passes, which yielded nothing. (In fact, at one point Stidham was sacked on a botched screen pass after Clemson tied up the would-be receiver in the backfield.) At heart, Auburn has always been a run-first operation, which has typically been the profile of Gus Malzahn's best teams, as well; Pettway's high-volume, time-consuming style could be an ideal complement to the defense, just as was at times last year. But Auburn added Stidham last December specifically to bring more juice to the passing game against the Clemsons, Georgias and Bamas. If that's off the table, so is any reason to expect the Tigers to contend for anything better than the Citrus Bowl.
TCU 28, Arkansas 7
The Big 12 team in this game looked like the rough-and-tumble outfit Arkansas aspires to be, racking up 195 yards rushing — without a breakaway run to pad that total (TCU's long gain on the ground covered just 15 yards) — and 33:52 in time of possession. By the end, the Razorbacks looked like they'd lost any interest in continuing to tackle the Frogs' oversize backs, Darius Anderson and Sewo Olonilua, whose clinching touchdowns in the dying minutes put to bed any lingering doubts about their respective commitments to leg work.
Like Auburn, though, the Razorback defense does deserve some credit for keeping the game within reach for as long as it did, opposite an offense that managed a single touchdown and failed to cash in on two other imminent opportunities. (See the 'Demerits' section below.) Quarterback Austin Allen got the worst of it, enduring three sacks en route to arguably his worst performance as a starter, one that recalled the worst version of Arkansas from 2016, when the Razorbacks finished 10th in the SEC in rushing and Allen was the conference's most-sacked quarterback.
The question is, in 2017, what's the best version of Arkansas? Bret Bielema doesn't have the luxury anymore of the colossal offensive line from a few years back that helped establish Arkansas' identity as a straight-ahead, salt-of-the-earth running team. He also doesn't have the talent or depth at the skill positions to go in the opposite direction. His best returning player was forced  to retire in the offseason due to his health. There is still Allen, a steady upperclassman with an even shot at joining his older brother in the NFL. But if the offense as a whole can't run with any consistency and can't protect, there's only so much an undersized Allen can do.
South Carolina 31, Missouri 13
My enthusiasm for South Carolina's sophomore QB, Jake Bentley, grows by the week, and certainly isn't about to be diminished following an 18-point win on the road. But the best thing about Bentley's performance on Saturday night was the fact that he got to contrast it with Drew Lock's. Missouri endured two full years of growing pains in exchange for the promise that Lock would eventually deliver on his recruiting hype as an upperclassman. Now that his moment has arrived, the pains remain a lot more evident than the growth.
It wasn't all bad: Lock connected on a 61-yard touchdown pass in the first half and a 39-yard fade route in the second, which led to a field goal. On his other 30 attempts, though, he managed just a dozen completions, none for longer than 20 yards, and was picked off twice — first by a true freshman, Jamyest Williams, who jumped an out route in the second quarter, setting up a go-ahead touchdown on the following play that put Carolina in the lead for good; and later on an ill-advised throw into traffic that effectively ended the game midway through the fourth.  Lock's overall efficiency rating (105.9) was well below his average rating vs. SEC opponents in 2016, a number that needed to come up, significantly, if the Tigers had any hope of competing in the East.
It's not all on the quarterback's shoulders: Defensive coordinator Demontie Cross was shown the door on Sunday despite a generally improved effort from the D on Saturday, at least relative to the Tigers' opening-day shootout against Missouri State. (Two of the Gamecocks' three offensive touchdowns came on short-field possessions, following an interception and a muffed punt, respectively.) Still, without some semblance of progress behind center, there's no reason to expect it in the win column.
Bentley, by comparison, was hardly legendary — 18-of-28, 187 yards, 1 TD/0 INTs is the kind of low-key stat line that would have fans wringing their hands in a loss — but of the two quarterbacks on hand, there was no doubt which one remains on track to grow into a star. Considering where South Carolina's program stood at this time last year, by all rights an 18-point road win over any division rival should still feel like a major step forward. Instead, it's a testament to how high the bar has been raised since Bentley entered the lineup last October that this one felt more or less routine. Unfortunately for Mizzou, Lock's 22nd career start felt pretty routine on the other sideline, too.
The best of the week …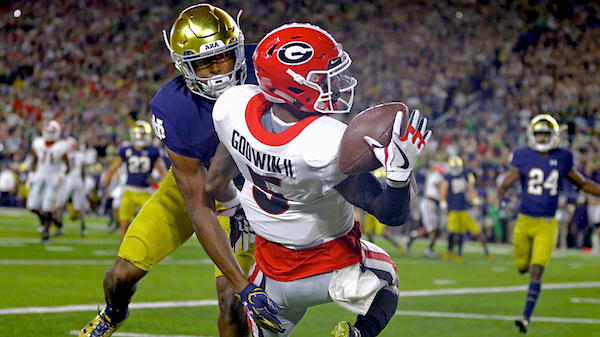 Lorenzo Carter, LB, Georgia
Again, this distinction could fairly go to Georgia's entire front seven, especially the linebackers — Carter, Davin Bellamy, Natrez Patrick and Roquan Smith — each of whom was active and integral in the program's biggest win in years. Collectively, they lived up to their billing as the nation's best linebacking unit.
That said, top individual honors go to Carter, a senior, for what should be fairly obvious reasons.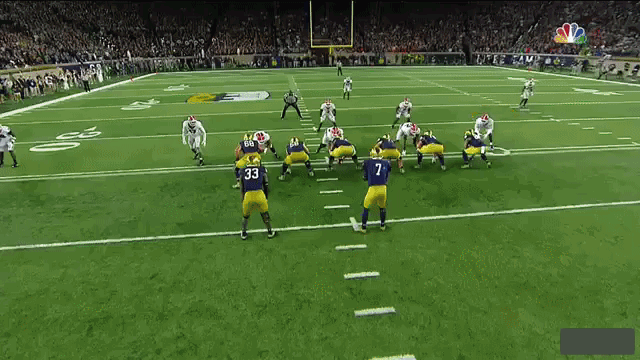 Altogether Carter was credited with seven total tackles, two QB hurries, a sack (see above), two forced fumbles and a pair of fumble recoveries, including the documented strip-sack in the third quarter and the game-clinching recovery off Bellamy's strip-sack in the fourth. He is a young man fulfilling his athletic potential.
Gerri Green, LB, Mississippi State
Green's stat line against Louisiana Tech looked a lot like Carter's in South Bend — seven tackles, two sacks, both of which forced fumbles recovered by Mississippi State — with the difference that his efforts were reflected immediately on the scoreboard: The first fumble set up a short MSU touchdown "drive" from the La. Tech 14-yard line, and the second was returned 90 yards for a score by Green's considerably larger teammate, Jeffery Simmons. (See below. Trust me, see below.) The Bulldogs won easily, 57-21, and Green left looking a lot like the second coming of Benardrick McKinney.
Shea Patterson, QB, and A.J. Brown, WR, Ole Miss
Yes, fine, they were playing UT-Martin. Don't let the competition overshadow the budding rapport between the gems of Ole Miss's 2016 recruiting class, who looked the part for the second straight week on the stat sheet and otherwise.
On the stat sheet: Patterson set a school record for passing yards (489) vs. any opponent, thereby joining a very short list of SEC passers with 400 yards in consecutive games this century. The largest share of that production went (again) to Brown, who followed up a record-breaking turn of his own in Week 1 by hauling in eight receptions for 156 yards and two of Patterson's five touchdowns, including this 58-yard hookup.
That's already the new normal in Oxford, and these two still could have two more full seasons together.
K'Lavon Chaisson, OLB, LSU
Again, ignore the opponent and heed the arrival of a talent who's going to terrorize SEC offenses for the foreseeable future. In his second college game, the league's most hyped freshman edge rusher took up residence in Chattanooga's backfield, victimizing the Mocs for two sacks, an additional TFL, and a QB hurry. At some point, presumably, LSU would like to have Arden Key back from the shoulder injury that's kept him out of the first two games, perhaps as early as this weekend's trip to Mississippi State. But Chaisson has earned his fair share of snaps regardless.
Catch of the Year of the Week: Terry Godwin Jr.
I'm not sure why so many people feel compelled to invoke Odell Beckham Jr. after every one-handed catch — so much so, it seems, that at this point the comparison feels less like an insight or a badge of honor than a reflex. Beckham didn't pioneer the one-handed suction grab; it's weird that he should come to define it even at the college level, where it seems like a relatively unknown kid somewhere goes up to pluck a doomed pass out of the ether on a near-weekly basis. As if those feats can only be fully appreciated by putting them into a more famous context.
Anyway, the compulsive OBJ framing is a shame, because a catch like Godwin's sprawling, acrobatic masterpiece against Notre Dame deserves to stand as an athletic and aesthetic marvel in its own right:
https://twitter.com/NBCSports/status/906683050909605888
Beyond the degree of difficulty, that was a clutch play on multiple levels: It was third down from the Irish 5-yard line, meaning that had Godwin not managed to come down with the ball, or had the initial call on the field (incomplete) not been overturned on review, the Bulldogs would have likely settled for a field goal that left them still trailing, 10-6. In a game ultimately decided by one point, the ripple effects are enormous — and that's before we consider the ramifications for the rest of the season. In any context, that catch is going to have a long, healthy life in Georgia lore.
Fat Guy of the Week: Jeffery Simmons
Simmons, listed by Mississippi State at 6-4, 301 pounds, scored the first of the Bulldogs' eight touchdowns against Louisiana Tech by leaping over a blocker, swatting a La. Tech punt, and eventually falling on the ball in the end zone:
OK, sure. Just to make sure we're clear on this, for the record: 6-4, 301 pounds.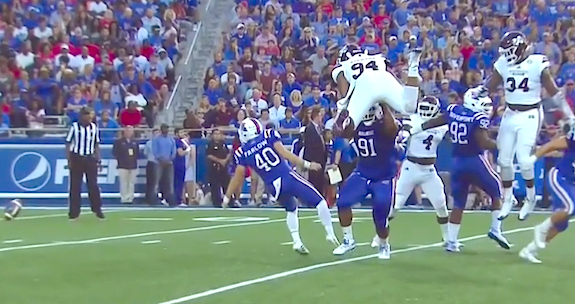 Got that? For anyone who somehow missed the point the first time, Simmons padded his Piesman Trophy résumé in the second half by scoring the seventh of the Bulldogs' eight touchdowns, this one on the aforementioned 90-yard fumble return — a distance Simmons covered (according to my stopwatch) in just under 11.5 seconds:
Somehow, neither of these plays even came close to the weirdest thing that happened in this game.
… and the worst of the week
3rd-and-93
Louisiana Tech, already consigned to a lopsided defeat, faced 2nd-and-goal at MSU's 6-yard line early in the fourth quarter. Pandemonium ensued.
Sorry but it had to be done. pic.twitter.com/DJIwj3xyEr

— Braden Bishop (@tbradenbishop) September 10, 2017
The official play-by-play entry for this play read: "TEAM rush for no gain to the MS6, fumble by TEAM recovered by LATECH POWELL, Cee Jay at LATECH7" — in layman's terms, they lost 87 yards on a single snap. That may or may not be a record (I don't know who would keep track of a statistic like "most negative yards on a play from scrimmage") but has to at least be close to one, because it's close to the maximum possible number in that category. It also set up an incredible 3rd-and-goal for Louisiana Tech from inside its own 10-yard line, a scenario that may well be unmatched in history.
The Bulldogs subsequently gained 21 yards on the next play and, on 4th-and-goal, did the only thing they could do: They punted.
Arkansas' field-goal kicking
Kicker Cole Hedlund biffed two no-brainer chip shots in the Razorbacks' loss to TCU: The first, from 23 yards out, sailed wide left; the second, from 20 yards — essentially an extra-point attempt — doinked off the left upright with a resounding thud that summed up Arkansas' entire afternoon. The latter came at the end of a 12-play, 78-yard drive, and would have cut TCU's lead to four points, 14-10, with essentially the entire fourth quarter to play. In retrospect, it looks like the moment the air went out of the stadium.
Hedlund caught predictable hell afterward from social media, as well as from his head coach, who called the misses "inexcusable" and promised "we're not going to go down that road again" with Hedlund as the primary kicker. Whatever new road he has in mind, it won't involve anyone who's attempted a field goal in a college game.