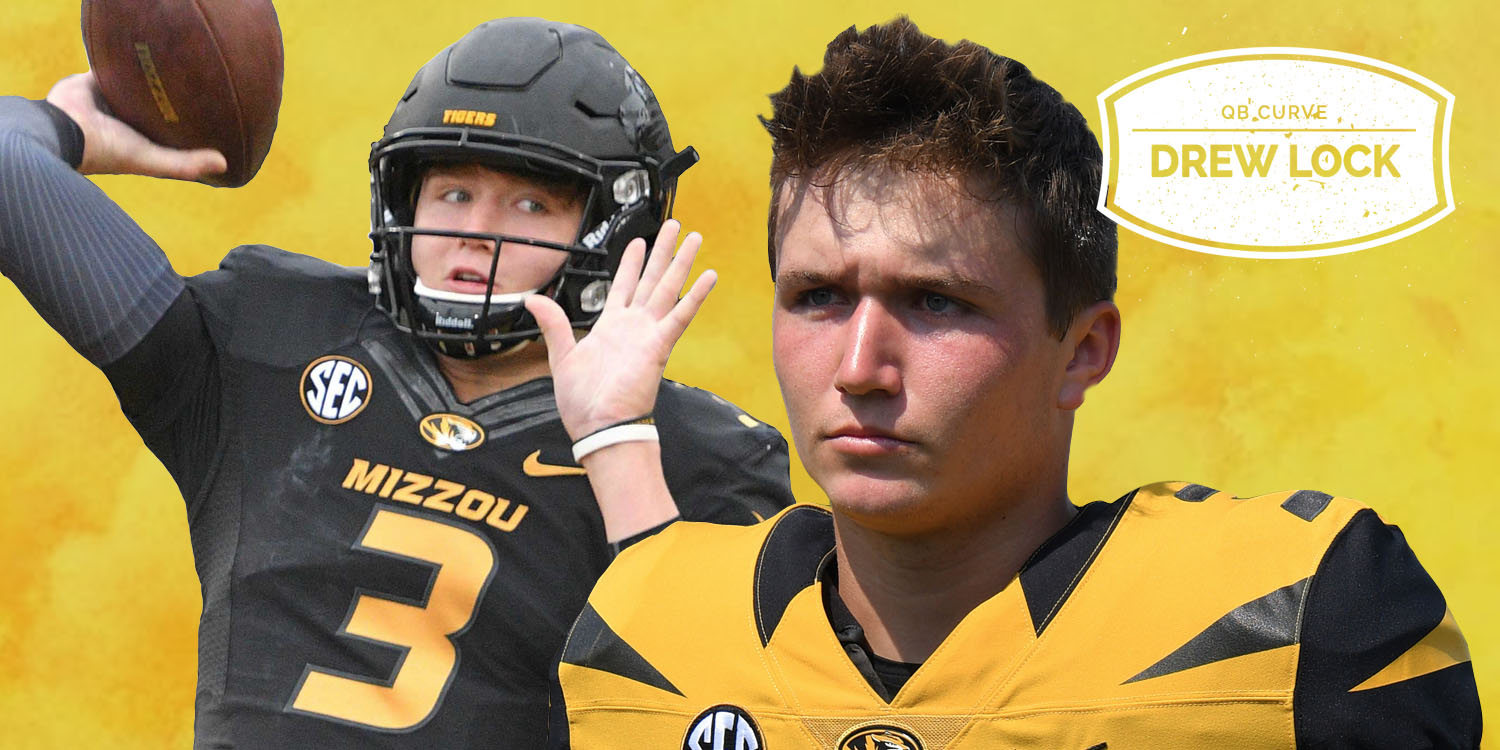 SEC
QB Curve: It's Drew Lock's time, but the clock is ticking
Quarterbacks: There are a lot of them. Each week, QB Curve will keep you up to speed on the game's most important position by putting a different SEC signal-caller in the spotlight and putting the rest of the field in perspective.
QB of the Week: Drew Lock.
Typecasting: The Native Son. Lock is a born-and-bred Missourian whose father and grandfather both played football for Missouri before him; if he ever seriously entertained going to school anywhere else, the flirtation was stealthy and short. The fact that he happened to be one of the most coveted passers in the 2015 recruiting class was just a bonus. At 6-4, Lock was also a scholarship-level basketball player in high school with designs on playing both sports at Mizzou, an option that never materialized after he became the Tigers' de facto starting quarterback as a true freshman. Long-term, his career path was obvious.
Twenty-one starts into his college career, the end result is less certain. In Lock's first year on campus, the atmosphere surrounding the program was so chaotic that his dismal performance was largely forgiven, to the extent that it was noticed at all; in the span of a months, the incumbent quarterback was booted from the team, the majority of the roster threatened a boycott amid broader campus tensions, and the longtime head coach announced his retirement following a cancer diagnosis, against which the routine growing pains of a freshman QB barely registered. As a sophomore, though, Lock's progress was spotty and showed up mainly at the expense the worst defenses on the schedule. In the games that mattered most he tended to look average, at best, and frequently looked much worse.
The expectations in Year 3 are naturally much higher: Barring injury, a junior with nearly two full seasons as a starter under his belt should begin to look like a finished product. Ideally, in Lock's case, that means he's on the cusp of either blossoming into a draftable prospect in 2018 or generating first-round buzz entering his senior year. On the other end of the spectrum, another mediocre turn at the helm of a mediocre team could be a sign that it's time to begin thinking about the next man up. Either way, with five consecutive games on deck against Power 5 opponents, it shouldn't take long to determine where he's likely to wind up on that scale.
The Good. Prototypical size and arm strength. The fact is that no matter what happens over the next two years, Lock will likely never fall very far on draft boards because scouts will almost immediately forget about his college production (or lack thereof) the second he walks into the room. He's 6-4, 225 pounds; he can throw a football through a wall. His mechanics have been honed by the full accoutrement of camps and gurus that come with being ID'd as a top quarterback prospect at a young age. He just looks the part.
And as long as he's comfortable, the basic physical skills show up on the field in spades. Some of the numbers Lock has put up over the past two years against lesser defenses are ridiculous — last week's opener against Missouri State, for example, yielded school records for passing yards (521) and touchdowns (7), breaking a shared TD record he set last year against both Eastern Michigan and Delaware State. Those are some legitimately terrible opponents, but they were also victims of some legitimately eye-opening throws.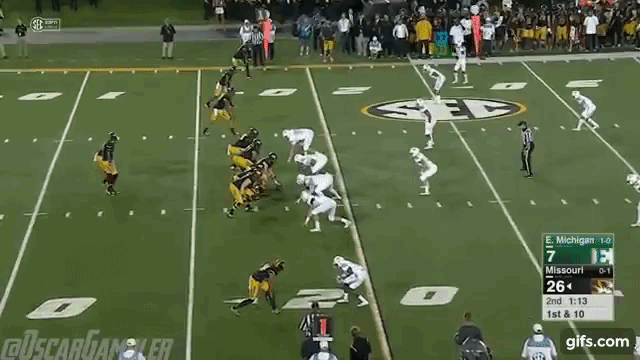 Despite his arm strength, though — and despite the fact that he led the SEC in 2016 in completions of 25 yards or more — generally speaking Lock's not a downfield bomber by trade; he aspires to be more of a play-within-the-offense technician. Many of his longest gains are the result of run-after-catch yards on slants on screens. (His first touchdown pass against Missouri State, a 65-yarder in the box score that traveled about 5 yards in the air, was typical.)
Against SEC competition, maybe the best examples of Lock's deep touch came last November on a pair of second-half beauties against Arkansas, both to his favorite target, J'Mon Moore, with whom Lock hooked up not once …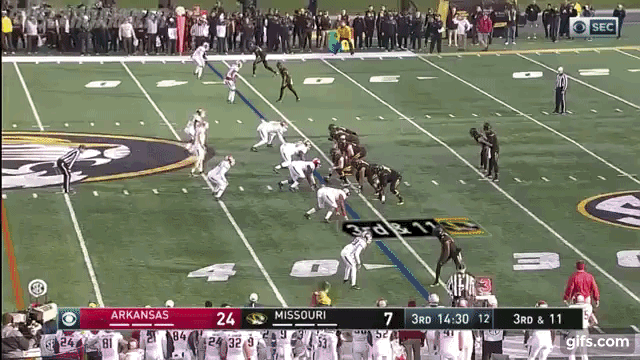 … but twice …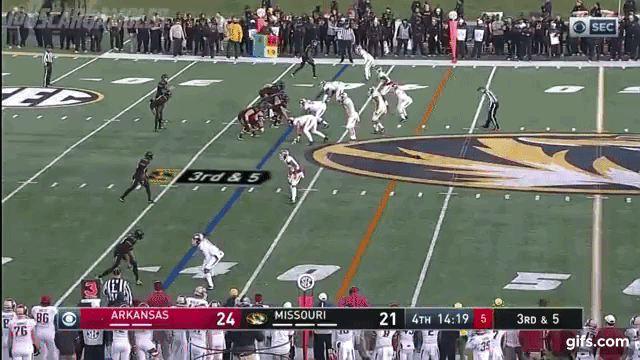 … en route to erasing a 24-7 deficit in the regular-season finale; Mizzou outscored Arkansas 21-0 after halftime, with both of those completions setting up touchdowns. That was one of only two conference wins for the Tigers last year, and adjusted for the competition it was pretty easily the best afternoon of Lock's career: His pass efficiency rating against the Razorbacks (160.8) was nearly 50 points higher than his average rating in his previous seven SEC games. That's the bar he's playing against in 2017.
The Not-So-Good. As that comparison suggests, Lock's track record against the top half of the conference is … less encouraging. That's putting it mildly: All 10 of his interceptions in 2016 came in just five games, losses to Georgia, LSU, Florida, South Carolina and Tennessee. His performance at Florida, in particular, was arguably the worst by an SEC starter all year.
That came in the immediate wake of a 42-7 debacle in Baton Rouge; together those two games confirmed that Lock remained overmatched against top-end defenses.
To his credit, Lock managed to pull himself out of that tailspin and survived the second half of the season without looking nearly as bad again. Freshman struggles aside, in all likelihood those two games will represent the low point of his career. But none of the defenses he faced from that point on were on the level of LSU's or Florida's, and his ability to hold up against the nastier Ds on this year's schedule — Auburn, Georgia, Florida — might be the most pressing question he faces.
The Takeaway. South Carolina's defense isn't that class yet, but this weekend's visit from the Gamecocks is a critical measuring stick. If Lock has turned the corner, what better opportunity to prove it than at home, in a division game, against a fellow dark horse? Carolina's opening-day upset over N.C. State advanced its claim as the most likely candidate to challenge the SEC East's Big Three for a ticket to Atlanta, but Missouri is a slight favorite on Saturday night and could easily take over the distinction for itself.
Beyond the standings, though, there's a palpable sense that, with as much experience as he's logged already, Lock is nearing the end of his learning curve as college passer — the player he is this season is essentially the player he's going to be. If he has a future at the next level, this is the year that on-paper potential should become evident on the field, beginning with Saturday night. If he continues to look like the same quarterback he was in 2016, it might be time to ask how much difference another year of patience is really going to make.
QUICK OUTS.
Matter Over Mond. In my instant reaction to Texas A&M's loss at UCLA I let the A&M offense of the hook, reasoning that at least the offense continued to function down the stretch while the defense was in total free fall. Together the Aggies' first two possessions of the fourth quarter generated four first downs and drained nearly half the quarter from the clock; for a team nursing a seemingly insurmountable lead — A&M led 44-17 at the end of the third — that should have been more than enough.
Even amid an historic collapse by the defense, though, UCLA's warp-speed comeback almost certainly would not have been possible if the Aggies had committed to keeping the ball on the ground to close out the game. They had every incentive to do so, even beyond the scoreboard: Through the first three quarters, backfield mates Trayveon Williams and Keith Ford had shredded the Bruins for 306 yards and five touchdowns between them on 8.5 yards per carry. At the same time, A&M was also resigned to finishing the game with true freshman QB Kellen Mond, a clearly shaky passer seeing his first live action, after starter Nick Starkel was ruled out with a foot injury. If there's any situation that calls for hunkering down and handing off until the clock's good and dead, this was it.
Instead, A&M called for Mond to drop back to pass on an astounding 14 of the team's 26 snaps in the fourth quarter, all but the final four of them coming with the Aggies still in the lead. The results: Two completions, two scrambles, three sacks, and seven incompletions that needlessly stopped the clock. Meanwhile, the bell cows of the first-half surge, Williams and Ford, logged a grand total of four carries in the fourth quarter, for 11 yards.
Again, that's not quite as bad as the entire A&M secondary contracting narcolepsy at the same time. But it wasn't fair to Mond, either, whose role as caretaker of a blowout victory dramatically changed in just a few minutes; he finished 3-of-17 passing in roughly two quarters' worth of work (not including the sacks), an awful line that's much more of an indictment of the coaches who called for the rookie to keep airing it out down the stretch than of Mond himself.
Ideally he never would have found himself in a game-saving situation in the first place. Once he did, though, it's hard to fathom why so much of the salvage job was actually left in his hands.
The Two Jakes. The only other true freshman to earn significant snaps Saturday was Georgia's Jake Fromm, who looked about as good as could be expected in a routine, run-oriented win over Appalachian State. Now comes the fun part: Fromm will make his first career start this weekend at Notre Dame, of all places, at least temporarily replacing last year's freshman fave, Jacob Eason, while Eason recovers from the knee injury that knocked him out of the opener. Officially, Eason is "week-to-week"; unofficially, as always, count on a good portion of the fan base to be rooting for the fresh face to seize the job for good.
We don't have nearly enough data on Fromm yet to size up those odds, but what we do know — good size, touted recruit, early enrollee, composed debut — all suggests the kid should have some staying power. His first full series against App. State included a couple of sharp throws, most notably a 25-yard strike down the hashmarks that set up the Bulldogs' first touchdown.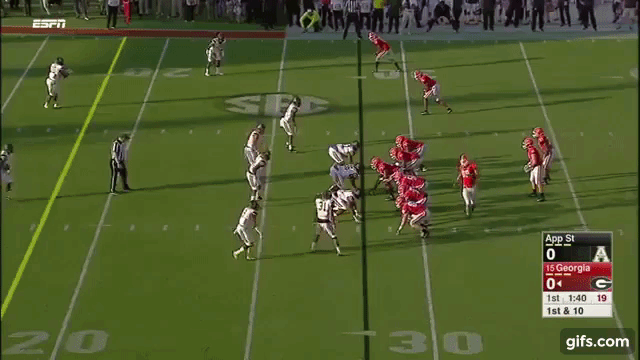 That's the kind of precocious throw that can win a lot of converts. But it was only a glimpse; aside from a jump-ball heave to the same receiver, Javon Wims, that Wims managed to haul in for a 34-yard touchdown on the following series, Fromm didn't challenge the Mountaineers downfield and had no reason to. Overall his day was very reminiscent of Eason's moderately encouraging debut against North Carolina in the 2016 opener, right down to the solid-but-sparse stat line. (Fromm finished 10-of-15 for 143 yards, one TD, and no turnovers.) Against Appalachian State, I'm inclined to say that doesn't tell us a whole lot; check back next week.
Matthew Stafford Arm of the Week: Jake Bentley. South Carolina's 35-28 win over N.C. State was another milestone on the program's climb back to respectability, but based strictly on production the rave reviews for the Gamecocks' sophomore MVP might be on the verge of outrunning reality: Bentley's final stat line against the Wolfpack (17/29, 215 yards, 3 TDs, 1 INT) doesn't exactly leap off the page. In fact, with no ground game to speak of, Carolina's offense went dark for almost the entire second half; it was up to the defense to hold off the late N.C. State surge.
With the great ones, though, seeing is believing, and once you've seen a 19-year-old make this throw …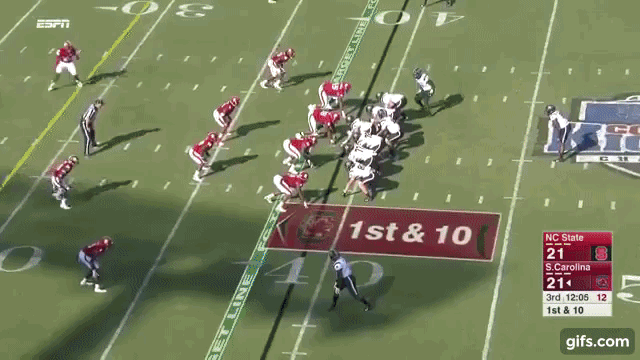 … under duress, on the run …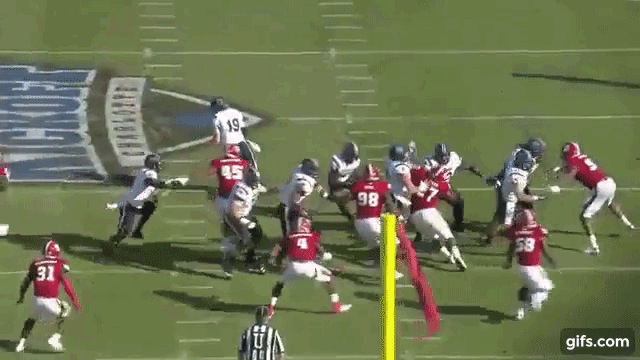 … in his first full season as a starter …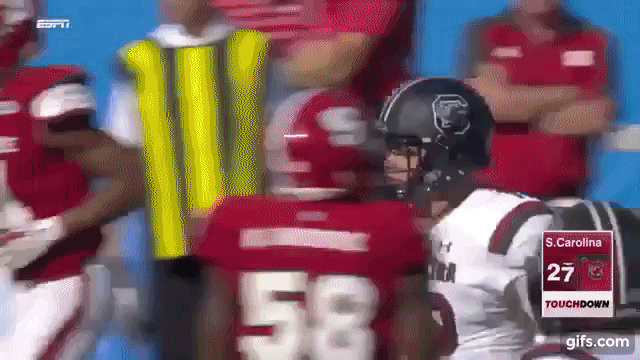 … well, then there's a good chance you're going to start to feel like a sucker if you're one of the last remaining holdouts who doesn't believe. Bentley has that thing; the statistics will follow. If his arm strength and chemistry with his top receiver aren't the envy of the conference yet, it's obvious enough that they soon will be. Very soon.
QB CURVE POWER HOUR!
Ranking the league's starting quarterbacks after Week 1.
1. Jalen Hurts, Alabama. Hurts barely left his comfort zone against Florida State, posting the majority of his 96 passing yards on a single play. And why should he? As long as he takes care of the ball and upholds his share of the running game, it's going to be a good long while before he's asked to do much more against anyone else on the Crimson Tide's schedule. (Last Week: 1)
2. Jake Bentley, South Carolina. Is it too soon to start mentioning Bentley among the best quarterbacks in school history? It is, right? Yeah, let's hold off on that one. Résumés notwithstanding, though, let's just say if I were choosing among all-time Carolina QBs to start a team from scratch, right now I'd have no problem taking him No. 1 overall. (LW: 3)
3. Jarrett Stidham, Auburn. Stidham was just fine against Georgia Southern — not too hot, not too cold, and not about to remind anyone of Cam Newton. This weekend's trip to Clemson will serve to fill in most of the remaining blanks. (LW: 2)
4. Shea Patterson, Ole Miss. Patterson was almost flawless against South Alabama, bombing the Jags for 429 yards, four touchdowns, and an astronomical 220.7 passer rating. That's the first time he's looked like a 5-star talent over the course of an entire game, against anyone, and it won't be the last. (LW: 6)
5. Austin Allen, Arkansas. Allen was a footnote in the Razorbacks' blowout win over Florida A&M, and frankly it would have been more concerning if they'd needed him to do any more. Saturday's visit from TCU, against whom Allen scored the winning touchdown last year in overtime, should be slightly more compelling. (LW: 4)
6. Nick Fitzgerald, Mississippi State. The Bulldogs get one more tune-up (or so they hope) this weekend at Louisiana Tech, before the degree of difficulty ramps up in consecutive dates with LSU, Georgia and Auburn. If Fitzgerald has made any strides with regard to his accuracy, that stretch is the time to prove it. (LW: 5)
7. Danny Etling, LSU. Etling turned in an ideal stat line against BYU, finishing 14-of-17 with a couple of successful deep shots, a lot of safe throws to keep the chains moving, and zero turnovers. LSU's steady ground game had a lot to do with that, of course, but that's by design — as long as the Tigers are able to pound out a living between the tackles Etling can do enough to win them a lot games. Mostly very boring games, but still. (LW: 7)
8. Drew Lock, Missouri. Lock's gonzo opener against Missouri State earned him a nod as the Walter Camp Offensive Player of the Week nationally, which strikes me as a little generous for an outing against an FCS school. On the other hand, piling up stats against an overmatched opponent is surely a better sign than the alternative. (LW: 8)
9. Stephen Johnson, Kentucky. The offense as a whole was underwhelming in the Wildcats' 24-17 win at Southern Miss, a game the Wildcats might not have pulled out if not for a defensive touchdown in the second half. The fact that Kentucky fans have high enough expectations to be concerned about a win over anyone is a sign of progress in itself. (LW: 10)
10. Jacob Eason / Jake Fromm, Georgia. The slash between these two just became one of the most compelling storylines of the season, although in Fromm's case this rating remains strictly provisional until he demonstrates a pulse against a defense that's not from the Sun Belt. For the time being the assumption is that it's still Eason's job whenever he's healthy enough to reclaim it, but it's telling that no one seems to take that as a foregone conclusion. (LW: 9)
11. Kyle Shurmur, Vanderbilt. Shurmur set career highs against Middle Tennessee State for touchdowns (3), completion percentage (71.4), and overall efficiency (195.6), rekindling some of the optimism he generated last November in wins over Ole Miss and Tennessee. That ought to continue this weekend against Alabama A&M, the last tune-up before Vandy hits a brutal, month-long stretch against teams that opened the season in the AP Top 20. (LW: 13)
12. Quinten Dormady, Tennessee. Dormady went wire-to-wire against Georgia Tech and delivered a decent enough stat line (20/37, 221 yards, 2 TDs, 0 INTs) to get the Vols over in a game they had absolutely no business winning. Unlike his Tech counterpart, TaQuon Marshall, who emerged as one of the breakout stars of opening weekend, I doubt most of the casual fans who watched on Monday night could have recalled Dormady's name by the time their heads hit the pillow. (LW: 12)
13. Malik Zaire / Feleipe Franks, Florida. Franks will get the starting nod again this weekend against Northern Colorado, which seems like a good chance to begin to put some actual distance on Zaire in a competition that coaches would clearly prefer the younger player to win. But beyond that there's the annual grudge match with Tennessee, and if the light's not at least flickering for Franks at that point then the doomed rotation we saw against Michigan could be back on.
The good news: No one having this conversation anymore still feels compelled to mention Luke Del Rio. (LW: 11)
14. Nick Starkel / Kellen Mond, Texas A&M. Starkel's status for the rest of the season is still in the air, and the fact that fifth-year senior Jake Hubenak remained nailed to the bench in the Rose Bowl was a pretty clear sign that the Aggies are willing to cast their lot with the freshman in Starkel's absence. Between them, their debut at UCLA earned an Incomplete: Starkel depended too heavily on the ground game to form a fair judgment before he was hurt, while Monds didn't get to depend on it nearly enough. (LW: 14)