SEC
Monday Down South: Texas A&M's epic Rose Bowl flop defied logic, logistics and belief
Texas A&M fans can take solace in one aspect of Sunday night's jaw-dropping collapse at UCLA, and one aspect only: At least this time around you didn't have to wait for November to watch another wildly promising start go careening off a cliff.
Otherwise, my god. There's not much in college football history that compares to blowing a 34-point lead under any circumstances — the record for the largest comeback in a Division I game is 35 points — and the margin alone doesn't quite capture just how abrupt and complete A&M's collapse really was. From a sheer logistical standpoint it should not have been possible. Literally, there wasn't enough time: The Aggies kicked a field goal to extend their lead to 44-10 with 4:08 remaining in the third quarter. That left UCLA with 19 minutes of game time to make up a five-score deficit.
Do the math on that. In other words, from that point on the Bruins' only chance was to score a touchdown every 3 minutes, 48 seconds, including the time that the ball belonged to A&M. Offensively, the Aggies didn't commit any turnovers down the stretch (or at any point in the game) and continued to earn first downs.
The Bruins didn't attempt any sort of onside kick, double pass, hook-and-lateral, or Hail Mary. They didn't benefit from a big punt or kickoff return, and started every possession in their own territory — the soon-to-be-legendary scoring drives in the third and fourth quarters covered 75, 85, 96, 74, and 66 yards, respectively. Their biggest play in the course of that run covered 42 yards; no others gained more than 30. The hero of the comeback, quarterback Josh Rosen, told reporters afterwards, "We were an inch away from losing that game probably ten times," which was probably an understatement.
Still, the magnitude of the comeback doesn't really make sense until you really consider how thoroughly beaten down and demoralized UCLA appeared to be throughout the first 40 minutes. It might be impossible to communicate to someone who didn't watch it happen the extent of A&M's dominance in the first half.
It was physical; the Aggies pummeled Rosen, forcing two fumbles that they subsequently converted into points, and finished with 382 yards rushing. They scored quickly and easily, on short fields, long marches, and explosive plays. For a half it was as decisive a beating among ostensible equals as I can recall.
So at no point in the first three quarters was this game close. It was not close to being close. It was over. According to ESPN, Texas A&M's odds of victory reached 99.9 percent roughly midway through the second quarter and essentially remained there until well into the fourth:

The immediate effect of that plunge on A&M might be more severe than if it had simply been blown out from the start. This was already a team seen as prone to collapse, forced to cope with uncertainty over its beleaguered head coach, facing middling expectations after rising as high as No. 4 in last year's Playoff rankings. The dominant recurring theme under Kevin Sumlin has been a series of tantalizing highs followed inevitably by a sobering crash.
But watching that arc play out in its full splendor and despair over the course of a few hours seems to have been uniquely traumatizing. The largest A&M fan site, TexAgs.com, crashed due to traffic almost immediately after the score went final. A member of the Texas A&M Board of Regents, Tony Buzbee, posted a post-game rant on Facebook in which he trashed Sumlin for "arrogance" and "manipulat[ing] a much bigger and longer contract," among other failings, and promised to vote for the coach's removal as soon as he gets the chance. Former A&M All-American Seth McKinney tweeted that he'd "never seen anything as awful in sports as I've just seen." I'll take that as the consensus.
As of this posting Sumlin is still the Aggies' head coach, and frankly it's hard to imagine a school making such a drastic move, re: a $5 million asset based on a single game, even one as dramatically deflating as that one. The impatience with Sumlin extends well beyond a nationally televised flop, though, and the flop itself was almost perfectly emblematic of the frustrations and disappointments that have come to define his tenure.
Based strictly on personnel, obviously Texas A&M still has a chance to be a fine team; based on the first half against UCLA, it has the potential to be a juggernaut. But A&M has seen enough unfulfilled potential over the past five years to know how that story is likely to end — if not on opening night, with all the momentum in the world at its back, then soon enough. The only difference now is that there are no hopes left to raise.
NOTEBOOK
Around the conference.
UCLA 45, Texas A&M 44
It goes without saying the defense deserves most of the blame here for serving as glorified bystanders during UCLA's rally. That's not taking anything away from Rosen, who was brutalized for much of the night but still summoned enough to connect on 20 of 27 attempts for 309 yards and four touchdowns in the fourth quarter alone; as often as he'd been hit up to that point, with a little help as he had from his supporting cast, to raise his team from the grave in his first game back from a season-ending injury in 2016 was noting short of a legendary performance. I wouldn't have blamed the guy if he'd said the hell with this and declared for the draft at halftime.
Love my team

— Josh Rosen (@josh3rosen) September 4, 2017
That said, exactly how it's possible to allow five extended touchdown drives in less than 19 minutes still defies belief. In fact, counting only the Bruins' time of possession all of their scoring drives in the late third and fourth quarters clocked in at 8:39 combined — an average of about 1:44 per drive.
Although it might have felt that way, Texas A&M's offense did not totally disappear in this stretch; the Aggies did have a couple three-and-outs early in the fourth, and closed with a couple more as the UCLA pass rush began to close in on true freshman quarterback Kellen Mond. In between, though, they put together a pair of drives that together spanned 19 plays and ate up more than seven minutes.
In retrospect it would be easy to mark the turning point as starting QB Nick Starkel's exit from the game with an apparent foot injury in the third quarter; at the time A&M led 38-10, and was subsequently outscored 35-6 the rest of the way. Mond finished 3-of-17 passing in the first action of his career, which is striking less for the atrocious completion percentage (freshman, etc.) than for the fact that coaches still called him to throw 17 times with an increasingly tenuous second-half lead.
But despite his inaccuracy, Mond was efficient enough as a runner to keep the chains moving and put what should have been a pair of icing field goals on the board. The play-calling could have been smarter down the stretch; the defense owns the collapse.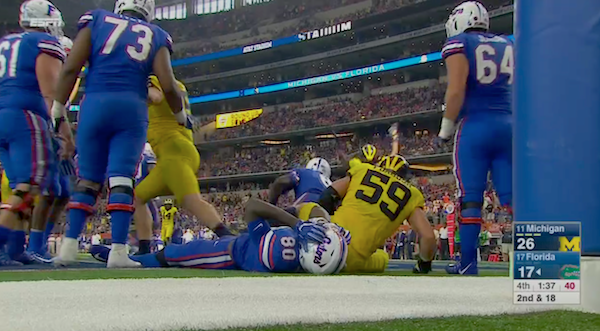 Michigan 33, Florida 17
Outside of L.A. and Austin it's hard to imagine anyone enjoying Texas A&M's collapse more than Jim McElwain, who was bracing to face the most intense heat of his career this week until Sumlin lurched directly into the path of the flames. Given the context — Florida came in as a mere 4.5-point underdog — Saturday was the most sobering flop of McElwain's tenure, a beating so lopsided that he was forced to concede, "Their guys were bigger and stronger. … You know, their strength overtook us."
That much was obvious, at least for the offense: The Gators gave up six sacks, netted 11 yards rushing, and didn't cross midfield at any point between their first possession of the game (a 46-yard drive resulting in a field goal) and their last. Beyond the early field goal, the only points came courtesy of a pair of pick-six touchdowns by the defense, which put it in its usual Herculean effort just to keep it theoretically close.
Miraculously, on the scoreboard, it was, nearly right to the end; Michigan's final 13 points in a 16-point victory came courtesy of three Florida fumbles, the first two of which set up field goals after the UF defense forced the Wolverines offense to go three-and-out, and the third of which the Michigan D recovered for a clinching touchdown of its own. (See below.) The Gators would have fared better if the offense had kneeled out every possession and punted.
It was, as McElwain said, a "plain and simple, take your whooping" kind of defeat. But the response from Florida fans was obvious too: Just how long do they have to keep taking it? Is Florida content to be a "take your whooping" kind of outfit? The Gators are nearly a decade removed from national relevance, or even from fielding a remotely competent quarterback for more than a week or two at a time. They're no closer to filling that role after flip-flopping between Feleipe Franks and Malik Zaire on Saturday, to little effect, or to identifying a reliable playmaker among the skill players. The top two candidates, tailback Jordan Scarlett and receiver Antonio Callaway, were both among the late-breaking wave of suspensions before the game, but anyone who thinks either would have made a notable difference against the Wolverines hasn't been paying close enough attention over the past two years.
Since starting QB Will Grier was suspended midway through the 2015 season, Florida has failed to top 17 points (including defensive and special teams scores) in seven of 10 games against ranked opponents. They're 2-8 in those games.
The fact that McElwain can point to a pair of division titles in a watered-down SEC East makes it harder to speculate about his job security, but it hasn't done anything to change the feeling that the program hasn't really budged from its Muschamp-era malaise. And the feeling isn't getting better.
The weirdest play of the day came in the first quarter, with Michigan facing 4th-and-goal from the Florida 2-yard line. Wolverines quarterback Wilton Speight rolled right, found no one open, bought time, and eventually lobbed a desperation heave under pressure that found its way into the arms of a diving Kekoa Crawford for a go-ahead touchdown. But the lead was short-lived: Officials flagged Michigan on the play for an ineligible receiver downfield, announcing fullback Khalid Hill as the offending party. The Wolverines marked off 5 yards and settled for a field goal instead to even up the score at 3-3.
As soon as the head referee explained the penalty by announcing "number 80 was covered up" by an outside receiver, though, it was clear there had been some kind of … well, confusion would be putting it kindly. Because No. 80, Khalid Hill, was not covered up, and could not possibly have been as he began the play in the backfield and was still in motion at the snap: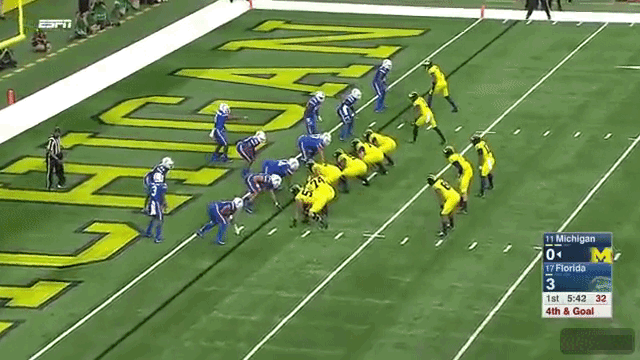 Michigan also had seven men on the line of scrimmage, so by all appearances this was a fully legal formation, pass, and catch. On the broadcast, there was some speculation as to exactly how the officials managed to biff this; eventually the ABC crew decided the flag must have actually been meant for the guy who caught the pass, Crawford, who initially lined up on the line and perhaps, uh, didn't step back far enough off it to establish himself in the slot?
I don't think so, though: Crawford is pretty clearly off the line before Hill begins his motion, certainly far enough that flagging him would have been tedious at best. More likely, the ref who threw the flag simply spaced on what was happening and mixed up Hill — who does wear a tight end's number, after all — with the actual tight end on the play, No. 17 Tyrone Wheatley Jr. Wheatley was covered up by the outside receiver at the top of the formation, and therefore was an ineligible receiver. But he made no effort to go downfield; he stayed in to block, which is perfectly legal.
The easiest explanation is that an official saw an ineligible tight end at the snap, followed by a large man wearing No. 80 running a pattern from the same general area, and somehow conflated the two.
At any rate, the flub cost the Wolverines four points that fortunately had no bearing on the final outcome. As egregious officiating errors go it could have turned out much worse.
Alabama 24, Florida State 7
I don't feel especially compelled to break down the Crimson Tide's latest throttling of an ostensible contender in any sort of detail, if only because in the end it was largely identical to all of the Crimson Tide's previous throttlings of ostensible contenders for the past, what is it now, 10 years? Bama is Bama. Y'all know what that looks like by now. It looks like this:
Some minimal early success yielded to frustration as the offense began to stall in the third quarter, then to an outbreak of game-clinching mistakes as the game began to slip away, Rammer Jammer, etc. The names change, the basic M.O. remains alarmingly constant. Until further notice, Bama is Bama.
The offense, on the other hand, was not at its soul-destroying best, although the FSU defense probably deserves most of the credit for that. As usual, a handful of timely plays and an aversion to turnovers (Alabama didn't commit one) was more than enough to get the job done when its opposite number spent virtually all of the last three quarters mired in its own territory. At some point the Tide will need more from the offense; when that time comes, this group has already proven it's up to it.
Even Jalen Hurts, who had a quiet night distributing the same kind of safe, horizontal passes that made up the bulk of Alabama's passing game last year, emerged from his cocoon long enough to connect on a 53-yard, go-ahead bomb to Calvin Ridley in the second quarter, after which the Tide didn't trail again. That was the only real question about the offense throughout the offseason — can Hurts do a better job of forcing opposing secondaries to respect the deep ball, or make them pay if they don't? —- and the initial answer is yes, he can, without much visible strain.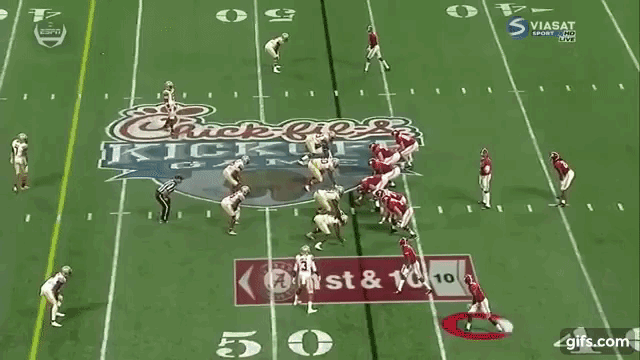 We knew already that trying to cover Ridley one-on-one is highly likely to end in disaster. We weren't as sure about Hurts, so it's notable that that ball traveled almost 50 yards from Hurts' hands to Ridley's, and came in right on the money. Alabama's not going to do that a whole lot, nor will it need to. But simply reminding defenses that it can when necessary will make the bread-and-butter stuff that much easier.
LSU 27, BYU 0
There may be no such thing as a truly perfect game, but for LSU's purposes this one was about as close as it gets. In large part that was because it was also exceptionally boring, in precisely the kind of workmanlike, cloud-of-dust fashion that has always defined LSU at its best. It was so boring ESPN led off its post-game highlight package with a nondescript four-yard run in the first quarter. It was a game for people excited by unbalanced formations and only those people. Les Miles spent 10 years aspiring to this level of unremarkable dominance, and rarely succeeded so completely.
And wow the success was complete. Offensively, the Tigers established the run with a minimum of fireworks, amassing 294 yards rushing despite a long gain of just 16 yards (read that statistic again) and a maximum of patience, hogging the ball for nearly 42 minutes; they punted only once, on the opening possession of the game. Danny Etling was 14-of-17 with a couple of dead-on deep balls — only a couple; just two of his 14 completions gained more than 15 yards — and zero sacks. Defensively, the shutout on the scoreboard didn't even do the performance justice: BYU finished with –5 yards rushing and didn't run a single play in plus territory. That was with multiple LSU starters injured or suspended.
In the spirit of self-improvement, at some point the offense will need to fare better in the red zone, where it was forced to settle for three field goal attempts (two good, one missed) and turned the ball over on downs on consecutive possessions in the second and third quarters. But the bottom line was as encouraging as it could be: The Tigers played 23 players who had never appeared in a college game, revealed only a fraction of their new offensive scheme, and completely overwhelmed a solid opponent in all phases. Ed Orgeron could not have scripted his debut as the full-time coach any better.
SUPERLATIVES
The best of the week…
A.J. Brown, WR, Ole Miss. Last week, I singled out Brown as my breakout offensive player of the year — not a very daring choice, admittedly, but still a pick that's already looking pretty good. On Saturday, the touted sophomore justified the distinction against South Alabama by setting a single-game Ole Miss record for receiving yards (233) on eight catches, including touchdowns covering 71 and 77 yards en route to an easy Rebels' win.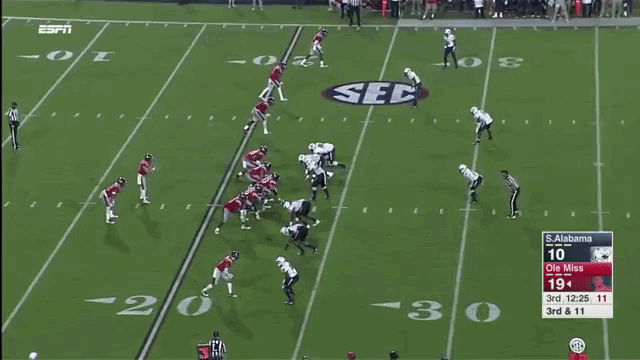 (They didn't catch him.)
(Not many SEC defenses will, either.)
Shaun Dion Hamilton, LB, Alabama. Hamilton, a senior, moved into the starting lineup in 2016 and entered this year as the heir apparent to Bama's lineage of All-American linebackers. He was right on schedule against FSU, logging team highs for total tackles (8) and tackles for loss (3.5) in another by-the-book Bama rout. Repeat a dozen more times and let the accolades roll in.
Josh Allen and Denzel Ware, LBs, Kentucky. Opposite an uninspiring offense, the Wildcats' outside backers — aka the "Blitz Brothers" — combined for eight total tackles, five TFLs, two sacks, and a pair of forced fumbles against Southern Miss, and added some offense of their own in the third quarter, when Ware took a fumble 20 yards to the house:
The @UKFootball defense is getting in on the fun.

The scoop and score puts the Wildcats up 7. pic.twitter.com/pVJUffAQ6J

— CBS Sports Network (@CBSSportsNet) September 2, 2017
That was Kentucky's only touchdown of the second half, and proved decisive in a 24-17 win. That won't cut it if UK hopes to make any kind of noise in the SEC East, but it certainly beats the Monday-morning narrative at this time last year.
Trayveon Williams, RB, Texas A&M. In the end his performance will go down as a footnote, but Williams was the undisputed star of A&M's initial surge at UCLA, ripping off a handful of long runs en route to a 203-yard, two-touchdown effort that was quickly and permanently eclipsed in the fourth quarter. The fact that he only carried the ball twice in the final frame, with a true freshman QB hanging on for dear life, ought to haunt Sumlin for a long time.
Catch of the Year of the Week: Deebo Samuel. I'll have more on Jake Bentley's sophomore debut in this week's edition of QB Curve. In the meantime, just enjoy a few more loops of Samuel's absurd one-handed grab against N.C. State, which doubled as the Throw of the Year of the Week, and remember these two have at least two more full seasons together.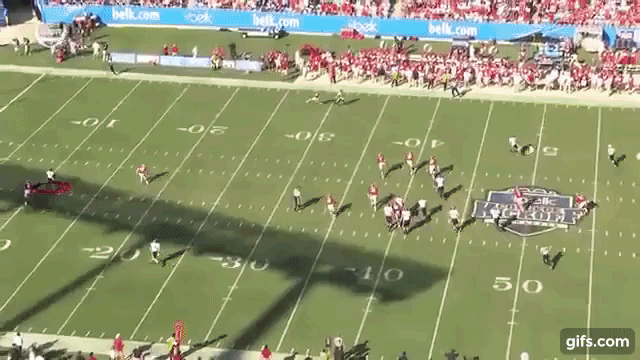 Earlier, Samuel's 97-yard house call on the opening kickoff also produced arguably the Photo of the Year of the Week, courtesy of an adrenaline-fueled South Carolina sideline. An aesthetic triumph all the way around.
[Honorable mention: Appalachian State WR Isaiah Lewis' leaping, one-handed catch vs. Georgia]
Fat Guy of the Week: Raekwon Davis. On Aug. 27 Davis suffered what was described as a "minor" gunshot wound from (apparently) a stray bullet at a bar. A little less than a week later, he came off the bench against FSU and did this to an offensive lineman listed at 6-5, 338 pounds: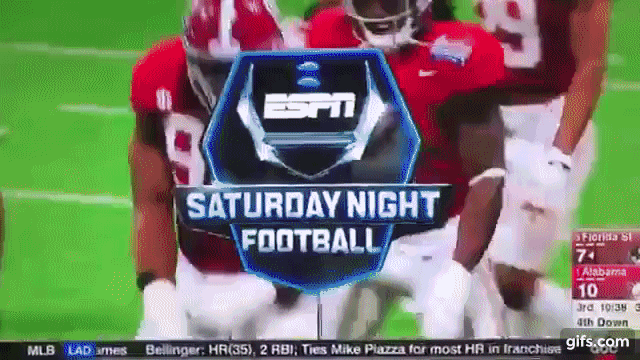 Seriously now. Davis himself is listed at an astounding 6-7, 315 pounds — even for Bama, a man that size moving like that is nowhere close to normal. I'm almost tempted to joke that the bullet made him stronger, but that would actually be a lot less frightening than the alternative.
DEMERITS
… and the worst.
Florida's Offensive Line. If you squinted hard enough before Saturday you could have made out the o-line as a potential strength for Florida, if only in a nowhere-to-go-but-up kind of way: Six players returned with some starting experience, including four full-timers who took their lumps in 2016 in their first or second year in the program. Suffice to say that no longer looks to be the case.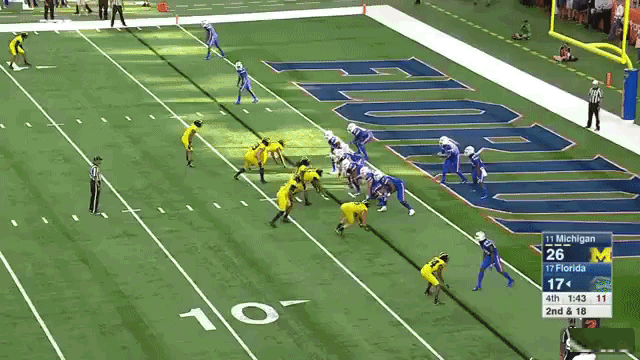 That play — exactly the type of overwhelming debacle that used to unleash "S-E-C! S-E-C!" chants on beaten and broken-down Big Ten teams — was irrelevant to the outcome. But it was thoroughly emblematic of the line's gradual deterioration over the course of the game. The play that preceded it was also a sack resulting in a fumble; in retrospect the Gators would have been better off if Michigan had recovered the first one just short of the goal line, or frankly if they'd just conceded at that point to taking an intentional safety. At least taking a knee in the end zone would have saved Zaire from a blindside hit everyone else in the building saw coming a mile away.
I've highlighted the left tackle above, No. 73 Martez Ivey, for a couple reasons: One, he's the most experienced and decorated player on the line, a former 5-star recruit who picked up a second-team All-SEC nod last year as a guard and will almost certainly be an early-round draft pick; and two, he initially appears to be the man directly responsible for allowing Michigan's Chase Winovich to blow past him for the sack. In fact it might not have been all Ivey's fault — judging from his angry gesturing toward left guard Brent Heggie after the play Ivey clearly expected help from the inside. (Heggie, No. 61, appeared to expect a blitz that never came and wound up blocking no one.) I'm not going to try to guess the blocking scheme.
But repeated miscommunication and mental flubs aren't any more forgivable than physical ones. Failure to block blue-chip opponents is an indictment or recruiting, or strength and conditioning, or both; not even knowing who to block in the first place is a fundamental breakdown on all levels. Right now the Gators don't appear to have made tangible progress on any of them.
No Conspicuous Ardor Allowed. Damarea Crockett finished with 202 yards and two touchdowns rushing in Missouri's pedal-to-the-metal, 72-43 win over Missouri State. He was well on his way to a third TD when he decided to punctuate an apparent 75-yard scoring run in the third quarter with a spontaneous belly splash into the end zone, at which point it evaporated in mid-air:
Mizzou just got this TD taken away for excessive celebration and Damarea Crockett got penalized 15 yards. pic.twitter.com/ORdiAyFj7Q

— Dr. Saturday (@YahooDrSaturday) September 2, 2017
Duly scandalized, refs responded by flagging Crockett for such a brazen flouting of community values. Officially Crockett was credited with a 73-yard run to the MSU two-yard line, from whence the Tigers were assessed a 15-yard penalty and eventually forced to settle for a field goal that extended their still-precarious lead to 51-35. But what will become of the children who saw him … saw him jump … whose innocence can never be restored?
MISCELLANEOUS POWER RANKINGS
The top 10 things in the SEC this week.
1. Bama's Blue-Chip Backfield. The Tide have such an abundance of quality options at running back they don't know what to do with them all — literally, at one point on Saturday they sent starting tailback Damien Harris, who led the team last year with 1,136 yards from scrimmage, out to block a punt like he was a hungry freshman looking for any way to make his mark. Of course he succeeded, setting up a field goal that opened the floodgates early in the fourth quarter. Even on a mediocre night statistically this group proved indispensable. (Last Week: 1)
2. LSU's Canada Cure. The Tigers didn't need anything innovative or exciting to grind BYU's defense into a fine paste, and new play-caller Matt Canada didn't feel obliged to open those sections of the playbook for the sake of justifying the hype. Assuming those sections of the playbook still exist when he does need them, that's an encouraging sign. (LW: 3)
3. Allison Williams' Coach O Impression. By the fourth quarter of LSU-BYU, it was all the ESPN crew could do stay awake through the end of the broadcast. To help them get there, they took turns imitating Ed Orgeron's inimitable Cajun swamp growl, leading to sideline reporter Allison Williams' stellar rendition within earshot of the coach himself.
And now… @AllisonW_Sports does an Ed Orgeron impression pic.twitter.com/oQNX96Vtck

— Timothy Burke (@bubbaprog) September 3, 2017
You'll never see that or anything like it in garbage time of an NFL game, or any time in an NFL game, which almost defeats the point of watching at all. (LW: Unranked)
4. Nick Chubb at Full Speed. By his standards Chubb had a relatively light afternoon against Appalachian State, churning out 96 yards and a pair of touchdowns on just 15 carries. But he looked sharper and quicker than he did through much of his injury-plagued 2016 campaign, especially on a nifty jump cut in the backfield that facilitated his first TD run. Sony Michel and D'Andre Swift give Georgia the luxury of taking a quality-over-quantity approach to Chubb's workload, all the better to keep him fresh well into conference play. (LW: 2)
5. Trayveon Williams, Drum Major (or Something). Williams led Texas A&M's merciless romp over UCLA in the first half, making him the natural choice to lead … uh, whatever is happening here, exactly, which is not entirely clear but is very representative of the moods on the respective sidelines in the Rose Bowl by the end of the first half.

It was straight downhill from there. (LW: Unranked)
6. Visions of SEC East Parity. Every team in the division won comfortably except for Tennessee (which opens tonight against Georgia Tech) and Florida, which hasn't let a moribund offense stop it from winning back-to-back division titles the past two years. The Gators' face-plant against Michigan leaves Georgia as a more obvious frontrunner than it was last week, with South Carolina trending up among the dark horses. (LW: 9)
7. YOLO Miss. Until proven otherwise the official Monday Down South position toward the 2017 Rebels is that they're a talented outfit with a lot of offense, not a lot of defense, and nothing in particular to lose or gain from one week to the next, and therefore capable of just about anything against any team on the schedule. That theory held up Saturday against South Alabama, which hung tough for a half before succumbing to a barrage of points in the third quarter. (LW: 6)
8. Mizzou Torching the Rabble. The Tigers lit up Missouri State for 72 points, breaking a few records in the process, consistent with their policy under coach Barry Odom of laying waste to the worst defenses on the schedule. In five non-conference games on Odom's watch, Mizzou has averaged 53.6 points; against SEC opponents, that number drops by more than 30 points per game, to 22.6. (LW: Unranked)
9. Auburn's Backfield Symmetry. With All-SEC workhorse Kamryn Pettway on ice, the Tigers' other backs, Kerryon Johnson and Kam Martin, split carries almost right down the middle against Georgia Southern, and shared the spoils equally, too: Johnson racked up 136 yards on 14 carries, breaking off a long of 61; Martin finished with 136 yards on 16 carries, with a long of sixty. They each scored once, as well, contributing to a 41-7 rout that wasn't as close as the score. (LW: Unranked)
10. BYU's Pointless Fake Punt. For their part, the Cougars did their part to liven things up in the fourth quarter by running a desperate, futile fake punt from their inside their own 10-yard line, which is weirdly a thing BYU does sometimes for no apparent reason.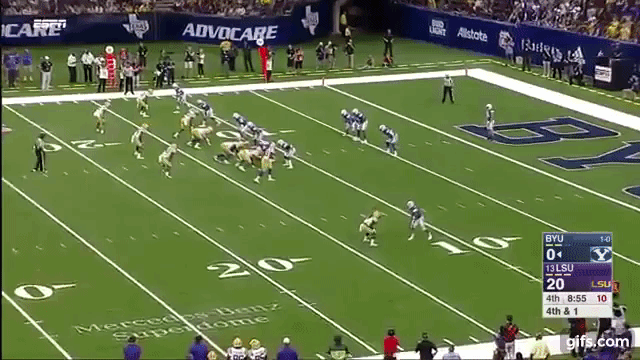 Based on coach Kalani Sitake's reaction, it seems this one was an ad-lib by punter Jonny Linehan, which from a pure entertainment standpoint only makes it better. LSU promptly scored off the turnover, but given how the game had unfolded up to that point you can hardly argue a ridiculous gamble by the punter made things any worse. (LW: Unranked)