SEC
QB Curve: Jalen Hurts has room to grow. Does Alabama need it?
Quarterbacks: There are a lot of them! Each week, QB Curve will keep you up to speed on the game's most important position by putting a different SEC signal-caller in the spotlight and putting the rest of the field in perspective. This week: Jalen Hurts.
Typecasting: The Phenom. Hurts didn't start his first game at Alabama — I mean seriously, a true freshman quarterback, starting for Nick Saban? — and after fumbling on the first snap of his college career it looked like he probably wouldn't finish it, either. Hours later, Bama was a 52-6 winner over USC and Hurts had upended every standing assumption about what a Saban offense looks like.
Operating almost exclusively from spread sets, Hurts entrenched himself in the lineup, won his first 13 starts, and led one of the highest-scoring attacks in school history to the cusp of a national championship. Opposing coaches voted him first-team All-SEC, a first for a true freshman QB — just one of the myriad ways Hurts' debut stands as the best in modern history for a kid in his first year on campus. As a sophomore he's already one of the most recognizable faces in the college game, the focal point of a team that (again) will be favored to win every game it plays, beginning with this weekend's blockbuster opener against No. 3 Florida State.
In a weird way, though, Hurts is also 2017's most high-profile enigma. His precocious talent was largely responsible for leading the Crimson Tide back to the Playoff, at which point his limitations as a passer became an obvious factor in their failure to win it. Opposite Deshaun Watson's brilliance, Hurts looked suddenly like a weak link in a lineup with no other apparent flaws. In Year 2, he clearly projects as a star and a strength. But will a year older necessarily mean a year better in the games that matter most?
The Good. Dude has wheels. Say what you will about his maturity, intelligence, competitiveness, composure under pressure, etc., all of which are applicable and true — he took hold of the most high-profile position on the deepest, most competitive program in the nation after just a few months on campus and never looked back. He kept the dumb freshman stuff to a minimum. His arm was more than adequate throughout the regular season, when he completed north of 65 percent of his attempts with a 142.3 rating against SEC opponents; he eclipsed 250 yards with multiple touchdowns through the air in wins over Arkansas, Kentucky, Mississippi State and Auburn. But the transformative aspect of Hurts' game, as far as Alabama's offense is concerned, is obviously his mobility.
That was evident on the stat sheet, where he racked up 1,068 yards on 6.2 per carry (not including negative yardage on sacks), on just shy of a dozen carries per game, easily outrushing all previous Alabama quarterbacks in the Saban era combined. Most of that output was a workmanlike, within-the-offense effort, reflecting his decision-making in the option game as much as his speed or power. (Strictly in combine terms, the latter might be more notable than the former.) His style at times was more typical of a short-yardage grinder than an open-field blazer; by and large he gained what was blocked for him by design, and if that was enough to spring him into the secondary he could be tracked down.
In moments when the offense really needed it, though, Hurts was capable of some truly dynamic creativity. He had a pair of long, electric scoring runs in back-to-back wins over Tennessee (covering 36 yards) and Texas A&M (covering 45 yards) that effectively slammed the door in those respective games.
Against Ole Miss, he cemented a dramatic comeback with a 41-yard sprint that set up the Tide's clinching touchdown. His ad-libbed, go-ahead touchdown run against LSU was about as clutch as it gets — on the road, in the fourth quarter of a 0-0 slugfest, on an obvious passing down — and showed off an elusiveness he seemed to be saving for just such an occasion.
That wasn't quite reminiscent of Cam Newton, but still, it's rare athleticism for a guy listed at 6-foot-2, 209 pounds. Later, he memorably turned on the juice in an even bigger moment, with the clock winding down in the national championship game and Alabama facing its first fourth-quarter deficit of the season against Clemson.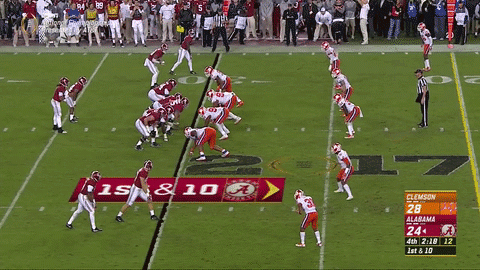 For all his shortcomings as a passer (see below), let the record show that when Hurts walked off the field for the last time in Tampa it was with the lead, on the heels of a 30-yard, go-ahead touchdown run on what would prove to be his final snap of the season. If Alabama's defense had had enough gas in the tank to hold up on Clemson's subsequent drive, that scramble would be memorialized and mounted above fireplaces across the state for decades. As it stands, it's just another example of how dangerous he can be with the ball in his hands.
The Not-So-Good. Again, Hurts' arm strength and accuracy were adequate, until they weren't. But it's impossible to separate his generally solid numbers through the air from the fact the entire passing game seemed designed — understandably — to give him the easiest throws possible as often as possible. According to ESPN Stats & Info, nearly 43 percent of Alabama's pass attempts as a team were aimed at targets at or behind the line of scrimmage, the highest rate in the nation in 2016 and the highest rate of any FBS offense since 2011.
The film bears that out: A huge chunk of Hurts' attempts throughout the season consisted of simple screens, shovels and swing passes that were in effect an extension of the running game. Many of Hurts' biggest completions on paper actually came on safe, horizontal throws that his target subsequently broke for big yards after the catch; usually these types of plays hinged at least as much from the perimeter blocking by wide receivers as they did on their young quarterback. (Sometimes Hurts didn't really even have to throw it: His stellar box score against Mississippi State, for example, was padded by the easiest 67-yard touchdown "pass" ever recorded — a quick shovel to motioning WR ArDarius Stewart, who took it to the house on what amounted to a jet sweep.) Coaches rarely asked him to stand in the pocket, set his feet, and read a coverage downfield against an oncoming rush.
That was an effective plan for a green passer, and departed play-caller Lane Kiffin deserved more credit than he typically received for keeping it running as smoothly as it did throughout the regular season without getting too stale or predictable. In the postseason, though, Hurts ran into real trouble at all levels. In the two Playoff games against Washington and Clemson, in particular, excluding a gimme touchdown pass in the championship game to a could-not-possibly-be-more-wide-open O.J. Howard thanks to a blown coverage by Clemson, he couldn't get anything going short or long:
Read More
Online sports betting has come or is coming to a number of SEC states down south. Residents of states where legalized sports betting exists can bet on things like the Heisman race, SEC football games each week and more... all right from their mobile device.

In terms of pass efficiency, the games against LSU, Washington and Clemson were Hurts' worst of the season, and it's no coincidence that those were also the defenses that devoured the short stuff, eliminated run-after-catch yards for Alabama's playmakers, and forced Hurts to take chances downfield when he didn't necessarily want to.
Most defenses on the schedule don't have the athletes to pull that off even if they've got the Tide thoroughly scouted, but the few that do largely succeeded in making him look like just an ordinary freshman.
The Takeaway. There are plenty of good reasons to assume Hurts will make significant progress from the pocket, and even better reasons to assume it won't really matter either way. Bama's ground game has the makings of an irresistible force all on its own; if they're so inclined, it's easy to imagine the Tide rushing for 300 yards on a more or less weekly basis and relegating the downfield passing game to an accessory. As long as he doesn't somehow regress, just continuing to hit the easy stuff and avoiding turnovers will probably be sufficient for 11 or 12 wins, minimum.
At some point, though, Hurts will likely have to prove that he can be counted on to make a top-shelf defense pay for loading up too heavily against the run. Best-case scenario, he does exactly that and puts all of these questions to bed on Saturday night with a couple of opportunistic bombs against FSU. Beyond that, the passing game will likely be a footnote until the Nov. 4 date with LSU. But if we don't know any more about his arm by the Iron Bowl, then we might already know all we need to.
QUICK OUTS.
Del Rio Rides Again? On paper, the ongoing competition at Florida ought to lend itself to optimism: Between a blue-chip signee coming off a redshirt (Feleipe Franks) and a grad transfer with starting experience under his belt (Malik Zaire), one would assume at least one of them has to be up to the job. The post-Tebow malaise in Gainesville can't linger forever.
But if coach Jim McElwain is even remotely serious in his insistence that Luke Del Rio remains in the mix to start Saturday's opener against Michigan, or even to take meaningful snaps, then all assumptions are off.
Del Rio did manage to go 5-1 as a starter last year before missing the final month of the season to a shoulder injury, including comfortable division wins over Kentucky (his best game by far), Missouri and Georgia, and the injury was clearly taking a toll in his only loss, a disaster at Arkansas. He was always seen as a stopgap, though, and ultimately outplayed down the stretch by the equally pedestrian Austin Appleby. He's not the future, and he's not a guy who gives the Gators a better chance of conceivably challenging for the SEC title this year.
It could be that the 'OR' between Franks' and Del Rio's names on the preseason depth chart is just the coaches' nod to the veteran in the QB room, or perhaps a prod to one of the more talented options they'd like to see separate himself. McElwain clearly has no intention of tipping his hand before Saturday who the starter will be, so keeping all three names in the mix could be just another way of ginning up intrigue before conceding to the inevitable. Even if Del Rio doesn't wind up seeing significant time, though, if it's still a legitimate question at this point for the people inside the program that is a bad omen.
Taking It Slow. Last year was the Year of the Freshman Quarterback in the SEC; this year, not so much. The four highest-rated QBs in the 2017 class (Georgia's Jake Fromm, Alabama's Tua Tagovailoa, LSU's Myles Brennan and Mississippi State's Keytaon Thompson) are all slated as backups to entrenched starters. Meanwhile, most reports out of College Station suggest the most likely candidate to play right away, Texas A&M's Kellen Mond, is running third in that competition behind Jake Hubenak and Nick Starkel. None of the above is likely to redshirt, but outside of spot duty and mop-up work, they're not expected to see much action as long as the guys in front of them are healthy, either.
Of course, things change over the course of a long season. At A&M, especially, it's not hard to imagine coaches handing the reins to Mond if the campaign begins to veer off track, whether he's ready or not. Brennan is the future in Baton Rouge and has already asserted himself as the first option if patience runs out on fifth-year senior Danny Etling.
Bama figures to be involved in enough blowouts for Tagovailoa to play early and often, and if Tua's turn in the spring game was any indication it's not out of the question for him to eventually begin to muscle in on Hurts' playing time. Still, it could be awhile before this class has a chance to make its mark.
QB CURVE POWER HOUR!
Ranking the league's starting quarterbacks heading into the season.
1. Jalen Hurts, Alabama. Hurts' stock obviously took a hit in the postseason, but the league's reigning Offensive Player of the Year isn't budging from this position until someone else steps up to take it.
2. Jarrett Stidham, Auburn. That said, the most coveted QB on the offseason transfer market is the most likely candidate to do just that. True, Stidham hasn't played much college football, and didn't play at all last year while biding his time in junior college; for now, high expectations remain just that. But what little we have seen so far — both as a true freshman at Baylor in 2015 and as Auburn's de facto starter in the spring — all suggests he's on track to fulfill the hype that followed him out of high school. No signal caller in the league has a higher ceiling or more potential to elevate his team into championship contention.
3. Jake Bentley, South Carolina. After Hurts, Bentley was the best of the true freshman class in 2016 and arguably the most likely to make a big leap forward as sophomore after being thrown into the fire at midseason. His presence alone gives Carolina a chance to make some noise in the otherwise QB-bereft East Division.
4. Austin Allen, Arkansas. He's not going to turn any scouts' heads when he walks into a room, but Allen quietly boasted the conference's most productive arm in his first season as a starter, finishing first in passing yards and yards per attempt and second in touchdowns. He also endured more sacks (33) and interceptions (15) than any other SEC passer, numbers that will no doubt improve with four returning starters on the Razorbacks' o-line. Right?
5. Nick Fitzgerald, Mississippi State. I'm aware State fans think Fitzgerald should rank higher after rushing for more yards last year than any quarterback in SEC history who isn't Cam Newton or Johnny Manziel. He's certainly a specimen, a 6-5, 230-pounder who can take any play to the house, and ideally suited for Dan Mullen's offense. (Mullen has a remarkable track record going back to his days as a Bowling Green assistant of getting the most out of oversized, athletic QBs with marginal arms.) But until further notice Fitzgerald is too frequently a liability as a passer to start touting him as the second coming of Dak Prescott.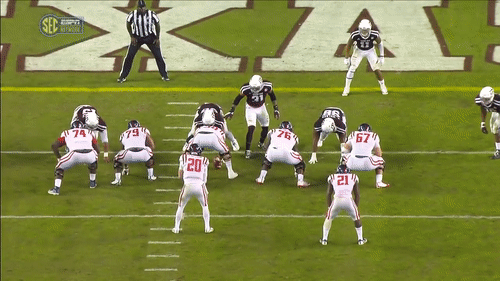 6. Shea Patterson, Ole Miss. Patterson's freewheeling, come-from-behind effort at Texas A&M in his first career start was a tantalizing glimpse of his potential, and more than enough to buy him an offseason of goodwill amid the mounting turmoil in Oxford. I love his mobility and overall skill set and won't be surprised if he spends some time this season at the top of this list. Before he moves any higher, though, he'll need to demonstrate far more consistency than he did in the Rebels' subsequent losses to Vanderbilt and Mississippi State.
(Honorable Mention: Sean White, Auburn. White had no realistic chance of holding off Stidham in the spring, even if he hadn't been forced to spend it as a bystander. But he deserves a lot of credit for keeping Auburn's offense on course last year en route to the Sugar Bowl, and if necessary gives the Tigers the league's most seasoned and reliable backup.)
7. Danny Etling, LSU. Etling was better than his pedestrian reputation last year, which might not be saying much. Still, if the new offense under incoming coordinator Matt Canada gels as quickly as the Tigers hope, the fifth-year senior has enough tools to keep them relevant in the West well into November.
8. Drew Lock, Missouri. Lock wasn't great as a sophomore. But it was enough of a step forward from his disastrous debut in 2015 to keep hope alive for a true breakthrough as a junior.
9. Jacob Eason, Georgia. Eason showed up last year with the body of a No. 1 draft pick and delivered the stat line of … well, a true freshman asked to bite off a little more than he could chew. Presumably the latter will improve in Year 2, although by how much is the question that could spell the difference between a Playoff run and another trip to a perfunctory December bowl.
10. Stephen Johnson, Kentucky. This position might be slightly unfair to Johnson, who helped salvage Kentucky's foundering season (and Mark Stoops' job) last September and effectively outdueled Lamar Jackson in the Wildcats' 41-38 upset over Louisville to close the regular season. On the other hand, it's hard to be too enthusiastic about the only returning starter in the conference whose name I frankly still have a hard time remembering off the top of my head. Sorry, Steve, we'll be watching more closely this time around.
11. Malik Zaire / Feleipe Franks, Florida. I'd like to think the winner of this competition will finish much higher in December, but for now it seems more likely the first move after this weekend's date with Michigan will be down.
12. Quinten Dormady / Jarrett Guarantano, Tennessee. There's nothing to say about either of these gentlemen yet except that both were 4-star recruits, neither has done anything relevant in live action, and no one seems to have any good idea which one will wind up taking the majority of snaps this year. Check back next week.
13. Kyle Shurmur, Vanderbilt. Shurmur seemed to turn a corner late in 2016, lighting up Ole Miss and Tennessee to get the Commodores bowl-eligible, then melted down in an ugly Independence Bowl loss to N.C. State. That game left him at or near the bottom of the conference in almost every major passing category for the year, and as the only regular SEC starter with more interceptions (10) than touchdowns (9).
14. Jake Hubenak / Nick Starkel, Texas A&M. No one is excited about this situation, and when you remember that the competition was supposed to be between Kyle Allen and Kyler Murray instead it looks downright depressing.