FLORIDA
Film Study: Why Florida fans are right to panic about the Gators' offense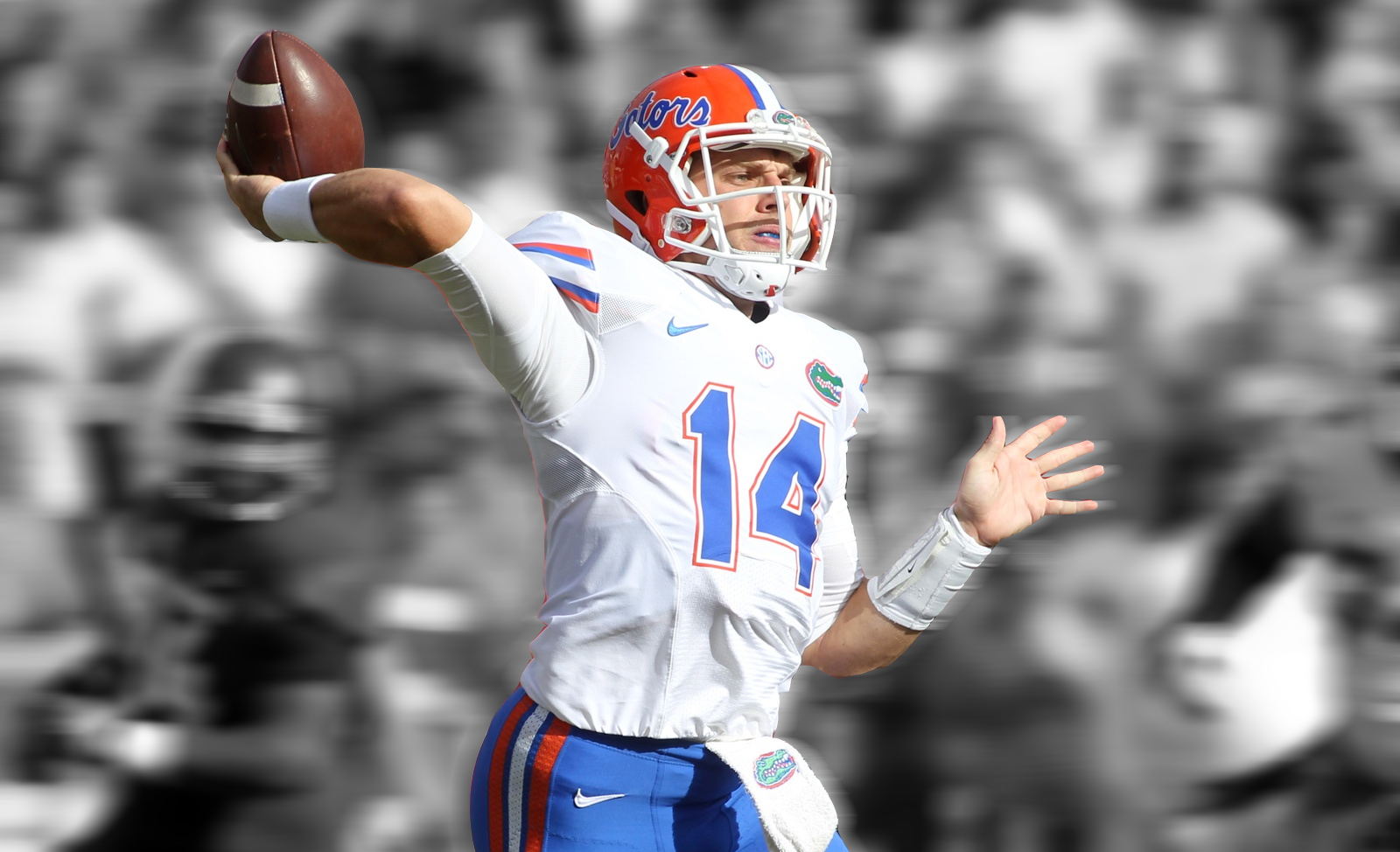 It's been a weird, tumultuous year for SEC quarterbacks, and nowhere more so than Florida: Before the season began, the Gators lost not just one but two returning starters from last year's run to the SEC Championship Game, leaving a clean slate of a depth chart consisting entirely of transfers and true freshmen. Eight games into the season, with pole position in the SEC East in the balance, they're still trying to sort it out.
At the center of the riddle is the nominal starter, junior Luke Del Rio, whose season is suddenly in doubt after suffering a shoulder injury in last week's 31-10 flop at Arkansas — a beating even more lopsided in reality than the score suggests: Florida didn't score an offensive touchdown and managed just 12 yards rushing, among other indignities.
Del Rio was responsible himself for two interceptions, including a tone-setting pick-six on his first attempt that set the Razorbacks on the path to a blowout. Del Rio's second INT brought his total to six in the past three games, and the loss sent the Gators tumbling from 11th in the Playoff Committee's weekly rankings to outside of the Top 25 altogether.
One place where Florida did not tumble, however, was in the SEC standings, where it maintains sole possession of first place in a division that lacks any semblance of a stable or coherent pecking order as it hits the final turn. To maintain their tentative grip at the top this weekend against South Carolina, the Gators will turn at least temporarily to Austin Appleby, a graduate transfer from Purdue who started two midseason games in place of Del Rio against Tennessee and Vanderbilt. But for an attack desperately in need of a spark, is another pedestrian, second-hand pocket passer the answer to getting back to Atlanta? Or is there still time to find another way?
Gators Lack Weapons, Explosiveness.
Inevitably, most of the blame for a foundering offense is bound to fall on the quarterback, or the inability to settle on one, as the case may be. But Florida has more than enough dysfunction to spread around: For the season, the Gators rank 12th in the SEC in total offense, 11th in yards per play, and 10th in scoring, aided by the handful of touchdowns on defense and special teams.
According to advanced stats they fare even worse, especially on the ground, where they come in 98th nationally in Adjusted Line Yards and 112th in rushing success rate. In red zone scoring they're 125th out of 128, having failed to put up points so far on a league-high 30 percent of their opportunities; they average just 4.06 points per trip inside the opponents' 40-yard line, good for 98th.
Recent trends notwithstanding, UF has been better than average at avoiding turnovers and sacks, yielding only 12 apiece. Otherwise, the past month has been an equal-opportunity funk for the entire offense.
But if there's any persistent, long-term trend at the root of the malaise, it's the ongoing absence of a reliable, go-to playmaker, a void that arguably dates as far back as the days of Jeff Demps and Percy Harvin.
The post-Tebow quarterback drought in Gainesville has been well-documented, but the other skill positions haven't exactly distinguished themselves, either — Florida hasn't had an All-SEC running back (first- or second-team) since Mike Gillislee in 2012, or an All-SEC wide receiver since Riley Cooper in 2009.
That's not about to change this year. And as far as the current lineup is concerned, the attrition behind center is easily matched by the blue-chip backs and receivers who have led quiet careers, left the team, or never made it to campus in the first place.
This year, the backfield has relied on a running back-by-committee approach featuring four backs (Jordan Scarlett, Lamical Perine, Mark Thompson and Jordan Cronkrite) who are more or less interchangeable, with mediocre results. Meanwhile, of the five most frequently targeted receivers, only one (sophomore Antonio Callaway, a former three-star recruit) is a true wide out; rounding out the list are tight ends DeAndre Goolsby and C'yontai Lewis, utility tailback/slotback Brandon Powell, and Cronkrite out of the backfield.
Statistically, the lo-fi narrative is borne out in a couple places, most obviously in the fact that Florida ranks 94th in plays of 20 yards or longer and a truly dismal 122nd in Explosiveness, one of the key factors that go into S&P+ ratings.
Against Arkansas, though, it was even more depressing on film than the final stats revealed: Although Del Rio officially completed five passes that gained at least 20 yards, almost all of those completions were meaningless. Three came on the Gators' final, last-gasp possession in the the fourth quarter, against a prevent defense that eventually forced a turnover on downs; a fourth came on the last play of the first half, also against a prevent defense.
By the same token, the Gators' longest gain on the ground (21 yards, by Mark Thompson) was a gimme on 3rd-and-24 that still resulted in a punt; excluding that one, the other 10 carries by UF running backs netted a grand total of 16 yards. At no point in the normal course of the game did Florida establish a viable running threat or successfully challenge the Razorbacks downfield.
Missing out, consistently.
On the latter point, at least, it wasn't for lack of trying, even with Del Rio's sore shoulder. (It's unclear exactly when the injury occurred, given that Del Rio played start-to-finish, but McElwain conceded after the game that Del Rio probably should have been pulled at halftime; most Florida fans would have gladly told him that without any knowledge of the injury.) With no running game to speak of and an immediate deficit on the scoreboard, Florida repeatedly took its shots on ostensible running downs … and repeatedly came up empty as Del Rio missed open receivers by big margins, turning in a woefully inaccurate performance on throws more than 10 yards downfield. Sometimes, it really does all come down to the quarterback.
Take this play to open the second quarter, on which Florida deployed a second H-back on 1st-and-10 to lull Arkansas into thinking run; the Razorbacks responded accordingly with eight men in the box and a single safety high, leaving Callaway one-on-one to the top of the formation. That's a winning matchup for the Gators, except for Del Rio's throw, which overshoots his target by an even wider margin than Callaway has beaten the trailing corner:
Next play, 2nd-and-10: This time Del Rio has his inside receiver, Freddie Swain, open on the deep corner half of a smash route, but again sends the pass sailing well beyond his reach: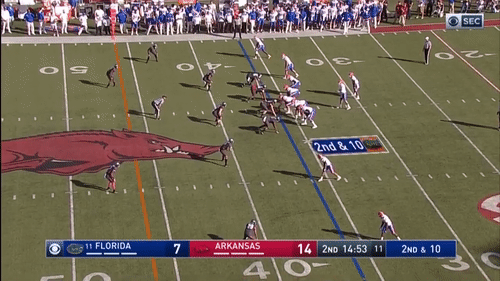 Next possession, 1st-and-10: Del Rio's most egregious throw — arguably worse even than the tip-drill interception Arkansas took back for a touchdown on Florida's first play from scrimmage — a heave into double coverage that comes up well short of its target, Callaway, and flutters harmlessly into the arms Arkansas' Joshua Liddell:
We could keep going on this theme — Del Rio had multiple downfield misses in the second half, as well, with no success until well into garbage time. But there were missed opportunities beyond the missed throws. Here's a key play in the fourth quarter, 2nd-and-10, with the score still theoretically within reach at 24-7. The play design creates another favorable matchup for C'yontai Lewis, motioning across the formation in an H-back role, against Arkansas linebacker Alex Ellis on a wheel route with no help over the top: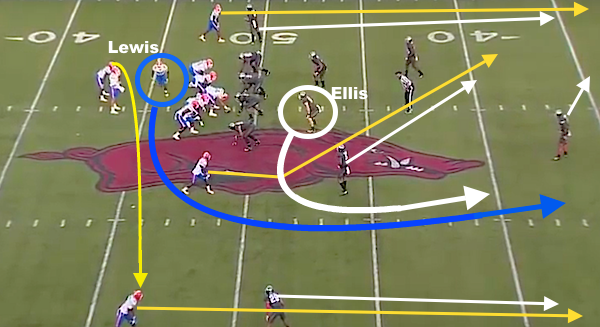 This could be a bust by someone in the Razorbacks' secondary; either way, the result is Lewis clearly running past Ellis down the hash marks for what could have been Florida's first touchdown. Instead, Del Rio surveys the field and lamely dumps an incomplete pass in the direction of a very covered Jordan Cronkrite in the flat: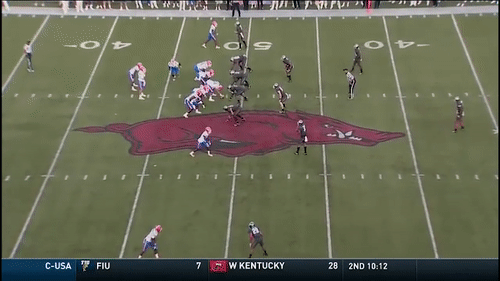 Florida did tack on a field goal on that drive, thanks mainly to a 4th-and-10 pass interference penalty, which made it the Gators' most productive possession of the day by default. The fact that it could have gone for more with an accurate, on-time throw was a neat summary of the entire afternoon.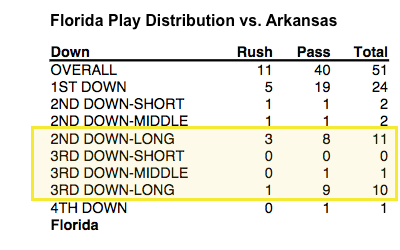 On all of those plays, I paid particular attention to the down and distance because the Gators' inability to come up with a big play on first and second down helped set them up for disaster on third: For the game, Florida converted just 1-of-11 third-down attempts, a dramatic reversal of its season-long trend (UF came in with the SEC's best third-down conversion rate) due in very large part to the distance — all but one of those attempts came with the offense facing 3rd-and-6 or longer, at which point the offensive line had a much harder time holding up than it did on plausible running downs. (Pro Football Focus gave all five starting linemen below-average grades against Arkansas.) Mostly due to that pressure, and despite his willingness to take shots in general, only two of Del Rio's third-down attempts even crossed the line to gain in the air.
To Saturday and Beyond.
Given the trajectory of the offense over the past month, there's a good chance Appleby would have been the starter this weekend even if Del Rio was healthy; either way, barring a disaster it looks like Appleby will have every opportunity to pick up the baton and run with it down the stretch.
With two starts under his belt, Appleby is still a bit of an enigma. On one hand, the best the offense has looked at any point this season was in the first half of his first start, at Tennessee, where Appleby bombed the Vols for 200-plus yards and two touchdowns en route to a quick 21-0 lead.
Early on in that game, he looked sharp and more than capable of supplying the big-play spark the offense has been missing lately, beginning on the second play from scrimmage with a 51-yard strike to Callaway vs. man coverage.
Notice that, on 2nd-and-5, this is a run set with an H-back and tight end; the pre-snap motion by the tight end from the short side of the field (Callaway's side) to the wide side entices a Tennessee safety to creep into the box as an eighth defender against the run, leaving Callaway one-on-one with a backup cornerback who stands no chance against a hitch-and-go. Most important, Appleby's throw was on the money from 45 yards out: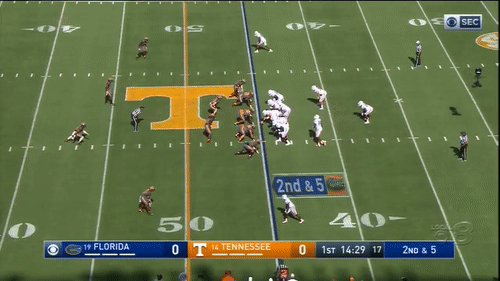 That set up touchdown No. 1 vs. the Vols. Later in the quarter, flip the formation with Callaway on the right side. Again, pre-snap motion by the H-back on 1st-and-10 influences the safety to Callaway's side of the field; again, Callaway takes advantage by beating his man on another double move, capped by a picture-perfect throw from Appleby covering 44 yards: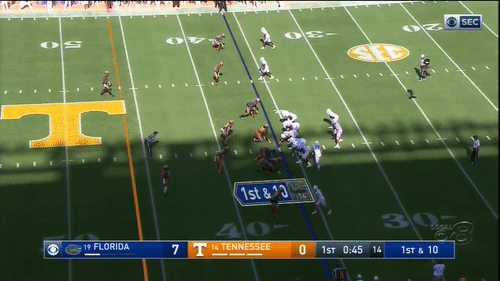 That set up touchdown No. 2. Now to the second quarter, 2nd-and-4. This time the target is true freshman Tyrie Cleveland, matched up one-on-one on the outside with a fellow freshman, Baylen Buchanan; the result is the same, this time for a 37-yard gain that set up touchdown No. 3.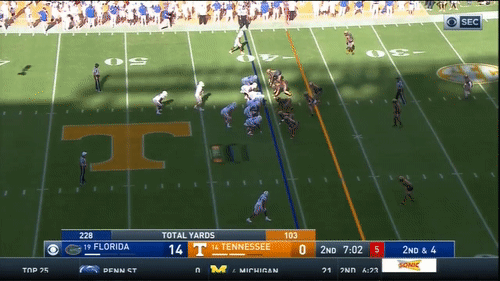 Obviously, Appleby has the arm to open up the offense, and there are more big-play options on hand than the pedestrian numbers might suggest. On the other hand, Appleby's stock crashed in the second half in Knoxville, when Florida's offense ground to a halt, ceded momentum to Tennessee, and limped out a 38-28 loser after watching the Vols rip off five consecutive touchdowns.
His second start, a 13-6 win at Vanderbilt, was as ugly as the score suggests, featuring a single TD and barely a trace of the downfield panache he flashed against Tennessee. A week later the Gators welcomed Del Rio back to the starting lineup against Missouri, and Appleby hasn't attempted another pass in the past three games.
Most of what we've seen from both teams so far suggests this weekend's visit from South Carolina will be a repeat of the slog against Vandy, which could make it an ideal window for true freshman Feleipe Franks to make his debut off the bench without being thrust into a situation where he's forced to keep pace in a shootout. Franks enrolled early in the spring as one of the most hyped QB prospects in the 2016 class, and his capacity to bring new blood to a long-suffering position is incentive enough to shove him out of the redshirt nest.