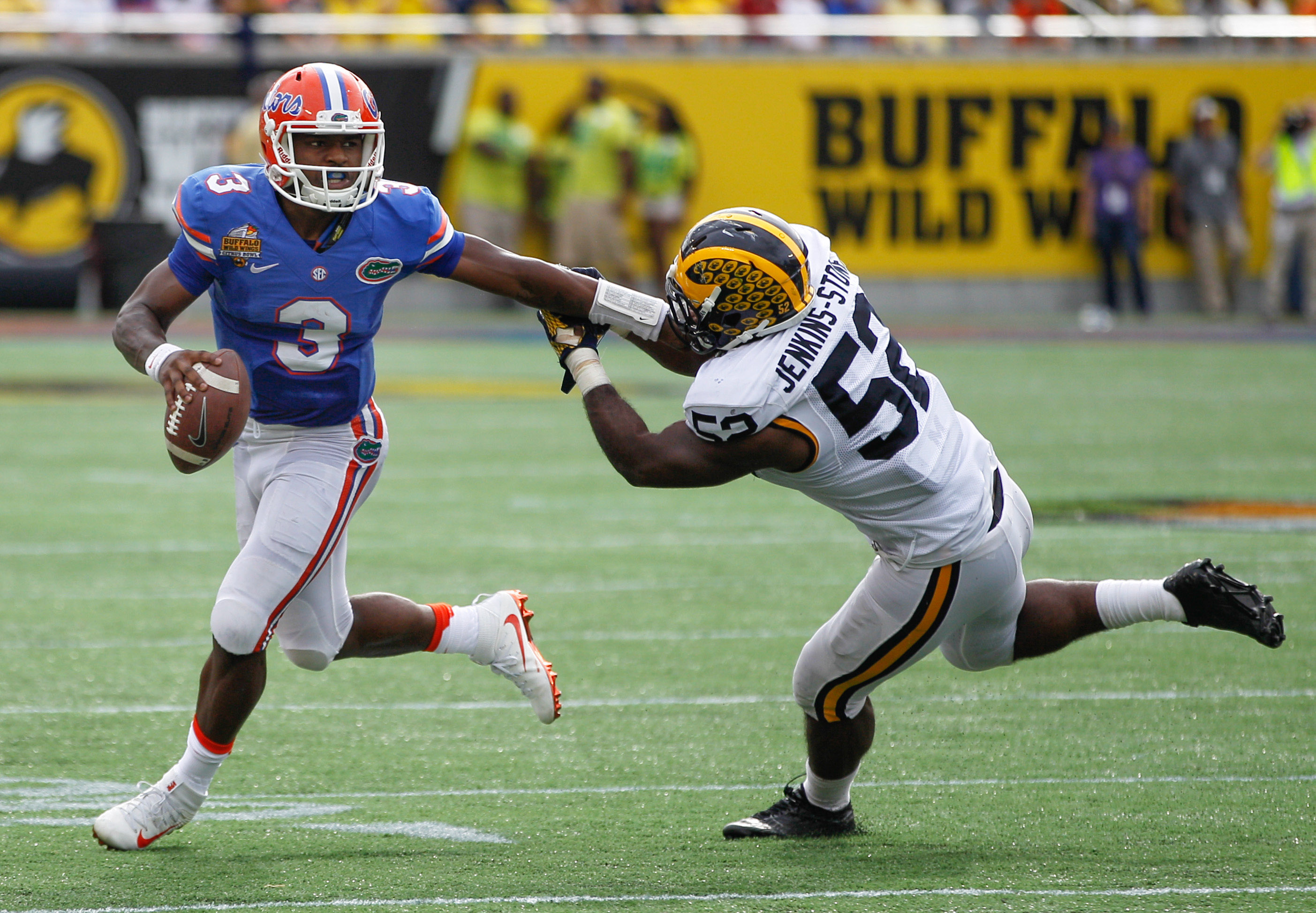 FLORIDA
Since Tebow, Gators' QB situation a series of swings and misses
A quarterback once hailed as an orange and blue savior is leaving Gainesville unceremoniously. Treon Harris' transfer can potentially close the book on a post-Tim Tebow era that has been an exhausting rollercoaster of ups and downs at the quarterback position for the Gators.
In summer 2010, I was a journalism student at UF and working the football beat as an intern for the Rivals affiliate. Cam Newton was long gone, and as one can imagine, there was one big question surrounding every media session: Could John Brantley replace Tim Tebow? When we asked about how practice was going, Brantley, his teammates and his coaches were all positive.
One of the receivers, Deonte Thompson, made headlines that spring for calling Brantley "a real quarterback" as opposed to Tebow. All signs pointed to the Gators' offense being ready for the post-Tebow era.
But it wasn't. Any reasons for optimism were thrown out the window when the team traveled to Tuscaloosa and got walloped 31-6 by defending national champion Alabama. Three quarterbacks – Brantley, Trey Burton and Jordan Reed – took snaps that season, with sometimes two at a time in the backfield. The gimmick didn't work. The Gators finished 10th in the 12-team SEC in passing yards per game, and Urban Meyer's final season at Florida was marked by a forgetful 8-5 campaign.
Newton, meanwhile, once viewed as Florida's quarterback-in-waiting behind Tebow, led Auburn to the national championship.
The 2011 season wasn't much better. Brantley started, but true freshmen Jeff Driskel and Jacoby Brissett both played. The trio combined to throw 13 touchdown passes — third-fewest in the SEC. Only three teams threw more than the Gators' 13 interceptions.
The 2012 season looked to be the real start of the Driskel era after he won the starting job over fellow true sophomore Brissett. The Gators went 11-1 in the regular season, beat FSU for the first time since 2009 and made it to a BCS bowl game. Gator Nation had every reason to believe the team was set for the future and would be anchored by strong quarterback play. Little did anyone know what would unfold over the next four seasons.
In 2013, Brissett's decision to transfer proved costly after Driskel suffered a season-ending injury in Week 3 against Tennessee. Inadequate recruiting at the quarterback position was exposed that season, as a 4-1 start turned into a 4-8 finish, which the program is still recovering from in many ways.
Enter Harris. In the 2014 season, one of the more interesting storylines in Gainesville was which freshman quarterback would win the backup job to play as a true freshman: Harris or Will Grier? Harris ultimately won out, impressing coach Will Muschamp and offensive coordinator Kurt Roper with his composure under stressful situations, something he had picked up as a quarterback for Miami high school powerhouse Booker T. Washington.
Harris was elevated to savior status by Florida fans after he engineered a 10-9 comeback victory over Tennessee in Knoxville on a day which Driskel struggled mightily. He was expected to take over the starting job for the following game against LSU, but was suspended for the week of practice due to sexual assault allegations that were dropped by the Friday before the game.
Driskel played well enough in the loss to LSU (14-of-25, 183 yards, 1 TD, 2 INT; 21 carries, 71 yards, TD) to keep Harris from getting the starting job until the Georgia game in wake of an offensive implosion against Missouri.
With Harris as a true freshman starter, the Gators went 4-2, but the wins were against Georgia (he threw only six passes), Vanderbilt (winless in the SEC that season), Eastern Kentucky (FCS) and East Carolina (a game he left early due to injury, in which Driskel secured the bowl victory).
Days after that bowl win, Driskel, who had already graduated, announced he was transferring to Louisiana Tech.
Grier and Harris competed all fall for the starting job in 2015. Harris won it, but Grier quickly took it away — and the Gators took off.
Just when it seemed Grier, a redshirt freshman, had ended Florida's quarterback blues, he contributed mightily to them. Grier led Florida to a 6-0 start. He torched Ole Miss for four touchdown passes in 38-10 thumping over the No. 3 Rebels.
Florida climbed back into the top 10. And then everything unraveled, again.
Days before facing No. 6 LSU, Grier was suspended for the season for taking a banned substance.
In a surprising turn of events, Harris had the chance to play midseason savior again. He looked like he might just do it against LSU, a slugfest of undefeated division leaders at the time. But in the end, even his best performance of the season (17-of-32, 271 yards, 2 TD) was not enough to lift the Gators over the Tigers. From there, it went downhill.
Harris failed to hit the 60 percent completion mark in wins against Georgia, Vanderbilt, South Carolina and Florida Atlantic. When Florida entered the FSU game 10-1 limping toward the finish line, it had become clear the Gators were winning in spite of Harris and not because of Harris.
With Harris' woefully subpar performances in Florida's final three losses, a combined 36-of-83 passing with just 1 touchdown and 2 interceptions, it was no surprise to hear that if he stayed at UF, he would be switching to wide receiver, as was confirmed by coach Jim McElwain recently. If Harris wishes to pursue his dream of playing quarterback somewhere else, more power to him. Florida fans should wish him the best, and thank him for his part in the wins over Tennessee and Georgia.
For the program, Harris' departure symbolically brings on the beginning of a new era.
Starting in 2016, the Gators' depth charts for the foreseeable future will have only quarterbacks signed by McElwain to play in his system. Florida fans will certainly be cautious about getting excited about a quarterback again because of all the injuries, off-field issues and transfers over the years, but Harris' farewell may prove to be the conclusion of a period of frustration under center.