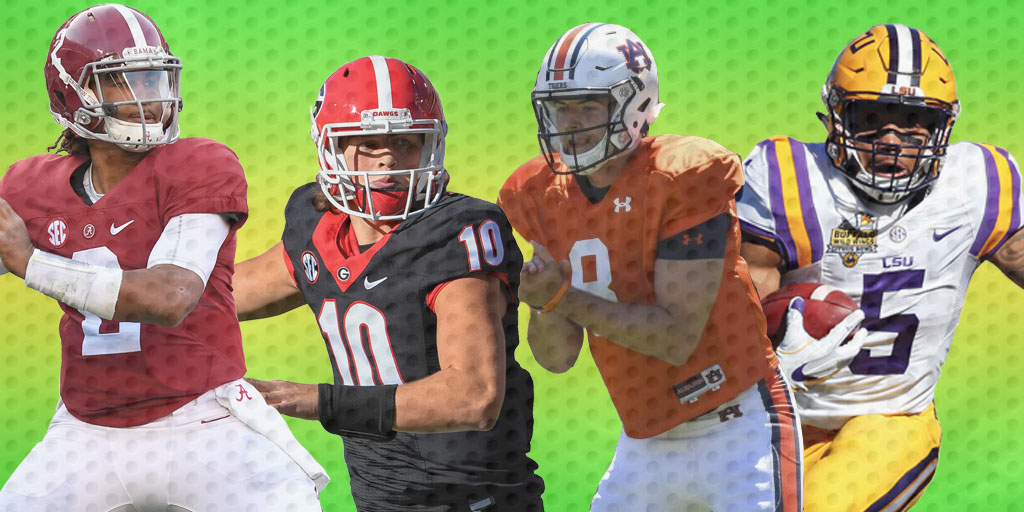 SEC
Monday Down South: In Week 1, Alabama vs. FSU really is as big as it gets
Matt Hinton is back with his weekly "Monday Down South" installment for the 2017 season. You can find his weekly report on the league every Monday morning here at Saturday Down South.
Is Saturday's clash between Alabama and Florida State the biggest opening-day tilt ever? Based strictly on advance hype, yes, possibly by a lot – if not ever, then certainly in recent memory. Bama is the first AP No. 1 ever to open against an opponent ranked higher than fourth (FSU is No. 3), or against a team ranked anywhere in the Top 10 since 1984. By that standard, it's just about the biggest opener imaginable, with the ticket prices to match.
The stakes are about as high as they can be for this time of year, too, especially for a non-conference meeting between teams that aren't "rivals" in any meaningful sense. The winner is a no-brainer frontrunner in the polls and a heavy favorite to run the table, so obviously Playoff-worthy that it can probably afford an upset along the way without forfeiting its seat at the table.
The loser will fall back to the pack, still alive for the final four but facing zero margin for error over the rest of the season. That's assuming it's close; the stench of a first-impression blowout on this kind of stage could linger well into the season, and not just in the minds of pollsters.
On some level, building anticipation for any game is a matter of luck. (This edition of Bama-FSU was announced in 2015, two full years before anyone knew where either team would be ranked to start 2017; most non-conference games are set before the players who'll play in them are even on campus.) But it's no coincidence that it's taken decades to produce a blockbuster of this magnitude, or that it's happened to come along when it has: The emergence of big-ticket, made-for-TV openers in NFL stadiums has dramatically incased the appetite for marketable matchups to fill them, and the arrival of the four-team Playoff has dramatically altered the cost-benefit analysis of agreeing to play in one.
In the BCS era, any loss at any point on the calendar could bring a championship run to an abrupt end; for serious contenders, the chance to beat another heavy hitter outside its conference was rarely worth the risk of taking an unnecessary L. The Playoff has lowered the cost of an initial setback — an 0-1 start narrows the path, but it no longer threatens to erase it entirely.
Now the more important question: Will the game itself actually live up to the hype? Alabama has made a habit of turning these early showcases into anticlimactic beatdowns, an annual tradition at this point that's claimed Clemson, Michigan, Virginia Tech (twice), Wisconsin and USC as victims since 2008. Each of those games served to cement Bama's status as a national overlord, quickly putting any offseason question marks to bed.
On the other hand, none of them came at the expense of a team with anywhere near the expectations Florida State has this year; the Seminoles come in as relatively modest seven-point underdogs, the same odds Clemson faced in January's national title game.
Deondre Francois is a veteran, Cam Akers is the most anticipated true freshman in the country, and the defense is fully stocked after playing most of last year with two of its best players, safeties Derwin James and Nate Andrews, watching from the bench. Aside from Ohio State, if there's any team in college football in 2017 capable of matching Bama athletically, blue-chip for blue-chip, it's FSU.
And if it's not? Then we'll know pretty much all we need to know about how the rest of the season is likely to play out.
NOTEBOOK
Around the conference.
Pressure, Under Pressure. As for the question marks: The most glaring losses for Alabama came from the front seven on defense, where they lost arguably the best player in the college game in 2016 (Jonathan Allen) along with four other early-to-mid-round draft picks (Reuben Foster, Tim Williams, Ryan Anderson, Dalvin Tomlinson) who combined for 37 sacks and 48 quarterback hurries as seniors. That was a borderline NFL unit.
By now Bama is so accustomed to replacing one generation of next-level talent with the next one in line, with no discernible drop-off, that it's easy to take its ongoing dominance for granted. Against the run, where the Tide have consistently ranked at or near the top nationally in rushing defense throughout Saban's tenure, that's a safe assumption. Where the pass rush is concerned, though, the outgoing class really was unique:
The 2015-16 pressure numbers from Allen, Williams, et al., were easily the best under Saban; they were also among the best in the country both years, and the corresponding uptick in takeaways and defensive touchdowns followed as a direct result. Even by Bama standards that group took harassing opposing QBs to a new level.
This being Alabama, naturally the new starters — Da'Shawn Hand, Raekwon Davis, and JUCO transfer Isaiah Buggs on the line, Christian Miller and Anfernee Jennings off the edge — were all touted recruits, and except for Buggs (who enrolled in the spring) are all entering at least their third year in the program. Hand, in particular, has been marked for stardom after biding his time behind Allen, as has incumbent nose tackle Da'Ron Payne, a space-eater who's more than capable of collapsing the pocket in addition to his primary duties against the run.
But it's not entirely clear how much the increase in pressure the past two years had to do with the players, as opposed to a change in scheme or philosophy that can be easily replicated with new personnel, and it's not a foregone conclusion (yet) that the new group will be able to sustain the heat.
Backing Into the Red and Black. I honestly didn't see this coming, but … well, I guess it's official: I'm on the Georgia bandwagon?
It wasn't up to me. Every year, I put together a set of national rankings for every FBS team (we're up to 130 of them now) based on five broad categories — Recent History, Talent/Recruiting, Experience, Offensive Production and Defensive Production; each category consists of three subcategories based on criteria like winning percentage, recruiting rankings, returning starts, etc. The upshot is that none of the results necessarily reflects my off-the-cuff conclusion when I'm eyeballing a depth chart.
So what to make of the fact that, after taking schedules into account, my foolproof system has pegged Georgia — an inconsistent program five years removed from its last division title, coming off an uninspiring, 8-5 finish in 2016 — not only as the runaway favorite to win the SEC East, but as a borderline Playoff contender? No other result at the top of my rankings was nearly as bold compared to the preseason consensus among other outlets, almost none of which project Georgia in the top 10. Am I prepared to defend UGA as a burgeoning elite? Really?
Not that I don't recognize the appeal, or why the Dogs landed where they did. On paper they're ripe to make that leap: The backfield is stacked, the linebackers are the best in the country according to Athlon, and the defense as a whole has more career starts under its belt than any other D nationally except N.C. State's.
Jacob Eason's not a freshman anymore. The incoming recruiting class is one of the most decorated in school history; for the time being, their ability to contribute as freshmen matters less than the feeling of forward momentum they've brought to the program in Kirby Smart's second year. (I'm a believer that coaches who win big in the modern game tend to get to full speed very quickly.) Even the obvious question marks can be spun as positives — there are plenty of options at wide receiver, and frankly it's hard to imagine the offensive line being any worse.
Still, just when I think I've talked myself into a full-fledged endorsement, I look at UGA's opener against Appalachian State and immediately size it up as a real challenge — exactly the kind of competitive, four-quarter upset bid from ASU that more or less derailed the preseason exuberance over Tennessee last year.
Partly that's out of respect for App. State; in much larger part it's because Georgia's pattern of underachieving over the past decade has made the Bulldogs reflexively hard to trust. Obviously Georgia has potential. But what distinguishes this team from the equally talented teams that finished unranked three of the past four years? From the outfit that lost to Ole Miss, Vanderbilt and Georgia Tech last year, and only narrowly survived scares from Missouri, Kentucky and Nicholls State?
The first step in answering those questions would be laying a solid, routine-looking whooping on the Mountaineers this weekend, where Georgia is a two-touchdown favorite. It's still a long way from there to Atlanta in early December, but if the long-term goal is going to become a reality then serving notice that at least the 2017 edition won't make a habit of playing down to the competition would be a very good start.
The Stidham Effect. If I'm being honest, and not taking cues from spreadsheets, the team I give the best chance of emerging as a serious threat to Bama is the last one to actually unseat the Tide in the West: Auburn. The Tigers don't fare quite as well as Georgia in my rating system (it's close), but they were arguably the second-best team in the league in 2016 when healthy, and as far as I'm concerned they boast the most complete, compelling lineup from top to bottom. If they make it to mid-November with championship ambitions intact, they also get both UGA and Bama at home.
Admittedly, there's some chance all of the above will wind up looking absurd if ballyhooed QB transfer Jarrett Stidham isn't the instant upgrade behind center he's been made out to be. I rate the odds of Stidham flopping in the feature role as very low — he's a former 5-star recruit who backed up that distinction in his brief stint at Baylor, in 2015, and by all accounts in spring practice. He'll also have the benefit of a proven, multifaceted ground game anchored by Kamryn Pettway and Kerryon Johnson. But it's August so, you know, caveat emptor. It's not a foregone conclusion.
If Stidham is as advertised, though, or even close, he could be the most important player in the conference, new or otherwise. It's easy to forget that, at one point last year, Auburn averaged more than 500 yards per game en route to six consecutive wins, the vast majority of that output coming on the ground; from that point on, neither Pettway nor since-demoted QB Sean White made it to the end of subsequent losses to Georgia, Alabama, and Oklahoma. (Pettway didn't play at all vs. UGA, or White at all vs. Bama.)
Assuming the lineup remains more intact this time around, and that Stidham adds a new, field-stretching dimension to the downfield passing game, the Tigers have all the pieces to remain relevant well after the leaves have turned.
The Bentley Breakthrough. Aside from Stidham, the story at quarterback this year is the unusual number of rising, blue-chip sophomores who appear poised for breakout seasons after entrenching themselves at the top of the depth chart as true freshmen. Of that group, only Jalen Hurts truly qualifies at this point as a proven commodity. (Despite his struggles in the postseason, Hurts was unquestionably the most successful true-freshman QB the sport has ever seen; I'll have more on his development later this week.) Among the rest, most of the attention was understandably reserved for Jacob Eason and Ole Miss' Shea Patterson, the highest-rated passers in the 2016 recruiting class.
Compared to his classmates, South Carolina's Jake Bentley was an afterthought: He wasn't as highly rated out of high school (in part because he wasn't technically part of the 2016 class; he skipped his senior season to enroll early), he didn't take over as the Gamecocks' starting quarterback until midway through the regular season, and he didn't play in any high-profile games that warranted more than local attention. He didn't smash records or generate any eye-opening highlights. But Bentley was the central figure in Carolina's unlikely turnaround, turning in pristine stat lines in season-saving wins over Tennessee and Missouri, and played arguably his best game in a wild, shootout loss to South Florida in the bowl game. And in the end he finished as one of the most efficient freshman passers the SEC has seen since the turn of the century: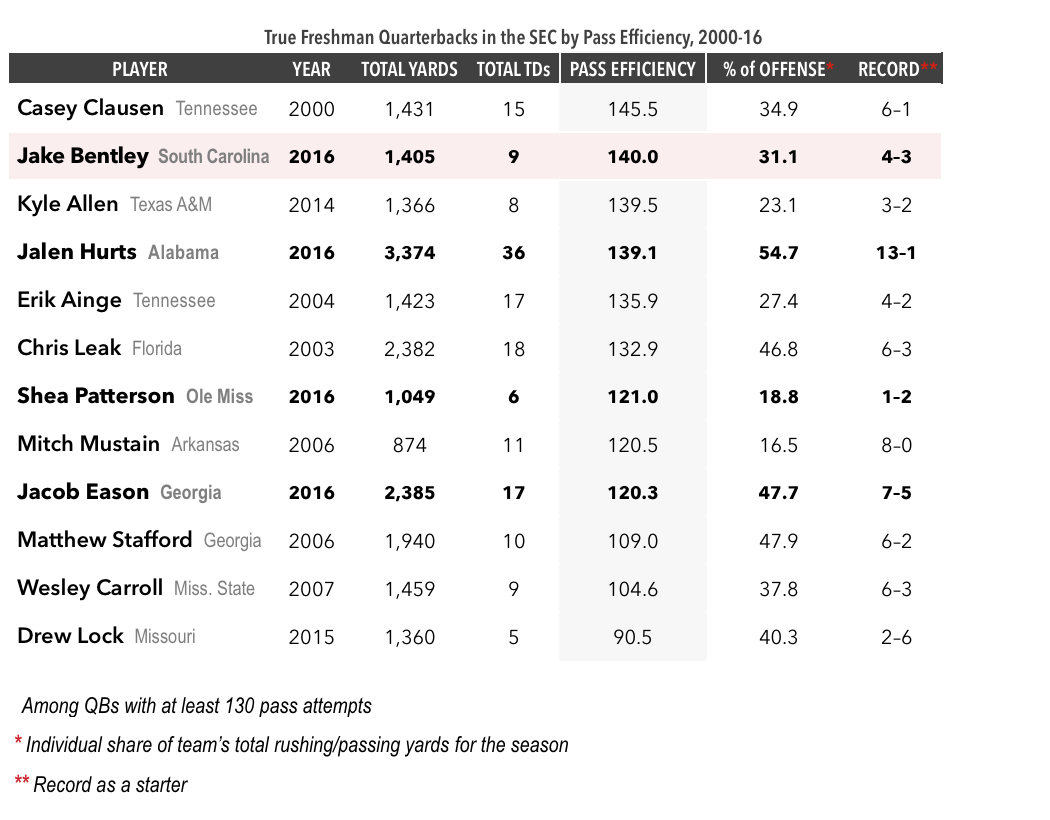 "Efficiency" isn't everything, but the rating is generally a fair summary of a quarterback's body of work. And in Bentley's case, it's not a case of feasting on cupcakes, either — his three highest-rated games came against Tennessee, Mizzou and USF, against whom he combined to average a healthy 8.9 yards per attempt with seven touchdowns vs. just two interceptions. More than 20 percent of his attempts for the season gained at least 15 yards. And in the seven game he started, his share of Carolina's total offense was 52.2 percent.
On the flip side, yes, he was subpar against Florida and completely overwhelmed in a blowout loss at Clemson. Let's not get carried away. Barring a darkhorse run at the East title, Bentley's not much more likely to break onto the national radar as a sophomore. But freshmen deserve to be judged by their best, not their worst, and Bentley at his best was arguably better than his peers on a more frequent basis. As a full-time starter, with a largely intact supporting cast, he may have as much long-term potential as any QB in the league.
SUPERLATIVES
The best of the week.
Throughout the season this space will be reserved for the best performances of the previous weekend. This week, it's our best guess at who'll be recognized as the superlative performers at season's end.
Offensive Player of the Year: Derrius Guice. Guice racked up nearly 1,400 yards on 7.6 per carry last year as an ostensible backup, frequently outshining Leonard Fournette in the process. (It was Guice, not Fournette, who ultimately came in for a first-team All-SEC nod from opposing coaches last December.) This year the feature role in Matt Canada's scheme belongs to Guice alone, putting him in line for a blockbuster junior campaign before he ascends to the NFL next spring — as well as, presumably, for more than two carries against Bama.
Defensive Player of the Year: Minkah Fitzpatrick. The 5-star New Jerseyan has manned every position in Alabama's secondary in his first two years on campus and excelled in all of them; more to the point, he's scored in all of them, having already turned half of his eight career interceptions into touchdowns from cornerback, safety, and nickel roles. (Oh, and don't forget that before he cracked the starting lineup as a true freshman, Fitzpatrick also recovered his own blocked punt for a score in the Tide's 2015 annihilation of Georgia. One way or another dude's winding up in the end zone.)
Wherever he lines up, Fitzpatrick is the glue of the nation's deepest back five and has a chance to stamp his name at the top of a very long, every distinguished list of All-American DBs on Saban's watch.
Breakout Player, Offense: A.J. Brown. Yes, almost every team has an intriguing young candidate for this title, some of whom I've already mentioned. For sheer potential, though, none are more intriguing than Brown, who flashed more than enough as a true freshman to justify the inevitable comparisons to his predecessor in the No. 1 jersey, Laquon Treadwell. If the numbers don't quite back that up — Brown finished with 29 catches for 412 yards and two TDs, almost all off the bench — the highlights most certainly do. Expect him to be more in sync with fellow sophomore Shea Patterson in Year 2 and for the production to follow.
Breakout Player, Defense: Jabari Zuniga. Zuniga had nowhere near the initial hype that follows most Florida signees, especially on the defensive line. As a redshirt freshman, though, he began to emerge as the Gators' most productive pass rusher, pacing the team in both sacks (5) and QB hurries (11) despite starting just three games; only Caleb Brantley, a 2017 draft pick, was credited with more total tackles for loss.
On a unit breaking in nine new starters, that kind of output makes Zuniga a relatively proven commodity. Judging from his dominant turn in the spring, it was only scratching the surface.
Newcomer of the Year: K'Lavon Chaisson. Chaisson arrived at LSU as arguably the most hyped pass rusher in the 2017 recruiting class and immediately earned rave reviews from his new head coach. Meanwhile, the incumbent terror at the "Buck" position, Arden Key, is expected to miss at least one game with a nagging shoulder injury. By the time he returns, his understudy may have already carved out a significant niche in the rotation.
Comeback Player of the Year: Skai Moore. Moore missed all of 2016 to a neck injury after finishing as South Carolina's leading tackler in each of his first three seasons, a distinction he figures to earn again after returning to full speed in the spring. The Gamecocks will welcome his presence against the pass, as well: Moore opens the season as the active SEC leader with 11 career interceptions.
Game of the Year: Alabama at Auburn. Every few years the SEC West race culminates in an instant-classic Iron Bowl, the past two of which (in 2010 and 2013) Auburn won in wild, memorable fashion, to put it mildly. And while it's impossible at this point to assume this year's edition will have the same kind of championship implications that those games did — even if both teams play up to their potential, Auburn still faces the enormous task of taking at least two out of three against Clemson, LSU and Georgia along the way — at least these Tigers have all of the pieces to make a winner-take-all showdown in November a reality. No other team in the league can say that with the same confidence.
And just for the heck of it, I'll offer my own personal (that is, not reflective of the opinion of anyone else at Saturday Down South) preseason All-SEC team:
Offense
Quarterback: Jarrett Stidham • Soph, Auburn
Running Back: Derrius Guice • Jr, LSU
Running Back: Kamryn Pettway • Jr, Auburn
All-Purpose: Christian Kirk • Jr, Texas A&M
Wide Receiver: Calvin Ridley • Jr, Alabama
Wide Receiver: Deebo Samuel • Jr, South Carolina
Tight End: Isaac Nauta • Soph, Georgia
Tackle: Jonah Williams • Soph, Alabama
Tackle: Martez Ivey • Jr, Florida
Guard: Braden Smith • Sr, Auburn
Guard: Ross Pierschbacher • Jr, Alabama
Center: Frank Ragnow • Sr, Arkansas
Defense
Defensive Line: Da'shawn Hand • Sr, Alabama
Defensive Line: Trent Thompson • Jr, Georgia
Nose Tackle: Da'Ron Payne • Jr, Alabama
Edge (OLB/DE): Arden Key • Jr, LSU
Linebacker: Shaun Dion Hamilton • Sr, Alabama
Linebacker: Roquan Smith • Jr, Georgia
Linebacker: Jordan Jones • Jr, Kentucky
Defensive Back: Minkah Fitzpatrick • Jr, Alabama
Cornerback: Duke Dawson • Sr, Florida
Cornerback: Carlton Davis • Jr, Auburn
Safety: Dominick Sanders • Sr, Georgia
Safety: Armani Watts • Sr, Texas A&M
Specialists
Kicker: Daniel Carlson • Sr, Auburn
Punter: J.K. Scott • Sr, Alabama
Kick Returner: Evan Berry • Sr, Tennessee
Punt Returner: Christian Kirk • Jr, Texas A&M
MISCELLANEOUS POWER RANKINGS
The top 10 things in the SEC this week.
1. Bama's Blue-Chip Backfield. Alabama lost the Heisman-winning centerpiece of its 2015 championship run, Derrick Henry, and still went on to set Saban-era highs in 2016 for rushing yards per game and per carry with an entirely new set of faces sharing the load. That cast returns intact, a year older, in addition to 5-star arrivals Najee Harris and Tua Tagovailoa. All that's standing between this group and 1995 Nebraska levels of destruction is its health and Saban's sense of mercy.
2. Nick Chubb at Full Speed. Nagging injuries kept Chubb from attaining his underclassman brilliance in 2016, and he still managed to churn out 1,130 yards on more than 20 carries per game; even Georgia fans will concede he should be collecting an NFL paycheck right now rather than subjecting himself to another season of career-threatening collisions for free. As long as he's healthy, though? Might as well appreciate Chubb's conquest of the career rushing charts while we still can.
3. LSU's Canada Cure. In the end, last year's splashy coordinator hire worked out exactly as LSU had hoped: Dave Aranda's defense finished in the top 10 nationally in both yards and points allowed and kept the Tigers in every game down to the final gun. (In four losses the Tiger D allowed a grand total of three touchdowns.) If new OC Matt Canada has anywhere near the same effect on the offensive side, LSU is a contender.
4. Fear of Christian Kirk. Don't kick it to him. Don't do it. Don't …
You had one job.
5. Neutral-site Openers. Kicking off the season against a name-brand opponent in a domed NFL stadium is a lot like playing in a bowl game, only better — where postseason dates often feel anticlimactic, in Week 1 it's guaranteed that both sides will show up fresh, with expectations intact and everything to play for. (Also there are no interim coaches.) For Alabama, maybe, a big national showcase on opening day is business as usual; for Florida, LSU, South Carolina and Tennessee, the initial rush may be as good as it gets all year.
6. Brad Nessler and Gary Danielson. Verne Lundquist was the SEC's jolly old uncle, so beloved by the end of his run in the CBS broadcast booth that even his increasingly frequent flubs came across as endearing. Uncle Verne was the soundtrack to the SEC's growth into a national brand. But Nessler is a venerable pro in his own right, and his rapport with Danielson — still the most astute Xs-and-Os analyst in the business — will continue to make whichever campus is hosting the 3:30 pm showcase on a given Saturday feel like the capital of the South for the next four hours.
7. YOLO Miss. Offensively, Ole Miss is a supremely talented outfit with no reason not to let it rip each and every week. Defensively, it remains … well, let's just say a work in progress. Add in the weird, volatile psychology that comes with an interim head coach and a bowl ban, and you have a recipe for unpredictability and chaos spanning all ends of the spectrum. The Rebels might not be good, but they definitely won't be boring.
8. LSU's Wannabe New Mascot. Sure, he's cute now.
Meet Harvey. This prospective tiger wanted to take part in Move-In Day too: https://t.co/fVOxXi6Ohx@MikeTheTiger #MikeVII ? pic.twitter.com/1zqGRflyUn

— LSU (@LSU) August 16, 2017
Give it a few years and I'm guessing out-of-state visitors to Tiger Stadium will be slightly less charmed.
9. Visions of SEC East Parity. The two-division format has existed for 25 years; in 22 of them the East has been repped in the conference title game by Florida, Georgia or Tennessee. For once, though, the East's usual overlords all remain in various states of rebuilding at the same time the bottom half of the division appears to be trending up. If ever there was an opportunity for the rare dark horse run to Atlanta to come to fruition — it's now or never, Kentucky — this is the year.
10. South Carolina's Garnet Helmets. I'll never understand why they ever decided to wear anything else.