OLE MISS
Film Study: Ole Miss QB Shea Patterson meets the hype, and raises it
By Matt Hinton
November 17, 2016
How much can we learn about a player in a single game? In Shea Patterson's case, his first college start might have told us all we need to know.
Of course, it's impossible to separate Patterson's 402-total yard, two-touchdown debut at Texas A&M from the hype that preceded it: According to 247Sports, he was the highest-ranked quarterback not only in the 2016 recruiting class, but the highest-ranked QB coming out of high school in any class since 2008.
He's the kind of prospect whose tenure as the starter is broadly understood as a distinct "era" in the program's history before he even takes a snap. His redshirt status was the stuff of intense speculation, even before a season-ending injury to entrenched senior starter Chad Kelly forced his coach's hand. After the kind of season Ole Miss has had, anything resembling progress down the stretch is bound to be met with relief.
But Patterson's introduction was met with something closer to jubilation — in rallying the Rebels to victory from a 21-6 deficit, on the road, against a ranked SEC West rival, he pointed to much bigger stakes on the horizon than an improved chance of qualifying for the TaxSlayer Bowl.
The comeback was confirmation that it's Patterson's team for the foreseeable future, and that that future could indeed be everything Ole Miss fans had been led to expect. The kid wasn't perfect, but he met the advance hype and then some, on a stage that might as well have been designed to overwhelm a rookie in his position. Now comes the hard part: Living up to the even higher bar he just set for himself.
Learning On the Run
As I pointed out earlier this week, the most encouraging aspect of Patterson's performance on paper was his visible growth over the course of the game — his productivity improved significantly in every quarter, almost as if he were condensing an entire season's worth of progress into 15 minutes. By the fourth, he looked like a veteran in his fourth year in the system:

Ole Miss' final four possessions against A&M yielded three consecutive touchdowns (on drives covering 90, 61, and 75 yards, respectively) followed by the game-winning field goal, all in roughly nine minutes of possession. For his part, Patterson personally accounted for a little more than 70 percent of the total yardage on those drives as a passer and rusher.
And on film, one of the first things that stands out about Patterson's game is just how closely those two aspects, the rushing and the passing, are intertwined. People weren't pulling those Johnny Manziel comparisons on Saturday night out of thin air: Beyond the physical resemblance, Patterson also moves like Manziel, almost uncannily so — not fast, but with a similar knack for eluding, escaping, and careening through traffic, threatening to turn every pass play into a scramble drill and vice versa based on nothing but his squirrel-like intuition.
Excluding sacks, Patterson finished with 11 carries against A&M for 83 yards; seven of those carries resulted in first downs, and five went for 10 yards or more. The former category included a couple of designed runs, but the latter was exclusively improv: Patterson standing in the pocket, the pocket breaking down, and Patterson racing to daylight under pressure.
The most emblematic entry on that list (and certainly the most frustrating for the Aggies) might have been this one, a 3rd-and-10 scramble in the second quarter that could have gone wrong for Ole Miss in about six ways — the fate of most plays that begin with Myles Garrett (No. 15 below) carrying an offensive lineman into the quarterback's lap — yet somehow ended with Patterson barreling through two tacklers for the conversion: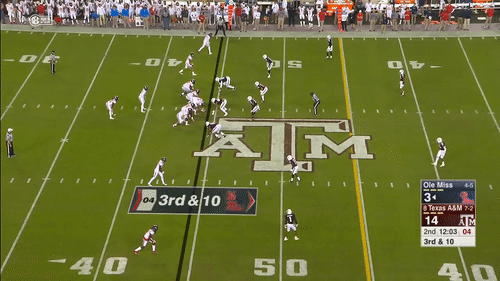 That's just one example of a recurring theme: In fact, Patterson set the tone on the first play from scrimmage when he corralled a high snap, escaped an unblocked blitzer off the edge, and scrambled for a 16-yard gain. See also: Here, here, and, on the game-winning drive, here.
But Patterson's scrambling instincts were also instrumental to his success as a passer, especially given his lack of experience reading defenses from the pocket, and especially as he became more comfortable in his surroundings after halftime. Take this play, another 3rd-and-10 effort form an empty-backfield set that could have been D.O.A. as soon as right tackle Alex Givens (No. 67) whiffed on his attempt to block the Aggies' Daeshon Hall (10); instead, Patterson broke contain, managed to keep his eyes downfield even while stumbling slightly, and, with Hall and another defender bearing down, delivered a 26-yard strike to a well-covered Markell Pack: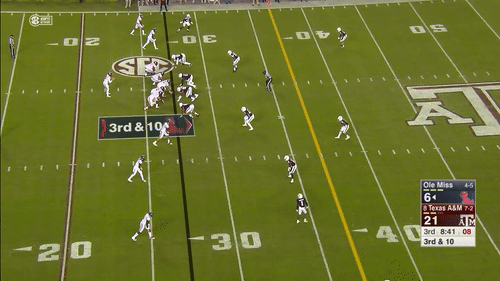 There was considerable risk in that decision if the ball hadn't been placed where only Pack had a chance to catch it. But it was, and he did, for a hard-earned first down. On the very next play, Ole Miss remained in a five-wide look, this time hoping to connect on a quick hitch or out route; when that failed to materialize, again, Patterson's mobility allowed him to buy time and eventually find A.J. Brown working back to the ball for a 23-yard gain: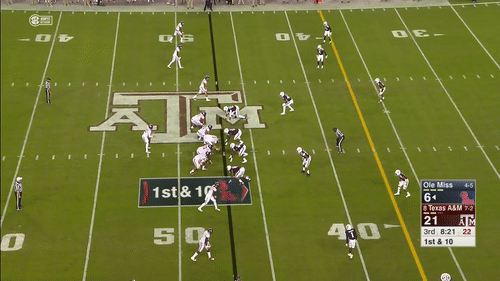 Cut to the fourth quarter; this time, Patterson will face pressure from a multiple directions, both from an unblocked blitzer to his right (preventing Patterson from escaping to his right, as he did on the plays above) and from Myles Garrett to his left, working against true freshman left tackle Greg Little. But Patterson easily sidesteps the rush, sliding to his left for a change and finding Quincy Adeboyejo at the first-down marker: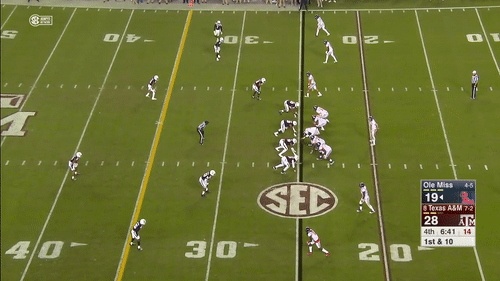 And then, yes, there was the viral highlight of the night, a completely ad-libbed, reverse-field touchdown pass from Patterson to Damore'ea Stringfellow to open the fourth quarter that was so evocative of Manziel in every way – right down to Patterson's windmilling arms as he changed direction – that Brent Musburger's call on the SEC Network broadcast was, literally, "Johnny Manziel! Do you believe it?"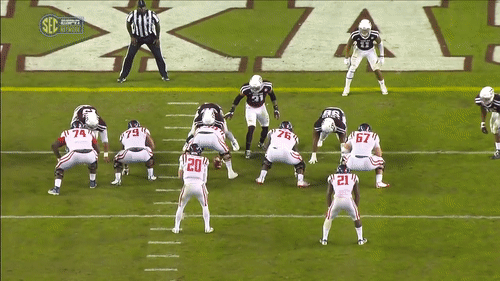 It might still be too early believe, particularly on the basis of one crazy play. By that point in the game, though, Patterson's capacity for making good things happen on the fly was obvious enough that the comparison was practically begging to be made.
Growing Pains
Before the late rally, most of Patterson's shortcomings amounted to the usual freshman stuff, specifically his marginal comfort level in the pocket and lack of experience reading coverages. When not scrambling around, most of his throws from the pocket were either downfield shots or quick slants off of run/pass option, and he had some success with both — his 32-yard touchdown pass to Van Jefferson in the fourth quarter was Patterson's best throw of the night and one of very few glimpses of his downfield arm strength. But he's certainly a better improvisor at this point than technician.
Patterson's only really big mistake came on a badly missed read in the third quarter. This is a type of play Ole Miss runs often, using a fake toss or screen action to the tailback to create confusion among the linebackers and secondary — similar plays worked earlier this year for a big gain against Florida State and a long touchdown pass against Alabama. Against A&M, the Rebels used a fake toss action to tailback Akeem Judd in or to a) free up space over the middle for quick slant routes by Jefferson and Stringfellow, or b) generate a mismatch for H-back Evan Engram on a wheel route: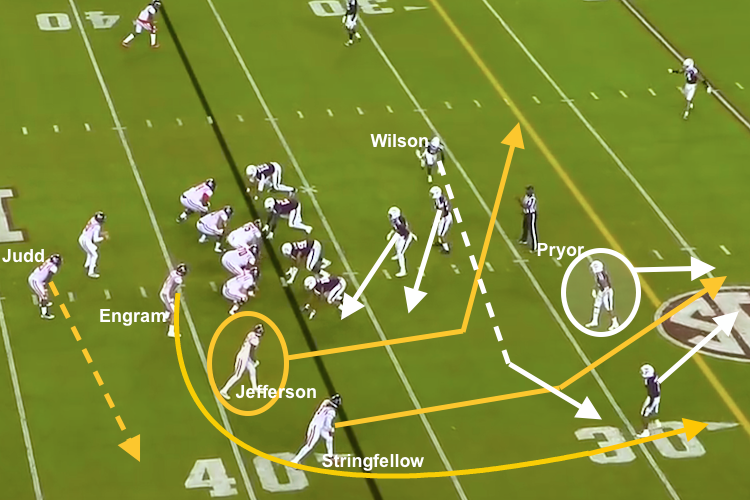 At the snap, both linebackers bite on the fake toss to Judd and safety Donovan Wilson (seen above hustling to get into position) runs with Engram on the wheel, leaving only one defender — safety Larry Pryor — to defend both slant routes. As the play unfolds, Jefferson is the one who winds up flashing open behind the linebackers; instead, Patterson misreads Pryor, opts to throw the deeper slant to Stringfellow, and suffers his first career interception: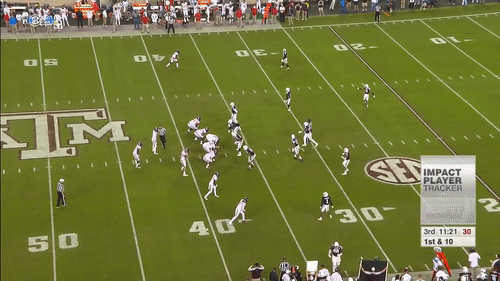 Ideally, those kinds of mistakes can be eliminated with time and reps. A more pressing, long-term concern with a player like Patterson is the kind of mistake that results from pushing too hard to make a play when there simply isn't one — the flip side of creative genius being, sometimes, creative disaster.
The perfect example against Texas A&M came in the second quarter, when Patterson attempted to salvage a thoroughly botched play by abruptly lateraling the ball to Judd (a blocker on this play with no expectation of the ball coming his way) while in the grasp of two defenders: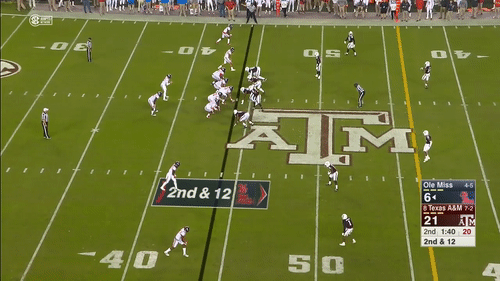 The result was a 17-yard loss that, under the circumstances, could have been a lot worse. That's a dumb freshman thing, certainly. But it's also an extension of the same competitiveness and off-the-cuff risk-taking that facilitated some of Patterson's best plays. It comes with the territory. As long as the positives continue to vastly outnumber the occasional gaffes, the upside is worth it.
To Saturday and Beyond
There other storylines surrounding this weekend's trip to Vanderbilt — Ole Miss is looking to secure a bowl game with its sixth win; Vandy's trying to stay alive for one by avoiding its seventh loss — but on a Saturday when half the SEC will be in cruise control against FCS patsies, all eyes will be on Patterson's encore.
Incredibly, Patterson might be arguably the best passer Vanderbilt has faced this season, and the Commodores still rank as one of the conference's worst pass defenses in terms of efficiency. Another big game in Nashville could set the stage for a raucous scene next week in Oxford, when Patterson will make his home debut against (no pressure, kid) Mississippi State. With nothing else to play for, everything from here on out is about building toward next year.
And to that end, if Patterson continues to live up the hype the offense the Rebels expect to put on the field in 2017 is frankly terrifying. That's not a surprise, given the way they've recruited on that side of the ball, but to actually get a glimpse of Patterson's talent in action only drives home the potential of the entire unit: Only three of the 11 offensive starters at A&M were seniors, and that group didn't include supremely talented young receivers DeMarkus Lodge, A.J. Brown, or Dekaylin Metcalf. As many as 10 players could be back who originally ranked among the top 100 overall recruits in their respective classes, most of whom are currently just freshmen and sophomores.
Of course, that doesn't account for a defense that comes in dead last in the SEC in scoring defense vs. FBS opponents. The talent level there isn't what it was two years ago and doesn't offer anywhere near the blue-chip stockpile the Rebels have to look forward to on offense. But if what we saw in College Station was only the beginning, when this offensive lineup reaches maturity the margin for error on the side of the ball is going to be very high.