SEC
QB Curve: Danny Etling is adequate. How much more can LSU ask?
Quarterbacks: There are a lot of them! Each week, QB Curve will keep you up to speed on the game's most important position by putting a different SEC signal-caller in the spotlight and putting the rest of the field in perspective. Previously: Jalen Hurts • Drew Lock • Nick Fitzgerald • Kyle Shurmur • Jake Bentley
QB of the Week: Danny Etling
Typecasting: The Placeholder. Of all the players I've written about in this format, for this site and others, Etling might be the one who strikes me as the most perfectly average. In nearly every way he represents the exact median. If someone created an organization to represent the Typical College Quarterback in 2017, the logo could be modeled on Etling's silhouette, which is (of course) essentially indistinguishable from dozens of others.
He was a 4-star recruit, according to 247's consensus ratings, but only barely, and not by every service. He arrived in Baton Rouge with a dozen starts already under his belt at a Power 5 school, but that school was Purdue, where he posted a 2-10 record as a starter and was benched for good midway through his sophomore year. He has good size at (officially) 6-3, 215 pounds, but not great. He has an OK arm, but not a cannon. He's not especially mobile, nor a statue. On paper, his production consistently lands in the middle of the pack among SEC starters.
And although he's managed to remain at the top of LSU's depth chart now for the better part of two seasons, it's clear that Etling was never meant to be a long-term solution there — his promotion to QB1 in 2016 had more to do with the failure of the incumbent, Brandon Harris, than with any overriding faith in Etling, and as the current season begins to spin out of control his grasp on the job appears as tenuous as ever.
In each of the past two games coaches have reserved significant second-half reps to the heir apparent, true freshman Myles Brennan, giving their QB of the future every chance to prove he's ready to be the QB of the present. In that context, the fact that Etling remains the starter heading into this weekend's trip to Florida is proof that coaches don't yet trust his understudy to take the wheel and not much else.
The Good. This might say more about the NFL's moldy rubric for grading college quarterbacks than it does about Etling, but in his perfect average-ness he's likely to check off as many boxes among pro scouts as any current SEC starter. He's bigger than Shea Patterson and Austin Allen, more accurate than Nick Fitzgerald, and more consistent than the league's other "pro style" passers, Drew Lock and Kyle Shurmur.
Unlike Jarrett Stidham and Jake Bentley, he plays in an offense that's seen as translatable to the next level; unlike Jalen Hurts, he'll never be accused of depending too much on his legs. He's smart and mistake-averse. Assuming he can stay on the field for the next two months, Etling is enough of a by-the-book prospect that it's not hard to imagine his stock rising during combine season.
There's also some evidence on tape that his arm strength is generally underrated, Exhibit A being the dead-on rocket he launched a few weeks back for an 87-yard touchdown pass in the Tigers' win over Syracuse: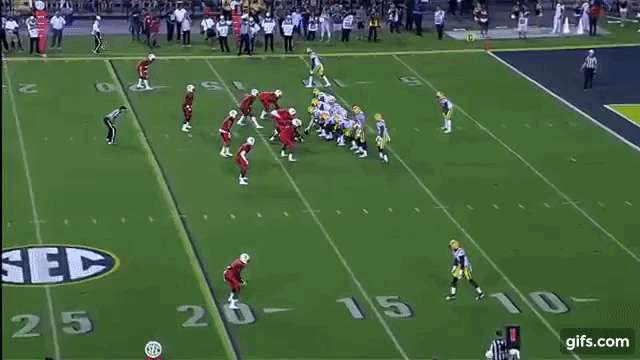 As I pointed out last week, that ball was not only perfectly placed but traveled more yards in the air (55) than all but two of Etling's other 221 attempts at LSU have gained. (Both of the other two came in a 2016 win over Southern Miss, neither covering the "air yards" of the throw against Syracuse.) None of which is to suggest that he's the league's best pro prospect, or even that he'll necessarily be drafted. But given time to set his feet, he's capable of getting the ball just about anywhere it needs to go.
More generally, Etling is most effective off play-action once LSU has established the run, never more so than in last year's 54-39 Thanksgiving win over Texas A&M: Derrius Guice was the star, setting the school rushing record, but Etling complemented him beautifully, turning in career highs for completion percentage (71.4), total yards (324), yards per attempt (11.6), and overall efficiency (192.2) against a Power 5 opponent. (He also had two touchdown passes, the first of which was a beauty in its own right.)
Another outing that falls clearly into this category came in the Tigers' season-opening, 27-0 win over BYU, in which LSU piled up 296 yards rushing and dominated time of possession; Etling finished 14-of-17 for 171 yards in that one and told reporters "I felt as good as I've ever felt playing a game."
The Not-So-Good. His successes have been almost entirely complementary: When the ground game struggles to find traction, Etling isn't a threat to run himself, doesn't scare opposing secondaries on obvious passing downs, and hasn't shown any propensity to throw the Tigers back into a game they'd be out of otherwise. The defining theme of the Tigers' Week 3 flop at Mississippi State was Etling being repeatedly swarmed over by the Bulldogs' pass rush on third-and-long.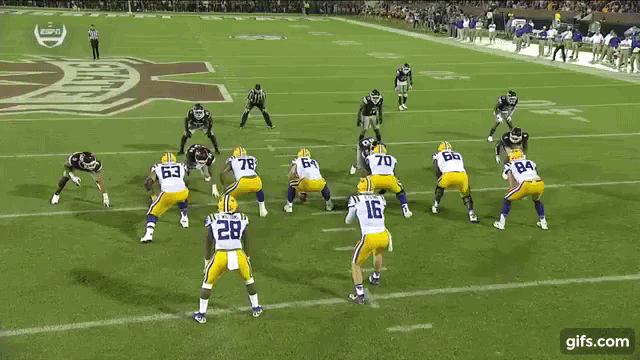 That's not all his fault, and it speaks to his composure that even under constant duress in that game he didn't serve up a turnover in panic. (The last-ditch interception that ended last weekend's loss to Troy was his first of the season.) But in this case the same conservatism that limits bad plays also limits the good: Last year Etling finished 10th in the SEC in passes of 15 yards or more, and currently ranks eighth. The same goes for passes resulting in first downs.
Right now, the bottom line is that the most plausible scenario for beating Florida and Auburn over the next two weeks is a pair of low-scoring slugfests in which Etling is asked to do as little as he can get away with until he absolutely has to — preferably at the very end, if at all. Beyond that, there's no realistic plan for beating Alabama short of shutting the Crimson Tide out. In anything less than ideal conditions, the results against any of those defenses will be a rerun of the debacle in Starkville, only worse.
The Takeaway. Benching Etling at this point would mean throwing a true freshman into that meat grinder instead, which would be shortsighted and frankly just cruel. The Tigers know what they have in their starter, and if the rest of the offense is in reasonably working order, Etling is good enough to salvage another eight- or nine-win season from an impending collapse. (Remember, LSU finished 6-2 last year after the étouffée hit the fan at the same point on the calendar.) Certainly Florida, where the QB situation is even less settled, will be more than happy to spend three hours exchanging punts.
On the other hand, if they follow up September humiliations against Mississippi State and Troy with an 0-2 start in SEC play, with Auburn and Alabama looming, then the prospect of salvaging a shot at the Music City Bowl might not be enough to keep a fifth-year senior afloat. With Brennan, at least, growing pains can be written off as investments. With Etling, even if he's not looking over his own shoulder, it's obvious enough that everyone else will be.
MATTHEW STAFFORD ARM OF THE WEEK: Jake Bentley.
Bentley spent most of his Saturday night trying to dodge an amped-up Texas A&M pass rush, and mostly unsuccessfully — the Aggies sacked him seven times in a come-from-behind, 24-17 A&M win. Immediately following the first of those sacks, though, Bentley turned the subsequent third-and-long into a showcase for his escapability, arm strength, and downfield touch in one fell swoop: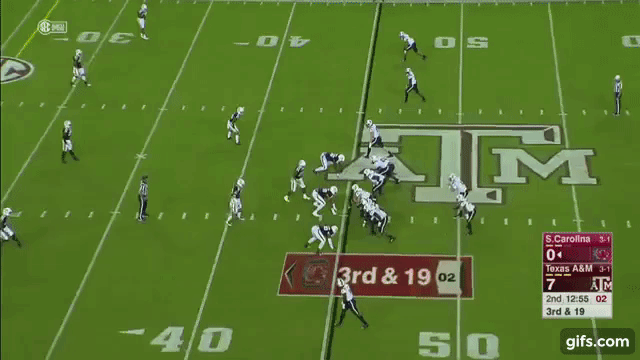 Even on a rough night overall, Bentley is still good for at least one eye-opening play per game that wrecks the grading curve. Kid's fun to watch.
QB CURVE POWER HOUR!
Ranking the league's starting quarterbacks heading into Week 6.
1. Jalen Hurts, Alabama. Bama's backfield is so loaded, Hurts is the leading rusher on the nation's most productive non-triple option rushing attack on just 11 carries per game. (Last Week: 1)
2. Jarrett Stidham, Auburn. Stidham was nearly flawless in Auburn's blowout win over Mississippi State (13-for-16, 264 yards, 2 TDs, 0 INTs), effectively resetting expectations at preseason levels after the Week 2 debacle at Clemson. Any weekend that the Tigers hang 49 points on a conference opponent with just 16 pass attempts is a sobering one for the league's defensive coordinators. (LW: 6)
3. Jake Bentley, South Carolina. Bentley badly misses injured WR Deebo Samuel, but the most glaring absence is still the Gamecocks' ground game: Nearly 80 percent of the team's total offense the past three weeks has come courtesy of Bentley's right arm. (LW: 2)
4. Shea Patterson, Ole Miss. The Rebels didn't score a touchdown at Alabama, but Patterson did complete four passes that gained at least 20 yards, which at this point almost feels like a moral victory. Watching them all on film is probably making Nick Saban furious as we speak. (LW: 3)
5. Nick Fitzgerald, Mississippi State. Fitzgerald has looked awful the past two weeks after his breakout night against LSU, confirming skepticism that he's too one-dimensional against top-shelf defenses like Georgia's and Auburn's. Getting BYU and Kentucky on the other side of a bye week should reverse that trajectory. (LW: 4)
6. Jake Fromm, Georgia. I'm going to stick with the assumption that Fromm is Georgia's starter, even though his coach has refused to make it official now that Jacob Eason has been cleared to return from his Week 1 knee injury. Despite the final score, Fromm wasn't nearly as sharp in UGA's win at Tennessee (7-for-15, 84 yards, 0 TDs, 1 INT) as he was against Mississippi State, and arguably made a better impression in Knoxville as a runner. That won't be the deciding factor between him and Eason, who runs like the Tin Man, but it can't hurt. (LW: 5)
7. Stephen Johnson, Kentucky. I pore over a lot of statistics (obviously), and it's a weird thing to come across a quarterback with five consecutive passing performances as similar as Johnson's in his first five games this season, regardless of the opponent:
That's not great, or terrible — it's befitting of a player in the dead middle of this list for the second week in a row. It's just eerie consistency. He is who he is and that's who he is every time out. (LW: 7)
8. Austin Allen, Arkansas. Predictably, Allen had his best day of the season against New Mexico State, but his return to the top half of the rankings will require a little more this weekend at South Carolina. (LW: 8)
9. Kellen Mond, Texas A&M. The freshman's ascent continues after accounting for 254 total yards against Carolina and bringing A&M back from a double-digit deficit for the second week in a row. Mond looked like an entirely different quarterback in the fourth quarter Saturday than the one who oversaw the Aggies' fourth-quarter collapse at UCLA, which is a long way for a young player to come in a month. Just, you know, keep that in mind when you see his stat line this weekend against Bama. (LW: 10)
10. Danny Etling, LSU. I don't know if Etling will make it to Thanksgiving as LSU's starter, but I do think that whatever his shortcomings the Tigers' problems on offense run much deeper. With or without Derrius Guice, there's no excuse for getting outrushed by a Sun Belt team. (LW: 9)
11. Kyle Shurmur, Vanderbilt. Shurmur had three touchdown passes at Florida, one of them a dime over the middle, before being subdued in the second half by the Gators' pass rush. If the Commodores finds themselves in many more games where Shurmur is called on to throw 40 times vs. just 11 touches for Ralph Webb, they're in trouble. (LW: 11)
12. Drew Lock, Missouri. Mizzou was off last week, mercifully, after scoring 30 points in its three previous games combined. With Lock's skill set he should rank much higher here, but at this stage of his career the grade has to be based on production over potential. (LW: 12)
13. Feleipe Franks, Florida. Franks is the only viable long-term option for the Gators, and a season-ending injury to Luke Del Rio has finally left them with no choice but to live with the redshirt freshman the rest of the way. The win over Vandy confirmed that he's still better throwing long than short, so maybe more of that? (LW: 14)
14. Quinten Dormady, Tennessee. All positions will be "up for a look" during the Vols' bye week, per Butch Jones, and that includes quarterback, where the appearance of backup Jarrett Guarantano in the second half Saturday earned a big, sarcastic ovation from the home crowd simply for his not being Dormady. Frankly, though, the fact that coaches waited for the deficit to reach 31-0 before making the switch is a pretty good indication of just how far behind they think Guarantano is. (LW: 13)