SEC
QB Curve: South Carolina will go as far as Jake Bentley's arm can take it
Quarterbacks: There are a lot of them! Each week, QB Curve will keep you up to speed on the game's most important position by putting a different SEC signal-caller in the spotlight and putting the rest of the field in perspective. Previously: Jalen Hurts • Drew Lock • Nick Fitzgerald • Kyle Shurmur
QB of the Week: Jake Bentley.
Typecasting: The Prodigy. If you know anything about Bentley's recruitment, it's probably that he skipped his senior year at Opelika (Ala.) High to follow his dad, the Gamecocks' newly hired running backs coach, to South Carolina in 2016. But while passing up another season of trashing high school secondaries may have depressed his grades on the recruiting sites, in every other sense Bentley arrived fully assembled: At 6-3, 220 pounds, he already had the frame of a legitimate pro prospect and didn't take long to start showing flashes of the game.
Before coaches decided to burn Bentley's redshirt at midseason, Carolina was 2-4 and had yet to top 20 points in any game. With Bentley, the Gamecocks finished 4-3, salvaged a bowl bid and averaged 26.5 points over their final seven. In his first two SEC starts, Bentley led wins over Tennessee and Missouri, connecting on 75 percent of his attempts with multiple touchdowns and no picks in both games; in the bowl, he rallied Carolina from a 39-21 deficit to force overtime against South Florida, racking up 390 yards and three TDs in an eventual loss.
Compared to the rest of the SEC's freshman quarterback class, Bentley was always destined to remain the most obscure — unlike Jacob Eason or Jalen Hurts, none of his starts came in a high-profile time slot or attracted more than token interest outside of the fan bases involved. But he arguably ended 2016 in the best position of any of his peers to break through in year two.
Four games in, it's still too soon to proclaim that corner turned. Statistically, he's close: Against FBS opponents, Bentley ranks among the SEC's top three in completion percentage, yards per game, yards per attempt, and touchdowns. Certainly no player who accounts for 74 percent of his team's total offense can remain a secret to the rest of the conference. But he's also yet put together a complete, start-to-finish performance this season, and the offense as a whole has looked stale in the absence of injured wide receiver Deebo Samuel. As their quarterback goes, so go the Gamecocks, and as SEC play ramps up in earnest, Bentley's progress will be judged accordingly.
The Good. Bentley earns fairly consistent praise for "coach's kid" attributes like poise and leadership, with a little bit of the ol' moxie in there, for good measure. We've already covered his prototypical size. The reason scouts love him, though — or will come to love him, when they get around to the 2019 and '20 draft prospects in another year or two — is simply his arm. At the end of the day the kid just throws a really nice ball.
More importantly, he's capable of throwing a nice ball under heavy duress, a prized skill at the next level that already serves him well behind a porous offensive line. In Bentley's case, pocket presence seems to come as second nature. For my money, the best throw of his freshman year came in his third start, against Missouri, on a 3rd-and-6 attempt that saw both of Mizzou's defensive ends converge quickly on the spot where Bentley initially set up to throw. Instead of panicking, conceding the sack, scrambling wildly, or rushing a throw under pressure — your standard-issue dumb freshman stuff — he calmly stepped up and delivered a 25-yard strike to Samuel along the sideline: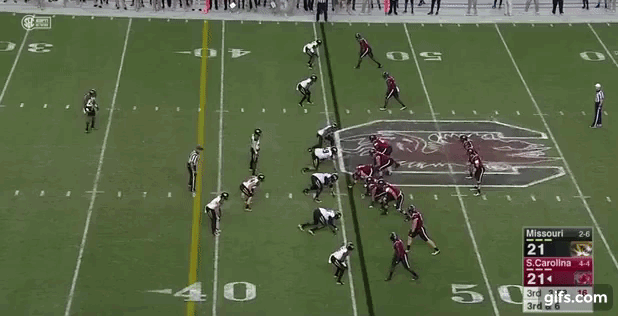 That was a game in which Bentley was generally under assault throughout the afternoon and generally handled it with aplomb, even when it meant eating a helmet (or several helmets) to the ribs. On the drive prior to that throw, he hung in the pocket long enough to find Samuel for 29 yards on 3rd-and-10, just managing to get the ball away before he was clobbered by literally the entire Mizzou defensive line: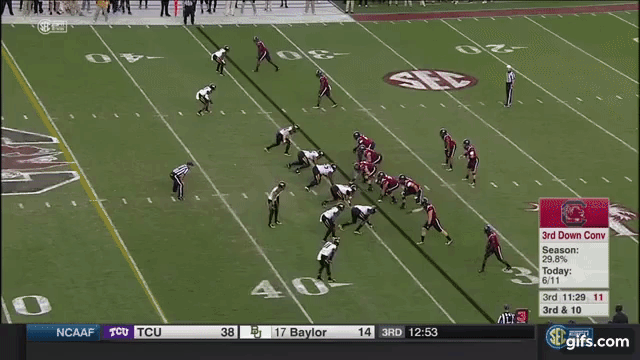 Earlier in the same game, Bentley successfully abandoned his initial read in the face of a free rusher to his left (well, essentially free, given the effort of the left tackle), wheeled to his right, and improvised an off-balance, 28-yard connection to fellow freshman Bryan Edwards: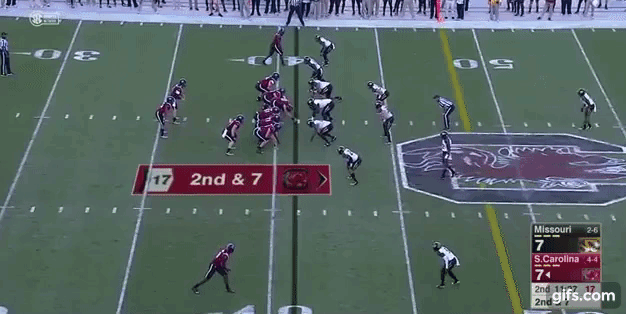 That was the freshman version; the advanced, sophomore version of that maneuver — elude free rusher, scramble right, make hay with a freelancing receiver downfield — looks like this:
Aside from Feleipe Franks' Hail Mary to beat Tennessee, I'd rate Bentley's opening-day missile against N.C. State as the most impressive throw by an SEC quarterback yet this season: 50 yards, on the move, into Dixie cup. It was also an example of his tendency to trust his receivers to make non-routine plays if given the opportunity, which they often have; the game-winning field goal against Louisiana Tech last weekend was set up by a 41-yard, jump-ball heave that Edwards had to wrestle away from a La. Tech defensive back with less than 15 seconds to go.
Bentley's comfort level on plays that don't proceed exactly according to plan is his most useful, instinctive asset, and his capacity for throwing his way into something even better makes a viable threat to go deep from almost anywhere on the field.
The Not-So-Good. As he's grown more confident in the offense, Bentley's willingness to take chances has also been reflected in his interception total: Where his first five starts yielded just one pick, his last five have yielded six. That number includes a pick-six in the bowl game, an inexplicable interception against Kentucky…
…that sealed the Wildcats' victory in Week 3, and a random misfire in last weekend's nail-biter against La. Tech. (The Bulldogs turned the pick into a field goal, which very nearly turned out to be difference in a one-point Gamecocks win.) Although he's continued to complete passes at a solid rate, he hasn't been as sharp downfield as consistently as his better throws suggest he can be. Despite his arm strength fewer than a third of his pass attempts in 2017 have resulted in first downs.
The biggest issue with South Carolina's offense right now — the moribund ground game — isn't Bentley's fault: The offense is designed for balance, but Carolina ranks 118th nationally in rushing offense and has yet to identify a reliable, every-down tailback, which only makes the quarterback's job that much harder. On the other hand, the fact that Bentley offers very little as a runner himself (or as a potential runner, to the extent that coaches might be willing to use him as an option decoy) doesn't make things any easier, either. Notwithstanding the odd scramble, the subtle mobility he's displayed in the passing game hasn't translated to many productive gains on the other side of the line of scrimmage.
The Takeaway. South Carolina's next four games (against Texas A&M, Arkansas, Tennessee, and Vanderbilt) are all manageable, and present the Gamecocks with an opportunity to assert their relevance in the East heading into a defining November stretch against Georgia, Florida, and Clemson. Win any three of those four, and the the division crown should still be hypothetically on the line when they visit Athens on Nov. 4. Given where South Carolina was a year ago, even broaching the possibility of winning the division is a testament to how much Bentley's emergence has meant to the program.
If that has any realistic chance of happening, though, it will have to be on the strength of Bentley's arm, because with Deebo Samuel likely out for the year there's not much else for the offense to hang its hat on. As Carolina's anemic point totals the past two weeks have proved, Bentley's not ready yet to make the leap from productive young starter to one-man show, at least not at the center of a lineup that features just two senior starters. Long-term, there's still good reason to believe the payoff is coming — possibly next year, in which case Bentley might go ahead and skip his senior year of college, too. Regardless, he's going to leave South Carolina a much better program than he found it.
Quick Outs
Del Rio? Del Really? Feleipe Franks is 2-0 as a starter in Florida's first two SEC games, and if you haven't been able to bring yourself to watch Florida's offense the past two weeks then Monday's new that Franks has been officially demoted in favor of senior Luke Del Rio should be all the evidence you need that you made the right decision. The Gators' downfield passing game has been nonexistent, consisting entirely of a) Franks' Hail Mary bomb to Tyrie Cleveland to beat Tennessee; b) A 45-yard touchdown against Kentucky on which the Wildcats simply neglected to cover Cleveland altogether; and c) A 50-yard pass to Cleveland from freshman WR/Wildcat Kadarius Toney, via trick play. That's it: The only other pass that's gained at least 20 yards the past two weeks was a screen that went for 22 against the Vols, on a throw behind the line of scrimmage.
Clearly his coaches don't trust Franks at this point to do much more than that — as I wrote last week, my best guess is that even the Hail Mary vs. Tennessee was a spur-of-the-moment decision that didn't come from the sideline. But it's not clear what benching the redshirt freshman at this point is supposed to accomplish. Del Rio was arguably the SEC's least feared passer in 2016, averaging a paltry 6.8 yards per attempt and finishing with as many interceptions (8) as touchdowns before a shoulder injury ended his season. He looked, frankly, like a 3-star talent in a 4- and 5-star league, and nothing in his 9-for-14, 74-yard performance off the bench in Lexington suggested he has more to offer as a fifth-year senior.
Franks may be behind the curve now, but at least he offers the possibility of paying off an investment in his obvious talent in the future. And that window is closing fast: If it's not his offense by the end of this season, then hopes for long-term stability will shift from Franks to the next blue-chip arm in the pipeline, 2018 commit Matt Corral. As long as he's not actively losing games, it's hard to understand why Jim McElwain seems so determined to put Franks in that position.
A Jake Emerges. Kirby Smart has a much better problem on his hands at Georgia, and while he has no intention of anointing Jake Fromm as the full-time starter before he absolutely has to, it's obvious enough after Saturday's 31-3 beatdown of Mississippi State that the job should be Fromm's to lose. The freshman was in complete command in his first SEC start, strafing the same MSU defense that crushed LSU in Week 3 for 201 yards on just nine completions; his first and last attempts of the night both went for touchdowns, covering 59 and 41 yards, respectively. (The latter came midway though the third quarter, extending UGA's lead to 28 points; he didn't put the ball in the air again.)
Fromm's overall efficiency rating (270.7) was the best single-game number by any SEC quarterback this year, and nearly 85 points better than Jacob Eason's most efficient outing in 2016. And that's not accounting for the fact that two of the three passes that hit the ground were straight-up drops.
Caveats: That's a small sample size from a true freshman, playing at home, with the benefit of a running game and defense that kept him well within in his comfort zone all night. Like any young QB, Fromm could come out of this weekend's at Tennessee looking like a basket case. Taken with his self-assured performance at Notre Dame, though, it's not too soon to say Fromm has exceeded expectations and appears to be much further along the learning curve than Eason was at any point in his freshman campaign. That doesn't mean we've seen the last of Eason — he was still the Bulldogs' QB of the Future less than a month ago, and the pendulum can always swing back just as quickly — but if he needs a few more weeks to get his knee back to 100 percent, you know, there's no hurry.
MATTHEW STAFFORD ARM OF THE WEEK: Danny Etling
By reputation, the scouting report on Etling typically includes a line about his athletic limitations or pedestrian arm strength, etc., in the venerable tradition of the "game manager." But you won't catch me falling back on the old plays-within-the-offense tropes when it comes to Etling again, because I have now seen him do this: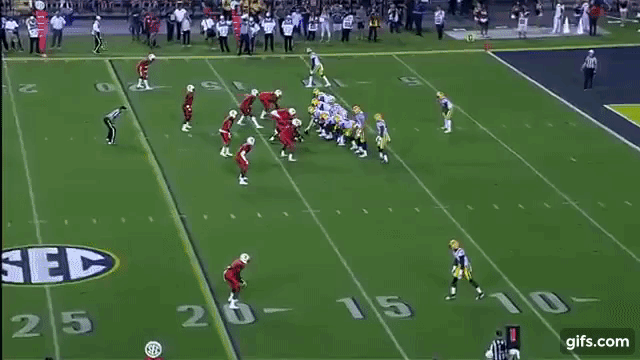 That play covered 87 yards in all, a career high for Etling at LSU or Purdue, with the majority of it — at least 55 yards, by my count — coming in the time it took to travel from his right hand to Drake Davis' on the receiving end. Who knew? Prior to that throw, Etling had only completed two passes in an LSU uniform that gained more than 55 yards, period, both of them coming last October in a 45-10 win over Southern Miss; neither of them covered nearly as much distance as his precision-guided bomb against Syracuse in the air. If his offensive line ever manages to give him enough time to make the same throw in an SEC game, assumptions about the Tigers' potential on offense could change in a hurry, along with assumptions about Etling's draft stock. If it was a one-time heave at the outer limit of his talent, well, at least he got to give everyone in Tiger Stadium a glimpse of what that looks like before his time is up.
QB CURVE POWER HOUR!
Ranking the league's starting quarterbacks heading into the season.
1. Jalen Hurts, Alabama. Statistically speaking, Vanderbilt had Hurts' number, holding him to one of the worst games of his young career in terms of completion percentage (52.9), total yards (126), and overall pass efficiency (91.5); his longest completion of the day covered just 12 yards. Speaking in literally any other sense, the Crimson Tide delivered one of most ruthlessly efficient outings of Nick Saban's tenure en route to a 59-0 massacre that could have been much worse. Hurts called it a day after leading Bama's sixth touchdown drive early in the third quarter. (Last Week: 1)
2. Jake Bentley, South Carolina. I like Bentley a lot, but no offense that relies on one player for three-quarters of its total output is going to fare well for very long. (LW: 4)
3. Shea Patterson, Ole Miss. See above. I'm looking forward to watching Patterson this weekend against Alabama, because no SEC offense has been as productive against the Crimson Tide over the past four years as Ole Miss' and no other QB they'll face this year has as much upside. But does an attack that ranks 129th out of 130 FBS teams in rushing offense pose a serious upset threat in Tuscaloosa? No. (LW: 3)
4. Nick Fitzgerald, Mississippi State. Georgia beat the bloom off Fitzgerald's rose in short order, reinforcing skepticism about his arm when the Bulldogs aren't consistently earning first downs on the ground. Mississippi State's offense has never looked like a well-oiled machine even when it's winning; when it's bad, the results are unwatchable. (LW: 2)
5. Jake Fromm, Georgia. Let's wait a few more weeks before we crown the kid. But we're well past the point that Fromm deserves to be thought of as Georgia's starting quarterback (this is the first week he's ranked here in his own right, rather than sharing the billing with Jacob Eason), and at this rate he'll be pushing Hurts at the top of the list by Halloween. (LW: 8)
6. Jarrett Stidham, Auburn. Stidham torched Missouri deep on Auburn's first play en route to his best performance of the early season. Having seen Missouri's defense prior to Saturday, I wouldn't describe that as a "breakthrough." But it was one more piece of evidence that the Baylor transfer is who we thought he was, at least when he's not under constant assault from an NFL-ready defensive line. (LW: 7)
7. Stephen Johnson, Kentucky. Johnson was better on Saturday than either of his counterparts from Florida, finishing 17-of-25 with three touchdowns and no turnovers, and somehow still came up one point shy of the upset. He's never going to put up really impressive numbers, but very quietly he's beginning to stake his claim as the best Kentucky quarterback since Andre Woodson. (LW: 6)
8. Austin Allen, Arkansas. Based on completion percentage, Allen's past two outings against TCU (39.1) and Texas A&M (48.0) were the most inaccurate of his career. I don't know exactly what's going on there, but the fact that I can only name one of the Razorbacks' top 10 receivers this season off the top of my head probably has something to do with it. (LW: 5)
9. Danny Etling, LSU. Etling was briefly benched against Syracuse with the score still within reach in the second half, apparently as part of a preconceived plan to give true freshman backup Myles Brennan some meaningful reps. Brennan was fine, leading a touchdown drive on his first series and finishing 4-of-6 for 75 yards; he also threw his first career interception, setting the stage for a long Syracuse TD drive that cut LSU's lead to 28-26 late. Etling closed it out from there, at least temporarily reinforcing his grip on the starting job. Just a heads up for when the Tigers' season reaches the point that the future suddenly presents more opportunities than the present. (LW: 10)
10. Kellen Mond, Texas A&M. The league's other true freshman starter is this week's fastest riser: Mond's star turn against Arkansas was arguably an even bigger leap forward than Fromm's composed effort against Mississippi State, and his team certainly needed it more to keep pace in a shootout. If the quarterback A&M fans saw on Saturday is the one they're going to get the rest of the year, his ascent from the bottom of these rankings is only beginning. (LW: 14)
11. Kyle Shurmur, Vanderbilt. I'm not going to punish Shurmur too harshly for looking overwhelmed against Alabama, because … well, obviously. But let's just say I don't expect he'll be moving back into the Top 10 after upcoming dates with Florida and Georgia, either. (LW: 9)
12. Drew Lock, Missouri. Lock reportedly played with a broken nose in Mizzou's blowout loss to Auburn, and his lone interception in the game — a deflection off the hands of his intended receiver — wasn't his fault. It's hard to separate his individual shortcomings from the Tigers' many ongoing issues in general. At some point, though, a 3-14 record in SEC games is just a 3-14 record in SEC games. (LW: 11)
13. Quinten Dormady, Tennessee. Well, at least Tennessee didn't lose to UMass. If Dormady goes another full game without completing a pass to Marquez Callaway the same probably can't be said for any other opponent remaining on the schedule. (LW: 13)
14. Luke Del Rio / Feleipe Franks, Florida. The absolute best-case scenario if Del Rio survives the rest of the season as QB1 is another low-scoring upset over Georgia, another backdoor East Division title, and another wall-to-wall annihilation at the hands of Alabama in the SEC Championship Game. Then the Gators start over again next year from square one. Franks gives the Gators the same shot at the first three with a healthier outlook for 2018, but only if he's actually playing. (LW: 12)