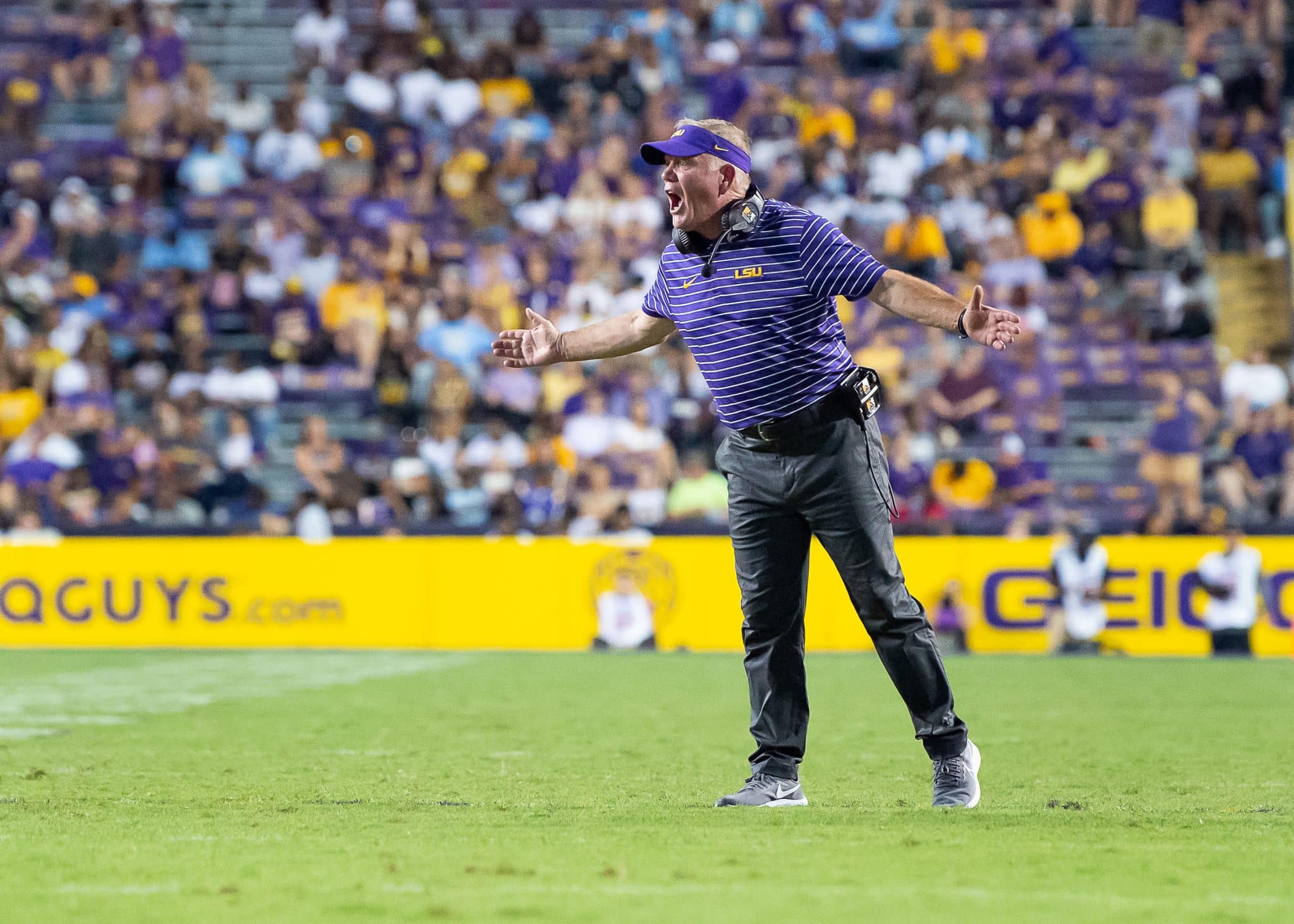 LSU TIGERS
Hayes: Brian Kelly wins. Everything else is just meaningless noise
So by now you've probably heard the latest. Lou Holtz says he wrote numerous handwritten congratulatory letters to Brian Kelly while Kelly was coach at Notre Dame, and Kelly never responded.
Boo, freaking, hoo.
Listen, do you want someone who can beat Nick Saban? Or do you want someone who returns a letter to Holtz — who, by the way, wasn't exactly the biggest saint in college football.
It was just the latest this year in a long line of Brian Kelly is the boogeyman.
Leaving Notre Dame for LSU without allowing the Irish administration to counteroffer. Like that's never been done before.
The fake southern accent, and awkward dancing with a high school recruit. Begging quarterback Myles Brennan to return to LSU for his final season, then recruiting over him from the transfer portal.
And while the nattering nabobs of negativism continue to hammer away at the narrative, guess who's quietly building something out of nothing in Baton Rouge?
"There's going to be some tough days ahead of us, and we're going to have to grind through it," Kelly said Monday. "But (players) are giving us all they have."
Kelly likes the commitment of this LSU team. He likes the way they work, and the consistency of their preparation.
They've won 3 straight games — including an inspiring come-from-behind win over Mississippi State — to set up a critical stretch of games that will dictate just how far this team can go in Year 1 under Kelly.
There are no illusions. Kelly walked into a mess; a locker room full of (take your pick) entitled players, disinterested players and everyone weighed down from 2 seasons of despair.
The roster was torn apart by scholarship losses and transfer portal opt-outs, and at one point the scholarship number was lingering in the 50s. All before the first snap of a football in spring practice.
Do you really think Kelly cared that he was butt end of jokes? Or that Notre Dame players and administrators spoke of a "different feeling" around the program with the Wicked Witch gone and new coach Marcus Freeman sitting in the big chair?
Or for the love of Touchdown Jesus, that Holtz didn't get his ego stroked?
Kelly was thrown into a meat-grinder conference and program with a $9 million a year contract, and the engine was broken on the sleek race car. The rebuild was going to take a year or 2, and the parts weren't readily available at the moment, thank you.
Which, in the minds of the famously wacko — and that's said with all the love
in the world — LSU fans, that translates to just get the damn thing fixed tomorrow, OK?
So when Kelly stepped to the podium Monday for his Auburn Week press conference, he spent the first few minutes recognizing the effort of his players in an extremely difficult lift.
"These guys have worked really hard to do exactly what we've asked them to do," Kelly said. "They've put themselves in position."
Now here comes the heart of the SEC schedule, beginning this week at Auburn. While LSU is a good bet to win its 4th straight game, the remaining slog will test everything Kelly and his staff have preached since he arrived.
Tennessee, at Florida, Ole Miss, Alabama, at Arkansas, UAB, at Texas A&M.
A stretch like no other in college football, much less the SEC. But think about this: Kelly has found a quarterback, the key to every single successful season since his days as a national championship coach in the NCAA lower divisions.
He found a quarterback, all right — the same quarterback he recruited from the transfer portal after he begged Brennan to return. The same quarterback, who after 3 seasons at Arizona State, had regressed on the field and developed a bad reputation — earned or not — in the locker room in Tempe.
Jayden Daniels came to LSU, competed with Brennan and redshirt freshman Garrett Nussmeier, and won the job rather easily. He hasn't turned the ball over, his completion percentage is up 11 points from his career average and he has accounted for 1,097 yards and 8 TDs.
But for a blocked extra point — after a game in which LSU did everything it possibly could to give away a game to Florida State, then did — the Tigers could easily be unbeaten.
Kelly has weathered a patchwork offensive line, and a high-maintenance superstar (WR Kayshon Boutte). He has worked through disastrous special teams early on, and a running game that's just now beginning to find its stride.
The only thing left now is a brutally unvarnished reality check for the remainder of the season. If he gets through this schedule on higher water, Holtz may have to fire off another congratulatory note.
Not that Kelly would respond, anyway.
Read More
Sports betting in Louisiana is live and running. Whether it is betting on SEC football or LSU football games or the Heisman race each year, if you live in Louisiana, you can now do it from your mobile phone.