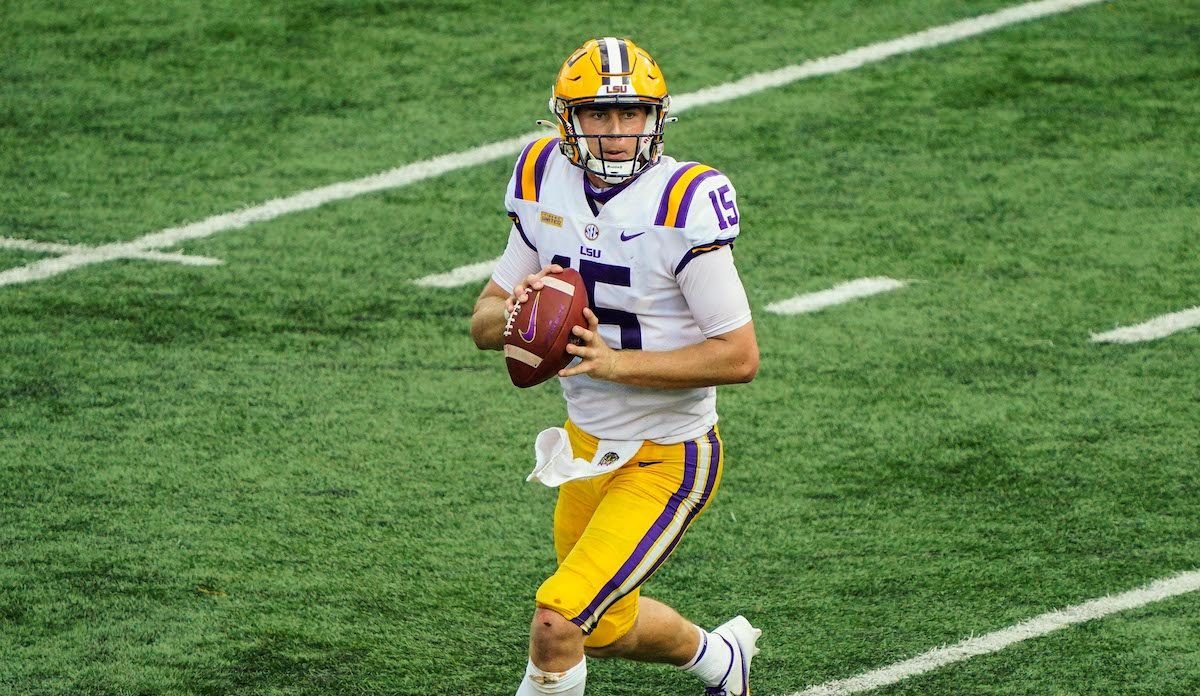 LSU TIGERS
How I see LSU's QB situation playing out in 2021
LSU has 4 viable candidates to play quarterback.
Three of them – Max Johnson, Myles Brennan and TJ Finley – have shown lots of talent in limited playing time. The fourth – true freshman Garrett Nussmeier – is a highly regarded recruit who has had the benefit of early enrollment and participating in spring drills.
Coach Ed Orgeron said after Saturday's spring game that each spring practice seemed to feature a different quarterback as the standout compared to the previous day. The performances in the spring game – with reps shared about as fairly as a coaching staff could script them – did little to clarify the competition, though Johnson and Brennan had a clear edge in ball security.
Now the public phase of the competition is on pause until the Tigers reconvene for preseason camp in August.
At some point early in the camp, Orgeron said, he and his staff will separate the group into the first 2 and the second 2 so the first 2 can get more first-team reps and make it easier for the coaches to identify and develop the starter for the Sept. 4 opener at UCLA.
Unless something changes dramatically between now and August, Johnson and Brennan will be the first 2 and Finley and Nussmeier will be the second 2.
Here's why:
Let's start with Nussmeier.
LSU doesn't have a lot of experience at quarterback, but it does have some. If the coaches had no evidence of what any of the other 3 could do against SEC competition, Nussmeier would be a more intriguing candidate.
He has shown a competitive nature, skill and toughness. His father Doug played quarterback at Idaho and won the I-AA version of the Hiesman Trophy, was drafted in the 4th round by the New Orleans Saints, spent 5 seasons in the NFL and has been a successful offensive coach assistant in college and the pros, most notably at Alabama in 2012-13.
The elder Nussmeier obviously has had a significant influence on his son's development just as Johnson's father – Super Bowl-winning quarterback Brad Johnson – has had on his son's development.
But Garrett Nussmeier is still a freshman and his 3 interceptions in the spring game (along with 1 touchdown pass) demonstrated that starting him would require a degree of risk that is unnecessary to take given the makeup of this group.
Nussmeier appears to have everything it takes to be the starting quarterback at LSU – except experience. He could be the starter down the road.
Next is Finley.
When Brennan got hurt last season, Orgeron turned to Finley to start the first game in Brennan's absence. That showed the coaches' confidence in Finley, who was neck-and-neck with Johnson.
Finley played well in a victory against South Carolina, though the Tigers' running game and defense didn't require Finley to do as much as future starts would.
The next week at Auburn, Finley was benched after losing a fumble that was returned for a touchdown and throwing 2 interceptions.
That pattern was repeated in Finley's remaining starts as he played well enough for LSU to beat an outmanned Arkansas team but struggled in losses to much better teams in Texas A&M and Alabama.
He finished the season with 5 touchdowns and 5 interceptions.
Finley was benched in favor of Johnson for the final 2 games, primarily because of Finley's turnovers.
He's unlikely to return to the No. 1 spot unless and until he can demonstrate that he's poised to greatly improve his ball security. His best opportunity to do that came Saturday — and he threw 2 interceptions and 0 touchdowns.
Finley has a lot of talent and a lot of time to develop into a starting quarterback. At 6-6 and 242 pounds, he has the potential to succeed at another position if given the opportunity.
But he came to LSU to play quarterback and if his prospects for starting at LSU don't improve in the next 4 months, playing quarterback elsewhere likely would be more enticing to him than playing elsewhere on the Tigers team.
That brings us to Johnson and Brennan.
Johnson played very well in his 2 starts last season, leading the Tigers to victories against Florida and Ole Miss. He finished the season with 8 touchdown passes and 1 interception.
He took the first snaps with the first-team offense in the first practice of the spring as well as the start of the spring game, but Orgeron said that was in deference to Johnson being the starter the last time LSU played a game.
Johnson is the most athletic runner among the quarterbacks and that could become a more important factor during preseason camp if the offensive line doesn't perform better than it did last season or in the spring game.
It will take a very impressive preseason camp for someone to unseat Johnson – and that brings us to Brennan.
He is entering his 5th season at LSU, even though he has made just the 3 starts that he made last season.
Brennan is the most mature of the competitors and he was outstanding last season – 1,112 passing yards, 8.5 yards per attempt, 60% completion rate, 11 touchdown passes, 3 interceptions and a passer rating of 154.7.
He has gained as much as he can gain from watching others play. All that is left for him to do is to put everything he has learned in practice into games, which he was doing exceptionally well before being injured last season.
As advanced as Johnson is for a second-year player, he can still learn from watching Brennan – just as Brennan learned from being understudy to Danny Etling and Joe Burrow.
It should be a tight, mutually beneficial competition in preseason camp – and one that Brennan should win.
Read More
Louisiana sports betting is officially live in much of the state. Whether it is betting on SEC football or LSU football games or the Heisman race each year, if you live in Louisiana, you can now do it from your mobile phone.