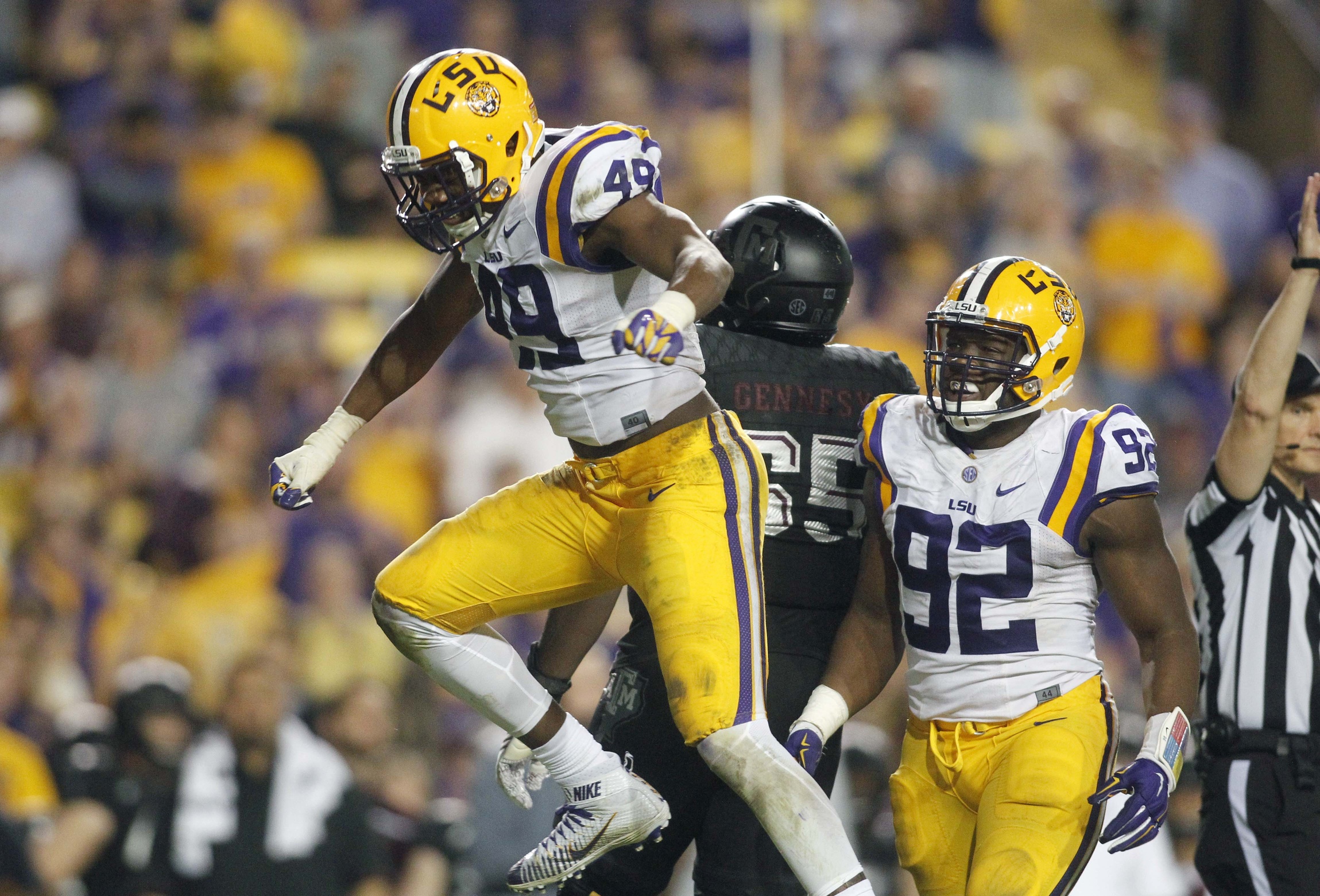 LSU TIGERS
LSU defensive depth chart: How it looks after spring practice
LSU is changing defensive schemes, but it's hoping for similar results.
Always strong on the defensive side, the Tigers are changing systems from a 4-3 base to a 3-4 base under new defensive coordinator Dave Aranda. After finishing fifth in the SEC in total defense, allowing 347 yards per game, the Tigers will look to a new system to be more dominant.
One thing won't change: The Tigers have NFL prospects all over the field on defense and figure to be one of the league's more talented defenses if they can get the right pieces in place in the new system.
Defensive line
Nose tackle: Davon Godchaux (Jr.), Greg Gilmore (Jr.), Rashard Lewis (Fr.).
DE: Christian LaCouture (Sr.), Frank Herron (Jr.)
DE: Lewis Neal, (Sr.); Deondre Clark (Jr.)
Outlook: Shifting from a four-man front and a three-man front brings several challenges with all but one being relatively easy to address. None of the three positions exist in quite the same way in a four-man front, but finding 3-4 defensive ends is pretty easy, since 4-3 defensive tackles and some bigger, strong-side ends can fit the mold. The challenge is finding a 3-4 nose tackle. Godchaux was moved there in the spring for his quickness, but reports that LSU is hoping to be able to bring hulking junior college defensive tackle Travonte Valentine, who was dismissed from the Tigers last summer, back into the fold could be a game changer if that pans out. His 340-pound bulk could give LSU the traditional space-eating nose to tandem with the smaller, quicker Godchaux.
The Future: Lawrence, a 300-plus pound, 5-star recruiting coup for the Tigers could make an early impact and promises to be a perfect fit into a 3-4 scheme. LSU had a banner 2016 recruiting class with six more defensive linemen (although several will likely play outside linebacker) joining the fold.
Linebacker
ILB: Kendell Beckwith (Sr.), Devin White (Fr.)
ILB: Duke Riley (Sr.), Donnie Alexander (Jr.), Devin Voorhies (Jr.)
OLB: Corey Thompson (Sr.), Michael Divinity (Fr.)
OLB: Arden Key (So.), Tashawn Bower (Jr.)
Outlook: LSU entered the spring extremely thin at linebacker, and it can be thankful that Beckwith — a two-year starter who likely would have been a day two pick in the recent NFL draft had he chosen to leave early — is back to anchor things. Otherwise, the group will be relying on a converted defensive back (Thompson) and true freshmen who figure to play immediately (White and Divinity). Key's position is a hybrid end/linebacker spot that could just as easily be categorized with the defensive line.
The future: White and Divinity represent a not-so-distant future for a group that is not only thin, but will be looking to regroup again after Beckwith, Riley and Thompson complete their eligibility this season. Both White and Divinity were able to enroll early and participate in spring practice. But it's a position where LSU will need to stockpile prospects in the 2017 recruiting cycle.
Defensive back
CB: Tre'Davious White (Sr.), Dwayne Thomas (Sr.)
CB: Kevin Toliver (So.), Ed Paris (Jr.)
S: Rickey Jefferson (Sr.), John Battle (Jr.)
S: Jamal Adams (Jr.), John Battle (Jr.)
Nickel: Dwayne Thomas (Sr.), Donte Jackson (So.)
Outlook: At "DBU," no position (save running back) remains more talent-rich than cornerback. Like Beckwith, White could have been an NFL draft pick last month but opted instead to return for a senior season. Toliver, who started seven games last year as a true freshman, figures to be the next in line. Jefferson and Adams are returning starters at safety. Jackson was starting at nickel back before having to sit out the second half of spring practice with academic issues. He's expected back in August.
The future: Even with stars like White and Jefferson leaving, LSU once again looks to re-stock the secondary with pro-level talent. With several veterans out nursing injuries during the spring (and with Jackson out due to academics), 2016 recruit Saivion Smith took advantage by enrolling early and having a solid spring game with an interception and some broken up passes. And he's not the only highly regarded true freshman with 5-star recruit Kristian Fulton joining the fold this summer.
Read More
Sports betting in Louisiana is live and running. Whether it is betting on SEC football or LSU football games or the Heisman race each year, if you live in Louisiana, you can now do it from your mobile phone.