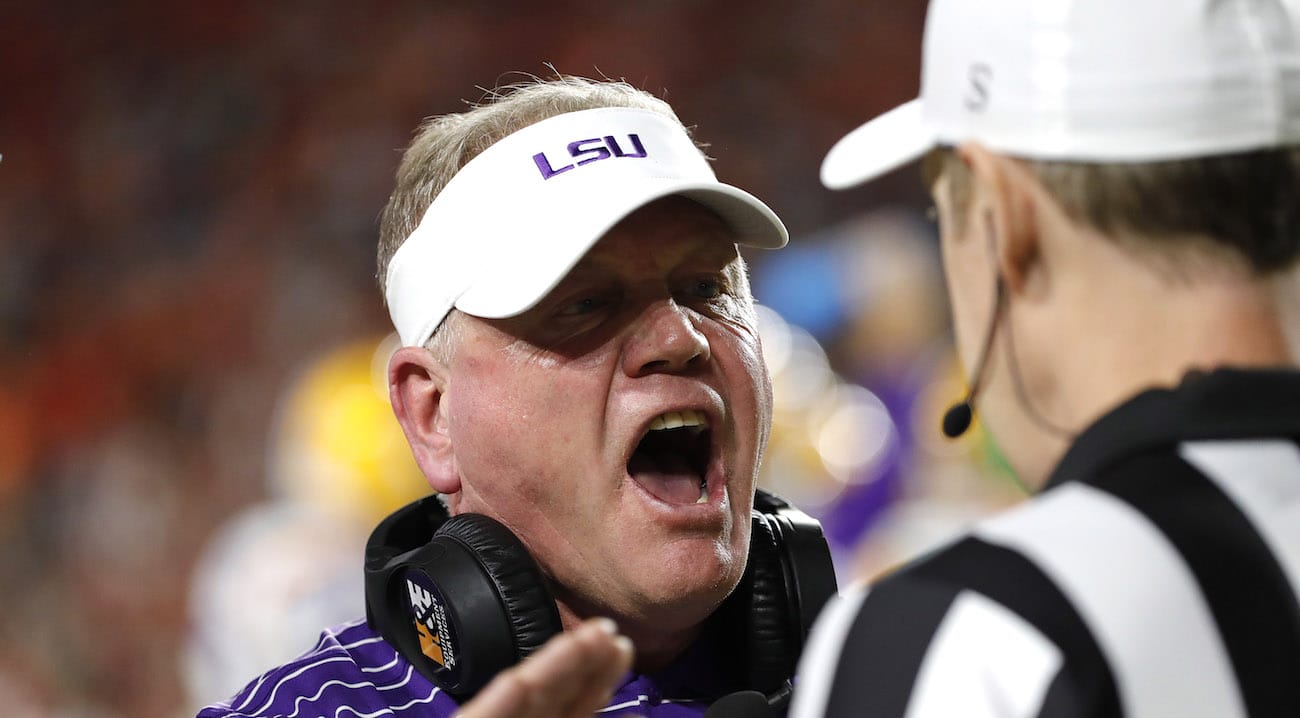 LSU TIGERS
3 things I liked, 3 things I didn't like about LSU's win
LSU beat Auburn on Saturday night.
Somehow.
It fell behind 17 points. On the road. In the SEC.
It was outgained by 168 yards. It had 85 net passing yards.
Jayden Daniels left the game early in the 4th quarter after suffering a knee injury that head coach Brian Kelly said wasn't serious.
Still, LSU won 21-17. It was its 4th consecutive victory. And its sloppiest.
But it's 4-1 and 2-0 in the SEC as it prepares to host No. 8 Tennessee next Saturday.
There was good and there was bad.
Here are 3 things I liked and 3 things I didn't like about LSU's performance.
First what I liked:
1. The resiliency
Auburn outplayed LSU badly as it rolled to that 17-0 lead midway through the 2nd quarter. This game could have easily turned into a replica of the 48-11 beatdown that Auburn handed LSU the last time these teams met in Jordan-Hare 2 years ago.
But it didn't.
The defense scored a touchdown to jump-start the comeback. Daniels led an impressive 2-minute touchdown drive just before halftime.
John Emery Jr. made a touchdown run, and the defense made the 4-point lead hold up.
And Auburn helped out along the way.
But finding a way to win on the road in the SEC while doing a whole lot of bad stuff is good.
2. Big plays by the defense
This goes both ways. The defense gave up a lot of big plays. Too many.
But it also made big plays — and just like the overall performance, the good outweighed the bad. Barely.
BJ Ojulari's sack and strip and Jay Ward's scoop and score produced the 1st points and brought the team to life in the 2nd quarter.
Freshman Harold Perkins Jr.'s interception of Koy Moore turned away Auburn as it was poised to retake the lead early in the 4th quarter.
Greg Brooks Jr.'s interception of Robby Ashford, which was more of a strip of Moore, put LSU in position to run out the clock, which it did.
3. The coaching
It wasn't a performance that Kelly and his staff will be popping buttons over.
When a team starts that poorly and plays that sloppily, it's not a great coaching effort overall.
But it was good enough.
It was good because the players kept believing in the coaches and themselves. It was good because LSU shut out Auburn for the final 39-plus minutes.
And mostly, it was good because it was better than the job done by the Auburn counterparts.
Bryan Harsin's decision to go for 4th and 10 at the LSU 37 late in the 3rd quarter failed, gave LSU a lift and helped set up the decisive score.
Down by 4 points and poised at the LSU 10, Auburn chose to have Moore try a pass instead of Ashford, who wound up with 337 passing yards and 2 touchdowns. The result was a crippling turnover.
Kelly and his staff were better than the opposition, and that was a major factor in the outcome.
There was plenty not to like also:
1. The start
LSU entered the game on a 3-game winning streak. It was impressive in winning its SEC opener 2 weeks earlier. It was dominant in a 38-0 win over New Mexico last week.
It was getting better each week.
It was a 9-point favorite against a team with a slew of problems.
But when this game started, LSU had a slew of problems and helped make Auburn look like a team that was ascending.
The players weren't ready at the start. And the coaches didn't have them ready.
Overcoming the terrible start was nice, but the start was still terrible.
2. The penalties
LSU was penalized 10 times for 96 yards.
The rash of penalties started on the opening kickoff, when Sevyn Banks was flagged for targeting. It continued throughout.
It contributed to bad field position in the early going, which contributed to a stagnant offense.
A holding call on Sage Ryan wiped out an interception by Jarrick Bernard-Converse at the LSU 10. It wasn't the backbreaker that it could have been, because the threat ended with Perkins' interception of Moore.
But getting away with bad stuff because your opponent does worse stuff is not a long-term winning strategy.
3. The passing game
It was terrible — 26 passes, 10 completions, 85 yards.
Perhaps part of it can be blamed on Daniels playing with a back strain before sustaining the knee injury. Perhaps part of it can be blamed on Garrett Nussmeier being forced into the game cold.
But a lot of it can be blamed on the receivers.
LSU dropped 4 passes, and Daniels and receivers were not on the same page on multiple other incompletions.
Overall, the passing game was just a mess.
Read More
Sports betting in Louisiana is live and running. Whether it is betting on SEC football or LSU football games or the Heisman race each year, if you live in Louisiana, you can now do it from your mobile phone.