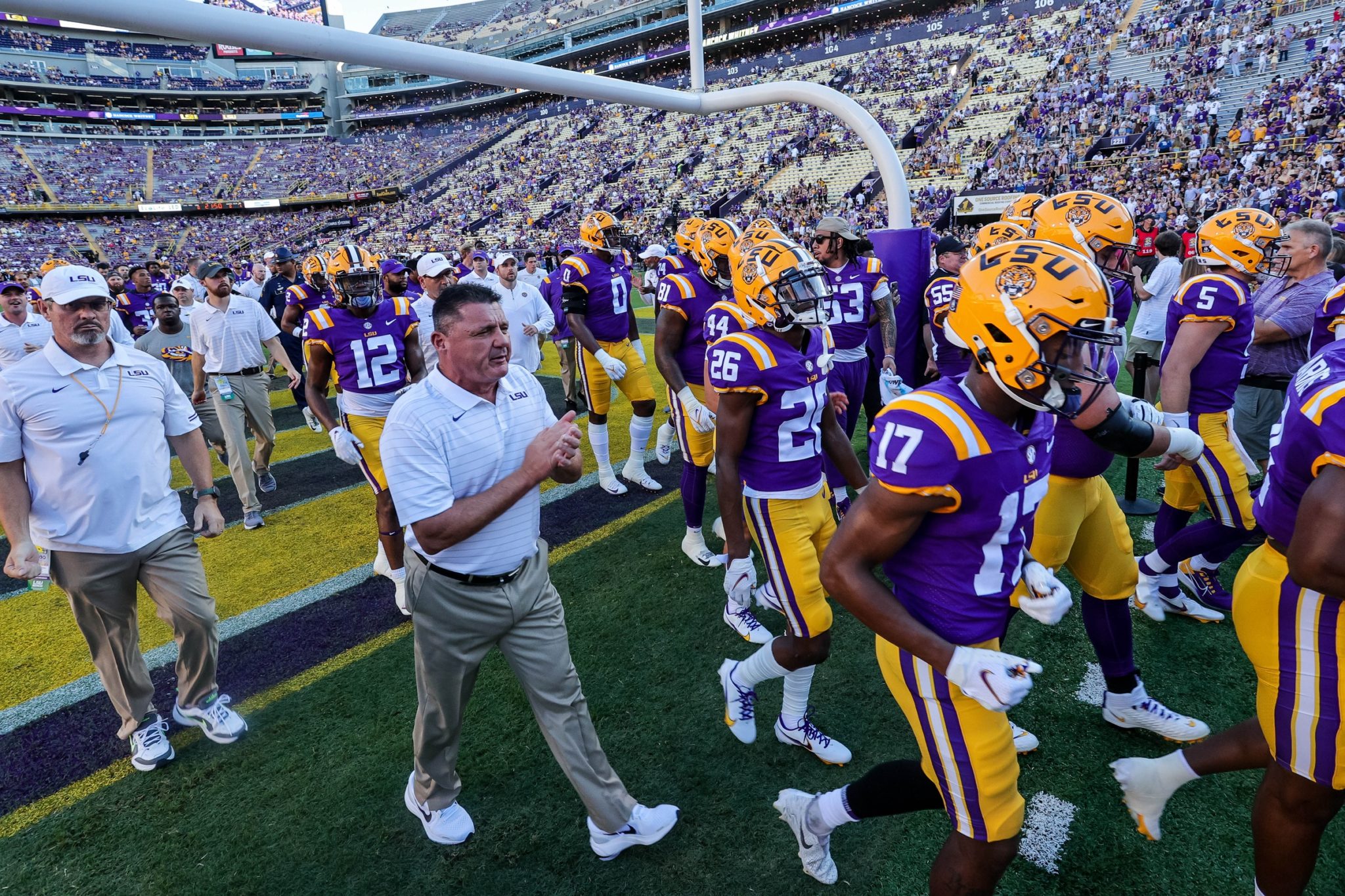 LSU TIGERS
LSU football: Reassessing the Tigers after a 2-1 start
LSU played the best game of its first 3 in a 49-21 victory over Central Michigan on Saturday night in Tiger Stadium.
That says as much about how unimpressive the Tigers were in their first 2 games as it does about how impressive they were against the outmanned Chippewas.
LSU has gotten better each week, but it still has not played like a team worthy of the No. 16 ranking that it had in the preseason poll before plummeting after a 38-27 loss at UCLA in the season opener.
The victory in the pre-SEC finale against CMU was a sharper performance than the 34-7 win against FCS McNeese State a week earlier.
One-fourth of the way through the schedule and heading into the first SEC week of the season, the Tigers are ascending but still a ways from being an SEC West contender.
So let's take stock of LSU:
What have we learned in the first 3 games?
The defense can be as good as expected, Max Johnson is good enough and a bunch of freshmen are becoming impact players.
But until the offensive line gets straightened and helps produce a legitimate running game, all that other stuff won't mean a whole lot.
The Tigers ran the ball fairly well after they wore down McNeese State and Central Michigan, but they didn't run it well in the early going against either of those outmanned teams, and they never ran it well against UCLA.
Johnson and the passing game have done well under the circumstances. But that won't continue in SEC play unless they have a much better running game to work with.
The most encouraging aspect of the last 2 games has been the defensive improvement, but we need to see that continue against SEC competition. The breakdowns have been far less commonplace, but neither have they disappeared.
Mississippi State exposed the LSU defense in the opener last season. The Bulldogs provide a significant gauge for this defense in this SEC opener.
Should we revise those preseason expectations?
Yes.
In addition to the No. 16 preseason ranking, LSU was considered in some quarters a potential candidate to win 9 or 10 games and perhaps even contend in the SEC West.
So far, the Tigers haven't demonstrated an ability to do those things, though it's too early to say those optimistic projections aren't achievable.
That will require consistent and significant improvement against far more challenging competition in the SEC.
Who has emerged?
Freshman defensive tackle Maason Smith has lived up to his 5-star billing.
The freshman wide receivers — most notably Deion Smith, Jack Bech and Brian Thomas Jr. — had a major impact against Central Michigan.
Freshman running back Corey Kiner has shown a lot of potential the last 2 games, which is especially important with John Emery Jr. being ineligible.
Who has disappointed?
The offensive line was always going to be a key to this team's success.
It has not performed as hoped. Injuries have made it difficult for the line to perform at its best, and yet when healthy, the line's best hasn't been good enough.
Improved health and accompanying continuity could change things as the season progresses. But if this group isn't significantly better in SEC play than it was in pre-SEC play, this team's ceiling has to be lowered.
Are they who we thought they were?
No.
The overhaul of the coaching staff has produced only modest improvement, though there is still time for that improvement to accelerate.
But the bottom line is that one-quarter of the way through the season — even after improvement in consecutive games — the Tigers are still not where they hoped to be coming out of the chute.
They'll enter November with a 4-4 record.
Read More
Louisiana sportsbooks are up and running. Residents in the state can now signup at one of the various sportsbook operators and begin betting on NFL, college football, NBA and more.