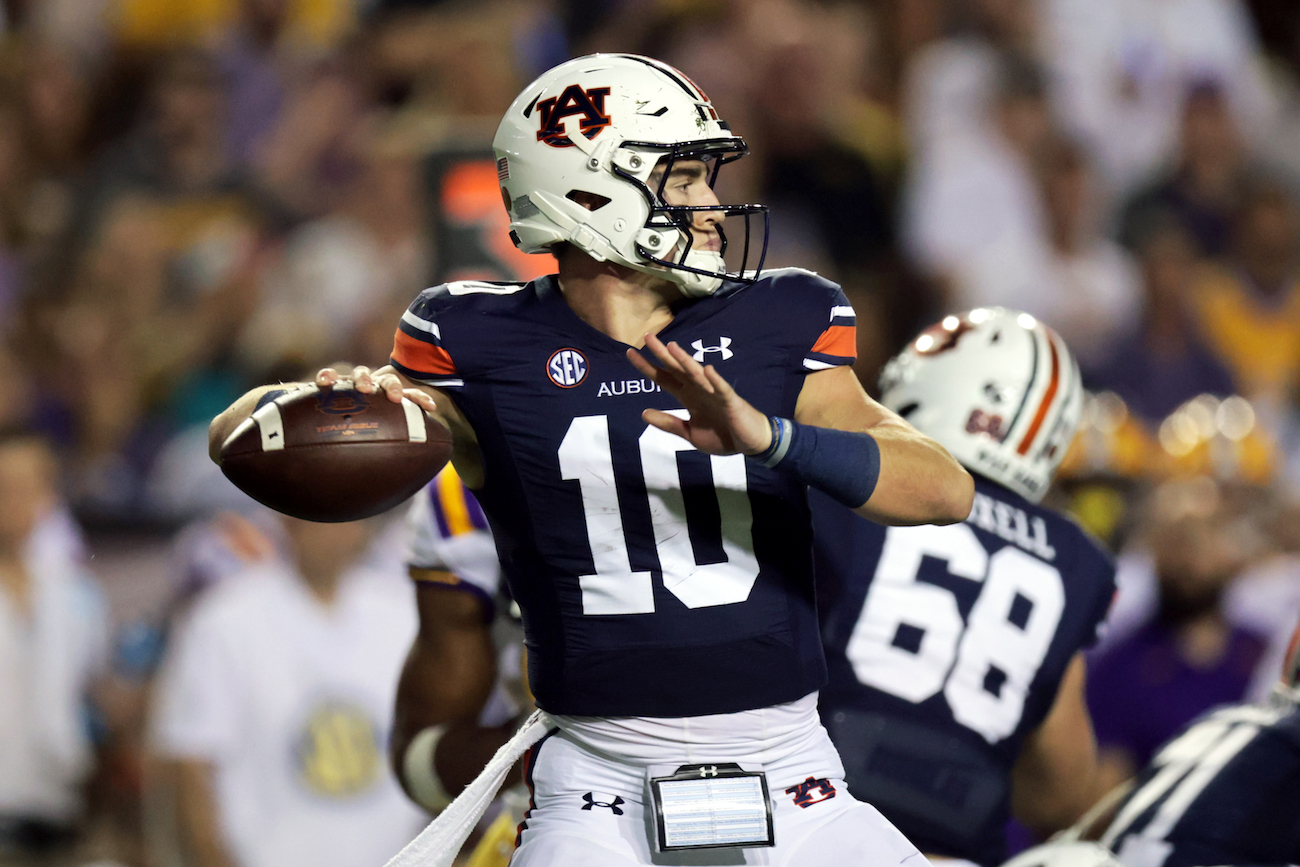 LSU TIGERS
LSU's inability to corral Bo Nix kept TJ Finley on the sideline
As it turned out, LSU didn't have to worry about TJ Finley coming back to haunt it.
That's because it couldn't tackle Bo Nix, thus preventing former LSU quarterback Finley from ever being a factor in Auburn's 24-19 victory Saturday night at Tiger Stadium.
Nix, who went to the sideline in the third quarter a week earlier and watched Finley salvage a victory against Georgia State, looked like Fran Tarkenton, or Steve Young or Michael Vick, as he repeatedly eluded numerous LSU pass rushers to create big play after big play that enabled Auburn to win a game that it didn't lead until the final 3:11.
Nix's elusiveness and big-play ability kept Finley, who transferred from LSU during the summer, on the sideline for all but 1 series in the 2nd quarter.
If Nix had played against Georgia State anywhere close to the way he played against LSU, Finley never would have entered the game.
LSU came into Saturday's game leading the SEC in sacks, and it pressured Nix like a team leading the SEC in sacks.
But it couldn't wrap up Nix or knock him to the ground or chase him out of bounds. It mostly watched him buy whatever amount of time was necessary to make a play that kept his team in a game that could have easily gotten out of hand in the 1st half.
But it never got out of hand because LSU kicked field goals on drives that ended at the Auburn 14, 8 and 5.
LSU got the minimum out of promising opportunities, while Nix got the maximum out of seemingly hopeless situations.
"We've got to get touchdowns instead of field goals," LSU quarterback Max Johnson said.
Meanwhile, Nix was getting progressively more comfortable even as LSU took a 13-0 2nd-quarter lead.
He led Auburn to the final 10 points of the 2nd quarter and was unfazed as LSU kicked 2 field goals in the 3rd quarter.
While the Auburn defense was getting a better handle on Johnson, Kayshon Boutte and the 1-dimensional LSU offense, Nix was getting a better handle on the LSU defense in the 4th quarter.
He ran 5 yards for a touchdown that cut the LSU lead to 19-17 at the outset of the quarter, and he guided a 92-yard drive that ended with Jarquez Hunter's 1-yard touchdown run that produced the winning points.
LSU linebacker Damone Clark summed the game up perfectly.
"We couldn't tackle Bo Nix," he said. "That's the biggest thing."
The decisive aspect of the game was that the Auburn quarterback, ad-libbing while under duress, manufactured a much more effective running game than the LSU coaches, offensive line and running backs could devise after a week of preparation.
As has been the case all season, LSU couldn't create adequate openings for running backs to gain adequate yardage. But Nix, faced with a pretty strong pass rush, was able to create adequate rushing yards for Auburn to win in Tiger Stadium for the first time since 1999.
Nix, who completed 23 of 44 passes for 255 yards and 1 touchdown, was the game's leading rusher with 74 yards and 1 touchdown on 12 carries. But the running he did to avoid pass rushers and create significant plays was just as important — and maybe more important.
Auburn finished with 163 rushing yards, and LSU finished with 32.
"It was just a matter of getting him down," LSU head coach Ed Orgeron said of Nix. "We were all over him. You've gotta tackle him."
But LSU didn't tackle him.
It pressured him. It had countless opportunities to tackle him.
But it mostly watched him make plays that redeemed him from his poor performance a week earlier. LSU's attempt to redeem itself from a 5-5 season a year ago suffered a major setback.
Read More
Louisiana sports betting is officially live in much of the state. Whether it is betting on SEC football or LSU football games or the Heisman race each year, if you live in Louisiana, you can now do it from your mobile phone.