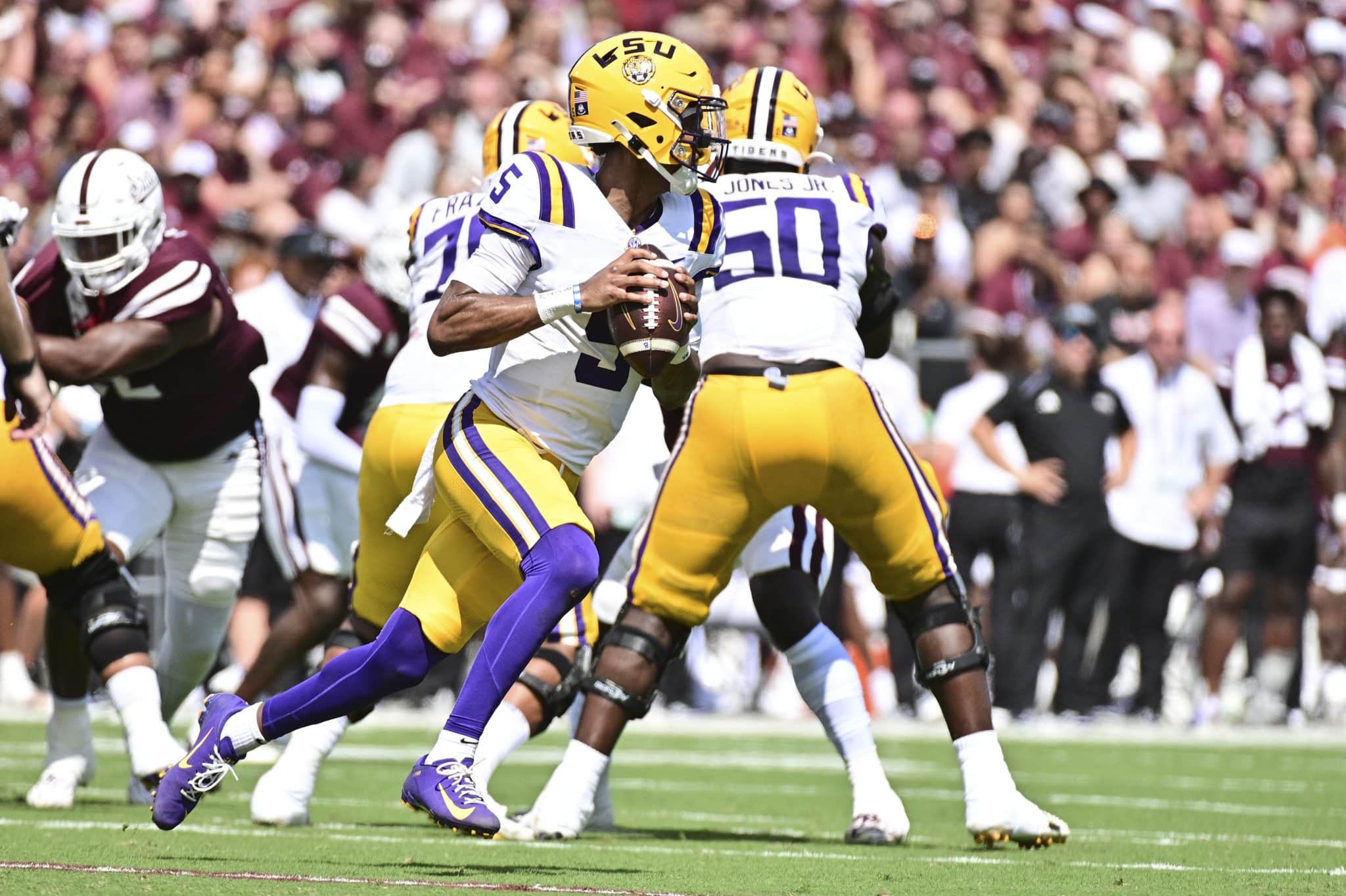 LSU TIGERS
LSU football: Stock report after Week 3
LSU didn't mess around in its SEC opener.
It jumped on Mississippi State right away. Its defense dominated. Jayden Daniels was nearly perfect, and so was Malik Nabers.
The No. 14 Tigers played wire to wire like a team that not only deserved its current ranking, but maybe deserved that preseason No. 5 placement that seemed misplaced during the season-opening loss to Florida State.
But that was then and now it's SEC time, and LSU looks like it's ready to contend for a second straight West division title.
It's just mid-September and there's a long way to go. But as SEC openers go, this was about as good a performance as Brian Kelly could have hoped for.
Player of the Week: QB Jayden Daniels
On most Saturdays, a wide receiver catching 13 passes (tied for 5th-most in school history) for 239 yards (4th most in school history) and scoring 2 touchdowns, all of which Nabers did, would automatically warrant Player of the Week recognition.
But this wasn't an ordinary Saturday because Daniels was extraordinary. He set a school record (minimum 25 passes) with an 88.2 completion percentage (30-of-34) for 361 yards and the 2 touchdowns to Nabers. He also rushed for 2 touchdowns, carrying 15 times for 64 yards.
He broke the Bulldogs' spirit early and never let them believe they had a chance to get back into the game. Daniels didn't get the entire second half off as he did in the 72-10 rout of Grambling a week earlier, but he did give way to Garrett Nussmeier early in the 4th quarter.
Freshman of the Week: LB Whit Weeks
LSU played without injured starter Omar Speights, which gave other defenders – particularly linebackers – more opportunities to make plays. Weeks took advantage. He had a team-high 8 total tackles, 2 of which were solo, and a quarterback hurry.
Running back Kaleb Jackson was in contention to gain this recognition for a 2nd consecutive week, rushing 5 times for 19 yards (with a highlight crash into a State defensive back) and catching 2 passes for 15 yards. But Weeks had a bigger impact on the game.
Biggest surprise: LSU smothered State's passing game
Yes, it's no longer the Air Raid offense in Starkville, and Will Rogers' transition in first-year coordinator Kevin Barbay's more conventional system was bumpy through the 1st 2 games.
But the Tigers' pass defense struggled badly against Florida State and even had a tough 1st quarter against Grambling before improving. Rogers figured to have some success, but he passed for a mere 103 yards (11-for-28) and backup Mike Wright tossed a 4-yard touchdown to Antonio Harmon long after the outcome was decided.
LSU sacked Rogers 4 times and pressured him consistently. The secondary stuck to the Bulldogs receivers. All in all it was a dramatically improved pass defense.
Biggest concern: None
OK, LSU didn't take the ball away. It was penalized 6 times (mostly because of the offensive line). Jay Bramblett's 2 punts covered a total distance of just 77 yards. State's Lideatrick Griffin averaged 34 yards on 3 kickoff returns, but he's perhaps the most dangerous kick returner in the country. And Jo'Quavious Marks broke free for a 52-yard run.
So if nits must be picked, there are the candidates. But overall nothing happened in any of the 3 phases that should be of significant concern to Kelly and his staff.
Developing trend: Logan Diggs as the bell cow
The Tigers have a whole bunch of capable running backs, and they're holding early-season auditions for primary roles during the heart of the season.
Diggs, a Notre Dame transfer, is looking more and more like the No. 1 option, even with senior John Emery Jr. making his season debut Saturday. Diggs, who had 15 carries for 115 yards and a touchdown against Grambling, led 5 running backs with 9 carries for 41 yards and caught 3 passes for 30 yards. Emery, Jackson and Noah Cain all got touches Saturday, but Diggs appears to be the most complete back.
Key stat: LSU's time of possession was 38:39
LSU did a lot of things well on offense and defense, and this stat touches on the overall dominance better than any other.
Daniels' efficiency, Nabers' playmaking, the running game's steadiness and the defense's dominance against the run and the pass all were key factors in the Tigers' possessing the ball for nearly two-thirds of the game. LSU didn't have a 3-and-out until its 2nd to last possession of the game and State went 3-and-out 5 times.
First impression about Week 4 (vs. Arkansas)
It's going to be higher scoring than the Tigers' 13-10 win last season in Fayetteville. The Razorbacks played that game without starting quarterback KJ Jefferson (shoulder) and LSU's defense dominated 2 backups.
Harold Perkins Jr. announced himself to the country in that game, playing with the flu and finishing with 8 tackles, 4 sacks, 2 forced fumbles (the 2nd of which sealed the victory), 1 pass break up and 1 quarterback hurry.
This game figures to feature a lot more offense as Jefferson and Daniels trade big plays.
Read More
Sports betting in Louisiana is live and running. Whether it is betting on SEC football or LSU football games or the Heisman race each year, if you live in Louisiana, you can now do it from your mobile phone.