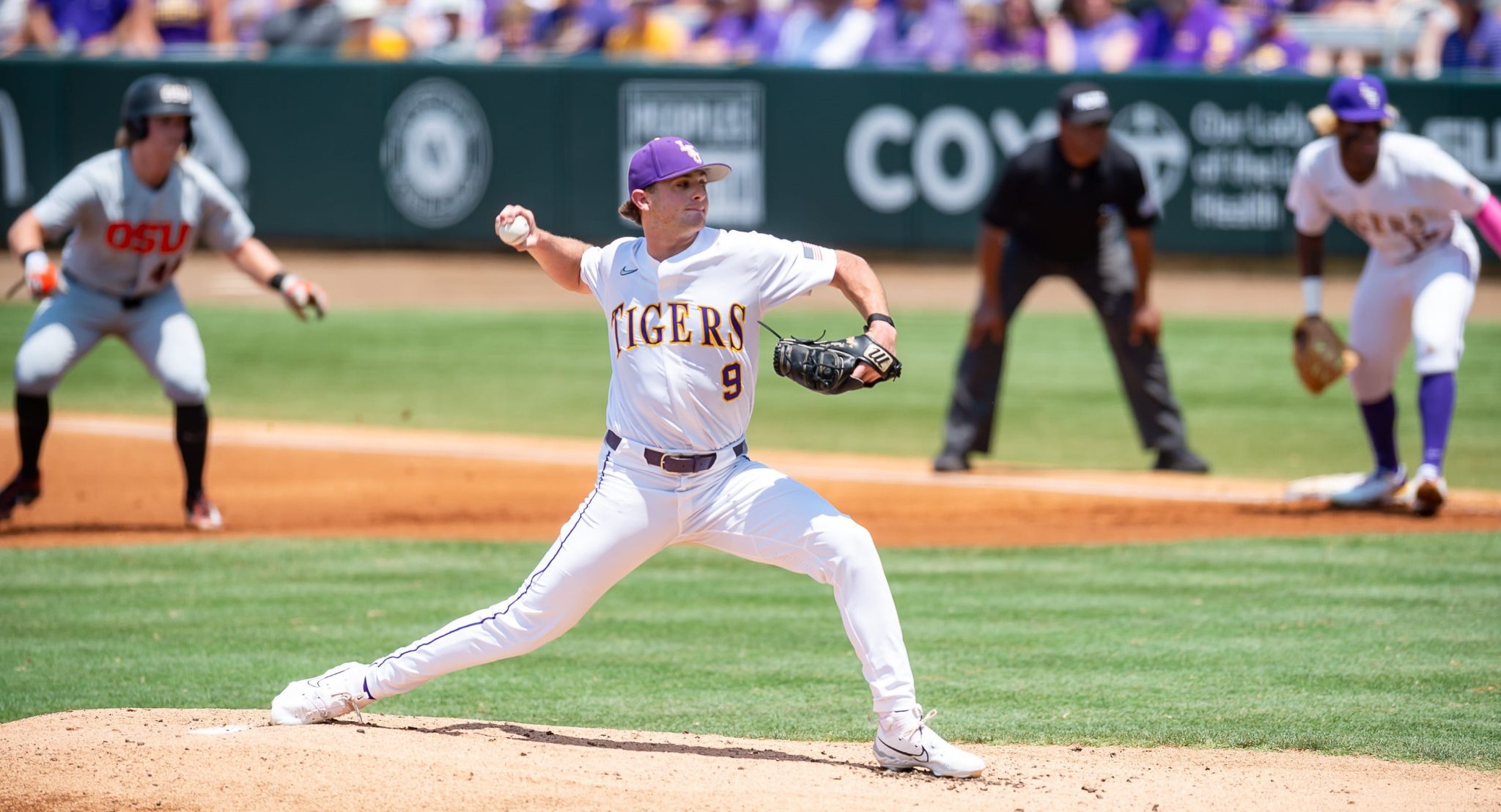 LSU TIGERS
Regional performance suggests LSU's pitching depth might, indeed, be good enough to win it all
LSU was ranked No. 1 in college baseball for most of the season.
The Tigers were led by the SEC Player of the Year (center fielder Dylan Crews) and the SEC Pitcher of the Year (Paul Skenes), who are 2 of the 3 finalists for the Golden Spikes Award and quite possibly will be the 1st 2 players selected in the upcoming MLB Draft. All-SEC slugger Tommy White, who leads the SEC with 93 RBIs, also was 1 of 25 semifinalists for the Golden Spikes.
But as LSU slipped to a 6-7 record at the end of the regular season and in the SEC Tournament, questions arose about whether the Tigers had enough consistently productive players, especially pitchers behind Skenes (Collegiate Baseball's National Player of the Year), to reach the College World Series.
LSU's performance in sweeping through the Baton Rouge Regional last weekend suggests it does.
But this weekend's best-of-3 Super Regional pairs the Tigers against visiting Kentucky, a team that helped raise those questions. The Wildcats scored 25 runs in a 3-game series in Alex Box Stadium in mid-April and lost the rubber game just 7-6.
Even though the Tigers run-ruled Kentucky (16-8 in 8 innings) in the series opener, the Wildcats weren't dominated by Skenes, reaching him for 7 hits and 5 runs (4 earned) in 6 innings, though Skenes did have 13 strikeouts and just 1 walk.
"He's great at evaluation and given that that was 2 months ago, he's probably in a different place than he was at that time," LSU coach Jay Johnson said of Skenes. "Their team's going to be different in terms of where they're at, but we'll look at it and he'll look at it and make the adjustments we need to make."
Skenes was dominant in the Tigers' 7-2 win over Tulane in the regional opener, throwing the 1st complete game of his career. He allowed 7 hits and 2 runs, didn't walk a batter and struck out 12.
But just as important, the rest of the Tigers' pitching was good enough to produce 6-5 and 13-7 victories against 2nd-seeded Oregon State.
Skenes' complete game gave Johnson a full arsenal for the remainder of the weekend, though he needed just 6 other pitchers. Only freshman Gavin Guidry, who pitched a scoreless 9th to get a save in Game 2 and allowed 1 run in 2/3 of an inning to complete Game 3, made multiple appearances.
Fellow freshmen Griffin Herring gave up 3 hits and 2 runs in 3 innings as he set up Guidry in Game 3.
"It's hard for a freshman to make a massive contribution in this league," Johnson said. "There's going to be some bumps along the way, but those guys just have character. Their poise and makeup and toughness, this time of the year that's what it's all about. It's about winning players and winning mindsets and they're wise beyond their years."
No. 2 starter Ty Floyd continued his late-season improvement by holding the Beavers to 1 run while striking out 5 in Game 2 before he had to leave the game prematurely after a lengthy weather delay.
Thatcher Hurd picked up for Floyd and allowed 7 hits and 4 runs, but he gave Johnson a much-needed 5 innings and struck out 12. In Game 3, starter Riley Cooper limited Oregon State in 2 runs in 3 2/3 innings and Nate Ackenhausen allowed 2 runs in 1 2/3 innings.
"I think the pitching staff stepped up in a big way last weekend with their strikes," Floyd said. "We got ahead in the count. It speaks volumes about how hard this staff has been working the past couple of weeks."
Overall, the pitchers not named Skenes had an ERA of 6.00, allowing 21 hits and 9 walks in 18 innings while striking out 29.
Those aren't great stats, but they were good enough for the Tigers to go 2-0 in the games that didn't feature Skenes — and that's the key. If Skenes is able to win his start in the Super Regional, which begins Saturday afternoon, the rest of the staff will need to win just 1 game to send LSU back to Omaha for the first time since 2017. Their current 4-tournament absence from the CWS is the program's longest since their first trip in 1986.
The Tigers have other pitchers they did not need to use in the regional but who could be factors in the Super Regional, including Blake Money, Bryce Collins and Javen Coleman.
Johnson said pitching coach Wes Johnson, who will take over as Georgia's head coach as soon as LSU's season ends, had "a busy day" Wednesday conducting bullpen sessions for pitchers who weren't needed in the regional.
"One of my messages after (Game 3) was that there are guys that didn't pitch this weekend that if we're going to accomplish the things that we want to do, they're going to have to pitch whether it's this weekend or hopefully beyond that for us to be where we want to be," Johnson said. "I have great confidence in the guys we didn't use last week that we could use this week."
The bar for the Tigers' pitchers – including Skenes – is relatively low as long as the team's offense produces as it has all season.
Crews was named MVP of the Regional after going 8-for-13 with 2 home runs, 4 RBIs and 5 runs scored.
Clean-up hitter Hayden Travinski and Cade Beloso hit back-to-back homers in Games 2 and 3 and Brayden Jobert, Josh Pearson and Gavin Dugas also homered.
In other words, for the first time in a while, LSU looked like the super team they were thought to be earlier in the season.
Read More
Sports betting in Louisiana is officially live in the great state of Louisiana. Whether it is betting on who will win the SEC this year or the next New Orleans Saints football game... if you live in Louisiana, you can now do it from your mobile phone.