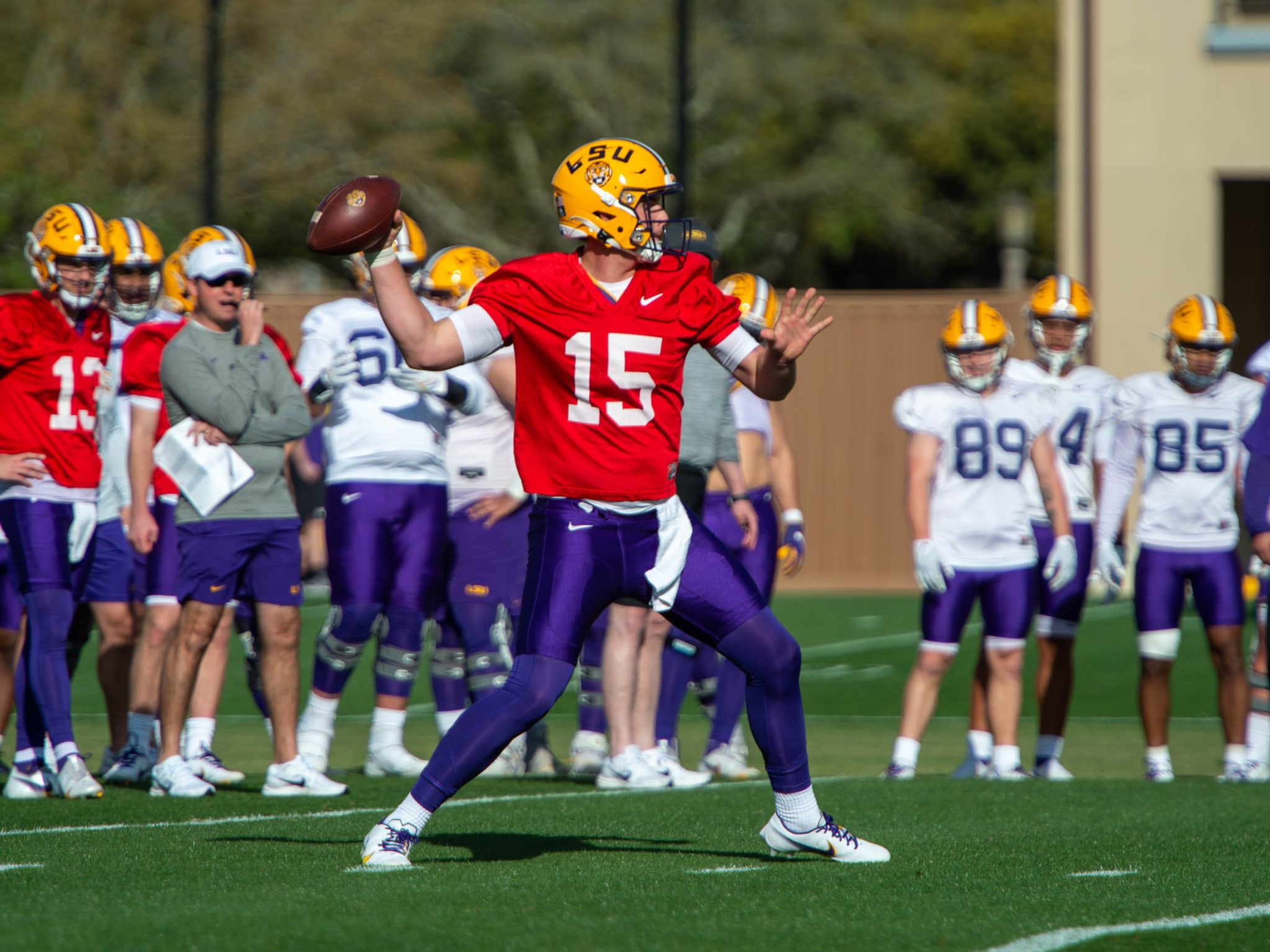 LSU TIGERS
LSU spring game: 5 key storylines to follow Saturday
LSU has had 2 consecutive non-winning seasons.
It has a new coaching staff.
It has had a significant amount of turnover on its roster since the end of last season.
The coaching staff isn't tied to any returning players, and no returning players can claim a role in significant team success the past 2 seasons.
So nothing is etched in stone, and trying to project a fall depth chart in these final few days of spring practice is tricky.
But how certain areas of the team develop between now and the season-opener against Florida State on Labor Day weekend will help determine whether Brian Kelly's first team is appreciably better than Ed Orgeron's last 2 teams.
Here are 5 key storylines for LSU entering Saturday's spring game:
1. The transfers in the secondary
LSU likes to call itself DBU because it has produced a series of standout NFL defensive backs.
But if this secondary is going to live up to that moniker, it will be due in part to defensive backs who began their college careers elsewhere.
Former Ohio State CB Sevyn Banks arrived at LSU through the transfer portal this week, joining other recent transfers in the secondary – CBs Mekhi Garner (Louisiana-Lafayette) and Jarrick Bernard-Converse (Oklahoma State), nickelback Greg Brooks Jr. (Arkansas), SS Joe Foucha (Arkansas) as well as FS Major Burns, who played for LSU in 2021 after transferring from Georgia.
Tigers fans will get their first look at some of them Saturday.
The makeover is important. LSU intercepted a league-low 8 passes last season — their fewest since 2008.
2. The logjam at linebacker
The Tigers received a boost when second-leading tackler Micah Baskerville delayed his departure for the NFL and returned to lead the linebackers in 2022.
Otherwise, there aren't many proven linebackers on the roster, but there are plenty of candidates with potential.
Perhaps the most competitive area of the team features returnees trying to earn a bigger role – Josh White, Mike Jones (who transferred from Clemson before last season), Greg Penn III – along with highly touted incoming freshmen (Harold Perkins and DeMario Tolan) and transfers West Weeks (Virginia) and Kolbe Fields (South Carolina).
3. The playmakers on the defensive line
LSU has talent across the defensive line. It has strength in the middle, speed on the outside and potentially playmakers from the inside and the outside.
The Tigers have a standout tandem of outside rushers in Ali Gaye and BJ Ojulari. Soni Fonua offers a more physical presence from the edge.
Phillip Webb, Savion Jones and Bryce Langston are expected to provide depth. True freshman Quency Wiggins could earn a role right away.
Webb could get a shot at linebacker. Langston has gotten bigger and stronger enough to possibly get a look inside.
Juniors Jaquelin Roy and Joseph Evans as well as sophomore Jacobian Guillory should comprise a useful rotation at nose tackle, but it's a pair of sophomores at the other tackle spot that could be the biggest playmakers: Maason Smith, who played tackle and end last season, and Missouri transfer Mekhi Wingo, who could play multiple spots on the line.
How DC Matt House and defensive line coach Jamar Cain determine the best way to utilize the playmakers up front will go a long way in determining the success of the defense.
4. The construction of the offensive line
Kelly had no bigger priority coming in than to rebuild the offensive line, which does not return any full-time starters.
He quickly moved to inject experience from the transfer portal by signing Miles Frazier (Florida International) and Tre'Mond Shorts (East Tennessee State) and he likely will use 1 of his last 2 scholarships on another lineman.
The eventual makeup of the starting 5 and the other roles in the rotation likely won't be finalized until August.
5. The evolution of the offense
The LSU offense – like the line – is a work in progress – and not just in determining a depth chart.
Kelly and former Cincinnati offensive coordinator Mike Denbrock have 4 quarterbacks competing to be the starter – returning players Myles Brennan and Garrett Nussmeier, Arizona State transfer Jayden Daniels and 5-star freshman recruit Walker Howard.
"Each has different traits and characteristics," Kelly said, adding that each is capable of starting. "It will be our job to get the best out of them and tailor the offense accordingly to what their skill set is."
Kelly and Denbrock would like to feature a power running game that sets up a big-play passing game. They clearly have the quarterbacks and the receivers to thrive in the second part of that equation, but it remains to be seen whether the offensive line and running backs will produce the consistency on the ground necessary to maximize the passing game's big-play potential.
Read More
Sports betting in Louisiana is officially live in the great state of Louisiana. Whether it is betting on who will win the SEC this year or the next New Orleans Saints football game... if you live in Louisiana, you can now do it from your mobile phone.