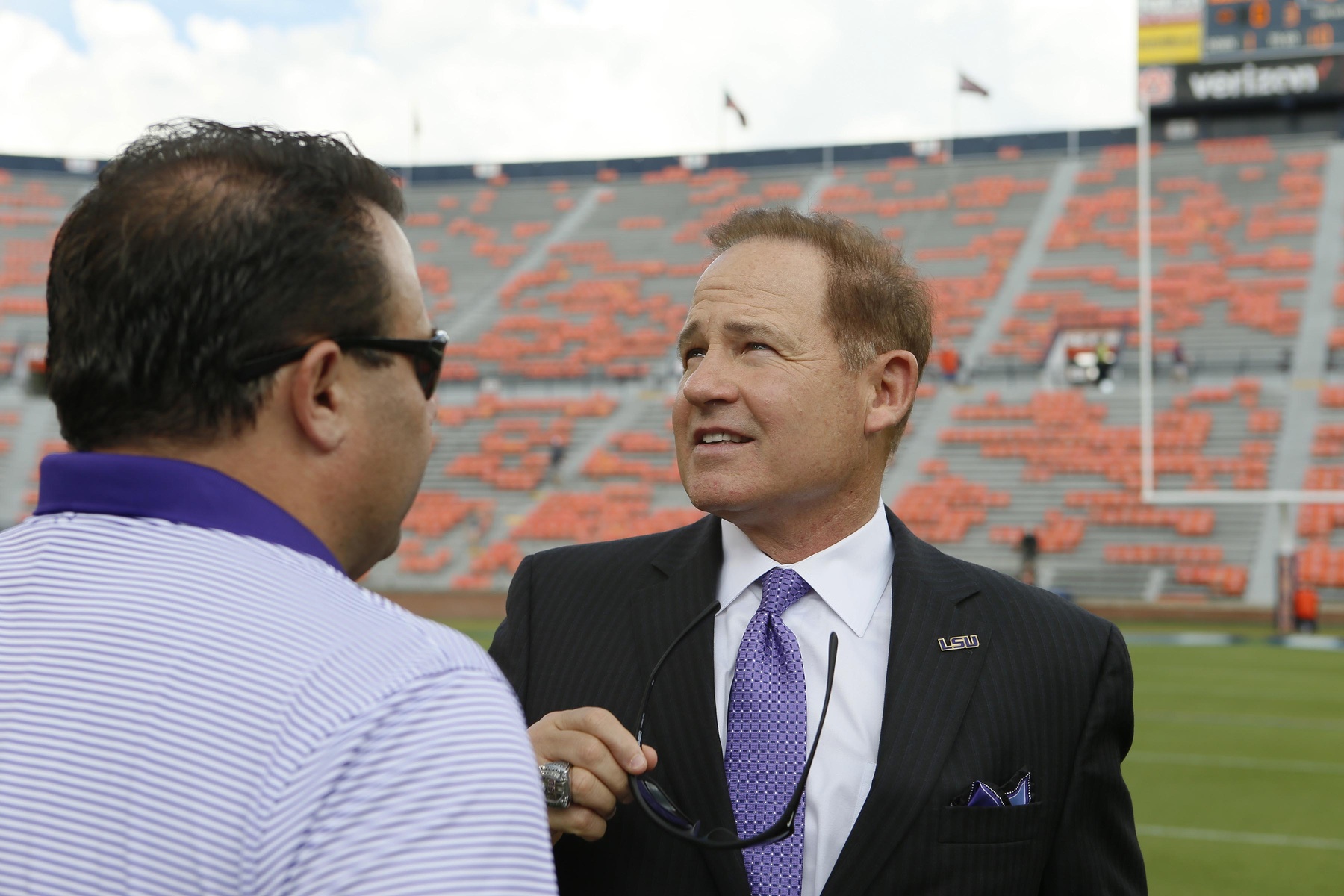 LSU TIGERS
Why I'm convinced that Les Miles' days as a head coach are over
Fifteen months ago, I thought it was a lock.
Certainly Les Miles, the guy who led LSU to an absurd 114-34 record (62-28 in SEC play) would get another head coaching gig. Obviously the guy who never won fewer than 8 games in 11 full seasons in Baton Rouge would land on his feet. Definitely there was someone who would let "The Mad Hatter" drink his grass smoothies and become the face of a program.
Miles had what I once believed to be the three most important ingredients to be a popular head coaching candidate in the 21st century.
A proven track record
A nationally-known brand
A ring
I mean, who couldn't find work with those 3 bullet points at the top of a résumé? Even someone with a checkered past could probably land something with those notches on the belt.
Miles has neither a checkered past, nor a job in the field he so desperately wishes to get back to. Why would I suggest that Miles is "desperate?" Besides confirming to multiple outlets that he has desires to coach again and his hiring of a new agent, there's another factor that speaks to Miles' desperation.
Arizona, Arkansas, Baylor, Houston, Minnesota, Nebraska, Ole Miss, Oregon State, Purdue, Tennessee, Western Michigan and probably others were all once considered possible landing spots for Miles after LSU fired him in the middle of the 2016 season. Some of those missed opportunities were more substantial than others, but they suggest one thing.
Miles' time has come and gone.
After swinging and missing at yet another opportunity to land a head coaching job (Arizona), it's time to accept the likely reality that the former LSU coach is nowhere near the commodity that many thought he was when he was fired. If he was, Miles would be in Corvallis or Tucson by now.
Les Miles is one of only 19 coaches to win 100 or more games at a current SEC program.
Instead, Miles works on the media side as an FS1 college football analyst or he's producing "Les is More" podcast. When he's not doing that, he's off doing movie appearances. On the surface, it's not a bad way to make a living for a 64-year-old guy. It's just different than what Miles thought he'd be doing when he spent his post-firing days watching film on offenses like Baylor, Tulsa and Western Michigan.
Miles knew that he had to change his offensive ways to adapt to the modern game. That was the only way he was going to get and keep another head coaching job.
Unfortunately for Miles, film study didn't help him land the Minnesota job. Instead, the Gophers hired the guy Miles studied, 36-year-old P.J. Fleck, who was arguably the top up-and-coming head coach candidate outside of Tom Herman.
But it's not like Miles went toe-to-toe with a Fleck or a Herman at every one of his potential landing spots. He was passed over for guys like Tim Lester and Jonathan Smith, neither of whom had previous head coaching experience at the FBS level. Miles was also rejected in favor of solid Group of 5 candidates like Matt Rhule and Chad Morris. Miles even fell short of beating out Kevin Sumlin, who had an inferior résumé coaching in the same division.
I'm not going to pretend like I know how serious Miles was about each vacancy. Reportedly having "mutual interest" was at least more than all of the Jon Gruden rumors that filled offseason headlines the past 9-plus years.
In a way, it sort of feels like Miles could satisfy the "Grumors" void that college football fans have. Miles will continue to have a microphone on — even when he goes to the bathroom — and he'll continue to get looped into every opening imaginable. He's a household name, he never denies any reported job interest and he always seems to be good for a weekly headline/laugh.
The difference is that with Gruden, it felt the ball was always in his court. With Miles, it feels like he already dribbled the ball off his foot and watched it roll out of bounds.
And, as some have said, Gruden was the married guy who went out to the bar and flirted for fun just to see if he still had game. Miles was the guy at the bar who just got dumped and tried to rebound by hitting on everything that moved.
I find it difficult to believe that Miles will suddenly become an attractive commodity if he continues to pitch the idea of bringing in Hugh Freeze to run his offense. Both of those former SEC coaches cannot escape their stenches, albeit for extremely different reasons.
Miles isn't getting any closer to shedding the narrative that his offense is outdated. His inability to develop quarterbacks and light up scoreboards despite the wealth of next-level talent at the skill player positions was his obvious downfall at LSU. If he was simply the guy who couldn't beat Nick Saban (in the later years), he'd have a job by now.
The industry sent a loud and clear message to Miles the past 15 months — regardless of how many openings he's linked to, you won't see him earn another FBS head coaching gig.
Well, unless he plays the part in a movie.
Read More
Louisiana online sports betting is officially live in much of the state. Louisiana joined the handful of other SEC football states with legalized sports betting in January 2022.