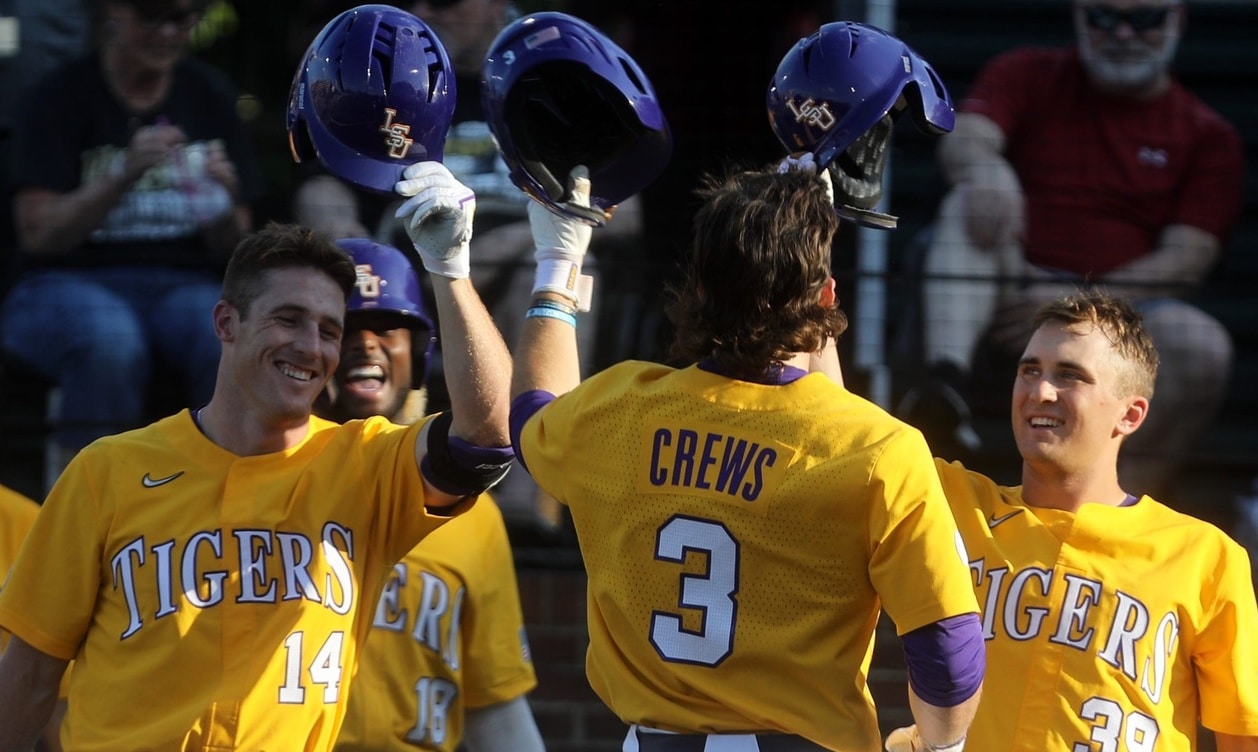 LSU TIGERS
Why weird baseball history suggests a super team like LSU is heading toward heartbreak in NCAA Tournament
There's at least a strong possibility that when the MLB Draft rolls around in June, the first 2 names called will be Dylan Crews and Paul Skenes. If that happens, LSU will become the first team to have the first 2 selections in the same MLB Draft, which began in 1965.
Go back to that first MLB Draft when Rick Monday was selected No. 1 overall. Four days later, he helped his Arizona State squad close the book on a national championship with a College World Series victory against Ohio State.
Fifty-eight years later, Monday is still the only player to ever win a College World Series title and go No. 1 overall in the same year. Others have gone No. 1 overall a year or 2 after winning a College World Series title — Oregon State's Adley Rutschman was the most recent person to do that in 2018 and 2019 — but in the same year, it's a group of 1.
What does that tell us?
History is working against 2023 LSU's odds of being the last team standing in Omaha, and really, it's working against super teams as a whole. With perhaps 5 top-10 overall picks over the next 2 MLB Drafts, LSU, the No. 5 overall seed, fits the "super team" description.
LSU's last No. 1 overall pick, Ben McDonald, helped the Tigers to Omaha in his draft season of 1989, but ultimately, his squad fell in the CWS semifinals. McDonald, who is all over ESPN's college baseball coverage as an analyst throughout the postseason, broke down why the No. 1 overall pick-CWS title drought exists and why super teams really aren't a thing in the college baseball postseason.
"That's interesting," McDonald told SDS. "My initial thought is this, and this is what separates baseball from other sports. In football when you have a Joe Burrow, Joe Burrow can impact the game every time his team is on offense … basketball players when you go (No. 1 overall), they can kind of do the same thing. Every trip up and down the court, there's a good chance you can get the ball in that player's hands and he can affect the game almost every play. But baseball is different.
"Dylan Crews could be the No. 1 overall pick, he can only impact the game 4 times when he steps in the box and he can go play center field, where he might only get 1 ball a game. You can be a (No. 1 pick), but you can just disappear in a baseball game from time to time … just don't have the opportunities to affect the game like you do in other sports."
To McDonald's point, it is interesting that if you look at the No. 1 overall picks who won a title in the same season since 1965, men's college basketball has had 5 such examples while college football had 7. If LSU — a preseason No. 1 team with gobs of pro talent — existed in college basketball, we'd instead be talking about that team having the most favorable path to cut down the nets.
"It's the cruelty of baseball, but you see, that's the reason I love baseball and why I think it's the greatest game in the world," McDonald said. "If you took 3 of the top players in the entire country and put them on 1 basketball team, it's over … baseball is just a different game. You don't have to be big and strong. It helps sometimes, but baseball players come in all shapes and sizes."
Maybe part of why super teams with future No. 1 overall picks don't yield College World Series titles is simply because nobody ever has a truly obvious path to a title. This is the sport where the last No. 1 overall seed in the NCAA Tournament who won the College World Series was 1999 Miami … which had 0 first-rounders and 2 players selected in the first 13 rounds of the 1999 MLB Draft.
College super teams are often remembered like 1996 Clemson, which had the No. 1 overall pick (Kris Benson) and the No. 4 overall pick (Billy Koch), yet it fell in the CWS semifinals. There was also 2011 UCLA, which had the No. 1 overall pick (Gerrit Cole) and the No. 3 overall pick (Trevor Bauer), yet they didn't even make it out of the Regional. The same was true of the 2004 Rice squad, which had the first pitching trio to ever be selected in the first round, but it also fell short in the Regional. The 2014 NC State team featured top-15 overall picks and future MLB All-Stars Carlos Rodon and Trea Turner, yet didn't even make the NCAA Tournament.
Shoot, just go back to last year's Tennessee squad's stunning Regional loss. No, the Vols didn't have multiple top-10 picks — Drew Gilbert was the lone first-round selection — but add that to the super team group who couldn't get it done.
"There was no better college team I ever saw than Tennessee last year," McDonald said. "The fact that they didn't get (to the CWS) speaks volumes to how difficult it is to get to Omaha."
LSU, which went 1-2 in the SEC Tournament, could be the next scout's dream team to remind us of that. It won't have the No. 1 overall seed drought to overcome like Tennessee had, but it's seeking to avoid the bitter ending that so many before it endured.
What's the key to that?
"Honestly speaking," McDonald said, "the only way LSU is gonna win a national championship will be because the pitching took a step forward. That's what has to happen."
No. 1 ranking aside, pitching depth behind Skenes was a question all year, and the injuries mounted into May. The Tigers are 4-9 when they score 5 runs or less. (They lost 5-4 twice in the SEC Tournament, including a game Skenes started.) McDonald compared them to the recent New York Yankees teams. LSU has all the pop in the lineup you can ask for, but an inability to manufacture runs and win a 3-2 pitcher's duel could be its undoing.
In June, that's all it takes to become another super team sent packing.
"If I'm facing a Paul Skenes and everyone is saying that he's the best, as a competitor, you want to go face the best. You want to take your chances going against the best teams and the best players," McDonald said. "That's why LSU has performed so well this year because they were preseason No. 1, they were No. 1 until recently. Any time you have the top 2 picks in the Draft, that puts an even bigger target on your back.
"Everyone wants a little piece of Dylan Crews. Everyone wants a little piece of Paul Skenes."
Read More
Louisiana sports betting is officially live in much of the state. Whether it is betting on SEC football or LSU football games or the Heisman race each year, if you live in Louisiana, you can now do it from your mobile phone.