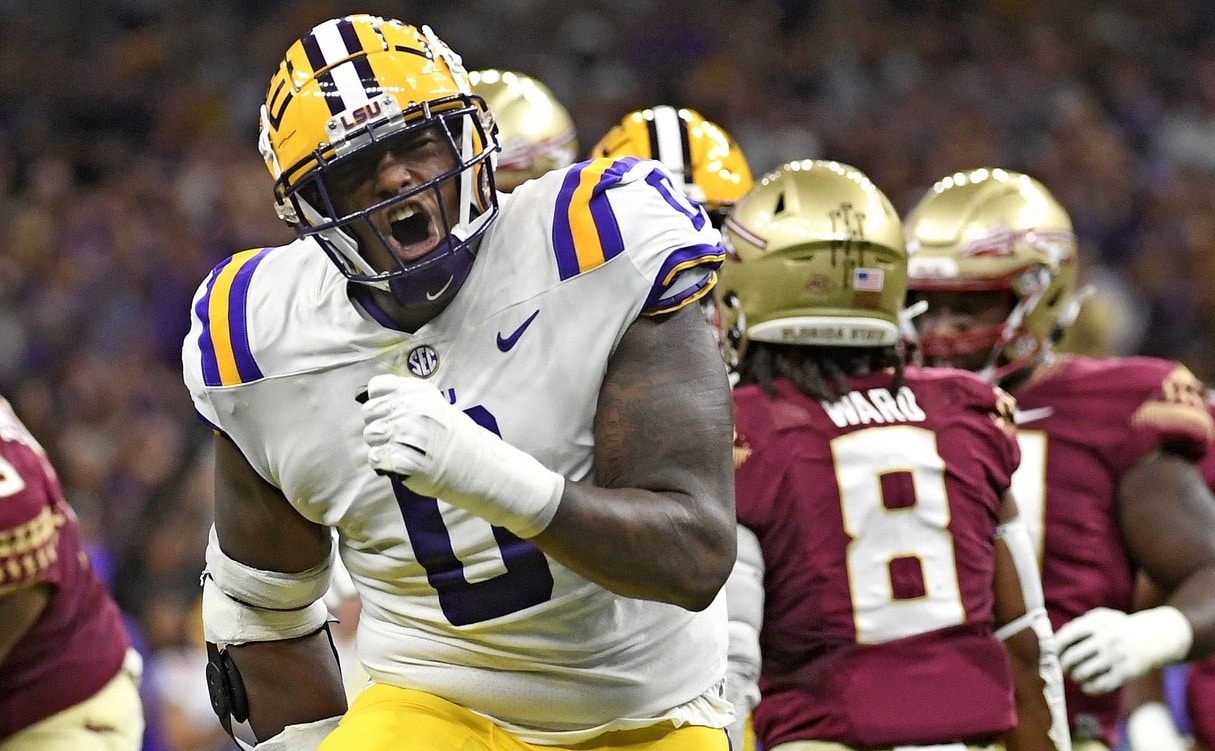 LSU TIGERS
What might be the difference in an SEC title? The return of LSU's Maason Smith
It was a massive bummer.
The second that Maason Smith came down awkwardly on his left leg with all 310 pounds, you knew it was bad. It was already bad that Smith's non-contact injury occurred while celebrating a teammate's tackle. To make matters worse, it happened on his 8th play from scrimmage in his highly anticipated Year 2.
It's painful even to watch:
LSU DL Maason Smith injured himself while celebrating ?pic.twitter.com/PGloGfNVAM

— Footballism (@FootbaIIism) September 5, 2022
The damage was a torn ACL and a sophomore season that ended before it really started.
There was not just hope, but an expectation, that Smith would make a Year 2 jump into All-SEC territory after a freshman season in which he played 9 games on LSU's defensive line and recorded 19 tackles, 5 tackles for loss and 4 sacks. That included a 3-sack game against McNeese State wherein Smith was completely un-blockable.
Maason Smith is so damn good.

Sack on third down forces McNeese to punt. LSU ball on its 20, 3:42 1Q. pic.twitter.com/ndMdvMXXDg

— Matthew Brune (@MatthewBrune_) September 12, 2021
There was optimism that 2022 would yield more of those games. It made the FSU injury that much worse.
But nearly 9 months removed from that massive bummer to open LSU's 2022 season, Smith delivered a much more encouraging headline — he's been cleared for full activity.
A loud 2023 return? Oh, it's coming. It might just be the difference in LSU winning an SEC title.
Think that's too ambitious to say about someone with a month's worth of college starts? When healthy, Smith has been the must-watch guy on the LSU defense (more on the other must-watch guy in a minute). Two years ago, noted defensive line guru Ed Orgeron declared that Smith was the best interior pass-rusher that LSU had on its roster.
Mind you, that was after Smith's first 2 months on campus.
At an efficient 316 pounds, Smith showed up ready to wreak havoc on the SEC, and not just because he was a 5-star guy who could have played anywhere in America. He chose to stay in Louisiana, where he became a game-wrecking defensive line recruit who recorded a whopping 60 TFLs and 24 sacks.
Smith didn't bolt for another school when Orgeron was fired in the midst of his freshman season, nor did he become disengaged with the team once he was sidelined with the torn ACL.
WORLD Class Teammate… Maason Smith helping where he can. (#LSU, @therealmaasonn) pic.twitter.com/XuyNudpVSs

— The Verdin Verdict (@verdinverdict) January 2, 2023
Credit Brian Kelly for checking in with Smith and making sure the promising defensive lineman still was an active part of LSU's team activities. He was there when the Tigers traveled to Atlanta for the SEC Championship.
Unfortunately for Smith and LSU, they had to watch another defensive tackle take over en route to the conference title.
My god Jalen Carter picking up Jayden Daniels like a father picking up his son pic.twitter.com/o9xcaoLOmq

— Mike Renner (@mikerenner_) December 3, 2022
Jalen Carter showed the college football world that even in this pass-first era, an interior defensive lineman can establish himself as the best player on the field. Maybe it's not fair to say that Carter is the bar for Smith to reach. After all, Carter was a unanimous All-American on a national championship team. There really wasn't much debate about if he was the best overall player in the 2023 NFL Draft.
But at the same time, everything we've heard and seen from Smith in a limited timeframe suggests he's ready for stardom. It's why he's getting way-too-early mock draft love despite playing just 9-plus games.
Even with that draft buzz, though, he won't start off 2023 as the guy at the top of everything scouting report. That'll be Harold Perkins. It was Perkins who took over games and made life miserable on opposing ball-carriers in the latter half of 2022. His emergence as a true freshman played a huge part in LSU making significant in-season strides that led to a West title without Smith.
The beauty of Perkins and Smith getting a full season together is we should get to see their versatility on display. Much has been made about where Perkins' ideal fit is in Matt House's defense. Should he be an edge guy who just pins his ears back and rushes the passer? Or is his skill set a bit more Devin White-like and suited for more of a downhill, inside linebacker role? Kelly's spring comments suggested it could be the latter with All-Pac-12 transfer Omar Speights operating in a more traditional linebacker role, as well.
Whatever the case, LSU's front 7 should be elite and Smith is going to warrant considerable attention wherever he lines up:
#LSU HC Brian Kelly on Maason Smith:

"We had great edge presence, but you could fan one side because we didn't have a great inside pass rush. He brings that balanced presence to us as a pass rusher."

— Jace LeJeune (@JaceLejeune) March 21, 2023
As long as Smith is healthy, not having as Kelly put it, "a great inside pass rush," won't be a thing. Time will tell if Smith and Perkins will form the nation's top defensive tag team. One would think their ability to shed blocks at different levels of the defense should pair quite nicely.
Maybe it'll be the backbone of LSU making that next step in the second year of the Kelly era. It would certainly help LSU overcome its biggest perceived weakness, which is a secondary that would probably like a little extra help instead of having 5-6 consistently rush the passer.
Smith has all the potential to become that difference-maker. He might just turn LSU into one of the nation's premier defensive units.
Something tells me the loud return is coming.
Read More
Louisiana online sports betting is officially live in much of the state. Louisiana joined the handful of other SEC football states with legalized sports betting in January 2022.