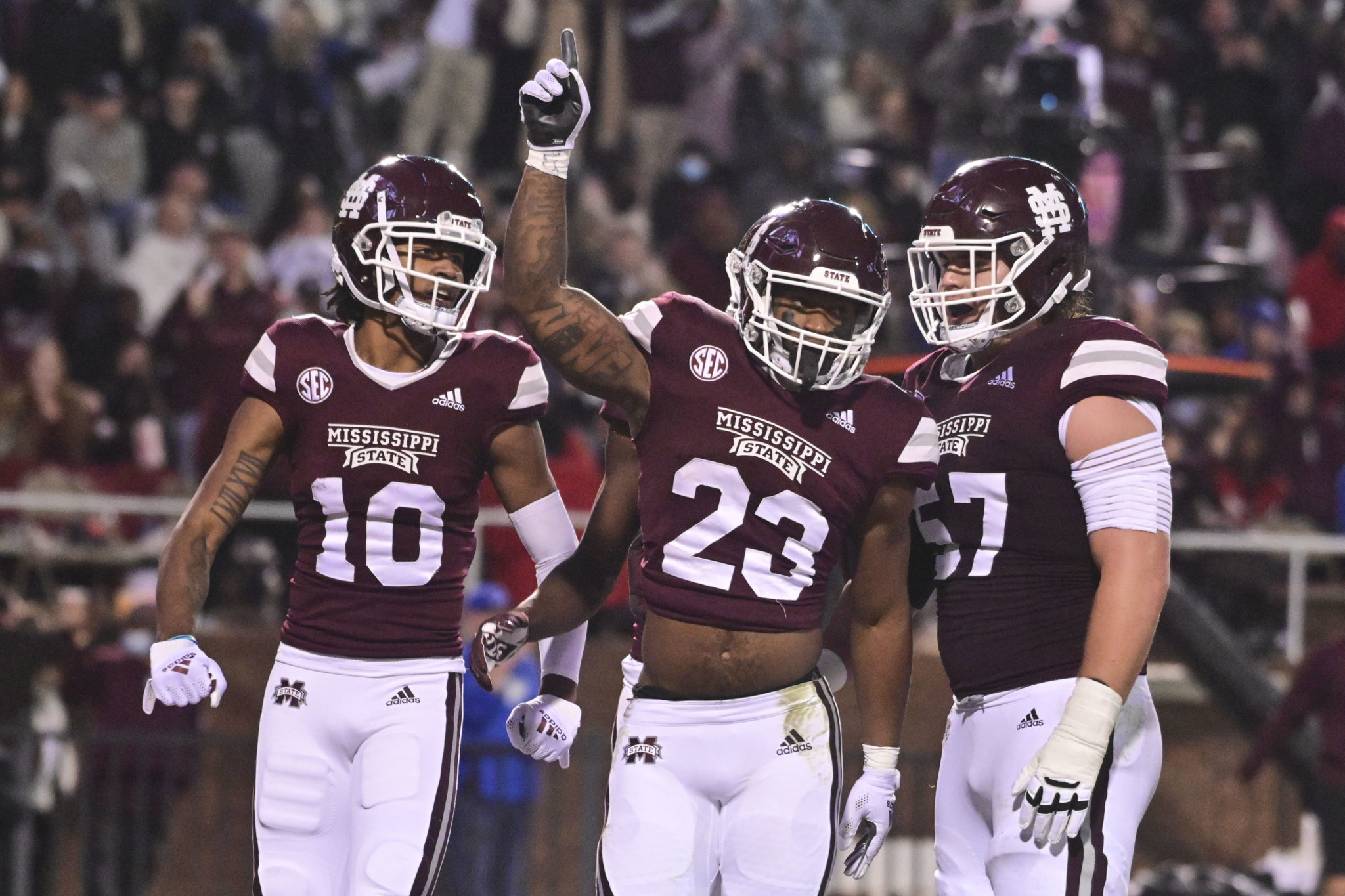 MISS STATE
It's time for Mississippi State to show staying power as a ranked team
Mississippi State is back in the AP Top 25.
The Bulldogs (4-1, 1-1 SEC) entered the rankings at No. 23 on Sunday, a day after they beat then-No. 17 Texas A&M, 42-24.
SEC Nation will originate from Starkville on Saturday as the SEC Network showcases the game against Arkansas in Davis Wade Stadium.
State is off to its best 5-game start since it was 5-0 in 2014.
So this game represents the biggest opportunity yet in head coach Mike Leach's 3 seasons.
It's an opportunity to demonstrate staying power within the rankings and staying relevant in the SEC West despite losing the conference opener to LSU last month. It's also an opportunity to build on a complete performance against the Aggies.
There have been other significant opportunities in Leach's first 2 seasons, but the Bulldogs have failed to take advantage of them.
In 2020 in Leach's 1st game, the Bulldogs claimed perhaps the signature win of his young tenure, beating reigning CFP champion LSU, 44-34, in Tiger Stadium.
That vaulted State into the Top 25 at No. 16. But the stay was brief.
In the Bulldogs' 1st game as a ranked team, Arkansas went into Davis Wade and knocked the home team out of the rankings with a 21-14 victory.
That started a 4-game losing streak, and Leach's 1st team finished 4-7, 3-7.
Naturally, State didn't see the polls again that season, and it started last season far off the Top 25 radar.
But consecutive victories at Vanderbilt and at home against Kentucky improved the 2021 Bulldogs to 5-3, and they finally entered the rankings at No. 16.
Guess who showed up next on the schedule?. Yep. Arkansas. Again.
State went to Fayetteville and lost again, 31-28, and dropped out of the rankings — again after a 1-week stay.
Now Leach's 3rd team has done as his first 2 did — winning impressively enough to arrive in the rankings.
And here comes Arkansas. Again.
The Bulldogs were lurking outside the Top 25 (31st in votes received) after opening the season with decisive wins against Memphis and at Arizona.
Then came the SEC opener at LSU. State got off to a good start, taking a 13-0 lead late in the 2nd quarter.
But things changed dramatically. The Bulldogs got outscored 31-3, and the 31-16 defeat pushed them further from the rankings.
Now consecutive wins against Bowling Green and A&M to start a 3-game homestand pushed them into the rankings.
"I think after the LSU game, it lit a fire in this group," quarterback Will Rogers said. "We've practiced way better. We've practiced way faster. I think that's translated over to Saturdays."
Will it translate to a 3rd consecutive win Saturday?
That performance will demonstrate whether State is ready for prime time — or at least, if it has more success in its debut as a ranked team than Leach's 1st 2 teams did.
Rogers has been Leach's marquee player since ascending to the starting position during the 2020 season.
But in the victory against the Aggies, other individuals had a significant impact.
Emmanuel Forbes made 2 interceptions in the 4th quarter to help wrap up the victory.
That increased his career total to 11, the most in the FBS since 2020. He returned 1 33 yards for a touchdown, his school-record 4th pick-6.
He also blocked a 44-yard field-goal attempt on the most pivotal play of the game. A&M was trying to close within 14-6 in the 3rd quarter. But after Forbes blocked the kick, Decamerion Robertson scooped the ball up and ran 50 yards for a touchdown, and State was in command.
State rushed for 144 yards against Texas A&M, its 2nd-highest total under Leach, continuing to show that this offense is more balanced than Leach's 1st 2.
"People are going to have to respect us," running back Dillon Johnson said.
The Bulldogs had little trouble with A&M's talented defense even though it played without starting left tackle Kwatrivous Johnson. Nick Jones moved from left guard to tackle, Steven Losoya III made his 1st start at left guard, and everything was fine.
"Coach Leach preaches that if we continue to get 5-6 yards, then we can continue to run the ball," Johnson said after the Bulldogs averaged 6.0 against the Aggies.
The line didn't allow a sack, and the State defense made 4 sacks along with its 4 takeaways.
The victory was the 6th against a ranked team under Leach, giving him the 4th most in school history.
But now it's important to win a game as a ranked team.