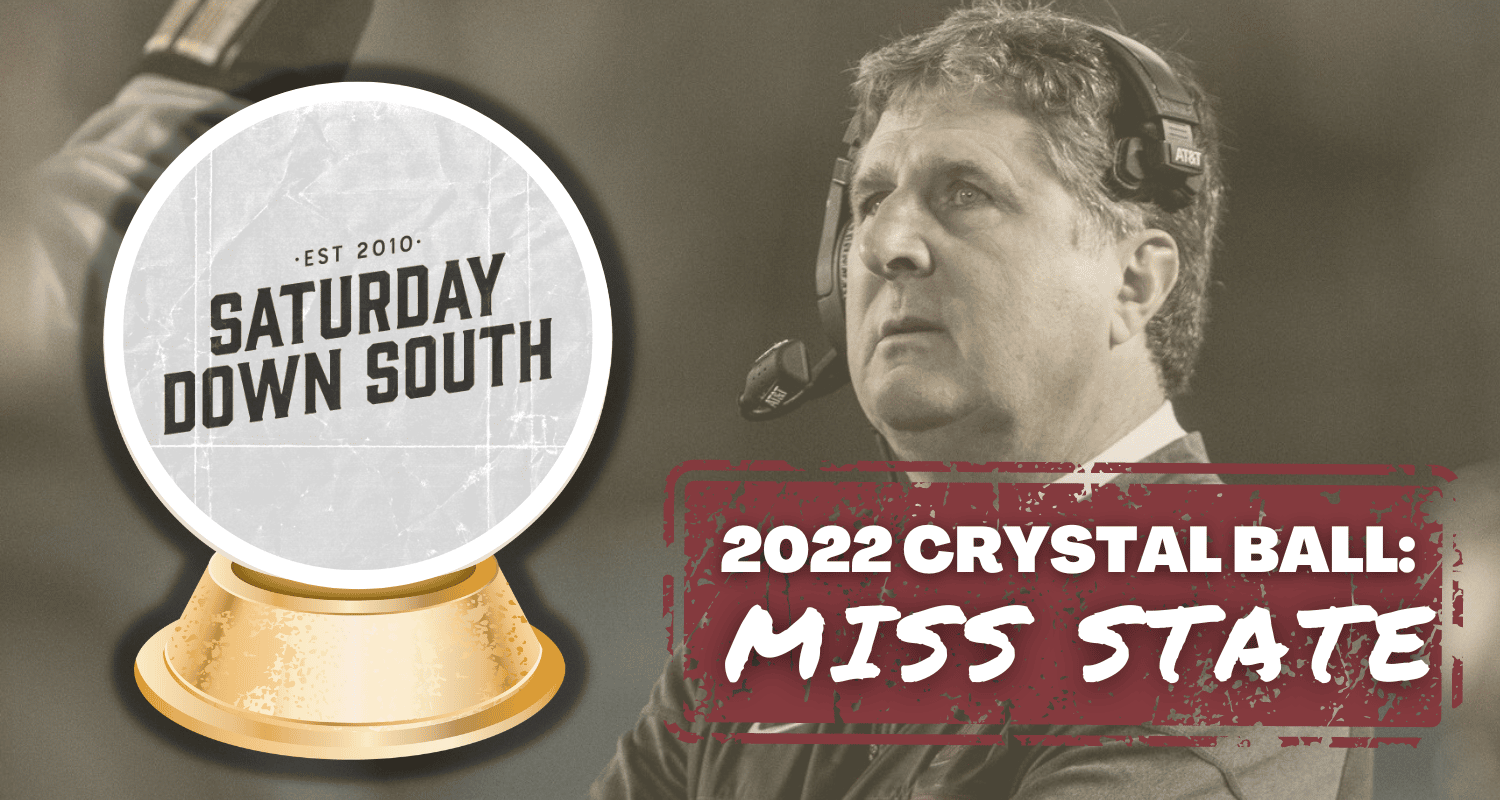 MISS STATE
The SDS Crystal Ball: Predicting every game for Mississippi State football in 2022
Editor's note: Saturday Down South's annual Crystal Ball series continues today with MSU. We'll stay with the SEC West all week. Next week, we'll predict every game for every SEC East team.
In some ways, it was exactly what we should've expected.
Just as he did at Texas Tech and Washington State, Mike Leach's offense improved by at least a touchdown in Year 2. He had a prolific passing attack that showed major potential in SEC play while Zach Arnett's defense was solid against the run (No. 3 in the SEC) and porous against the pass.
But how Leach's got from Point A to Point B wasn't predictable in the slightest. The biggest 4th quarter comeback in school history was needed just to survive the opener against Louisiana Tech and in the bowl game, Leach's Texas Tech revenge came in the form of a baffling dud against a program with an interim head coach.
Despite those things, MSU cracked the Playoff poll in 2 separate instances after beating ranked foes. It was some poor officiating away from beating Memphis and Arkansas, which would've put the Bulldogs at 9 regular-season wins. To call 2021 "unpredictable" would be an understatement. Trying to figure out which MSU squad would show up in a given week was like trying to predict what would come out of Leach's mouth.
Nonetheless, Leach got an extension just ahead of SEC Media Days. With contracts in the state of Mississippi maxing out at 4 years, Leach is now under contract through 2025, and he'd be owed $16.5 million if he were somehow fired at the end of the season. One would think that's not a likely scenario, especially with a team that ranks No. 1 in the SEC in percentage of returning production.
But then again, it's Leach. Predictability isn't in his DNA.
Year 3 of Will Rogers has to be the most consistent yet
MSU's offensive upside isn't dependent on whether Rogers can lead the nation in passing. He's the best bet to do that, especially if he stays healthy and starts every game like he did last year. Rogers has to be more consistent. It's as simple as that.
When he was right, man, it was surgical. That 28-3 comeback at Auburn was one of the great individual performances of the 2021 season. He took a respected Kentucky defense to the woodshed and while it wasn't a shootout because of some stalled drives, I still don't think Rogers got enough credit for what he did on the road at A&M against the nation's No. 3 defense.
In the month of November, there were not 5 better quarterbacks in the country than Rogers. I say that even though I'd love to see how the Egg Bowl would've played out if MSU's pass-catchers could've not dropped 1 of those 3 on-target passes Rogers delivered in the red zone.
But the problem is that even entering Year 3 in Leach's Air Raid, those down games still pop up. In 6 of his 21 starts, he had a quarterback rating of less than 120, including the last 2 games he started. Why is that significant? Well, with a system that throws the ball 50-plus times a game that doesn't really rely on quarterbacks to be rushers, duds like that are almost always automatic losses. MSU is 1-5 in those 6 games with the 1 win being an ugly bowl game victory against Tulsa to close 2020.
In the 5 games that Rogers finished with a quarterback rating of 165.0 or better, MSU went 4-1 with the lone loss coming in that controversial Arkansas game. He knows that his mistakes are magnified. Will he get impatient and force throws into tight windows? Will his protection hold up and give him the time he needs to operate? Will his experienced group of pass-catchers be a steadying presence?
Rogers' numbers are always going to get the Air Raid asterisk, so whether he's got All-SEC upside is in the eye of the beholder. But a more consistent version of Rogers could yield Leach's best team since 2018 Washington State.
Can MSU replace its 2 biggest offensive losses?
I love what MSU returns on offense with Rogers, Austin Williams, Jo'Quavious Marks, Dillon Johnson and Jaden Walley, who returns as the SEC's active leader in career receiving yards (people don't talk about that). Add to that the fact that MSU returns the majority of its offensive line starters and, in theory, the Air Raid should take another significant step forward and have one of the SEC's top offenses.
What's the holdup? MSU lost 2 immensely important pieces of that offensive equation with left tackle Charles Cross and leading receiver Makai Polk off to the NFL. With Polk, some might say that an Air Raid receiver is a dime a dozen and that he can be replaced easily. Don't underestimate what Polk brought to MSU in his 1 year in Leach's offense after transferring from Cal. He led all Power 5 receivers in catches, and 3 of MSU's pass plays that went for 40 yards came from Polk.
Even in an offense that's all about the short passing game, Polk showed an ability to stretch the field. Rogers trusted him to move the chains and occasionally burn a defense over the top. The guy caught 42 passes that went for at least 10 yards. Only 13 Power 5 receivers had more than that. Those shoes won't be easy to fill.
But the bigger personnel loss was Cross, who was selected No. 9 overall by the Seattle Seahawks in the 2022 NFL Draft. A huge reason the Air Raid took that Year 2 step was the improved play of Cross, who lived up to that 5-star hype and became a rock solid blind-side protector. We know that if you can't pass-protect in the Air Raid, teams can get home with a 3-man rush. Go ask MSU's 2020 squad about that.
That begs the question — who and how will MSU replace Cross? It's not like MSU can just kick over its right tackle starter because that starting spot is vacant, as well. Percy Lewis came to MSU as the No. 3 JUCO offensive tackle, and he's been competing with Kwatrivous Johnson, who started 8 games at right guard in 2021. Johnson has 2 years worth of experience pass-protecting in the Air Raid, though obviously that's a different task when it means lining up against SEC edge rushers like Will Anderson, BJ Ojulari and Derick Hall.
It's hard to imagine that either player steps in and takes care of the left side like Cross did. If there's anything that can keep MSU stuck in neutral, that's it.
Zach Arnett's defense is going to be better than you think
So MSU's defense:
A) Ranked No. 3 in the SEC in run defense
B) Returns 84% of last year's production
C) Added 4 Power 5 transfers to the defensive backfield
D) Is entering Year 3 in Zach Arnett's defense
E) All the above
It's "E." It's always "E."
If you're new to the Arnett bandwagon, welcome aboard. There's plenty of room. There's also plenty of hope that his defense won't be put in such tough spots with an inconsistent offense that has unpredictable droughts. Yes, I say that even while acknowledging that in 20 years as a head coach, Leach's teams had a top-30 defense just once.
Here's the list of Leach's best defenses as a head coach:
2000 Texas Tech: 21.4 PPG allowed (No. 39 in FBS)
2001 Texas Tech: 23.4 PPG allowed (No. 43 in FBS)
2005 Texas Tech: 18.8 PPG allowed (No. 19 in FBS)
2009 Texas Tech: 22.5 PPG allowed (No. 41 in FBS)
2018 Washington State: 23.3 PPG allowed (No. 42 in FBS)
I'll be surprised if this year's group doesn't crack that pretty pedestrian top 5. Why? I'm a Jett Johnson believer. His presence as the versatile, do-it-all linebacker in the middle of Arnett's defense was huge in 2021. With a full allotment of snaps, MSU's leading tackler should be one of the SEC's best linebackers by season's end. Emmanuel Forbes often gets lost in the shuffle when discussing the league's best corners, even though he excels as an outside corner and he's actually an impact player defending the run.
MSU's biggest defensive loss was Martin Emerson, who was one of the conference's top corners but he was also someone who could've fared better had the Bulldogs been able to rush the passer. That area should improve this year. MSU returns its entire 2-deep on the defensive line, and it should get a boost with Jordan Davis back after he was lost for 2021 with a torn ACL.
Mind you, that's a defensive front who already showed it could stuff the run. There's no reason why MSU shouldn't have one of the SEC's top defenses in 2022.
Game-by-game predictions
Week 1: vs. Memphis (W)
Revenge game? I guess if the bowl game taught us anything, it's that Leach is probably better off not thinking about revenge. Let's instead just call it a chance for MSU to show that it can avoid a repeat of last year's season-opening blunder against Louisiana Tech and flex a little earlier than the 4th quarter.
Week 2: at Arizona (W)
MSU lucked out on the timing of this one. Arizona is coming off a Year 1 in which it won just 1 game, and it hit the 20-point mark a whopping 3 times. Sure, this has the ingredients to be one of those head-scratching duds from MSU, but I'll instead bank on Rogers dicing up an Arizona defense coming off a dreadful season and in Game No. 2 with a new coordinator.
Week 3: at LSU (W)
On one hand, LSU's first SEC game of the Brian Kelly era should yield a raucous atmosphere. BJ Ojulari and Ali Gaye should have a nice advantage off the edge, too. But Rogers, similar to his showing at Auburn last year, puts on his cape and leads MSU back after a slow start. MSU's stuffs LSU's ground game, forcing a slew of 3-and-outs late. A 2-touchdown LSU lead turns into a frustrating reminder for the home crowd that it'll take 60 minutes to win any SEC West game in 2022.
Week 4: vs. Bowling Green (W)
Fun fact: Bowling Green is No. 1 in the country in percentage of returning production. Another fun fact? The Falcons are searching for their first bowl berth in 7 years, which was also the last time they had a top-80 offense. A slow start is possible on the heels of 2 road games, but MSU puts this one away by the middle of the third quarter.
Week 5: vs. Texas A&M (L)
There's a world in which Devon Achane gets contained by the MSU front and A&M is forced to make crucial third-down conversions through the air. But the danger of Achane is that it only takes a small crease for him to do his damage. A long Achane touchdown quiets the cowbells and Rogers' comeback bid comes up short when Antonio Johnson steps in front of a pass over the middle.
Week 6: vs. Arkansas (W)
This has quietly been a phenomenal rivalry since Sam Pittman and Leach began at their respective jobs. We had 2 highly competitive games, both of which were won by the Hogs. However, MSU gets the better of Arkansas this time. MSU's experienced defense has the answer to slow down that Arkansas ground game and it's tough sledding for AJ Green and Dominique Johnson. Rogers takes a page out of KJ Jefferson's playbook and delivers a late touchdown drive to pull out a back-and-forth thriller. Call it an Alabama hangover for Arkansas, but what this will show is that the No. 2 spot in the SEC West is truly up for grabs.
Week 7: at Kentucky (L)
MSU hasn't won at Lexington since Dak Prescott was leading No. 1 MSU in 2014. It's been a minute. That's actually the last time that the road team won this matchup. Unlike last year when Kentucky looked totally overmatched against Rogers and the Air Raid, this time, it's Will Levis who steals the show late. Instead of forcing throws, he turns to his legs to keep drives alive. Kentucky controls the clock with the ground game and doesn't allow MSU to get in a rhythm like it did last year.
Week 8: at Alabama (L)
It's hard to look at what Alabama did in Starkville last year and think that MSU has a shot without Cross protecting Rogers' blindside. Of course, Will Anderson didn't really match up against the star MSU left tackle very much. But the Bulldogs are going to struggle against the teams who can consistently get pressure with 3-4 rushers. That'll be Alabama.
Week 9: Bye
Week 10: vs. Auburn (W)
Rogers delivered one of the top individual performances we saw all year in SEC play with a masterful comeback down 28-3 against Derek Mason, who refused to send additional pressure after the MSU quarterback started cooking. Mason is gone, but Rogers isn't. I could see a scenario in which Derick Hall makes his presence felt off the edge and Auburn puts Rogers in some tough down and distances. But even if he's not as precise as he was in last year's matchup, MSU's run defense should be one of the nation's best. They'll take that part of Auburn's offense away and force a suspect passing game into too many tough spots. A must-win game for Bryan Harsin comes up just short.
Week 11: vs. Georgia (L)
It's too bad for MSU that UGA could be coming off a stunning loss to Tennessee. Why? Since 2017, Kirby Smart is 7-1 coming off a loss with the lone blemish being that 2018 Sugar Bowl against Texas. That doesn't bode well for MSU trying to protect that Georgia front, which should have the advantage off the edge. UGA will lock down those swing passes that MSU uses as an extension of the running game, and we'll get a reminder that Smart's defense isn't at 2021 levels, but it's still loaded with talent.
Week 12: vs. East Tennessee State (W)
Could we see a decent amount of Sawyer Robertson? I'd hope. The former 4-star recruit took a redshirt year in 2021, so there won't be any concern about a 4-game threshold. That should be the only intrigue for this one with bowl eligibility already clinched.
Week 13: at Ole Miss (W)
I could give you the Xs and Os breakdown and talk about why I think MSU will force the Ole Miss passing game to do the heavy lifting and why that gives me some pause. Or I could just say that I don't think Leach is going to start 0-3 in Egg Bowls. That'd be an awfully tough thing to stomach considering how much personnel turnover Ole Miss is dealing with. Rogers locks into a rhythm early and delivers Leach his first Egg Bowl victory.
2022 projection: 8-4 (4-4), 4th in SEC West
#HailState
There's not much separation between teams 2 through 6 in the SEC West, and maybe even teams 2 through 7 if Auburn can figure out the quarterback position. MSU has the ability to sneak up on a whole lot of teams this year and get to a Florida bowl game.
It's hard to pencil the Bulldogs in for a 5-3 mark in SEC play just because their only winning season against the conference this century came in that historic 2014 season. But at the same time, if Rogers can be a touch more consistent and MSU's defense makes the next step into the top 30-40 nationally, what's to say a 9-win season is off the table?
In those 5 seasons when Leach had a top-50 defense, his teams averaged 8.4 wins. That included the most recent time in 2018 with Washington State when Gardner Minshew and his mustache took over the college football world. That's also the only time post-Texas Tech in which Leach finished as an AP Top 25 team. That's absolutely possible for this group.
Now would be a good time for Leach to show that he can take another step toward being MSU's long-term guy.