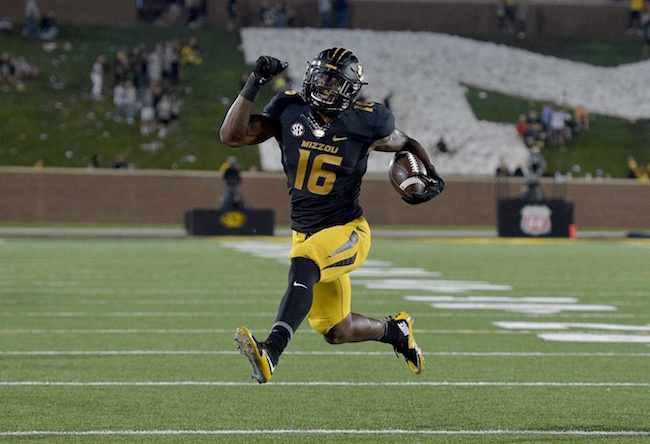 MIZZOU
5 reasons Mizzou will go bowling
Things aren't looking good for Missouri's bowl chances in 2016, to say the least.
After an embarrassing home loss to Middle Tennessee for homecoming last weekend, many fans have given up on playing into December this season.
However, though it's a long shot, don't count the Tigers out just yet.
With a schedule that still features Kentucky, South Carolina, Vanderbilt and a couple of tougher SEC opponents, not all hope is lost.
Mizzou has dug itself a deep hole to climb out of, no question, but here are five reasons the Tigers can still go bowling come December:
Barry Odom will be more involved in the defense
When Barry Odom ran the Missouri defense last season, it was one of the top defensive units in the nation.
As a first-year head coach, Odom has taken a more hands-off approach with the defense in order to spend time with some of the other units in practice.
However, that's led to the Tigers having one of the worst defenses in the nation under first-year coordinator DeMontie Cross.
Fortunately for Mizzou fans, Odom said this week that he'd be more involved with the defenders moving forward. That's especially necessary after the Tigers lost a pair of key defenders (LB Michael Scherer and DT Terry Beckner Jr.) to season-ending knee injuries against Middle Tennessee.
The defense can't get much worse, and having Odom more involved will likely help the maligned unit moving forward.
Arkansas has imploded
When the 2016 schedule came out, many Mizzou fans (myself included) had the Arkansas game marked as an automatic loss.
While that game (in Columbia) will still be a tough one to win, it's not as daunting as it once looked. The Razorbacks looked terrible against Auburn last weekend, allowing 543 rushing yards and 7 touchdowns on the ground in a 56-3 loss.
For the season, the Razorbacks are allowing a whopping 221.8 rushing yards per game, something the Tigers will need to take advantage of in the season-ending game on Saturday, Nov. 25.
Mizzou, on the other hand, has averaged 200.4 rushing yards per game this season and has been coming on strong as of late.
Speaking of the Mizzou running game, another big reason Mizzou can still make a bowl game is …
Damarea Crockett
Freshman RB Damarea Crockett has been a star for the Tigers so far in 2016. Through seven games, he has run for 546 yards and 7 touchdowns.
He's a bruising runner who has shiftiness and speed to go along with his power. The Tigers would be wise to continue feeding their talented young runner.
Crockett has the raw talent to be one of the best backs in college football in the coming years. It will be fun to see what he can do the rest of this season and into the future.
A key member of the secondary is back
Who knows what would have happened on Saturday against Middle Tennessee if nearly every Tiger defender didn't get hurt?
Fortunately, senior CB John Gibson, who missed all but one play against the Blue Raiders, will be back this weekend against Kentucky.
Gibson and fellow senior CB Aarion Penton form one of the SEC's best corner tandems and are incredibly important to the Mizzou defense.
Having Gibson back gives the Tigers a chance to slow down struggling Kentucky, Vanderbilt and South Carolina offenses.
The remaining strength of schedule is weak
Out of 14 SEC teams, the Tigers have the third-easiest remaining strength of schedule, according to ESPN's FPI rankings. Only Tennessee (No. 73) and Texas A&M (No. 66) have easier ends to their seasons than Mizzou (No. 56).
Mizzou has home games against Kentucky, Vanderbilt and Arkansas and road games at Tennessee and South Carolina remaining.
The Mizzou offense has looked somewhat competent against lesser opponents this season, so having an easier second-half schedule should keep the Tigers competitive.
Protecting Faurot Field for three games and picking up a road win against South Carolina is all that's needed for a 6-6 season and a bowl berth.
Again, the Tigers need to show more than we've seen so far this season to make a bowl game, but it's still not impossible.
To quote the great Lloyd Christmas in "Dumb & Dumber": "So you're telling me there's a chance?"
Yes, Lloyd, yes I am.
Mizzou and Kentucky are set to square off on Saturday at 11 a.m. Central Time at Faurot Field in Columbia. The SEC East showdown can be seen on the SEC Network.