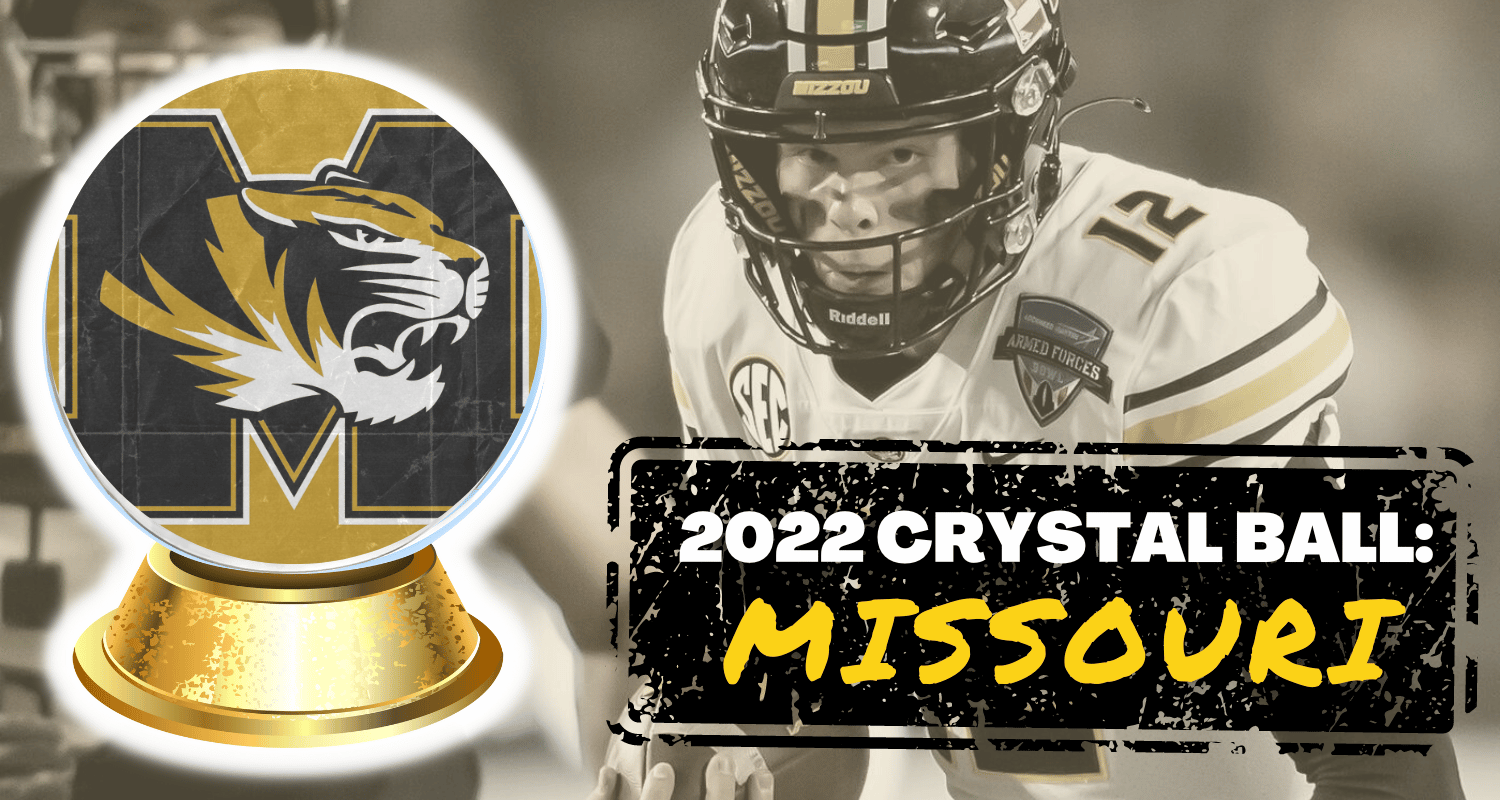 MIZZOU
The SDS Crystal Ball: Predicting every game for Mizzou football in 2022
Editor's note: Saturday Down South's annual Crystal Ball series continues today with Mizzou. Last week, we predicted every game for every SEC West team. This week, we'll predict every game for every SEC East team. You can find every preview here.
Are you glass half-empty or glass half-full? The answer to that question will probably determine how you felt about Year 2 of the Eli Drinkwitz era.
The glass half-empty person would say that Mizzou had a losing season that included a limited passing game (again) and losses to 6 of the 9 Power 5 teams on the schedule. Of those 6 losses, 4 were by at least 3 scores. They would add that the Steve Wilks hire led to Mizzou posting the nation's No. 113 defense and Year 2 of the Connor Bazelak experience in Drinkwitz's offense netted an average yards per attempt of just 6.7, which was No. 102 in FBS.
The glass half-full person would say that Mizzou got to a bowl game by virtue of winning 3 SEC East games in the latter half of the schedule, which included a walk-off win against Florida that sealed Dan Mullen's fate. That prompted a peak-Drinkwitz moment with a postgame "may the force be with you" line to poke at Mullen, who infamously showed up to his post-Mizzou press conference a year earlier rocking a Darth Vader costume on Halloween a couple of hours removed from starting a halftime brawl.
(Drinkwitz later admitted that he wouldn't have trolled had he known Mullen was about to get fired. Nonetheless, it was spectacular.)
Perspective is everything. You could say that going 56 minutes between touchdown drives and losing to a service academy in a bowl game was a tough look. You could say that Tyler Badie blossoming into a star post-Larry Rountree was a welcome sight during a year in which Mizzou had 3 starting quarterbacks (Tyler Macon started vs. Georgia).
Drinkwitz is 8-10 against SEC competition through 2 seasons. You could say that's mediocre. You could also go back to when he accepted the job after the 2019 season and say what an accomplishment it was that he beat Mullen and Ed Orgeron in his first 2 years on the job. Shoot, you could also point out what an encouraging sign it was that Drinkwitz signed the nation's No. 18 class, which was headlined by 5-star receiver Luther Burden.
Having said that, Mizzou was picked to finish 6th in the East. It'll have a new starting quarterback with Bazelak off to Indiana and it'll have a new workhorse back with Badie off to the NFL. Drinkwitz would love to show last year's athletic director hire Desiree Reed-Francois that he's worthy of a raise and a long-term extension.
Will he get that? And will Mizzou have a typical "rise above expectations" year? Let's break that down.
In Brady Cook, Mizzou trusts
If you were following the Mizzou quarterback situation in the offseason, you might've been convinced that a transfer would be Drinkwitz's option for QB1 in 2022. But whiffs on JT Daniels and Jayden Daniels meant that Drinkwitz's only transfer quarterback was 7th-year senior Jack Abraham, who spent the past 2 years as a depth guy in Mike Leach's quarterback room.
Cook started the bowl game and has the most experience in the offense. Ergo, Drinkwitz announced him as the starter early in fall camp. What we don't know about Cook is if he can establish himself as a reliable SEC starter and grow in the offense. We know he'll be more mobile than Bazelak, but can he stretch the field better than his predecessor? Bazelak only had 29 completions of 20 yards, which was 2 less than the struggling Zach Calzada.
Cook will have to provide something Mizzou hasn't had yet: a consistent downfield attack that can keep defenses honest. The good news for Cook is that he'll get to work with the aforementioned Burden and a healthy Mookie Cooper, who should provide some upside along with veterans Tauskie Dove and Barrett Banister.
The lingering question with Mizzou's quarterback play is about Burden. In an ideal world, Drinkwitz's passing game would rise above mediocrity and Burden would become an immediate star. But in this current world, there's a path for another frustrating year generating downfield yards, which could lead to teams tampering with the 5-star freshman receiver, who had offers from everyone under the sun.
Cook surpassing some conservative expectations would be as positive a development as any in Columbia.
The Tyler Badie absence
Man, I didn't see that coming. The pass-catching, change-of-pace back turned into a 3-down back unlike any in the SEC. What do I mean by that? He averaged 3 more carries than anyone in the SEC (22.3) and he racked up 27 more rushing yards per contest than any SEC player. On top of that, the guy caught 13 more passes than any player on Mizzou's roster.
So the guy who averaged 26.8 scrimmage touches per game is gone, which is a big reason Mizzou ranks No. 105 in percentage of returning offensive production. Should we assume that for a third year in a row, Drinkwitz will roll with a bell-cow back who dominates the touches? It's possible.
What's becoming likely is that goes to a transfer addition. Truman State transfer Cody Schrader could be RB1 to start off the year with Stanford transfer Nate Peat also vying for that workload. Peat also provides value in special teams, so it's possible that Schrader gets first crack to become the next 200-carry guy in Drinkwitz's offense.
It's probably unfair to assume that either one of them will emerge as a legitimate All-SEC back the way that Rountree and Badie did in Drinkwitz's offense, but clearly, ground game scheming is a strength that'll benefit this new group of Mizzou backs.
Steve Wilks' defense didn't work, but will the 3rd DC in as many seasons?
Last year, Wilks came from the NFL ranks and preached an aggressive style that was going to be all about turnovers. The good news? Mizzou forced 15 turnovers, which was tied for No. 5 in the SEC. The bad news? Mizzou didn't have a top-100 scoring defense and it took a late-season improvement against the run just for Mizzou to not finish dead last in FBS in that department.
Wilks is now back in the NFL, and Blake Baker is the program's 3rd defensive coordinator in as many years. That's not ideal. Fortunately, though, Isaiah McGuire and Trajan Jeffcoat return for a veteran defensive line, which should be better both against the run and getting to the quarterback. Mizzou improving on 3rd down, where it ranked No. 109 in FBS, is a must if this group will take a step forward. Returning a lockdown corner like Kris Abrams-Draine will help, as well.
Baker's 4-2-5 took an early-season hit with Mizzou losing a pair of backup linebackers to season-ending injuries. The goal will be to try and get back to the Barry Odom defense that helped Mizzou stay competitive against elite SEC offenses. Mizzou has yet to finish with a top-80 defense under Drinkwitz.
Now would be a good time to start.
Game-by-game predictions
Week 1: vs. Louisiana Tech (W)
Former Georgia walk-on Matthew Downing is Louisiana Tech's starting quarterback. Last I checked, former walk-on Georgia quarterbacks have a little juice to 'em. We watched Tech nearly knock off MSU in Starkville to kick off 2021, so don't sleep on that possibility here. But with a new coaching staff, I don't expect La. Tech's defense to be a model of perfection slowing down the Mizzou ground game.
Week 2: at Kansas State (W)
This would be a pretty significant upset considering what Kansas State does well (run the ball with Deuce Vaughn) and what Mizzou didn't do well in 2021 (stop the run in any capacity). So what fuels Mizzou? Turnovers. Nebraska transfer Adrian Martinez inexplicably goes after Abrams-Draine, who makes him pay twice, once with a pick-6. On a day in which Mizzou's offense is held in check and out-gained significantly, it finds a way to win by cashing in on those red-zone opportunities and playing a bend-don't-break defense. Somehow, Mizzou takes down its former Big 12 foe.
Week 3: vs. Abilene Christian (W)
I'm dubbing this one the "Sam Horn overreaction game." As in, the true freshman gets 1 series to close the game and maybe he attempts 1 pass that we dissect heading into 2023. Tigers cruise.
Week 4: at Auburn (L)
Whenever I think of the random possibility of Mizzou and Auburn playing, I recall the glorious 2013 SEC Championship. I'm pretty sure Tre Mason just scored another touchdown. However, this one (probably) won't have a combined 101 points. Mizzou's ability to protect Cook will be tested against an edge rusher like Derick Hall, but this is more about Auburn being able to control the line of scrimmage with the rushing attack. The home Tigers win comfortably.
Week 5: vs. Georgia (L)
Last year against Mizzou, it felt like Stetson Bennett really flashed a different level of confidence. Against a Mizzou secondary that liked to take some chances, Bennett stretched the field at a high level. I expect that to happen again. This time, it's Ladd McConkey and AD Mitchell who are on the receiving ends of long touchdowns off play-action. Drinkwitz busts out a couple of trick plays, but nothing fools the UGA defense. Mizzou struggles in obvious passing situations and UGA wins by 4 scores for the 5th time in the past 6 seasons.
Week 6: at Florida (L)
This will be the first time Florida fans really appreciate just how valuable it was for Billy Napier to bring over O'Cyrus Torrence and Johnson from Louisiana. Mizzou's run defense is improved with the underrated McGuire, but it's still not quite able to stop a multi-faceted Florida ground game with Anthony Richardson. He successfully avoids Abrams-Draine and Florida avoids an 0-3 start to SEC play while Mizzou cannot.
Week 7: Bye
Week 8: vs. Vanderbilt (W)
Cook and Mike Wright operate similarly. Both have no problem making things happen when plays break down and while their arms aren't necessarily NFL-level, they can make defenses pay for loading the box. Both quarterbacks do most of their damage with their legs, and we get a fun back-and-forth that turns into a high-scoring affair. But for the first time in his college career, we see Cooper take over a game. He busts loose for 2 long touchdowns in the second half and Mizzou escapes Vandy's upset bid.
Week 9: at South Carolina (L)
A scrutinized Mizzou defensive line found its mojo against the Gamecocks last year. That battle is a bit more even this time around at Williams-Brice. Instead of forcing South Carolina into a 1-dimensional attack, Spencer Rattler uses his arm and his legs to burn the visiting Tigers. With Abrams-Draine draped all over Josh Vann, Rattler turns to Juice Wells and Jaheim Bell to move the chains and ultimately move South Carolina past Mizzou for a 2-score victory.
Week 10: vs. Kentucky (W)
Wait, what? Yep. Drinkwitz always has at least 1 Toby Keith game. It's his "how do you like me now?" game. It's always at home as an underdog, and it's always late in the season. That comes in a sleepy noon game against Kentucky. A week after the Kentucky offense clicked on all cylinders, it struggles to string together scoring drives. Burden's breakout moment comes by way of a 50-50 ball that he snatches for a long touchdown to put Kentucky on upset alert. Just like in UK's loss to the Vols, the comeback bid comes up short. Drinkwitz earns his best win of 2022.
Week 11: at Tennessee (L)
Abrams-Draine vs. Cedric Tillman should be a phenomenal 1-on-1 matchup. The problem for Mizzou is that Hendon Hooker is more than capable of working through his progressions and finding other weapons like Jalin Hyatt and Bru McCoy (who I assume will be eligible by this point of the year?). This game was so lopsided in Columbia last year — it was over at the end of the first quarter — that with so many of those pieces returning on the Tennessee offense, I can't fathom a turnaround that drastic. An experienced Tennessee offensive line wins the battle up front and gives Mizzou a reality check coming off the Kentucky victory.
Week 12: vs. New Mexico State (W)
Fun fact: Jerry Kill is New Mexico State's new coach. Another fun fact: New Mexico State's last victory against a Power 5 team came in 2012. It was against Minnesota, who was coached by Kill. How does that impact this game? It doesn't. I just thought that'd be a more entertaining nugget than simply saying "Mizzou by 40."
Week 13: vs. Arkansas (L)
Another Odom revenge game against Mizzou? Yep. In a lights-out performance by Arkansas' defense, SEC transfers Latavious Brini and Dwight McGlothern both step in front of a Cook pass and turn this into a lopsided affair. Mizzou's run defense improves, but not enough to prevent the Hogs from capitalizing on some short fields to spoil Senior Day in Columbia.
2022 projection: 6-6 (2-6), 6th in SEC East
#NewZou
Again, this goes back to our original question. Are you glass half-empty or glass half-full?
If you're the former, you're probably looking at that 2-6 mark in SEC play and wondering what the future is if that's realistic in Year 3. If you're the latter, you're probably saying that Mizzou beating Kansas State and Kentucky with potential for a 7th win is a positive, especially with Drinkwitz recruiting the way he is.
Perspective is everything. There's a decent chance that Mizzou is only favored in regular-season games against Louisiana Tech, Abilene Christian, Vandy and New Mexico State. What if those were the only games that the Tigers won and a postseason berth wasn't in the cards? Would it be time to bail on Drinkwitz?
Probably not, though as I pointed out earlier, he's in search of an extension and he no longer is working under the athletic director who hired him. Along with the Burden storyline and the desire to attract more talent at the quarterback position, there should be a sense of urgency. It's not that the clock is ticking. It's that Drinkwitz is in danger of watching the division get deeper and more established with its current group of head coaches.
It's no longer realistic to assume that Mizzou's upside is reaching Atlanta. The sport has changed drastically since 2014 when talent acquisition wasn't what it is today. Mizzou has a pivotal year ahead.
The more Toby Keith games, the better.