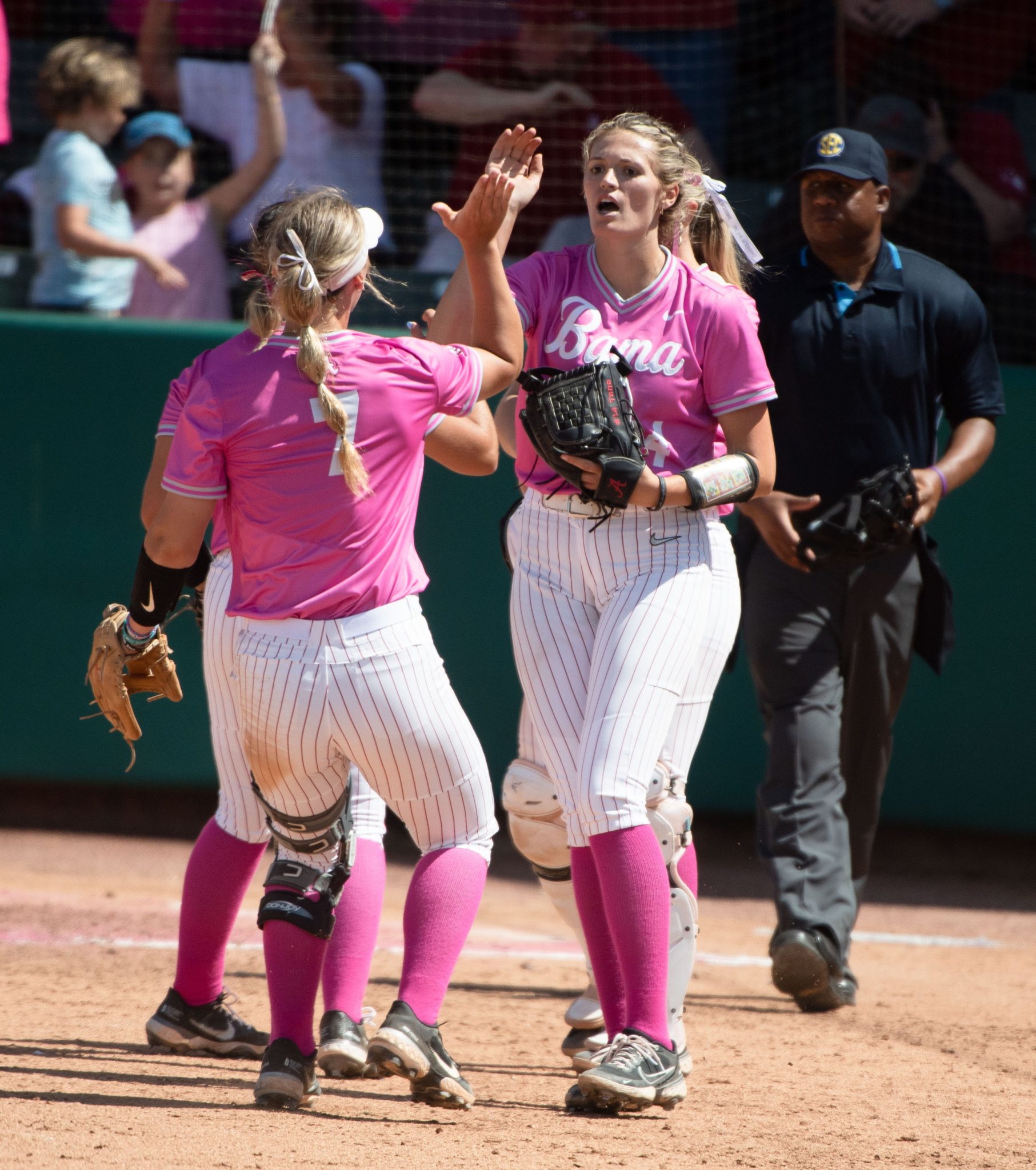 SOFTBALL
SEC Softball Tournament: 7 stars you have to watch
The SEC softball tournament begins with the first game Tuesday and runs through Saturday in Gainsville, Fla. Games Tuesday through Thursday can be seen on the SEC Network, with Friday's semifinals and Saturday's championship game, scheduled for 5 p.m., to be televised by ESPN2.
Nine of the 13 teams (Vanderbilt does not field a softball team) are ranked in the Top 25, 7 of those among the top 16 teams, making this year's tournament truly up for grabs. No. 6 Alabama is the defending tournament champion and last week, No. 5 Arkansas clinched the regular-season title.
Parity should make this one of the more competitive tournaments in recent years. That, and some incredibly talented athletes who should not go unnoticed. Here are but 7 of those, who you absolutely should not miss.
1. Montana Fouts, P, Alabama
The face of SEC softball, if not in the college game nationally, Fouts finished the season with a flourish after struggling a bit based on her usual standards. But when you're good enough as a 6th-grader to play on the varsity and post a 0.09 ERA with a 37-1 record in your senior year at East Carter High School, in Grayson, KY., there isn't a whole lot of room for error after that.
No, for any other pitcher a 22-5 record with a 1.97 ERA would be outstanding. But Fouts isn't any other pitcher. Not by a long shot. As a freshman at Alabama she won 21 games (21-6) and posted a 1.39 ERA, and then last season won 27 games (27-4) with a 1.61 ERA.
So, when her ERA rose above the 2.00 mark, that raised some eyebrows. But it's back under that now, after allowing 3 earned runs in 17 2/3 innings last weekend against Missouri. Fouts struck out 26 batters in the series, too.
Fouts led the SEC with 254 strikeouts in 159 2/3 innings. She's the reason Alabama led the SEC in team ERA (2.25).
She's 1 of 6 SEC players named to the Top 25 finalists for College Softball Player of the Year.
2. Mia Davidson, C, Mississippi State
If you like watching home runs, this is the player to keep your eyes on. If you like majestic, towering, no-doubters, Davidson fits the bill. The Bulldogs' catcher led the SEC in homers with 21. And they're not the cheap ones that just barely clear the fence, either. Davidson's blasts clear scoreboards and entire ballparks.
Her .935 slugging percentage, and .574 on-base percentage are among the tops in the SEC.
And she can play her position. Deceptively quick out of her crouch behind the plate, Davidson can pounce on anything in her area.
Davidson was recently drafted to play professional softball with Athletes Unlimited.
3. Skylar Wallace, 2B, Florida
The Gators' leadoff hitter really sets the table for an offense that has had to manufacture runs this season. She's played a huge role in that regard. The redshirt junior recently broke the team record for stolen bases in a season with her 37th steal. She finished the regular season with 46.
With a .559 on-base percentage, Wallace has had plenty of opportunities to showcase her baserunning skills. The redshirt junior is rarely denied, thrown out just 4 times this season. And that has translated into run production. Wallace led the SEC in runs scored (65).
4. Danielle Gibson, 1B, Arkansas
Want special? Gibson nearly won the Triple Crown in the SEC.
She led the SEC in hitting (.446), finished tied for 3rd in home runs (18) and and tied for the lead in RBIs (62, with teammate Linnie Malkin).
He homered in her final 2 games of the regular season, finishing a 3-game series against Texas A&M with 8 RBIs. That matched her best series of the year.
Gibson also was named as a Top 25 finalist for the 2022 USA Softball College Player of the Year.
5. Haley Lee, 1B Texas A&M
The Aggies' leadoff hitter also sets the table. She hit .427. Among qualified hitters, Lee trailed only Arkansas' Danielle Gibson (.446), another of the stars too numerous to mention in the conference. Gibson
Lee also was named, for the second consecutive year, as a Top 25 Finalist for the 2022 USA Softball Collegiate Player of the Year.
6. Maddie Penta, P, Auburn
Easily the best-kept secret in the SEC, Penta toils relentlessly in the shadows of Fouts when it comes to the spotlight in the circle. But that hasn't stopped the hard-throwing sophomore right-hander from a career year for the Tigers.
She led the SEC in wins (23) and ERA among pitchers with 75-plus innings of work (1.79), and finished 2nd to Fouts in strikeouts with 247.
7. Erin Coffel, SS, Kentucky
Meet the SEC's next great slugger.
After setting Kentucky's record for HRs by a freshman with 16 last season, Coffel one-upped that total as a sophomore. She finished the regular season with 17 homers, good for 6th in the league.
In 2 seasons, Coffel already is 8th on Kentucky's career home run list with 33.
At this pace, she'll eventually break Abbey Creek's program record of 61. No other Wildcat has topped 50.
Coffel is the SEC's youngest candidate among the Top 25 finalists for the national award.