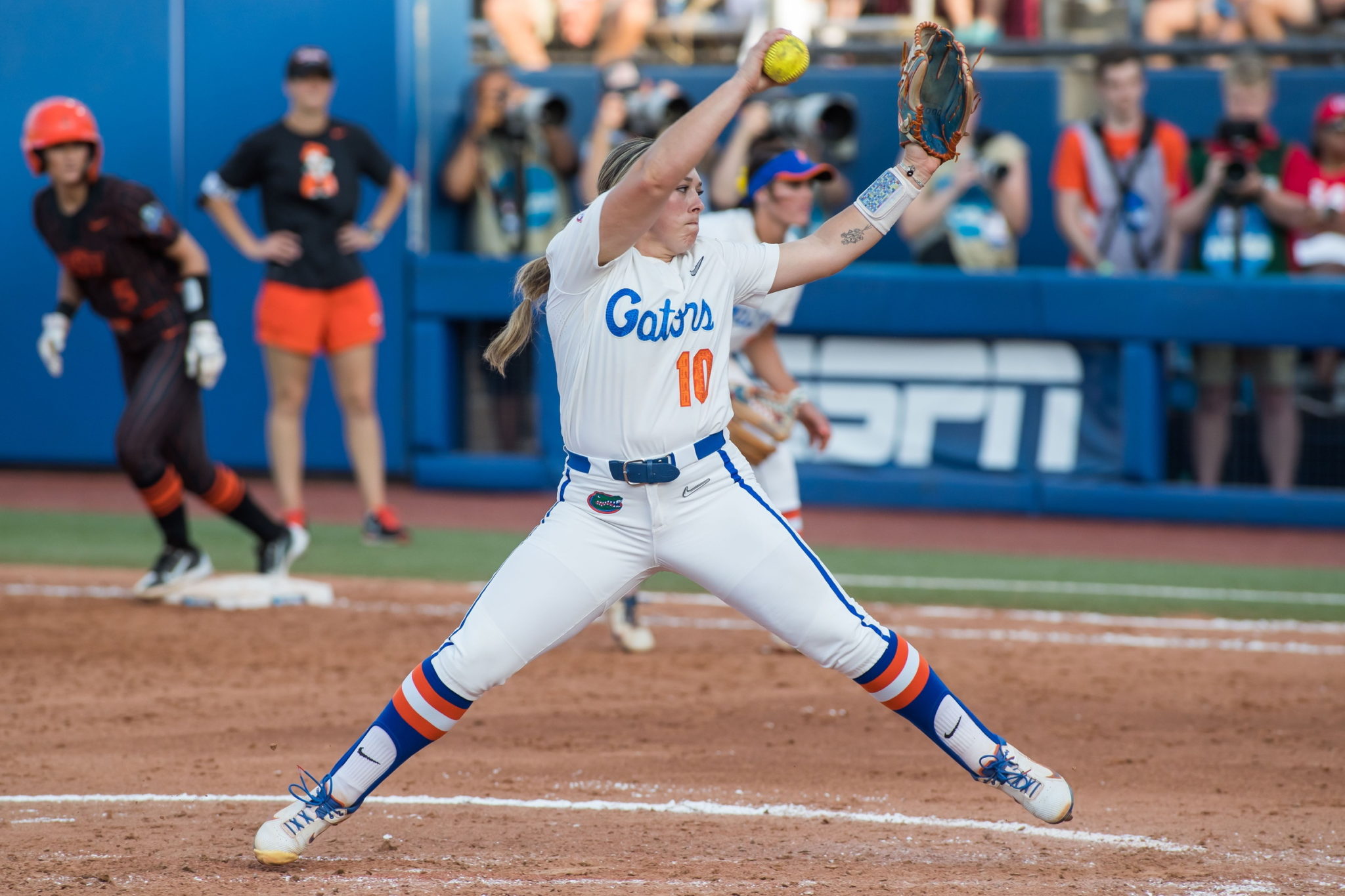 SOFTBALL
Women's College World Series: Gators' backs against the wall on Sunday
Florida could not solve Oklahoma State ace Kelly Maxwell and the Gators dropped a crucial 2-0 decision to the Cowgirls on Saturday, digging themselves into a huge hole moving forward at the Women's College World Series in Oklahoma City.
Maxwell (21-4) threw back-to-back complete games with a day of rest in between for just the 2nd time this season and 1st time since February. The Oklahoma State first-team All-American was up to the task on Saturday, handcuffing the Gators on just 3 hits while striking out 9.
It was a frustrating night at the plate for Florida. The Gators did not get a runner past 2nd base and were retired in order in 4 of the 7 innings.
It was unfortunate because the Gators wasted another brilliant relief effort from Natalie Lugo, who for the 2nd consecutive game came in with the bases loaded. And for the 2nd consecutive game, she stranded those inherited runners. Lugo went 3 innings on Saturday, allowing just 1 run on 2 hits, though she did walk 3 batters.
Rylee Trlicek made her first appearance since May 20 and retired both batters she faced, including a strikeout.
Florida transfer Julia Cottrill came back to haunt the Gators, collecting 3 of Oklahoma State's 6 hits. She figured in both of the Cowgirls' runs, scoring one and driving in the other to defeat her former team.
It was a battle of small ball proponents with Florida head coach Tim Walton facing former Gators' assistant Kenny Gajewski. They helped Florida to its only national championships, winning back-to-back in 2014-15 before Gajewski took over the Oklahoma State program in 2016.
Florida (49-18) vs. UCLA (49-9), 3 p.m. Sunday elimination game
The loss flipped Florida into the opposite side of the bracket where No. 1 Oklahoma awaits the winner of the Sunday matchup between the Gators and UCLA. That winner would then have to beat Oklahoma twice in order to advance to the WCWS finals. Oklahoma and Oklahoma State are the only undefeated teams left in the WCWS.
But first things first.
The Gators have got to get back to scratching and clawing their way to the scoreboard. They had been hitting above-.400 as a team and averaging just under 8 runs per game in the NCAA Tournament prior to Saturday's game.
And they'll have to do it against another first-team All-American pitcher in UCLA's Megan Faraimo (23-5), who not only tossed a complete game in a 6-1 elimination game win over Northwestern but also hit a home run.
In her previous start, however, Faraimo was touched up for 6 hits and 4 runs in a 7-2 loss to Texas. It was the only loss in her past 6 decisions. So, she can be had, but the Gators are going to have to get back to finding ways to reach safely and use their speed to cause havoc on the basepaths.
The last time Florida was shut out was to Virginia Tech in the first game of the Super Regionals. They bounced back, scoring 19 runs over the next 2 games to take that series and advance to the WCWS. A similar response will be needed if the Gators hope to continue on past Sunday.
The Gators have lost the past 4 meetings to UCLA, but they have not met since February 2020.
It is an uphill climb to be sure that these scrappy Gators now face after Saturday's loss. But they've bounced back well all season. They are 4-1 in games after being shut out. The Gators have not lost back-to-back games since being swept by Arkansas April 22-24.
Win on Sunday and the Gators can then begin to think about doing the impossible.