NFL
Jalen Hurts, DeVonta Smith Super Bowl LVII Underdog fantasy over/under picks
Jalen Hurts, DeVonta Smith and the Philadelphia Eagles will square off against Patrick Mahomes and the Kansas City Chiefs in Super Bowl LVII on Sunday, Feb. 12.
Hurts and Smith are both former Alabama stars, with Hurts winning a national title with the Crimson Tide in 2017 and Smith winning one in 2020. Smith also won the Heisman Trophy in 2020.
Super Bowl LVII is set to kick off in Glendale, Arizona, on Feb. 12 at 6:30 p.m. Eastern time on FOX.
Over at Underdog, there are ways to get in on the action by making fantasy player over/under picks for the Super Bowl.
What is Underdog and why should fans care?
Underdog Fantasy is a new daily fantasy platform backed by investors such as Mark Cuban, Kevin Durant and Adam Schefter.
Through Underdog's "Pick'em" contests, you can bundle a few selections of player prop picks similar to what you find at sportsbooks and put real money against those picks.
Underdog Fantasy is available in 41 states, so in a lot of states where sports betting isn't legal, you can do Underdog Fantasy picks for real money, as we're outlining here. It's really fun.
Underdog Fantasy is not available in the following states: CT, DE, HI, ID, IA, LA, MI, MT, NV.
Underdog is available in these states, but Pick'em contests as we outline here are not available: AZ, CO, MD, MO, NH, NJ, OH, PA, TN, WA, WV.
If you want to get started, Underdog will match your first deposit up to $100 by clicking here or using promo code SOUTH.
My picks for Super Bowl LVII
Let's start with the former Alabama stars on the Eagles. Jalen Hurts didn't look great against the San Francisco 49ers, completing 15 of his 25 passes for 121 yards, 0 touchdowns and 0 interceptions. He only threw for 154 yards and 2 scores the previous week against the New York Giants.
But that comes with a major caveat. The Eagles outscored those 2 opponents by a combined score of 69-14. Hurts simply didn't have to do much. Playing against the Chiefs will be a different story. He'll have to go toe-to-toe with Patrick Mahomes, which isn't easy, even with Mahomes' ankle injury.
Hurts' over/under is set at 244.5 passing yards. During the regular season, he eclipsed that total 5 times, so he's capable of doing it. He'll need to do it against the Chiefs, thus I like Hurts' "higher" option on 244.5 passing yards.
As for DeVonta Smith, his receiving yards over/under is set at 64.5. Like Hurts, he hasn't had to do much this postseason so far. But if the Super Bowl is a closer game, which I expect it to be, Smith should get more looks.
In his last 6 regular-season games, Smith eclipsed the 65-yard mark 5 times, including 4 100-yard performances. Therefore, I like the "higher" option on Smith's 64.5 receiving yards total.
At Underdog, you have to pick at least 1 player from each team to make a bet legitimate, so let's talk about Mahomes next to round things out. Mahomes was magnificent against the Cincinnati Bengals, throwing for 326 yards, 2 touchdowns and 0 interceptions.
But his ankle injury still concerns me. His over/under on rushing yards is set at 18.5. He has only run for 8 yards in each of his 2 playoff games while dealing with the injury. But even before his injury, he only ran for more than 18 yards in 2 of his final 6 regular-season games. Against Philly's historically great pass rush, I expect Mahomes to throw the ball away when he's in trouble rather than risking another tweak of that ankle. Take the "lower" option for Mahomes and 18.5 rushing yards.
How many picks should you make?
The more picks you string together, the higher the "multiplier" or payout. Of course, the more you string together, the less likely you are to win because all of the picks have to hit in order for you to win.
A 3-way parlay of the picks I listed above would pay out $60 on a $10 bet: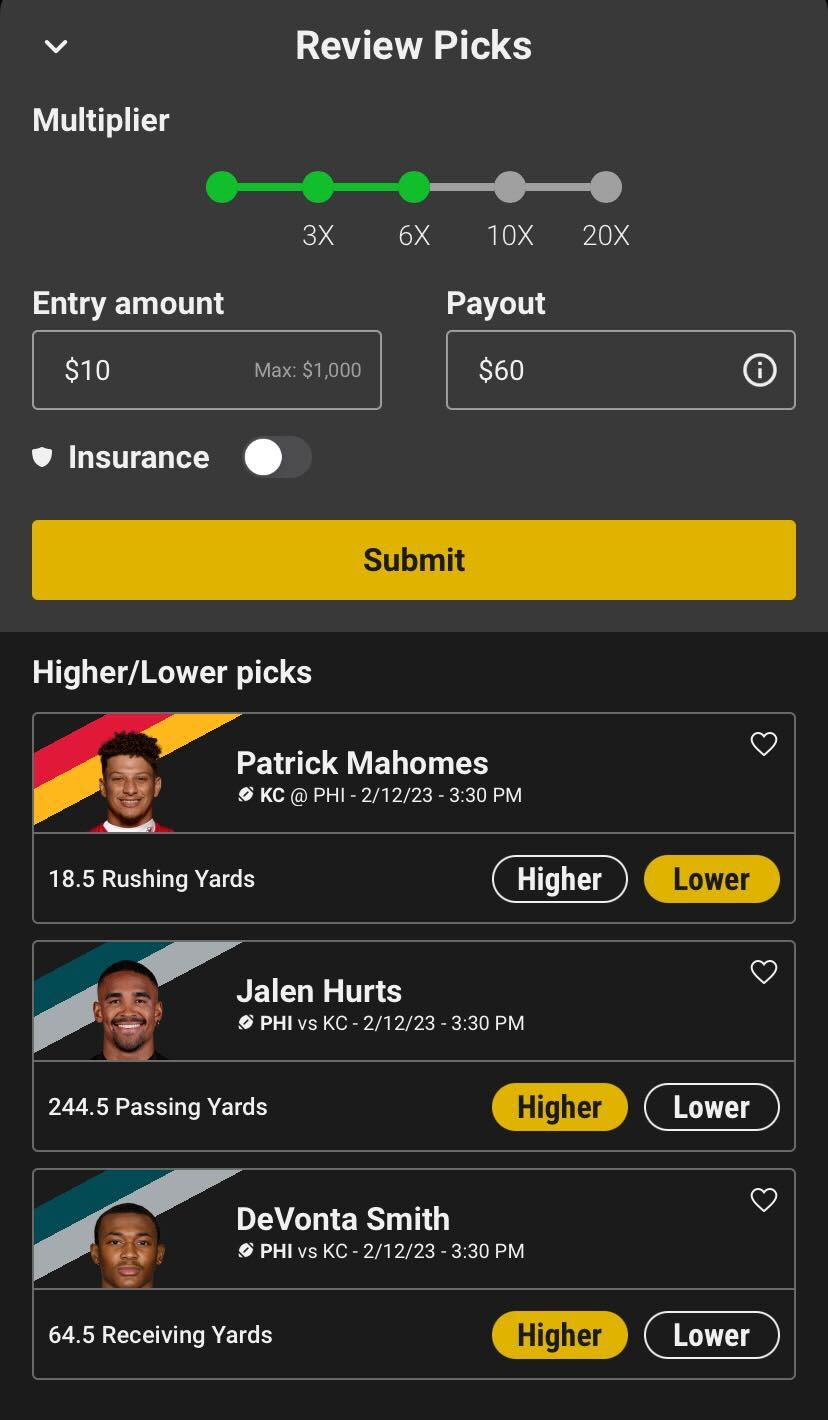 The Super Bowl is always one of the biggest gambling days of the year. Don't let your friends in states with legal sports betting have all the fun! Get your bets in before Sunday's big game.
Get started on Underdog by clicking here and make your picks for Super Bowl LVII or other CFB, CBB, NFL and NBA games. Using this link means Underdog will match your deposit up to $100. If you deposit $25, you'll get an extra $25 to start playing right away.