NFL
Los Angeles Chargers vs. Jacksonville Jaguars Underdog player over/under picks
Los Angeles Chargers vs. Jacksonville Jaguars is the Saturday night NFL wildcard round matchup.
The Chargers earned the No. 5 seed in the AFC playoffs, which is the top wildcard slot. The Jaguars were the No. 4 seed — the last of the AFC division winners.
The game in Jacksonville kicks off at 8:15 p.m. Eastern time on Saturday night and can be seen on NBC.
Over at Underdog, there are ways to get in on the action by making fantasy picks for the Chargers-Jaguars game's player over/under stats.
What is Underdog and why should SEC fans care?
Underdog is a new daily fantasy platform backed by investors such as Mark Cuban, Kevin Durant and Adam Schefter.
This isn't what you might think about fantasy sports though. Through Underdog's "Pick'em" contests, you can bundle a few selections of player prop picks similar to what you find at sportsbooks, and yes, you can put real money against these picks.
Underdog Fantasy is available in 41 states, so a lot of those southern "SEC" states where sports betting is not yet legal? Yep, you can do Underdog Fantasy picks for real money, as we're outlining here. It's really fun.
Underdog Fantasy is not available in the following states: CT, DE, HI, ID, IA, LA, MI, MT, NV.
Underdog is available in these states, but Pick'em contests as we outline here are not available: AZ, CO, MD, MO, NH, NJ, OH, PA, TN, WA, WV.
College sports Pick'em contests are available in these SEC states: AL, FL, GA, KY, SC, TX.
If you want to get started, Underdog will match your first deposit up to $100 by clicking here or using promo code SOUTH.
My picks for Los Angeles vs. Jacksonville
Let's start with the Chargers. Star RB Austin Ekeler hasn't been the rushing force he's been in years past, but he's still a very dangerous player with the ball in his hands. The Chargers will be favored to win this game and I do think they'll take care of business. That means Ekeler should get enough carries to amass at least 50 yards on the ground. Take Ekeler's "higher" option on 49.5 rushing yards.
For the Jaguars, I think QB Trevor Lawrence is going to have to air it out for his team to have a chance. That bodes well for both him and star WR Christian Kirk. Earlier this year in a win against the Chargers, Lawrence threw for 262 yards, and that game was in Los Angeles. Take Lawrence's "higher" option on 250.5 passing yards.
Similarly, Kirk had a big game against the Chargers, recording 6 catches for 72 yards and a touchdown. As the year has gone on, Kirk has developed his game even more. I like his "higher" option for 58.5 receiving yards.
How many picks should you make?
The more picks you string together, the higher the "multiplier" or payout. Of course, the more you string together, the less likely you are to win because all of the picks have to hit in order for you to win.
A 3-way parlay of the picks I listed above would pay out $60 on a $10 bet: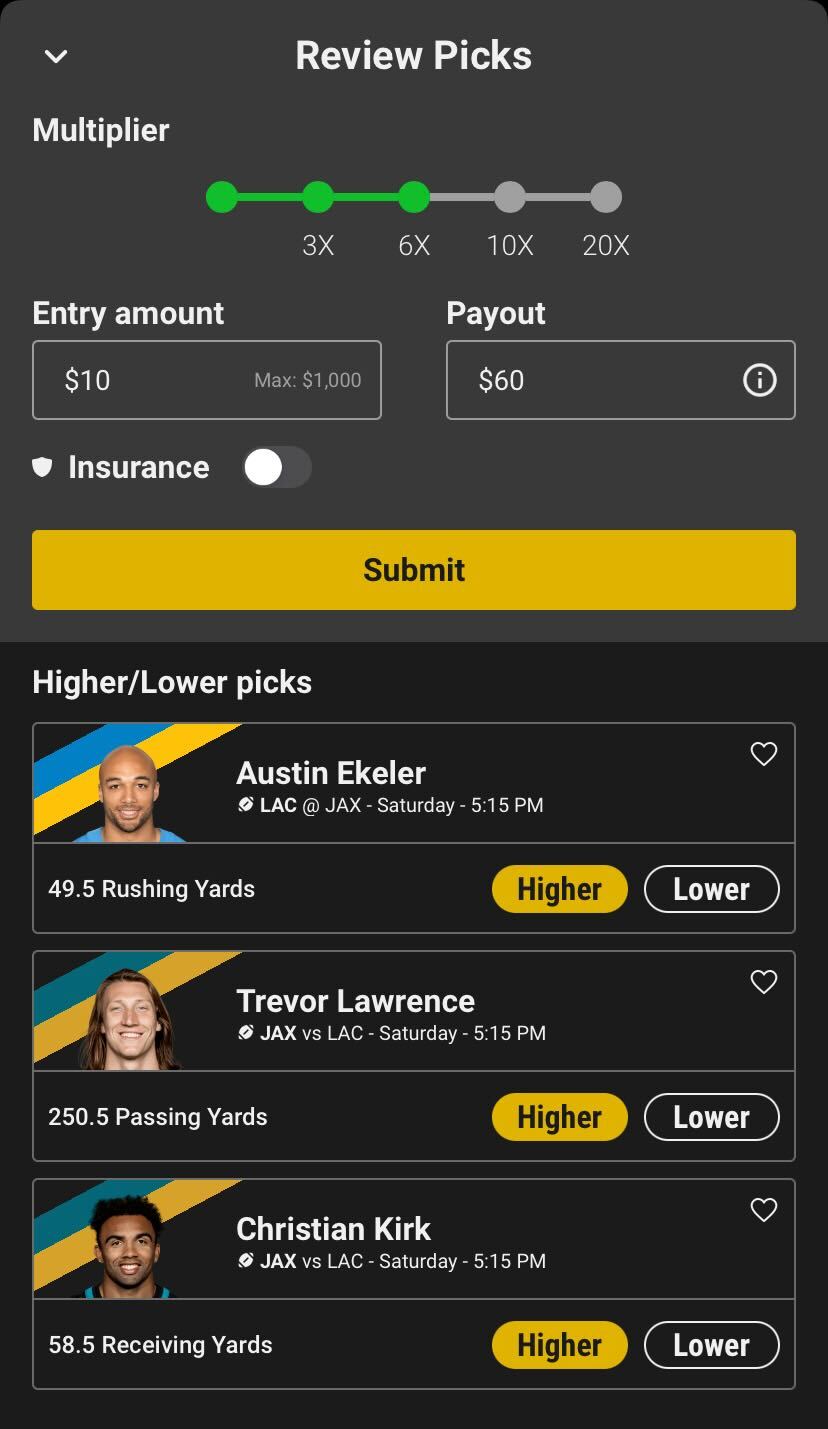 With Jacksonville having the home-field advantage, this could turn into one of the more interesting games of the wildcard round. Get in on the action before Saturday!
Get started on Underdog by clicking here and make your picks for Chargers-Jaguars action or other CFB, CBB, NFL and NBA games. Using this link means Underdog will match your deposit up to $100. If you deposit $25, you'll get an extra $25 to start playing right away.