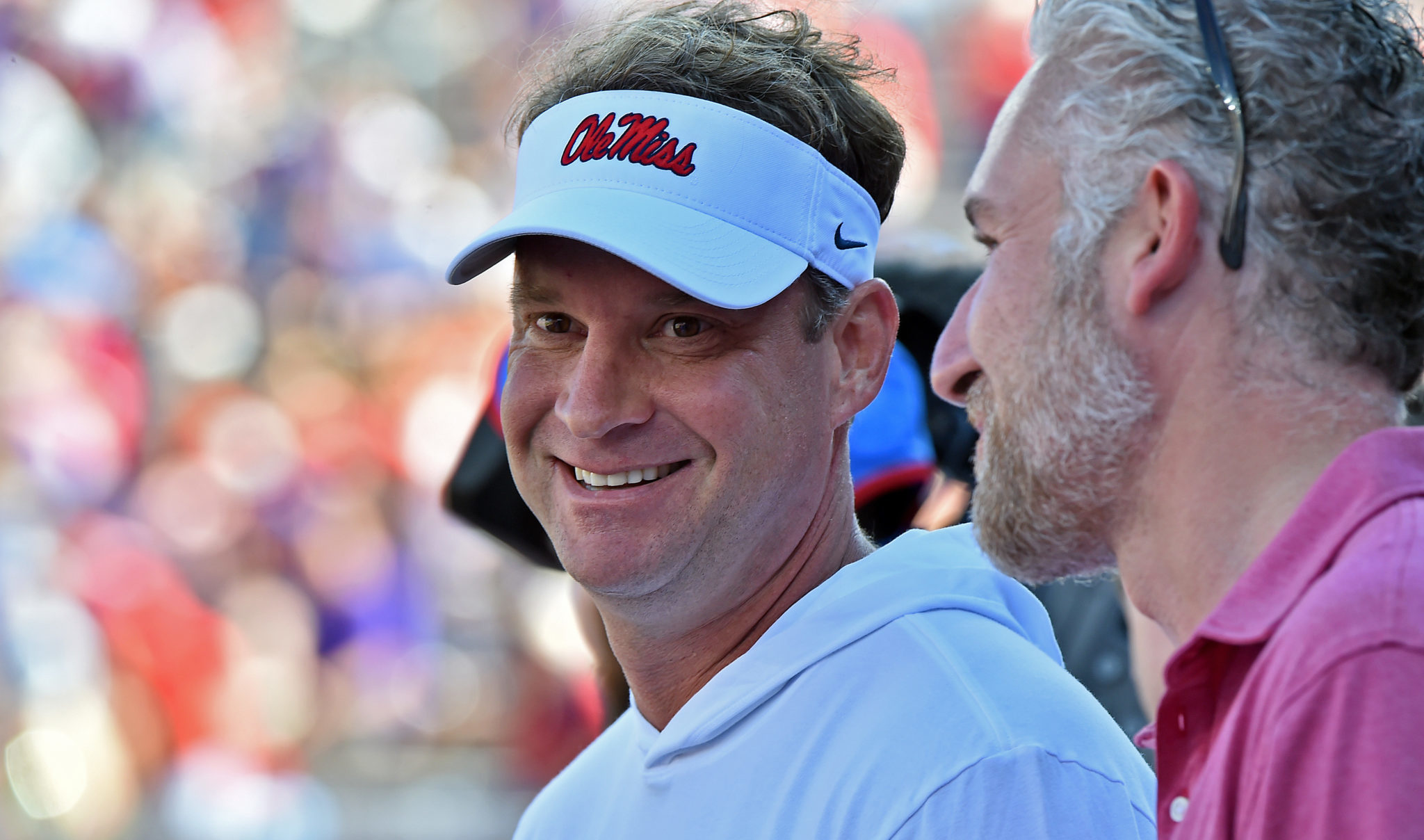 OLE MISS
7 way-too-early predictions for Ole Miss' offense in 2022:
Ole Miss has to replace the marquee figures from its outstanding offense of 2021.
The Rebels have lost 7 starters from a group that finished 6th in the country in total offense (492.5 yards per game) and 24th in scoring (33.7).
Quarterback Matt Corral has gone to the NFL. Gone too are running backs Jerrion Ealy and Snoop Conner as well as wide receivers Dontario Drummond and Braylon Sanders.
So coach Lane Kiffin has to replace several important skill players, though 3 starters return on the offensive line.
But Kiffin recruited one of the highest-rated transfer classes in the country and the Rebels should have a high-powered offense again next season.
Here are 7 way-too-early predictions for Ole Miss' offense in 2022:
1. Jaxson Dart will be the starting QB
The battle with Luke Altmyer to see who succeeds Corral will carry into preseason camp after neither gained separation in the spring. Both were hampered by the absence of several injured receivers.
Altmyer has limited playing experience but an edge over Dart in familiarity with Kiffin's offense.
Dart started 3 games at USC last season, throwing for 1,353 yards and 9 touchdowns. Once the quarterbacks are able to work with all their weapons, Dart will emerge as the better playmaker.
2. Interceptions will be an issue
The big concern about Dart with the Trojans was turnovers and that was also the case in the spring.
If he's going to win – and keep – the starting position, he'll have to improve his decision-making and ball placement.
The Rebels were spoiled by Corral's efficiency last season (just 5 of the team's interceptions, a dramatic improvement over his turnover-plagued 2020 season), which will be difficult to replicate – at least until the new quarterback gains more experience.
3. Michael Trigg will be an impact tight end
The Rebels have several candidates at tight end, including Casey Kelly, who had 17 catches for 150 yards and a touchdown last season.
Trigg played with Dart at USC last season, catching 7 passes for 109 yards and a touchdown in 6 games before being injured. His potential – he was a 4-star out of high school and No. 2 tight end in the transfer portal – and his familiarity with Dart and tight ends coach John David Baker, who recruited him to USC, will help him have an impact right away.
4. The wide receivers will be deeper
Last season Dontario Drummond was 6th in the SEC in receptions (76), 7th in receiving yards (1,028) and tied for 8th in touchdown catches (8). None of this year's receivers will match those numbers, but the ball will be more evenly distributed.
Jonathan Mingo (22-346-3 in 6 games) is the only returning starter, but Louisville transfer Jordan Watkins (35-529-4), Missouri transfer Jalen Knox, who sat out last year, and returnees Bralon Brown, Brandon Buckhaulter, Dannis Jackson and Jadon Jackson as well as others will also contribute.
5. Zach Evans will rush for 1,000 yards
Kiffin's offense showcases the running game. That won't change even after the backfield transformation.
Evans, a transfer from TCU, is a former 5-star recruit. He led the Horned Frogs with 684 rushing yards and scored 5 touchdowns despite playing in just 6 games before being injured in 2021.
He won't single-handedly replace the production of Ealy (768 yards) and Conner (647), but he'll pace the running game as a featured back for a rushing attack seeking its 3rd consecutive top-2 finish in the SEC.
6. The Rebels will average 5 yards per rush
Evans, who has averaged 7.3 yards per rush in 15 career games, will be the primary beneficiary of a talented, experienced and deep line.
As well as Ole Miss ran the ball last season (2nd in the SEC at 217.6 yards per game), it was just 10th in the SEC in yards per rush (4.81).
That average will improve behind a line that, even with the loss of starters Ben Brown and Orlando Umana, will thrive with Nick Broeker, Jeremy James, Caleb Warren and Western Kentucky transfer Mason Brooks leading the way.
7. The Rebels will score fewer points than they did last season
Ole Miss had excellent balance (No. 3 in rushing offense and No. 3 in passing offense in the SEC) in 2021, but its league-leading total offense translated into just the No. 4 scoring offense (33.7 points per game).
The Rebels will be well balanced again, but again it won't translate to as many points as Kiffin would prefer. The inexperience at quarterback and receiver will contribute to a slight drop in points, but Ole Miss will still average 30 per game.