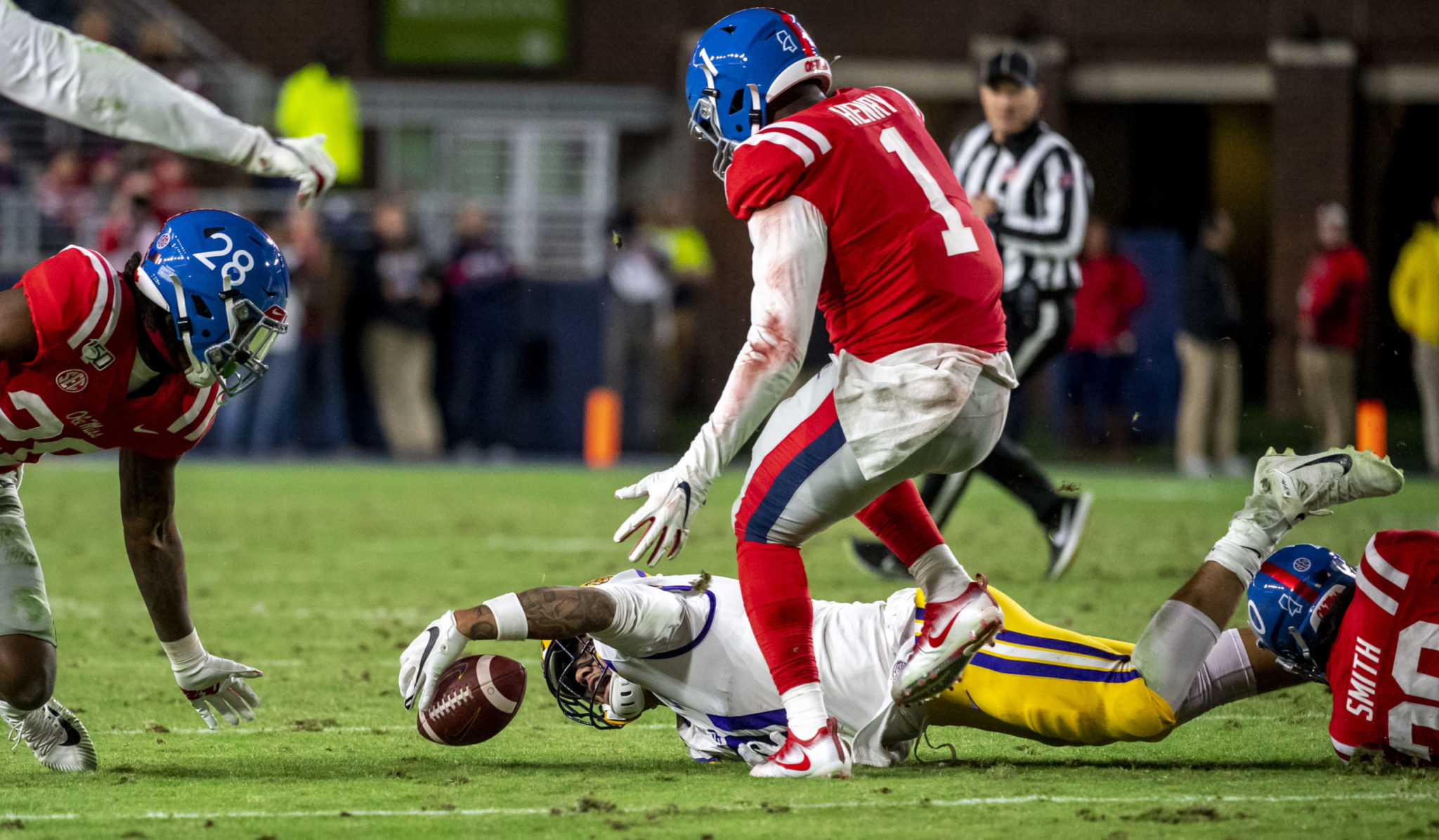 OLE MISS
Better or worse? Previewing Ole Miss' new-look defense in 2020
Editor's note: This is the 6th in a series previewing every SEC West team's defense. Next: Texas A&M.
Last year, the Ole Miss defense improved from one of the worst units in college football in 2018 to a serviceable group that gave the Rebels a chance to win games.
In former defensive coordinator Mike MacIntyre's only season in Oxford, his 3-4 scheme better fit a roster still replenishing talent from 3 recruiting cycles that left the defense devoid of quality players in 2017 and 2018.
Ole Miss ranked 83rd in the FBS with 401 yards allowed per game and 42nd in rush yards allowed at 138.5 per contest. The Rebels allowed 26.5 points per game. By comparison, under former defensive coordinator Wesley McGriff in 2018, Ole Miss allowed 36 points per game, 472 yards per game and 221 yards rushing.
The improvement under MacIntyre was dramatic and shined through the slog of a 4-8 campaign that led to a head coaching change. Now, under head coach Lane Kiffin, Ole Miss will enter the 2020 season with a different structural dynamic on defense, both in scheme and in administration. Co-defensive coordinators Chris Partridge and D.J. Durkin will implement a 4-3 scheme. How will it suit the personnel and where can one expect this group to be better and where might it regress?
Let's take a look.
Pressuring the quarterback: Worse
The defensive line is where Ole Miss loses the most off of last year's roster. Benito Jones, Josiah Coatney, Qaadir Sheppard, Austrian Robinson and Brenden Williams graduated, and Charles Wiley announced his intention to transfer.
The Rebels return their best pass rusher in Sam Williams, who led the team with 6 sacks last year. He a smooth athlete whose draft stock has a chance to soar, but it is the lack of depth and experience around Williams that is the cause for concern here. Ryder Anderson and Tariqious Tisdale return. On the surface, the Rebels should be able to generate an exterior pass rush between Williams and Anderson, but there isn't much depth behind them. Same goes for Tisdale on the interior. Losing Jones creates a huge hole and younger players like K.D. Hill and Quentin Bivens will be called into larger roles.
Ole Miss gets its leading tackler back in linebacker Lakia Henry and arguably its best player, fellow linebacker, Mohamed Sanogo returns from injury. How the linebacker position factors into the pass rush is difficult to forecast given the lack of knowledge about what this scheme will look like under Durkin and Partridge. The Rebels have a chance to be fine in this area, but there are a litany of questions to be answered.
Pass defense: better
Ole Miss possessed the worst pass defense in the SEC last season. Conventional wisdom would tell you it will improve in this area. Opponents threw for 263 yards per game on the Rebels. A young secondary really too its lumps and learned some tough lessons, but it did improve toward the end of the season and there is some young talent here. Veterans Keidron Smith and Jaylon Jones return. Safety Jon Haynes battled injuries last year and will presumably have a clean bill of health.
Deantre Prince and Jakorey Hawkins were two freshmen who were forced to play a lot of snaps due to injuries and poor play. Both are lengthy, athletic corners with a chance to develop into solid SEC defensive players. (Prince entered the transfer portal but appears to be staying even though he isn't listed on Ole Miss' roster.)
#NewProfilePic pic.twitter.com/CEqEnu91Xl

— Deantre Prince (@prince_deantre) May 5, 2020
Both gained valuable experience playing in all 12 games. Prince led the team with 2 interceptions last year. Haynes and Smith each had a pick, and Smith led the group with 8 pass breakups.
Ole Miss suffered from youth and injuries in its secondary last year and should expect to be much improved from last season.
Run defense: better
Ole Miss was actually a top 45 rush defense in the FBS last year, which doesn't sound like a sizable accomplishment, but given the fact it cut its yards per game number down by 62 yards from 2018 to 2019, it was the calling card of the improved defense.
As mentioned, the Rebels lost a good bit on the defensive line, including a run-stuffer in Benito Jones. But with what the unit returns at linebacker (its top 2 tacklers return in Henry and Jacquez Jones), Ole Miss has a chance to be as good or better in run defense.
It's difficult to project what this personnel will look like within the scheme without spring practice, and that might hurt the Rebels early on in the season. But the experience in the second level is abundant and there is enough talent on the interior defensive line to avoid a slip in production.
Special teams: better
Ole Miss returns punter Mac Brown, who averaged a shade under 45 yards per punt with a dozen boots over 50 yards. Field goal kicking was an atrocity for struggling kicker Luke Logan and the Rebels in 2019. The woes culminated in a missed extra point that cost them the Egg Bowl at the end of the season. Logan went 11-for-19 on field goals and was just 1-for-6 beyond 40 yards. Logan, a senior, will likely start the season with his job still in tact, mostly because Ole Miss does not have another kicker on the roster with game experience other than junior Casey Griffith on kickoffs. But it will be a short leash for Logan after last season's struggles.
Jerrion Ealy returned a kickoff for a touchdown and Elijah Moore will likely return punts again. Ole Miss averaged just 6 yards per punt return in 2019.
Overall: Better
If the Rebels can shore up their thin defensive line, the defense in its entirety will likely be better than it was a season ago. The secondary has experience and Ole Miss returns its top 3 linebackers. MacIntyre took a young defense and made it respectable. Durkin and Partridge inherit a more favorable situation and will be tasked with building off that foundation.