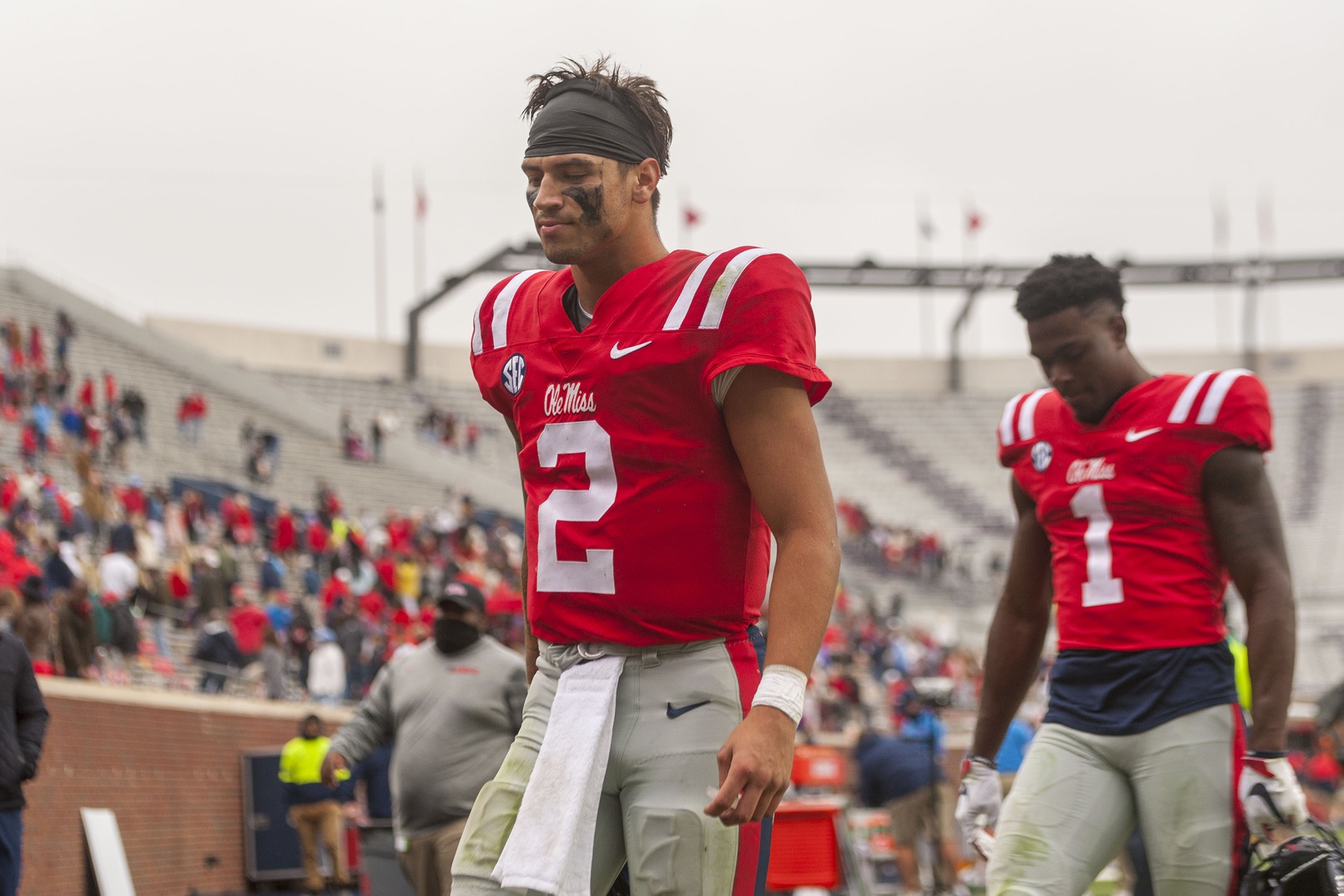 OLE MISS
Why I don't think we know Matt Corral's ceiling yet
When the way-too-early 2022 mock drafts came out and Matt Corral was nowhere to be found, there was a clear takeaway.
He has a ceiling.
At least that's what it appears the NFL Draft experts believe roughly a year ahead of when that sort of thing actually matters. Maybe a good chunk of that is the belief that a Lane Kiffin-Jeff Lebby system that schemed guys open left and right benefited Corral, and that someone barely on the right side of the 6-0, 200-pound line doesn't necessarily scream "no-doubter first-rounder." If he was already worthy of that buzz, perhaps he wouldn't have returned for a 4th year in Oxford.
NFL potential is certainly different than college potential. Ole Miss fans care much more about the latter, and in a weird way, they might actually prefer that their quarterback can play the "disrespect card" entering 2021.
What seems unfair to Corral is assuming we know exactly what his ceiling is. Or perhaps, it's unfair to assume that we've already seen his ceiling.
There's a better case to be made that Corral's college and pro potential will surpass what we saw in Year 1 in the Kiffin-Lebby offense.
Yes, part of that is the old "finally staying in the same system" deal. That's always well-documented. I'd argue that's a bit different for Corral, though.
Going from Matt Luke's offense to Rich Rodriguez's was a major shakeup in itself. Corral signed up to play in Luke's offense, and as underrated as he is as a runner (more on that later), John Rhys Plumlee was the better fit with RichRod because of his off-the-charts athleticism. A lack of progressional reads in the passing game paved the way for the true freshman to shine from the jump. Plumlee wasn't asked to throw 50-yard bombs. Stretching the field vertically wasn't a priority, and neither was establishing balance (Ole Miss was No. 9 in rushing and No. 102 in passing in 2019).
All of that changed with Kiffin and Lebby. When they took over, Corral admitted the offense frustrated him last spring. It was a different sense of frustration than missing the tight end in the seam against Cover 3 and getting a tongue-lashing from RichRod. The redshirt sophomore had a quarterback battle to win, and it didn't matter that it was his third offense in as many seasons. That's why Corral started 5:30 a.m. film sessions with Ole Miss grad assistant Matt Holecek.
They worked. Among Power 5 quarterbacks, Corral ranked:
No. 8 in rushing
No. 4 in passing yards
No. 4 in completion percentage
No. 4 in passing touchdowns
No. 4 in quarterback rating
No. 3 in yards per pass attempt
No. 3 in total yards
But wait, what about the fact that Corral led the nation in interceptions? Doesn't that show he's too mistake-prone?
A couple things on that. Corral made some awful mistakes. There's no denying that.
When Barry Odom only rushed 3 and Corral had to deal with 8 defenders in coverage, he looked like how I'd look trying to figure out quantum physics. His reads were virtually non-existent, and Arkansas looked like it had 20 players on the field. It was a learning experience for Corral, who finished with a quarterback rating above 200 in each of his first 3 games leading up to Arkansas.
The anti-Corral crowd will point to that 6-interception performance and the 5-interception game against LSU as a reason why his ceiling is limited. At times, he did what many quarterbacks in a new system would do. He pre-determined reads, he telegraphed throws and he tried to make the home-run play.
But to a certain extent, Corral deserves a bit of a pass on that. Play 9 games against SEC competition and you're bound to have a couple of clunkers. Now do that in an entirely new system after a spring that was cut short. Oh, and also play alongside a defense that can't get a stop and you're asked to hit 40 points week in, week out.
Now tell me this in regards to how those struggles relate to Corral's potential. Did he not make smart, progressional reads throughout the season? If accuracy were a major issue, the guy wouldn't have boasted a 71% completion percentage along with an extremely efficient 10.2 yards per attempt. Pro Football Focus also had him charted among the top 20 in the FBS when it came to negatively graded throw rate (that's good). If Corral suddenly started throwing multiple interceptions every game against drop-8 coverage after Arkansas, he would've been a classic case of a guy who got figured out once there was a book on him.
But that didn't happen because Corral adjusted. Over the next month post-Arkansas, he completed 77% of his passes, and contrary to popular belief, not all of those were this play:
The longest TD pass in @OleMissFB history!@corral_matt ➡ @e_moore03 ➕ @Lane_Kiffin's clipboard 📋🤣 pic.twitter.com/8ckWDGmluX

— SEC Network (@SECNetwork) November 15, 2020
That's probably the play of the year for Ole Miss in Year 1 of the Kiffin era. And as great as Elijah Moore was at getting separation in 2020, it would be foolish to diminish Corral's mechanical strides.
This is a great breakdown from PFF's Seth Galina to show how Corral used those skills to help scheme guys open himself and thrive with those progressional reads:
Since we all are in agreement that Matt Corral (PFF's 15th highest graded QB this year) is going to win the Heisman next year, I thought I'd get the hype train going with a breakdown of this beautiful deep throw where he manipulates the defense with his eyes and shoulders: pic.twitter.com/zS6nnGHSob

— seth galina (@pff_seth) December 2, 2020
Those are the types of things that get lost in the shuffle amidst the clipboard-throwing chaos that is Ole Miss' offense. That translates to improvement in 2021 and beyond.
Some of those mechanics fell apart in the LSU game that followed, but Corral made correctable mistakes. He telegraphed a quick out in press coverage to the far-side hash. He didn't sense back-side pressure when a play broke down. He forced a desperation jump ball on 3rd-and-12 that was a de-facto punt.
The 5 interceptions in Baton Rouge were well-documented. But what's always been evident about Corral even if he's not playing his best is that he never stops competing. After he threw those 5 picks, he led 4 consecutive touchdown drives. Once again, he adjusted. Corral was 7-for-10 for 120 yards (12.0 YPA) with 2 touchdown passes and he added 9 runs for 97 yards with a rushing score. Ole Miss nearly came back and won the shootout with a last-minute drive, but in a downpour, an LSU defender poked the ball out of Corral's arm on an attempted run when the pocket collapsed.
Say what you want about Corral. He had a couple of brutal games. He doesn't have the 6-5, 225-pound frame. His Week 1 Coolio hairstyle wasn't his best look. What cannot be denied is his competitiveness. That was evident in 2020 and it was evident when he would randomly enter 2019 games to get the passing game going (we need to talk more about his 2019 Egg Bowl brilliance).
That competitiveness combined with the ability to stretch the field and his mobility allowed for him to have that success in his third consecutive year in a new system.
That's the other thing worth discussing here — the mobility. You don't have to be Lamar Jackson to be considered "mobile," but it does seem like such a massive prerequisite at the next level. As we know from the never-ending Mac Jones pre-draft evaluations, there's a difference between mobility inside the pocket and mobility outside the pocket.
Corral has both. You can call designed runs for him and he can make teams pay when he's left unaccounted for after the play breaks down.
Matt Corral has wheels too! I'm not going to cut up everything, but he isn't afraid to run, even when he knows solid contact from LBs and safeties is coming. pic.twitter.com/JKaqApAtAw

— Luke Hutchinson (@LukeRHutchinson) May 3, 2021
That's why Corral's floor is high. Against LSU in that 5-interception game, he finished the night with 158 rushing yards on 17 carries in a 48-point effort. When he was struggling in the passing game early on against Auburn, he got the offense going with his legs and finished with 88 rushing yards and 2 scores.
So to recap, Corral has the legs and he has proven accuracy downfield. PFF had Corral ranked No. 5 in percentage of accurate throws on passes that traveled 10-plus yards. Corral and Brennan Armstrong are the only returning FBS quarterbacks with throwing and running grades of 76.0 or better (Mac Jones and Justin Fields were the only 2 others in that category in 2020).
When someone references a player with "unlimited" potential, it seems to reference that there's nothing holding them back. What's really holding Corral back? Not having Moore? It's unlikely that another Moore is on that roster, and his presence will be missed at times, especially when the play breaks down. But I don't know that it's fair to say that losing a receiver will outweigh having a normal offseason in the same system for the first time in Corral's career.
The better argument for why Corral's numbers could plateau or even regress could be related to the improvement of the Ole Miss defense. Assuming that experienced group isn't a total train wreck like it was for the majority of last season, Corral might not be required to hit 40 on a weekly basis. You could also spin that around and say that with less pressure on Corral to make plays, his mistakes on those desperation late-down situations will decrease.
When Corral made his announcement in early-December, he told Kiffin that he needed another year in Oxford. It was a different announcement than the previous December when Corral said that he wasn't transferring shortly after Kiffin was hired.
This December, nobody would be surprised if Corral announced that he was heading to the NFL (don't forget he'll have another year of eligibility left after this season). Perhaps by then, he'll be widely regarded as a first-round prospect and Ole Miss will be preparing for its first New Year's 6 Bowl of the Kiffin era. As long as Corral stays healthy, I could see both of those things happening.
What can't I see? Corral's ceiling.
At least not yet.