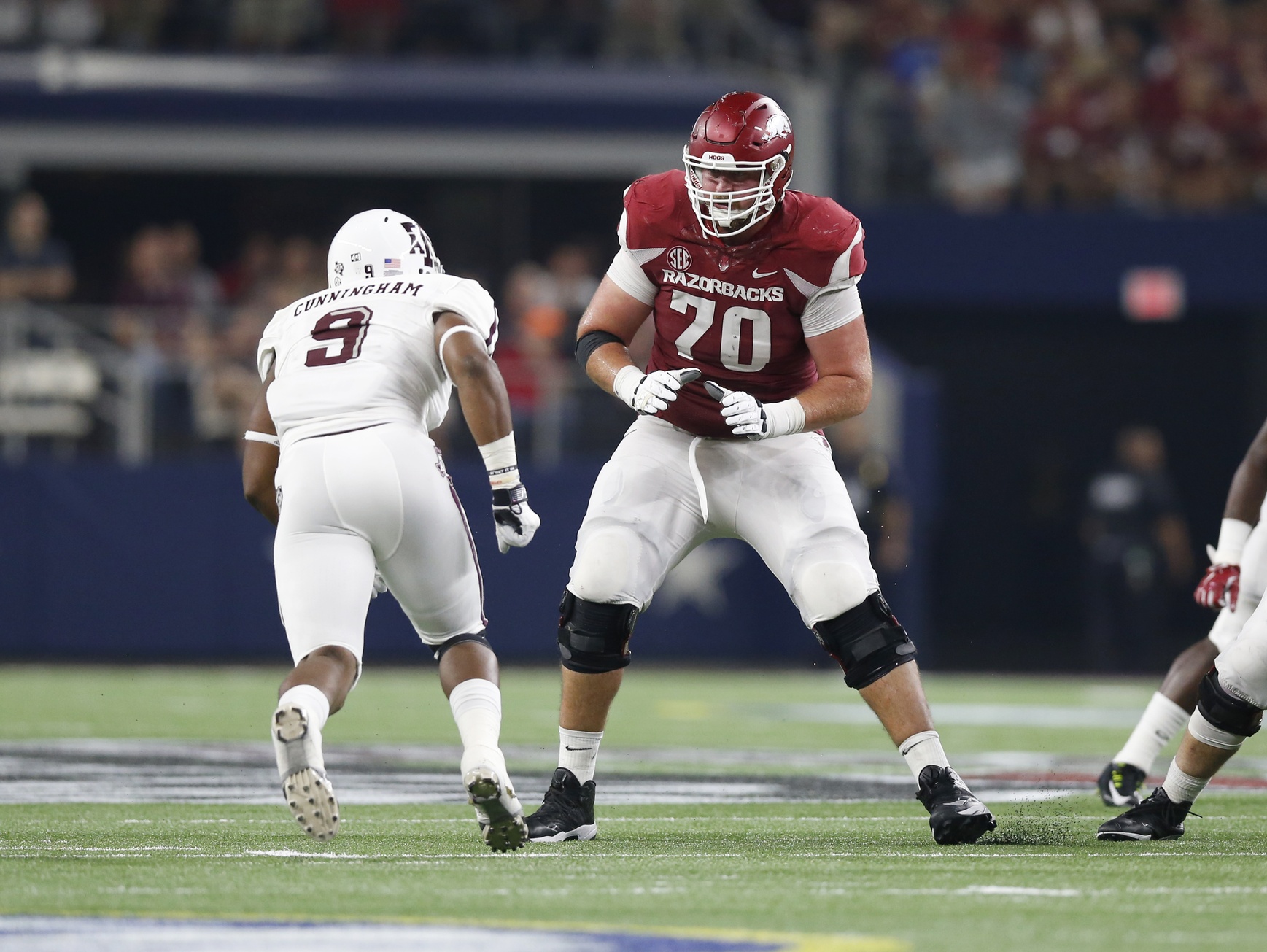 SEC
10 best offensive tackles in the SEC after spring practice
Back in January, we rated the top returning SEC offensive tackles and although there hasn't been a single game played since then, developments during spring ball — both on and off the field — tend to change those perceptions.
For example, who would have thought the top player on the list, super sophomore Cam Robinson of Alabama, would be arrested on drug and weapons charges? And how does his off-the-field trouble change the list?
One thing is for sure, it was a hard list to pick. If an established player like Robinson wasn't getting in trouble off the field, he's battling injuries (like Vanderbilt's Andrew Jelks and Tennessee's Chance Hall). Then, you have a player like Florida's Martez Ivey, who came out of high school projected to be the next big thing at offensive tackle but currently is a returning starter at guard who missed the spring with injury.
Movement on the list has been because of off-field trouble or on-field moves. Three of the players on the list below are new additions who are there because they moved to tackle from their more-established position in the spring. Check it out below:
Dan Skipper, Arkansas: The mammoth 6-foot-10 returning right tackle did not move to left tackle as some thought he might in the spring, but aside from Robinson, he may be the league's best NFL Draft prospect at tackle and has a pretty solid résumé (Second-Team All-SEC from the AP) to build on.
Andrew Jelks, Vanderbilt: The former freshman All-American started 21 straight games before an ACL injury sidelined him for the 2015 season. He was limited in spring practice, but his return to the Commodores should add maturity and know-how to the position.
Justin Senior, Mississippi State: The fifth-year senior has 26 career starts for the Bulldogs and moved even further into the spotlight in the spring by moving from right tackle to left tackle. At a position where many of the top players are either young, dealing with an injury history or moving from another position, Senior is as experienced an offensive tackle as there is in the league.
David Sharpe, Florida: Ivey was the player who was supposed to be the SEC's next great tackle, but it's Sharpe who is Florida's leader at the position. He leads a group with four returning starters, but that's not necessarily great news, considering offensive line play was hardly a strength for the Gators last year.
Cam Robinson, Alabama: Robinson, the no-doubt top NFL Draft prospect at his position in the league, should be at the top of the list by a wide margin. However, his arrest leaves his future in a little doubt. If he's not in trouble, the former five-star recruit is in a class of his own. His current ranking reflects the risk his off-the-field issues have created.
Greg Pyke, Georgia: A Second-Team Sports Illustrated All-American at offensive guard last season, Pyke made the move to right tackle in the spring, bringing with him an uneven résumé. He was also Second-Team All-SEC in 2014 but was benched for a game last year for ineffective play.
Chance Hall, Tennessee: Hall slipped down two spots since January, mainly because he missed the spring because of an injury. His injury history (he didn't play his senior year in high school because of a ruptured Achilles tendon) is a little concerning. Nevertheless, he's a returning former freshman All-American who, if he can stay healthy, figures to be a high-end player for years to come.
Maea Teuhema, LSU: Another player who moved from another position, Teuhema was one of the league's fast-rising offensive guards, starting there as a true freshman last year before the Tigers moved him to left tackle in the spring. It's not guaranteed he stays there and if he doesn't, it might mean one of the league's best centers, Ethan Pocic, moves there and replaces Teuhema on this list. And Teuhema would go back to the list of the league's top guards.
Avery Gennesy, Texas A&M: Gennesy's inclusion on the list involves a leap of faith. He didn't have a great bowl game, but at a school that has produced so many NFL first-round draft picks at the position in recent years (Luke Joeckel, Jake Matthews, Germain Ifedi, Cedric Ogbuehi), you have to like its chances at getting the best out of Gennesy, who was the only returning starter on the Aggies offensive line who participated in spring practice.
Austin Golson, Auburn: Golson is the last of three players on the list who moved to tackle in spring. He started at center last year for the Tigers, but if Golson remains at left tackle in August, it won't be his first go at tackle. He started some at tackle at Ole Miss in 2013 before transferring to The Plains.
Dropped out since January: Lester Cotton, Alabama; Gregory Little, Ole Miss; Isaiah Wynn, Georgia (moved back to guard)