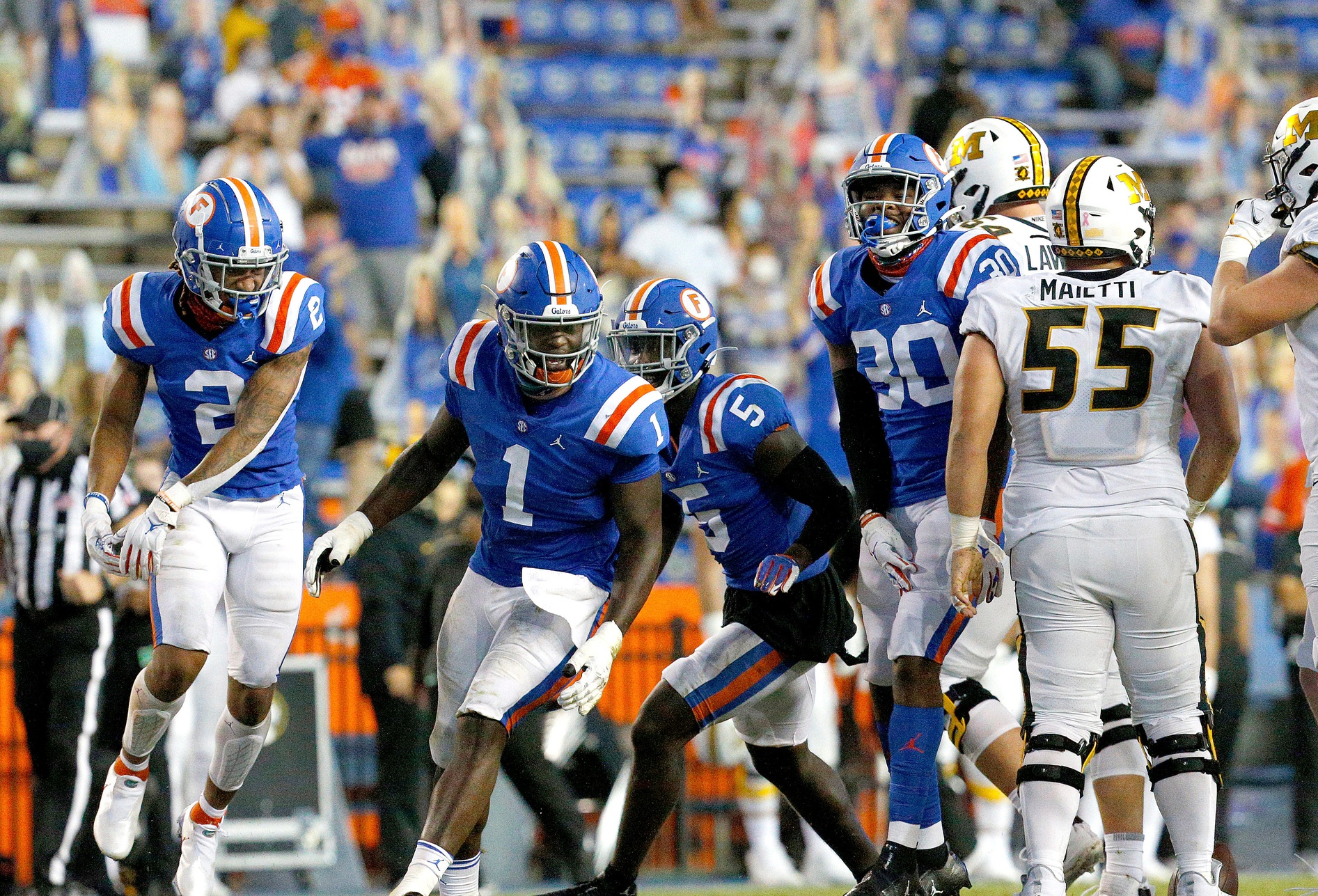 SEC
10 questions worth asking about SEC defenses in 2021
If you're a glass half-full person, you'd say that 2020 was a banner year for SEC offenses. We saw Alabama post its best offense in school history, and there were 3 SEC offensive players representing the 4 Heisman Trophy finalists, including DeVonta Smith, who won the award in convincing fashion.
If you're a glass half-empty person, you'd say that 2020 was a disastrous year for SEC defenses.
Not a single SEC team finished in the top 10 in scoring defense, and 8 SEC teams surrendered an average of 30 points per contest. Not a single SEC defensive lineman was drafted in the first round, either.
So was that a product of COVID limiting live offseason practices? Or was it just the new era of spread offenses asserting their dominance? Perhaps 2021 will answer that.
These are 10 macro-level questions about SEC defenses in 2021:
1. If Derek Stingley is the SEC's best defensive player, who's No. 2?
That's a fascinating question without a correct answer. My initial thoughts go to Jordan Davis, Will Anderson, Grant Morgan and Eli Ricks. Others like Kaiir Elam, Jalen Catalon and Martin Emerson would probably like a say in that discussion, as would some incoming transfers like Tykee Smith, Mike Jones and Henry To'o To'o.
That's 10 dudes I just rattled off, and you can probably talk me into any one of them. Oh! I forgot to mention Malachi Moore and DeMarvin Leal! And probably a bunch of others like Josh Jobe and Smoke Monday!
I think that No. 2 spot is up for grabs. And who knows? Maybe that No. 1 spot is up for grabs if Stingley doesn't return to his All-World form of 2019. Ricks was the better corner last year (PFF had him graded as the No. 4 Power 5 CB in 2020).
Eli Ricks – 89.1 grade in single coverage

Highest in College Football 🔒 pic.twitter.com/H2H96xfBQs

— PFF College (@PFF_College) January 13, 2021
Last year, Patrick Surtain ran away with the title of "SEC's best defensive player." You could make the case that including Stingley, it's gone to a corner at least 2 years in a row (Quinnen Williams and Josh Allen were the last non-corners who were most worthy in 2018). Stingley's presence suggests that'll be the case for the third consecutive year of an SEC corner leading the way, and even if he's more 2020 than 2019, the SEC's depth at corner would still favor that likelihood.
More on that later.
2. Who will earn the dubious honor of "worst SEC defense" in 2021?
I don't predict many things correctly, but one of the very few things I accurately forecasted was that Ole Miss would have the SEC's worst defense in 2020. That proved to be the case. Every blind squirrel finds a nut. I think with a full season of Otis Reese and 10 returning starters, Ole Miss will be better on that side of the ball.
So who will have the SEC's worst defense this year? Tennessee.
A mediocre Vols defense was gutted and replaced by an offensive-minded coach who hasn't been known for playing complementary football. Josh Heupel's style hasn't yielded successful defenses, and he went out took 3 weeks to hire his most important assistant after several public rejections.
That's not to say Tim Banks can't have long-term success in Knoxville, but a guy without previous experience as a top defensive assistant at the Power 5 level wasn't dealt a great hand. To'o To'o, Quavaris Crouch, Key Lawrence, Kivon Bennett and Deandre Johnson all transferred, top corner Bryce Thompson left for the NFL and Tennessee had 4 players in its 2021 class rated as 4- or 5-stars who decommitted or got a release from their National Letters of Intent.
If it's not Tennessee, it's easy to suggest Vanderbilt. Then again, Clark Lea took over after leading 3 consecutive top-15 defenses at Notre Dame. He might be able to scheme his way out of being dead last in the league.
South Carolina has too much potential in the front 7 to think it'll be a total doormat, and as bad as LSU was defensively last year with Bo Pelini, it was still better than 3 SEC groups. I can't imagine that overhauled staff will allow a repeat of that type of performance. Mizzou might be a sneaky candidate in the post-Nick Bolton era, too.
Hey, speaking of Bolton …
3. Who will have the SEC's biggest absence felt and why is it Nick Bolton?
I thought Bolton became to Mizzou what Devin White was to LSU. Both were shorter linebackers by NFL standards, but dynamic playmakers who covered a seemingly impossible amount of ground, and both caused their fans to lose their minds when they got bogus targeting ejections in key games.
If I'm a Mizzou fan, I'm extremely nervous about the first year of the post-Bolton era. As much as I like the sneaky addition of tackling machine Blaze Alldredge from Rice, what Bolton did can't be replaced by 1 guy. He was the unquestioned leader and alpha dog who had no problem directing traffic and making massive plays in the open field.
I talked to Eli Drinkwitz and Connor Bazelak about Bolton this offseason, and both made it a point to say how much they're going to miss the star linebacker. Bolton's absence could be magnified by the fact that Ryan Walters, who stayed on from Barry Odom's staff, left Mizzou to join Bret Bielema's staff at Illinois. New defensive coordinator Steve Wilks has an NFL pedigree, and he could prove to be a great long-term hire, but it's fair to wonder if Mizzou's defense is going to miss having someone like Bolton who truly was a coach on the field.
You could make a highlight reel of just remarkable plays Bolton made defending the goal line:
Nick Bolton brings the boom 💥💥 pic.twitter.com/xssMZoMpg4

— SEC Network (@SECNetwork) May 1, 2021
Nick Bolton.

The best defensive player in college football. pic.twitter.com/PKvWcbFKIL

— Kris (@mizkris18) October 11, 2020
Are there any other candidates? A quiet one is Eric Stokes. Georgia is hoping Clemson transfer Derion Kendrick can stay on the right path and lock down that outside corner spot, which Stokes did at an exceptional level the last 2 years. Georgia's secondary questions have been well-documented.
Other than that, Jaycee Horn is an obvious one that comes to mind. For my money, he was one of the top corners we've seen in the SEC in recent memory. You can't put that nasty streak in every guy who lines up at that spot.
But Bolton still takes the cake.
4. How loaded is the SEC at corner?
Top to bottom, I'd say the SEC can confidently claim to have the deepest position groups at 2 different spots in 2021. The first is running back (trademark pending on "Return of the Back"). The other is cornerback. LSU has Stingley and Ricks, MSU has Emerson and interceptions leader Emmanuel Forbes, Alabama has Moore and Jobe.
You need at least 2 elite corners in today's world of college football. You're working from behind if you only have 1 guy. Go ask Florida about that. Elam is part of that elite cornerback depth, as is Roger McCreary. They were among the SEC's 5 players who ranked among PFF's top 25 corners in coverage last year. Crazy it is that Stingley and Jobe were not in that group.
The SEC accounted for 4 of the 6 corners on Athlon's 3 preseason All-America teams (Stingley, Elam, Jobe and Ricks). There are a whole lot of preseason second- and third-team All-SEC guys who have a favorable shot to make a push for the Jim Thorpe Award, which has gone to an SEC player in 3 of the last 4 years.
Wild it is that coming off a year in which 3 SEC cornerbacks were drafted in the first round, there's still so much top end talent at the position.
5. Will Derek Mason follow in the footsteps of Barry Odom and Mike MacIntyre?
I'd certainly say the path is there. What's that path? Fired coach takes on Power 5 defensive coordinator role in the SEC and thrives. Mason inherited a loaded secondary, which should be the strength of Auburn's team.
#Auburn CB Jaylin Simpson lights up with a smile when asked about Derek Mason getting him, Roger McCreary, Nehemiah Pritchett, Smoke Monday and Ladarius Tennison on the field at the same time.

"Y'all will see the results real soon."

— Nathan King (@byNathanKing) April 14, 2021
And picture this if you're Mason. You're coming off an 0-9 season in which you could barely field a team, and you got constant reminders about how far behind your program was in facilities and talent. Now, you go to a place that's not lacking in either, and you get to coach up a defense with even more potential than some of those Stanford groups from the early 2010s.
I've talked to MacIntyre about getting back to his roots after taking the Ole Miss defensive coordinator and not having to deal with all the extra CEO-related elements that come with being a Power 5 head coach. Sometimes when Matt Luke would pop in and ask for his advice on a big-picture thing, MacIntyre would weigh in but he'd tell Luke that call was on him.
"I could go in there and just work on defense and dive into the defensive staff, meet with the DBs, meet with the defense … you have all that time to do that. That was refreshing," MacIntyre said on The Saturday Down South Podcast in March. "It was fun and it was rejuvenating in that aspect of it."
I fully expect to see a rejuvenated Mason.
6. Who will have the most improved defense?
I gave that title to Arkansas earlier in the offseason and I'm sticking to it. A group that returns all but 1 starter also brought back Odom, who was far better than what the final numbers indicated. Depth issues plagued Arkansas late, but a group led by 2 preseason All-Americans in Morgan and Catalon should be one of the league's better units.
I think Ole Miss and Florida are in line for significant defensive improvement, albeit for different reasons. Ole Miss was mostly better down the stretch last year (not against LSU) once Reese was finally eligible, and Florida returns a bevy of guys who can generate pressure up front, which we know is the key in Todd Grantham's system. The trio of Zachary Carter, Brenton Cox and Ventrell Miller should be darn good, though I'm not sure it'll improve by a full touchdown per game, which is what I expect Arkansas to do.
LSU is another candidate. It just cannot be worse. I'll never understand how you can have Stingley and Ricks mostly healthy, and still post the worst passing defense in FBS. Bo Pelini proved that impossible is nothing. Possible for LSU is at least becoming a top-40 unit and not the embarrassing No. 99 group that left streaking wide receivers open far more than any team ever should. Daronte Jones has a low bar to exceed. The addition of Jones will help a group that never really recovered from all the talent it lost in the 2020 NFL Draft.
I'll be surprised if the SEC's most improved defense doesn't come from somewhere in that group.
7. Who will lead the league in sacks?
A defensive tackle was 2nd in the SEC in sacks last year. Granted, Christian Barmore isn't built like most dudes, but that's saying a lot. There really wasn't that guy who could take over a game rushing off the edge in the SEC. The closest thing to that was Azeez Ojulari, who is also now off to the NFL after leading the conference in sacks.
A popular name for this discussion is South Carolina's Kingsley Enagbare, who had PFF's highest pass-rush grade on 3rd down of any FBS player. The aforementioned Leal really came on late in 2020, but he's probably not a good bet to win the sacks title because of the double teams he'll see, and he only has 4.5 career sacks in his first 2 seasons.
Will Anderson and Adam Anderson (not related) are really strong candidates, especially with how much talent surrounds them at Alabama and Georgia, respectively. Alabama's Anderson had an underrated season (10.5 tackles for loss, 7 sacks) as a true freshman and Georgia's Anderson was a matchup nightmare when he got reps:
Adam Anderson has the highest pass-rush grade of any returning SEC player: 92.5 (107 snaps)@PFF_Mike's breakout star of 2021 ⭐️ pic.twitter.com/GKMkB0BN5J

— PFF College (@PFF_College) May 17, 2021
Crazy that Anderson ranked in the top 3 in pressures for Georgia each of the past 2 years, yet he has yet to crack the starting lineup or play 20 snaps in a game (until this year).
A few other candidates to lead the SEC in sacks? LSU fans are fired up about the futures of Ali Gaye and BJ Ojulari (younger brother of Azeez). At Florida, Grantham's defense used to always have a top-3 leader in sacks until 2020, but maybe a normal offseason will do wonders for either Zachary Carter or Brenton Cox, both of whom should have no shortage of opportunities to get to opposing signal-callers.
I'll take one of the Anderson brothers. Oh, that's right. Not related.
8. Which defensive coordinators are most likely to get FBS head coaching gigs?
Mike Elko and the rapidly rising Zach Arnett make the most sense here.
Elko turned around defenses at Wake Forest, Notre Dame and A&M, though the Power 5 head coaching market hasn't exactly been kind to elite defensive minds in recent memory. But if Elko can lead a top-25 unit at A&M and help fuel a New Year's 6 bowl berth, there's an expectation that with his son heading off to Northwestern on a baseball scholarship in 2022, the well-traveled Elko could be in line for that next opportunity.
Arnett was reportedly in the mix for the LSU defensive coordinator gig, but he got an extension at MSU. There were plenty of questions about how Arnett would transition to running his own defense for the first time after working alongside Rocky Long at San Diego State. All Arnett did was lead a unit with minimal outside expectations to a No. 23 run defense and the No. 6 scoring defense in the league. In the SEC West, that was no small feat. The future is bright for the 34-year-old MSU assistant.
Dan Lanning is another mid-30s coach who could get some Group of 5 head coaching interest at season's end, especially if he helps Georgia end the national championship drought.
Odom's fast start at Arkansas had Hogs fans worried that he would be 1 and done in Fayetteville, but Sam Pittman got Hunter Yurachek on board with a favorable extension. I'm of the belief that making around $2 million, Odom could actually stick in his coordinator role for 3-4 years instead of pursuing a Group of 5 head coaching gig, where the money would be a lateral move and he wouldn't get to focus on doing what he does best. That is, coaching up a defense.
And what about Mason? Couldn't you picture a scenario in which a Mountain West or Sun Belt school gives Mason another FBS head coaching opportunity? I absolutely could. He's built for that CEO-type role, as long as he isn't facing such an uphill climb like he was at Vandy.
Don't be surprised if multiple SEC defensive coordinators are in line for head coaching gigs by the end of 2021.
9. Which defensive coordinators are in most danger of losing their jobs?
Ah, this is the question you're more interested in. I don't think this list is particularly long because as you can tell by my answer to question No. 8, I'm bullish on a decent amount of SEC defensive coordinators.
But yeah, Grantham is in a tier by himself.
And that's coming from someone who thinks that group is destined to improve after an extremely disappointing defensive year in Gainesville. Read into that little sideline battle with Mullen and Grantham all you want. Mullen still retained Grantham at the end of the season, and don't give me this nonsense about the buyout. If Mullen wanted him gone, he would've been gone.
If Grantham is in a spot where Georgia puts up 40 in Jacksonville en route to an East title and the Gators are just average on defense, Mullen would have no choice. Where it gets tricky is if Grantham posts a top-20 defense like he did in his first 2 years, but the defense has tough moments in those 3 headliner games (vs. Alabama, at LSU, vs. Georgia). This is a "no excuses" type of season for Grantham in Year 4.
We never assume that Year 1 defensive coordinators will lose their jobs, but again, Pelini showed us that impossible was nothing. Could Banks be gone at Tennessee if that group is a doormat? I wouldn't rule it out.
What if DJ Durkin and Chris Partridge don't turn it around at Ole Miss? Would Lane Kiffin go in a different direction after 2 years on staff? It wouldn't surprise me. That's not to say this year's Ole Miss defense should be a top-5 group in the SEC, but it really doesn't have any excuse not to at least flirt with mediocrity.
Oh, and I should probably mention this. Anything less than a national title with the SEC's No. 1 defense and Pete Golding is going to have the entire state of Alabama hoping he gets the boot.
10. Who will have the SEC's best defense in 2021?
We're now living in a time when even the league's best defense is probably gonna have 2-3 games in which it gets hit for 40-plus. Look at the SEC's best scoring defense from the last decade:
2011 — Alabama, 8.2 PPG
2012 — Alabama, 10.9 PPG
2013 — Alabama, 13.9 PPG
2014 — Ole Miss, 16.0 PPG
2015 — Alabama, 15.1 PPG
2016 — Alabama, 13.0 PPG
2017 — Alabama, 11.9 PPG
2018 — MSU, 13.2 PPG
2019 — Georgia, 12.6 PPG
2020 — Alabama, 19.4 PPG
Wild, right?
So was 2020 just a product of there being no live tackling for the vast majority of the weird offseason? Or is the 2020s just going to be more offensive-focused in the SEC? Both things should be true.
(Not getting some of those cupcake nonconference games might've impacted that, too.)
Because Alabama should probably improve defensively, that's where this conversation starts. The Tide only had 2 defensive players drafted, though they were darn good ones in Surtain and Barmore. This year's core of Will Anderson, Christian Harris, Jobe, Moore and Jordan Battle was already elite, and then it added Tennessee defensive leader Henry To'o To'o.
I'd be surprised if that title went to Georgia, despite the fact that Kirby Smart addressed a couple of key areas in the transfer portal by getting Smith and Kendrick. But it's still a unit with massive turnover, including the loss of key multi-year starters like Monty Rice and Richard LeCounte. As talented as Georgia is, I'd see them sticking around that 20 PPG number from last year as opposed to significantly improving it.
A&M might have a better shot than Georgia, given the fact that the Aggies return 9 starters from a group that finished first in the SEC in yards allowed. The defensive line duo of Leal and Jayden Peevy should be special, and this is the most experienced secondary that the Aggies have had in the Jimbo Fisher era, which seems important for that Alabama showdown. Replacing the underrated Buddy Johnson won't be easy, though.
The 4 fringe candidates here would be MSU, Kentucky, Arkansas and Auburn, all of whom have strong defensive minds and a good amount of production returning from better-than-average 2020 units. Having said that, I'm probably not willing to go out on a limb and say that one of those teams will have a year like 2018 MSU, who had 3 first-round players on that top-ranked defense.
It's boring to say, but yeah, Alabama should have the league's best defense once again.