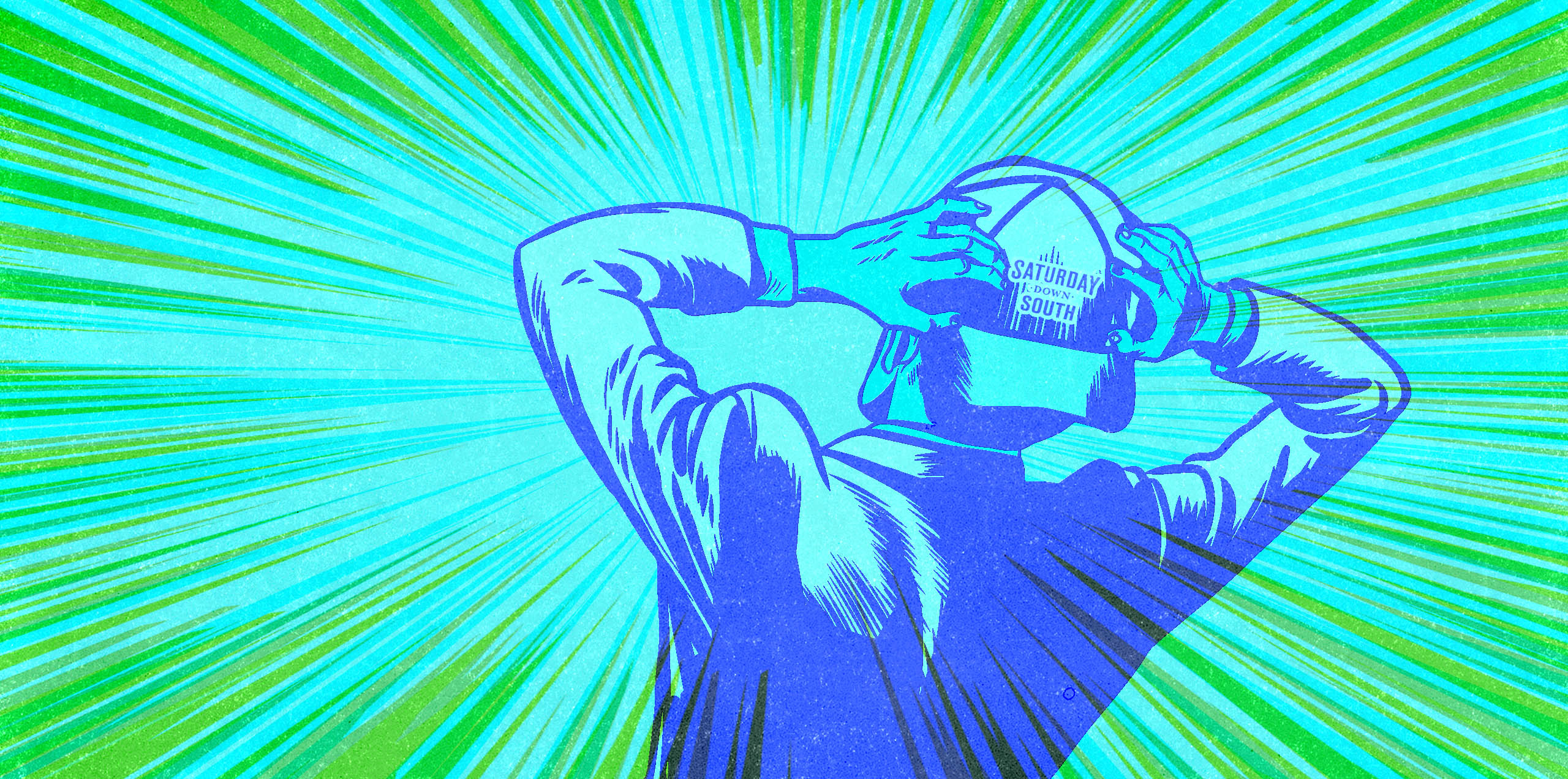 SEC
10 things I'm absolutely overreacting to after Week 12
Tua played. The Citadel scored. And Stephen A. Smith got knocked out, just like Syracuse. And, unfortunately, Will Grier.
Those are just a few of the 10 things I'm absolutely overreacting to after Week 12 in and mostly around the SEC.
10. Screaming A. Smith with the loudest, coldest take of the year
I've got a very important message for @CuseFootball. pic.twitter.com/U0LgTdEkZG

— Stephen A Smith (@stephenasmith) November 16, 2018
"And I hope Mike Golic is listening to me, since I predicted his Fighting Irish would fall tomorrow afternoon. I will be watching. I will be watching."
Oh, I watched too. Notre Dame absolutely delivered a Playoff-sealing statement Saturday, destroying No. 12 Syracuse 36-3.
I usually find The Big Bloviator funny and entertaining. He's obviously opinionated, and I rarely agree with his opinions. No matter. I like his radio show.
But what I really like is this: Smith forced to fall on the sword.
How much did this hurt?
So much for my @CuseFootball prediction. Losing @EricDungey didn't help. But I've got to give it up to @espngolic. He told me on @GolicAndWingo that this was gonna happen. Gotta own it.

— Stephen A Smith (@stephenasmith) November 17, 2018
9. Well, Nick sure showed us
Tua Tagovailoa played, got hit, got dirty, got up. He threw 3 TD passes and 4 incompletions. That's hard to do in pregame warmups against air, much less a juggernaut like The Citadel.
His final TD pass, a 5-yard toss to Jaylen Waddle, was his 31st this season, setting an Alabama single-season record.
Alabama needed every bit of Tagovailoa's 340 yards and 3 TDs too, to hold off The Citadel 50-17, a game that was much, much closer in the World According to Saban.
All kidding aside, it was 10-10 at the half. Which had to make Saban ecstatic. He warned us Citadel was the greatest team in America, with an offense no Crimson Tide player had seen.
He didn't warn us, however, that The Citadel's social media team is full of savages, too. Poor LSU. Poor Mississippi State.
https://twitter.com/CitadelFootball/status/1063850093852413952
8. Drew Lock's single-season TD record is in jeopardy
Tagovailoa has 31 TD passes — on 227 throws.
Alabama potentially has 4 more games — Iron Bowl, SEC Championship Game and two Playoff games. It's possible that Tagovailoa has enough games left to break Lock's SEC single-season record of 44, which Lock set last year.
If Saban allows Tagovailoa to throw it 400 times next year, he's going to top 50.
7. Chad Morris has huge problems on the other side, too
Most of the season, we've focused on Arkansas' issues on offense in general and personnel in particular.
We knew Year 1 was going to be a difficult, painful transition. Bret Bielema's offense and Chad Morris' offense have as much in common as Drake and Meek Mill.
What we've largely ignored is the Hogs have had a lot of problems on defense too. They entered Saturday's game allowing 32.7 points per game — next-to-last in the SEC. It's nothing new. They finished last in 2017, allowing 36.2, and 10th in 2016 (31.1).
They gave up 52 Saturday to Nick Fitzgerald and Mississippi State. That's double what the Bulldogs were averaging coming into Senior Day in Starkville.
But it's even more unbelievable than that.
Mississippi State had scored 7 TDs in 6 conference games before Saturday. They scored 7 against Arkansas.
If Saturday proved anything, it was this: Morris has the toughest basement-to-penthouse rebuilding job of the five first-year SEC coaches.
6. I can't wait to hear OSU homer Joey Galloway talk about how bad Big 12 defenses are
Ripping Oklahoma's defense, in particular, is Galloway's favorite hobby.
I can't wait to see how spins Ohio State's defensive debacle Saturday.
Galloway's Buckeyes gave up 51 points to Maryland and 298 yards rushing to Anthony McFarland.
He'll probably have them at No. 5 in his Playoff poll. Behind Michigan and ahead of Oklahoma.
5. This is Rutgers football! (And Penn State defense)
I'm not sure which was more depressing/amusing … the drop or the fact there wasn't a Penn State defender within 10 yards of the ball.
Rutgers tried the Philly Special.

It was … anything but special.pic.twitter.com/iZxt6UzNJh

— Sporting News (@sportingnews) November 17, 2018
4. The 4 Playoff teams are …
1. Alabama. 2. Clemson. 3. Notre Dame. 4. Georgia. 5 Oklahoma. 6. Michigan. 7 Washington State. 8. UCF.
No, I'm not sleeping on Michigan. The reality is the Wolverines are the best team in a bad conference, but they aren't elite. At least not on offense, where you must be elite to win Playoff games.
They struggled again Saturday, barely putting away Indiana at The Big House. Their best victories have come against teams with 3 or 4 losses. Their conference wins have come against teams have lost lost a combined 8 nonconference games. Heck, Big Ten West champion Northwestern has 3 of those nonconference losses — and Michigan trailed the Wildcats 17-7 at the half before rallying for an unimpressive 20-17 victory.
Purdue, Duke, Akron and Nebraska are among the teams that scored more points against Northwestern than Michigan did.
There's no way this team keeps pace with Oklahoma. However …
3. The Big 12's Playoff hopes are in trouble
It was setting up perfectly: Oklahoma and West Virginia, both in the top 10, battling in back-to-back weeks, a Playoff spot all but guaranteed if one could sweep the other.
Those Playoff hopes are on the ropes now, thanks to Oklahoma State winning a shootout against Will Grier and West Virginia. (Yes, that was an obvious pass interference on the final play, but it's just as obvious you're never getting that call on the road.)
The result is: Oklahoma could run the table, sweep West Virginia, win the Big 12 championship and still be the first or second team out.
As long as Notre Dame stays undefeated, at least two Power 5 conferences are staying home. One will be the Pac-12, which is unfortunate because Media Day was made for a man like Mike Leach. The Big 12 could battle the Big Ten for the final spot.
And if Georgia topples Alabama in Atlanta, there's a chance again that the SEC will get two teams, with Clemson and Notre Dame being the other two.
That would mean the Big 12, Big Ten and Pac-12 conference champions would stay at home, hopefully penning letters to expand the Playoff to 8 next year.
2. SEC 398, Cupcakes 116
And I don't have a problem with it, either.
I'll let Big Ten fans overreact to the SEC's Week 12 schedule, knowing that they've been the Cupcake in their past two Playoff games.
1. RIP, Tammy
It Just Means More. Few lived the SEC slogan more than Auburn super fan Tammy Bullard. Tammy and her granddaughter were killed in a car accident Friday morning.
Tammy gained national acclaim as a frequent caller to the Paul Finebaum Show, but her animated style was never a gimmick. She was such a genuine force of nature, her calls so passionate, that Finebaum would tweet to let us know when she was on the line.
"Tammy was easily one of the most important and beloved callers in the history of this program … The most passionate fan that I've ever known."

– @Finebaum https://t.co/Q42jm6mejz

— SEC Network (@SECNetwork) November 16, 2018
Tammy was of a kind. She will be missed. Good to see Auburn players paid tribute to her during Saturday's game.
I don't normally do this and never met her a day in my life but honestly SHE had our back when no one else did! R.I.P. Mrs.Tammy Bullard ? #WDE pic.twitter.com/n1smPAg0Og

— ⭐️Deshaun Davis⭐ (@_Davis_Boy12) November 17, 2018
War Damn Tammy.