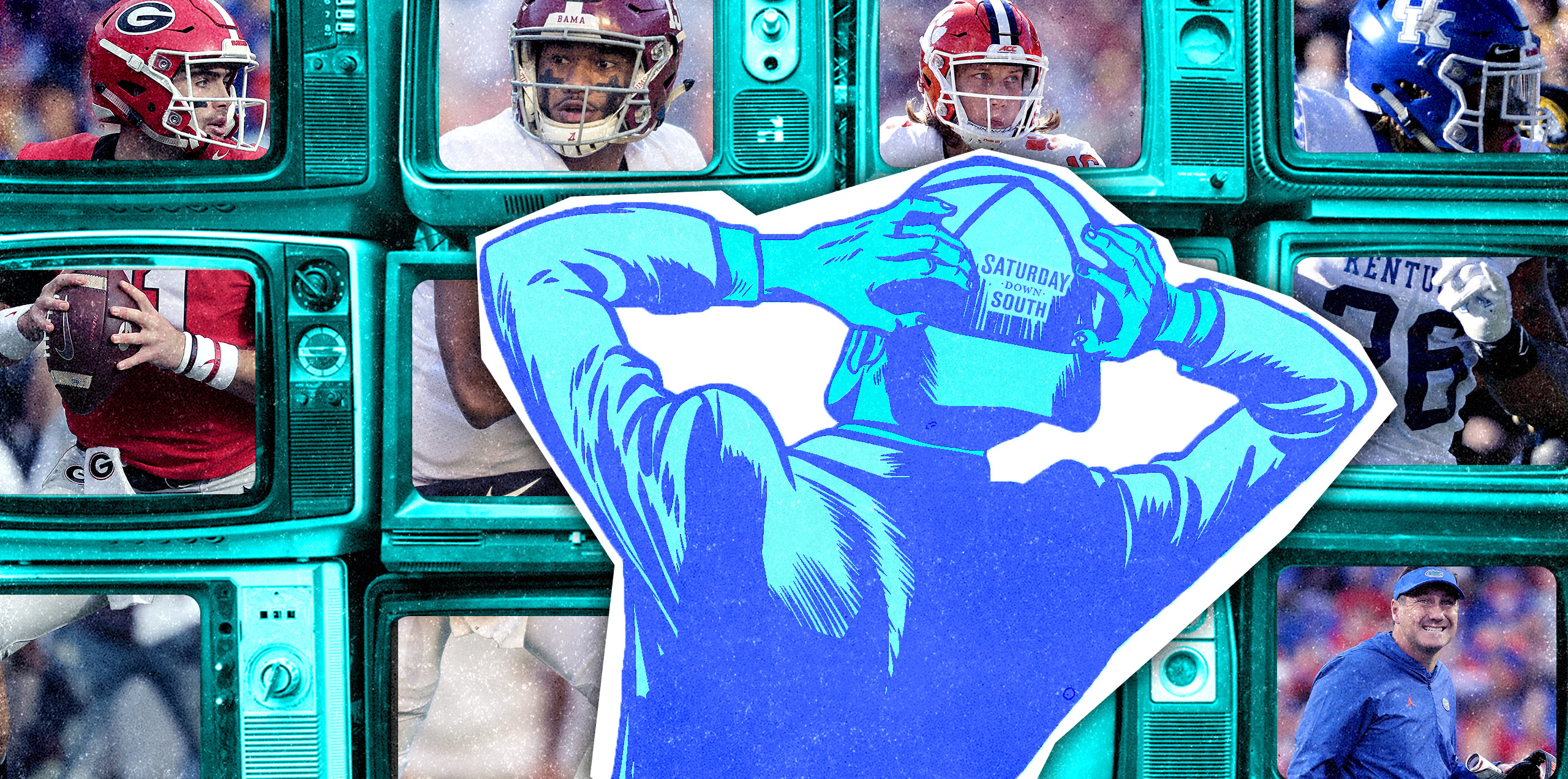 SEC
10 things I'm absolutely overreacting to after Week 2 in and around the SEC
Texas is back, all right.
Back there with Florida State, Miami, Michigan, Nebraska and Tennessee, searching for VHS tapes of their championship pasts.
At least FSU and Michigan won Saturday, amirite? Get those coaches an extension, pronto.
Here are 10 things I'm absolutely overreacting to after a wild Week 2 in and around the SEC.
10. ACC! ACC!
Another Crummy Conference?
There were only 2 ACC teams ranked in the Top 25 this week — and one lost by 43 Saturday.
The fact that the ACC stinks this year doesn't really bother me in terms of how I view Clemson. What bothers me is now I'll have to hear about Clemson's schedule nonstop for the next 4 months.
Clemson has the easiest path to the Playoff.
Fine. Just know this: Whatever schedule your team has, Clemson would go 12-0 against that, too, OK?
9. Army over Antonio Brown, all day, every day
We interrupt a College Football Saturday for some NFL news?
What? Why?
After more than a year of Antonio Brown's nonstop nonsense, Saturday morning we learned that the Oakland Raiders released the Hall of Fame malcontent. Good riddance.
I wasn't the only one who thought so.
Reason No. 5,345,637 I love CFB … no Antonio Brown.

— Heather Dinich (@CFBHeather) September 7, 2019
A few hours later, my faith in humanity and sanity was restored a bit by watching Army play Michigan on national TV.
So refreshing. It wasn't about the score or how the Black Knights pushed Michigan to the brink. I loved that the back of their jersey read "Army."
All for one. One for all. Discipline. Respect.
Give me all of that and no more of Antonio Brown, please. (What, the Patriots signed him? As if we needed another reason to despise them.)
8. Speaking of one for all, some applause for Dakereon Joyner
I'll never fault any kid for transferring, but I was happy to see Joyner star in a Slash-type roll Saturday for South Carolina.
He wants to play QB. He probably could start at QB at a lot of places. South Carolina isn't one of them. So he had a choice: Adjust or go.
He adjusted. Saturday he lined up in the slot. He caught a pass, blocked and generally ran crisp routes. He also relieved Hilinski and showed exactly how dangerous he can be in the open field.
Maybe the coolest thing he did all day was pump his fist the second he realized Mon Denson was going to score on a 57-yard TD run. You can't script that. That was spontaneous.
7. Ryan Hilinski sure made that look easy
The numbers will generate headlines, but the "how he did it" was more impressive.
So how did he do it?
By rarely making a dangerous throw. What a welcomed change that must have been for Gamecocks fans, who held their breath for 2+ years every time Jake Bentley dropped back to pass.
Obviously the talent gap was huge Saturday against Charleston Southern, but Hilinski never looked greedy. He didn't force anything except for his 2nd-half interception. He checked down repeatedly and he delivered a couple of beautiful deep balls to wide open receivers. He played safe, smart football.
He reminded me of a young Jake Fromm — and that has worked out OK.
6. Can we stop talking about how great Scott Frost is now?
Please?
Nebraska was the most overrated team of the offseason and it didn't take the Huskers long to show why.
They struggled in Week 1 and lost at Colorado in Week 2. They blew a 17-point lead in the process Saturday. Sure, they recovered, but they couldn't hold a 7-point lead in the final minute.
Colorado went 5-7 last year. The Buffaloes fired Mike MacIntyre and hired Mel Tucker.
Tucker is 2-0. Frost is 1 loss closer to everybody asking, "Remember when he used to be the next big thing?"
5. The Bottom 5 in Power 5 …
In order of ineptitude because alphabetical order doesn't do nearly enough justice to some of the slop we saw Saturday …
From the bottom, the 5 worst performances from Week 2:
1. Rutgers (Big Ten): That's 13 consecutive conference losses … to Big Ten teams.
2. Syracuse (ACC): They kept telling me you were good, that you were going to challenge Clemson. Even bad teams don't lose games to unranked opponents by 43 points … especially unranked Big Ten teams.
3. Florida State (ACC): Finally, a Wide Right benefits the Noles. But did it really? Losing to Louisiana-Monroe would have guaranteed this was Willie Taggart's final season in Tallahassee.
4. Kansas (Big 12): Oh, Les, no more. Not sure which was worse: Scoring just 1 TD against Coastal Carolina or actually losing at home to the Sun Belt Chanticleers.
5. Tennessee (SEC): BYU is a quality opponent. And the Vols didn't quit, which, honestly, was my biggest concern after the Week 1 disaster. But you can't have a defensive-minded head coach give up a game-tying drive because of a busted coverage. Brutal.
4. The 4 Playoff teams are …
Clemson
LSU
Alabama
Oklahoma
No Ohio State? No Georgia? Seems like we've had this debate. I'm so ready for 8 teams.
3. Alabama made a field goal!
I'm not kidding. Actually, Will Reichard made 2. He didn't miss any. I'm not kidding about that, either. In 49 states, these qualifiers might be unnecessary, but this is Alabama.
Reichard's first one was from 48. The second was from 49. Eventually Alabama's offense will get its act together and make it a bit easier on the kid.
I am officially declaring that Alabama has kicked its kicking curse to the curb.
2. Joe Burrow is going to win the Heisman!
And when he does, that 3rd-and-17 traffic-dodging, 62-yard dagger touchdown to take down Texas is going to play over and over and over.
Unless he replaces it with more highlight throws against Alabama.
We've long since wondered how dangerous LSU would be if it actually tried to take advantage of its weapons on the outside.
Saturday night against Texas, we found out: Extremely dangerous. SEC champion dangerous. Playoff bound dangerous. Baker Mayfield dangerous.
1. Clemson: The Tigers are who I thought they were
Congratulations to Jimbo Fisher and Texas A&M for scoring on the final play of the game.
Not sure what the Aggies were trying to accomplish. They spent all offseason talking about how close they were to upsetting Clemson last season, as if the teams truly were 2 points apart. Maybe history will remember Saturday's contest as a 14-point game. I won't. It was more lopsided than that.
Trevor Lawrence reminded the Aggies on Saturday that he didn't start in last year's game. He reminded everybody else that Clemson is still the team to beat.