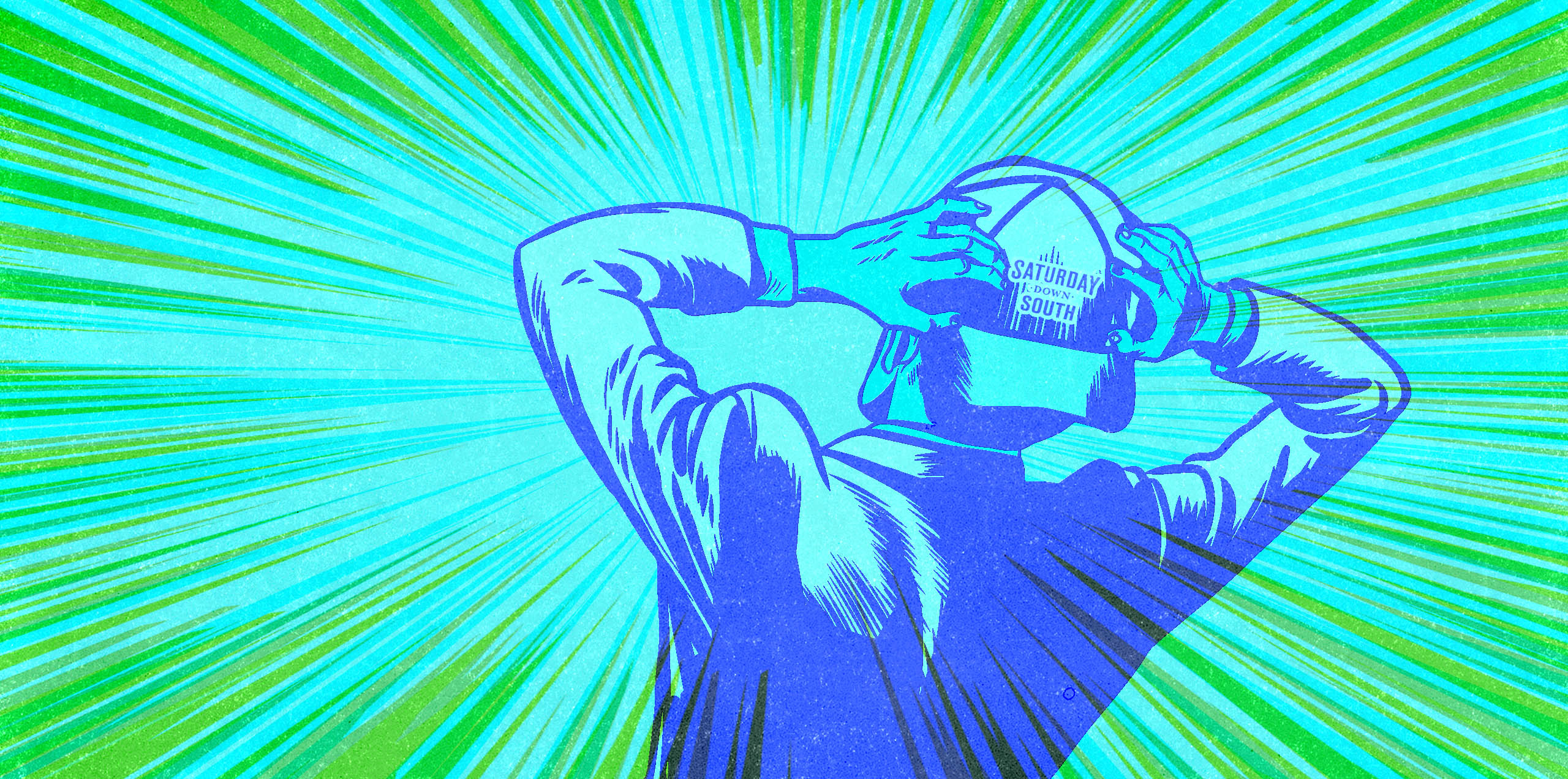 SEC
10 things I'm absolutely overreacting to after Week 3 in the SEC
When did we hire Nick Saban to handle Overreactions?
I've been filling this Sunday morning space for 4 seasons, and while I've had my moments, I have never overreacted quite like Saban did Saturday.
Benching Jalen Milroe for Tyler Buchner?
That ain't all right, a'ight?
Know what is? Coach Prime and his refuse-to-lose Buffs.
That's just some of the 10 things I'm absolutely overreacting to after a wild Week 3 in and around the SEC.
10. Bama is out here stealing (bad) Georgia ideas
Well, this certainly is different.
Saban stole a page from Kirby Smart's playbook and made a QB decision that made no sense.
This was Jake Fromm over Justin Fields all over again, just the Alabama edition … or West Athens, if you prefer.
Nothing against Tyler Buchner, but here's all you need to know about him. As a recruit, he was rated 4-stars and the No. 10 QB prospect in the country. (He actually was ranked higher than Milroe). As a transfer, he was ranked 3-stars and the No. 31 QB option available.
That's, um, not progress. That's proof.
If Buchner were all that, he'd be starting at Notre Dame. Instead, the Irish pursued and landed the best transfer QB available, Sam Hartman, to lead their Playoff charge.
But, now, Notre Dame's backup is good enough to be Alabama's starter?
What decade is this?
Saban essentially traded in a Hellcat for a family sedan.
And it led to a predictable disaster on Saturday, so bad that Buchner (5-for-14, 34 yards) didn't even last a half before Saban turned to QB3.
9. I mean, really, Nick? Really?
Tough first two drives for Tyler Buchner in his first start for #Bama pic.twitter.com/v1j11qqMGK

— Hudson Standish (@247Hudson) September 16, 2023
No comment necessary.
Next …
No, forget that: That first quarter was horrific and predictable — 4-of-9 passing for 25 yards, 3 punts on 12 plays, 53 total yards. Worse, it was completely self-induced by a dumb decision from the smartest coach in the game's history.
Saban overreacted to the Texas loss, but the reality is, Alabama is a flawed team that actually needs its QB to make plays with his legs.
The Tide lack perimeter playmakers who can mask the myriad issues. There's nobody taking those 7-yard shallow crosses and turning them into 77 yard TDs. They're also soft in the trenches. How many times did USF RBs fall forward after contact? A lot. Nay'Quan Wright, the former Gator, absolutely baptized an Alabama safety. Did anybody ever do that to Minkah? Or Eddie Jackson?
That's former #Gators RB Nay'Quan Wright remembering how to SEC. pic.twitter.com/HBjDMuL54s

— Thomas Goldkamp (@ThomasGoldkamp) September 16, 2023
Y'all thought I overreacted last week when I said Alabama looks like a 9-3 team.
Saban said afterward that the coaches will huddle and settle on a QB1. That discussion shouldn't take long.
Go back to Milroe, Nick. And game plan around his running skills.
Or 9-3 might be an optimistic outlook on this season.
8. Ranking Alabama backup QB comeback wins
Saban is famously fearless when it comes to benching his starting quarterback and going to the backup in the middle of a tight game.
Saturday, he not only benched the backup-turned-Week 3 starter, he turned to QB3 — and Ty Simpson delivered!
The question every Alabama fan had to be asking Saturday night was: Where does this epic, backup-QB-inspired comeback win rank?
Personally, and this is just my opinion, it's still No. 3.
Jalen Hurts replacing Tua Tagovailoa and winning the SEC title game is No. 2, and Tua replacing Hurts and turning "2nd-and-26" into a synonym for walk-off national champion remains No. 1.
But I don't think anybody who saw Saturday's performance will soon forget it …
7. Thicker Kicker overcomes Eli Drinkwitz with 'Mevis Miracle'
Saban didn't have a stranglehold on bad decisions Saturday.
Mizzou's clock management in the final minutes against No. 15 Kansas State was straight out of your typical 8 am Pop Warner game.
How do spike a pass to stop the clock to set up a game-winning kick attempt and the commit a delay of game penalty? That was Mizzou's 2nd delay of game penalty in the final 5 minutes.
Somehow, Mizzou overcame Drinkwitz's horrendous clock management when Harrison Mevis nailed a historic 61-yard field goal at the buzzer to stun, well, everybody. It's the longest kick in SEC history.
Drinkwitz no doubt will turn the Mevis Miracle walk-off win over a ranked rival into another contract extension.
Never change, college football.
6. Just a hunch, but maybe Miss State should include some Air Raid concepts?
Much has been made about MSU's dramatic 180 on offense.
The problem is, it's not just the approach that has changed.
It's the effectiveness.
MSU's first 16 plays Saturday netted 7 yards vs. LSU.
Forget the fact that Will Rogers threw the ball 12 times on those plays. They weren't the same 12 types of throws he made in the Air Raid.
Everything about Kevin Barbay's offense, from terminology to alignment to blocking assignments to routes, is different. The timing is completely different. Different doesn't automatically mean worse. But it definitely means adjustment, and everybody is learning on the job.
Rogers has more experience than anybody on that sideline, and he still doesn't look comfortable. If he isn't comfortable, there's very little hope this offense ever will in 2023.
I am not calling for MSU to change QBs, but if you're going to completely abandon what Rogers did well, maybe it is worth looking at more of a dual-threat option in Mike Wright.
The silver lining in MSU's offensive issues Saturday?
Nobody's saying a word about the Zach Arnett's no-show defense.
Jayden Daniels was 30-for-34 (school-record 88.2% completion percentage) for 361 yards and 2 TDs. That's nearly impossible to do against air. He made it look easy against the Bulldogs.
5. 5 notable numbers from Week 3 …
2: Consecutive games that Alabama failed to score a TD in the first half. They kicked 2 field goals last week against Texas, and 1 field goal Saturday vs. USF. The 3 points Bama scored in the first half vs. USF was its lowest in any half vs. a Group of 5 team since getting shut out in the 2nd half of its 2007 loss to Louisiana-Monroe in Saban's debut season.
239: A career-high receiving yards for LSU star Malik Nabers, who caught both of Jayden Daniels' TD passes. Nabers' yardage total was the 4th-highest in LSU history.
47: Mizzou star Luther Burden hauled in a 47-yard TD catch against Kansas State … the longest reception of his career. Luther already has 327 receiving yards this season after registering just 375 last year.
33: Consecutive games that Notre Dame QB Sam Hartman has thrown at least 1 TD pass. Hartman threw 3 more Saturday, giving him 13 for the season. It was the 28th time in that span that he threw at least 2 TD passes.
98: Yards Colorado drove in the final 2 minutes to score a TD that set up its tying 2-point conversion in a chippy rivalry game against upset-minded Colorado State. Shedeur Sanders threw a 45-yard TD pass to Michael Harrison with 36 seconds left to make it 28-26. Sanders then hit Harrison for the 2-point conversion and then found him 2 more times for TD passes to escape 43-35 in double overtime. Colorado is 3-0, but will enter its Week 4 showdown at Oregon without 2-way star Travis Hunter, who was injured on a cheap shot to the ribs Saturday. Coach Prime said Hunter could miss a couple of weeks.
4. The 4 Playoff teams are …
1. Ohio State, 2. Florida State, 3. Notre Dame, 4. Washington
I'm more willing to forgive FSU's sloppy performance against Boston College than Georgia's 3rd consecutive so-so effort Saturday.
FSU clearly was looking ahead to Week 4's trip to Clemson.
Georgia overcame another slow start, but the offensive concerns are real. They'll stay atop the AP poll on reputation alone, but they haven't looked like a Playoff team yet. I think 2 or 3 Pac-12 teams could beat these Dawgs (spoiler) if they played in Week 4.
Notre Dame hosts Ohio State in Week 4. Sam Hartman gives the Irish a chance to beat anybody, including the Buckeyes.
3. Washington could wreck a lot of Playoff dreams
SEC fans don't want to hear this, but no conference is better or deeper this season than the Pac-12.
And nobody is playing better football than Washington QB Michael Penix Jr., who ripped off his 3rd consecutive 400-plus yard game Saturday.
Penix torched Michigan State, throwing for 473 yards and 4 TDs. In 3 games, he has thrown for 1,332 yards and 12 TDs.
The Pac-12 has 4 legitimate Playoff threats — and Washington plays all 3 of them: Oregon, USC and Utah.
The Huskies are more explosive than Utah, play much better defense than USC and get Oregon at home.
This is a team to watch, the one team in the AP top 10 that not nearly enough people are talking about.
2. Extend Billy Napier now … before Alabama steals him
Few, if any, have been more critical of Billy Napier's play-calling than Overreactions.
We crushed the guy several times for his misuse of Anthony Richardson, and then wondered why he would ask Graham Mertz to throw 44 passes instead of handing if off 44 times in an opening loss to Utah.
Saturday, Napier gave everybody the blueprint to what Gators football is supposed to look like on his watch.
Florida utterly dominated Tennessee, mauling them in the trenches and mixing a punishing ground attack with just enough well-timed, well-schemed pass plays.
It was an absolute narrative-changer for Napier. Sure, Tennessee stinks at The Swamp, where the Vols have now lost 10 consecutive times, but this was more than that.
Don't be fooled by Mertz's first-half numbers, either, when he threw the ball 20 times. Focus on the when and what. Play-action, roll-out, short and safe. Basically, Florida forced Tennessee to respect the run to the point it created easy pitch-and-catches. The Gators' longest reception was only 18 yards.
It was the Gators' best half of football since Napier arrived, their best win since Napier arrived, and it's exactly the kind of performance Scott Stricklin envisioned when he hired him.
That Florida team could give Georgia trouble in the Cocktail Party.
1. Brace yourself, but the SEC might not have a Playoff team
I know. It's a ludicrous thought. It's also completely moot if Georgia runs the table.
But do you really have confidence that the Dawgs can actually run the table?
I don't.
Georgia's offense has real issues. All it takes is 1 average day from the defense for disaster to strike.
And as much as we can tell ourselves that there's no way a 12-1 SEC champion would be left out of the Playoff, I'm here to tell you it's entirely possible if there are 3 undefeated Power 5 champs (Pac-12, Big Ten, Big 12) and you honestly and objectively compare resumes of an 11-1 Pac-12 or Big Ten team with a 12-1 SEC champ.
Many already are predicting the Pac-12 and/or Big Ten will have 2 Playoff teams. And that noise will only continue to grow louder.
Here's how the SEC could be shut out.
The SEC West looks as average this year as the Big Ten West looks every year. In other words, that SEC title game might not be the resume-booster it has always been.
Let's face it: Georgia has 1 or 2 chances to register a quality win. The Dawgs host Ole Miss in Week 11 and travel to Tennessee in Week 12.
The haters already have poked holes in the Dawgs' schedule. It's that bad. One slip-up and the Selection Committee might pile on, too.